TF2K23
Gazaway Tops MAC Hurdles Rankings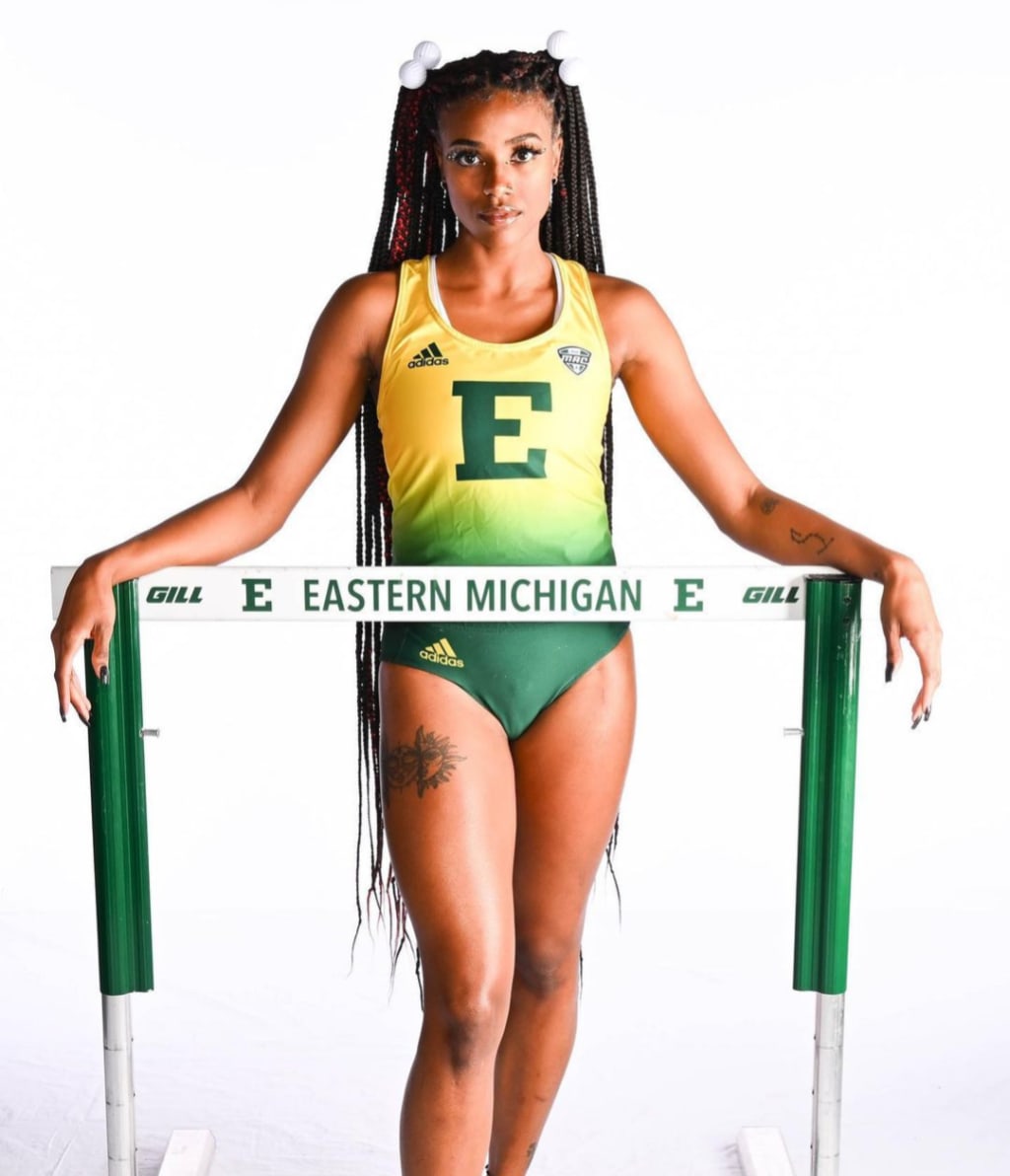 Angel Gazaway
On Jan. 21, Angel Gazaway of Eastern Michigan won the 60-meter hurdles at the Notre Dame Invitational in South Bend, Indiana.
The senior hurdler won the final at 8.61, finishing ahead of her teammate and 2020 Mid-American Conference 60-meter hurdles champ Alysse Wade who placed second at 8.68. While in high school in Ohio, Gazaway was a state champ but prior to this season she'd never won a prelim or final heat as a collegiate competitor. All of that changed this season.
On Dec. 9, she won the 60-meter hurdles at the GVSU Holiday Open. She followed that with a third-place finish at the Wolverine Invite on Jan. 7 before winning the 60-meter hurdles at the BGSU Falcon Early Bird Open on Jan. 14.
All of the winning has been impressive but to add icing on top of the cake, Gazaway ran her career best time during the preliminary round with a 60-meter hurdles time of 8.51 at the Notre Dame Invitational. Gazaway is a three-time qualifier for the 60-meter hurdles final at the Mid-American Conference Indoor Track & Field Championships. She currently has the fastest time in the conference.
We caught up with Gazaway the day after her win to talk about her newfound success on the track.
Winners Only: You ran your fastest time in the 60-meter hurdles, what went right for you to make that happen?
Angel Gazaway: I had an excellent race in between the hurdles of making sure I was pushing through the hurdles and making sure I was quick in between [hurdles].
Did you know while you were running your personal record time that it was happening or was the time a shock when you finished?
I knew that I was running well but I didn't know my time was going to be that fast, so it was definitely a shock for me.
Going into the final were you thinking about topping that time or just winning?
I was definitely trying to top the time or at least run it again , but I was running by myself so I didn't have that push that was needed.
Wait you ran the final alone and still won?
There were only two other girls in my heat , but yes , I ran alone (laughs).
You've been in conference final races for years now. Is the conference championship the goal this time around?
My goal is to remain on top and place top three.
Mid-American Conference 60-Meter Hurdles Rankings
1. Angel Gazaway, Eastern Michigan, 8.51
2. Ahvon Mitchell, Western Michigan 8.62
3. Scout Regular, Northern Illinois 8.63
4. Grace Johnson, Western Michigan, 8.64
5. Christina Wende, Buffalo 8.66
5. Alysse Wade, Eastern Michigan 8.66
7. Jennah Rogers, Ball State 8.75
8. Aquila St. Louis, Northern Illinois 8.76
8. Alexia Moehling, Toledo 8.76
10. Morgan Patterson, Bowling Green 8.77
Gazaway also placed third in the 200 meters with a finish of 24.74. That was another personal best and is currently sixth in the Mid-American Conference. She finished behind Iaunia Pointer of Southern Illinois (24.03) and Eastern Michigan's Saraiah Walkes (24.52). Walkes, who was a member of the Mid-American Conference champion 400-meter relay squad during outdoor season in 2022, has the top 200 meters time in the conference so far this season. She is just ahead of Kadeja Campbell's (Northern Illinois) finish of 24.55, which she recorded at the Blue & Gold Invitational, also held in South Bend on Dec. 2.
Reader insights
Be the first to share your insights about this piece.
Add your insights