TF2K22: Flying Flyer
Clinkscales wins at UK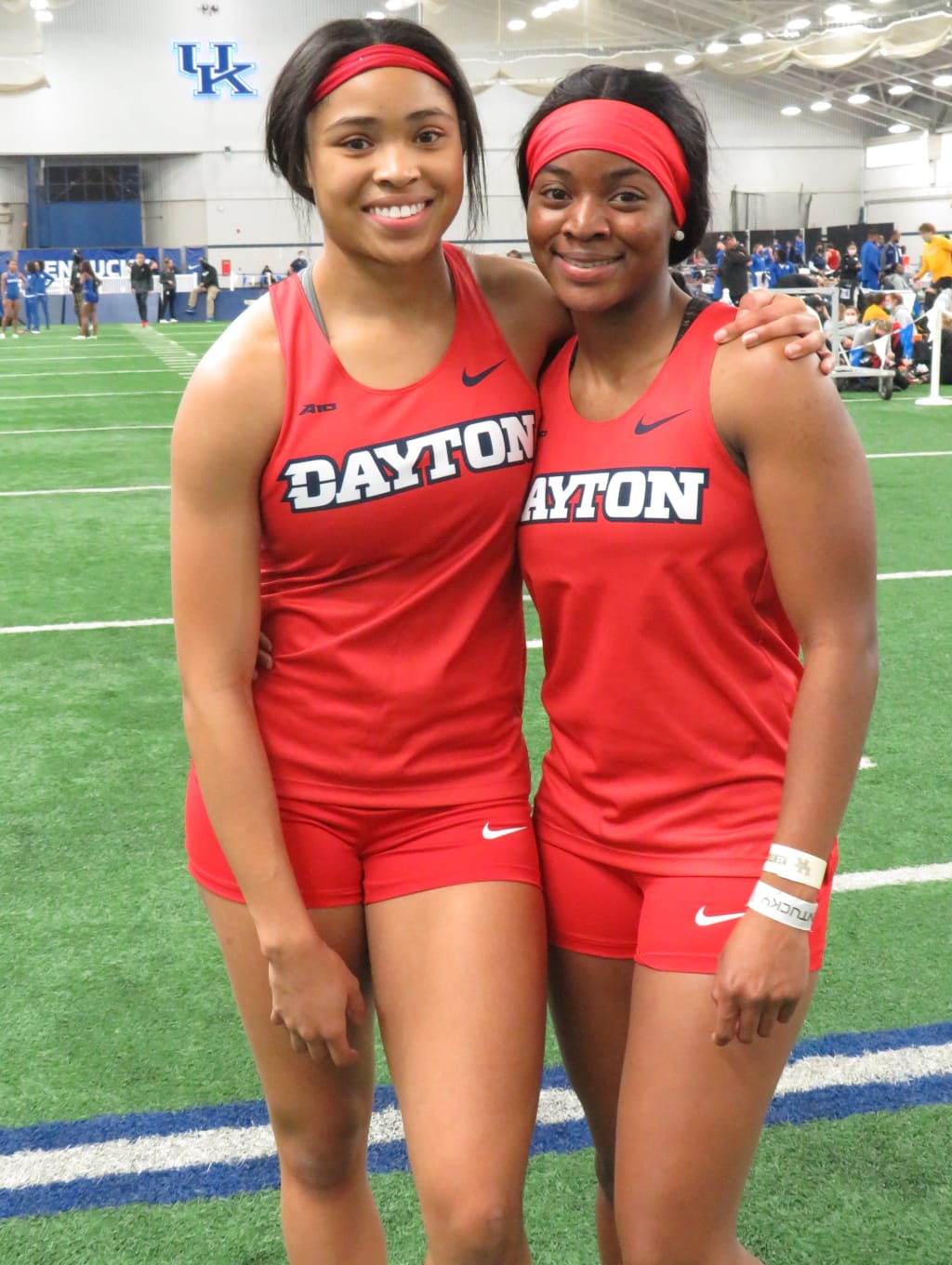 Dayton's 60-meter finalists Kaira Granger & Chante Clinkscale.
This year's Jim Green Invitational saw fans return to the stands as the two-day track meet was hosted by Kentucky, Jan. 14-15.
Last season due to the COVID-19 pandemic, only athletes, event staff and media were allowed into the Nutter Field House in Lexington, Kentucky.
A new face in collegiate track and field opened her career with a record breaking performance. Chante Clinkscale ran the fastest time of any Dayton sprinter in the history of the school, finishing with a time of 7.43 in the final round of the 60 meters, Jan. 15.
"It felt great. I had the mindset to go in there and win," Clinkscale said after winning the final in front of a crowd that included her mom, sister, niece and her high school coach.
Her time is currently the 39th fastest time in the NCAA. Out of all first year true freshmen in the nation she has the fourth fastest time.
"It was a lot of stuff going on in my head," Clinkscale said. "My mindset was just no matter how the ending is, just run my race and finish. My blocks have never been the greatest, from there I had to get out the blocks, pump my arms and [it will] lead me to the finish line."
During her high school career at Niles McKinley she won five state championships while also taking care of business in the classroom as a member of the National Honors Society.
When asked if she thinks she can go to the NCAA championship meet in the 60 meters, the calm but confident freshman said, "That's the goal, this year."
In the first round Clinkscale broke the school record in her first collegiate race at 7.44 as she placed ahead of Kentucky sprinter Kaylyn Heath (7.51) in heat four of the prelims. During the semis she faced Olympian Devynne Charlton who now runs for Puma. Clinkscale (7.46) finished second as Charlton ran a time of 7.42.
In the final Charlton elected to not participate as Clinkscale faced Heath and her Kentucky teammate Shadajah Ballard. The field also included Sydney Hawkins of Rutgers, Tulane's Aldriana Dupree and Kaira Granger who competes for Dayton as well.
Clinkscale's 7.43, just edged out Heath's finish of 7.44 as the Dayton Flyers who were watching their new teammate erupted to celebrate her victory.
Another great performance came, Jan. 14 as Ball State's Charity Griffith set a school record with a 1.84 winning mark in the high jump. Griffith was dominant as she was successful on all of her first five attempts from the heights of 1.66 to 1.84. She outlasted Rutgers All-American Courteney Campbell, who jumped 1.71. Campbell was tied for second with Cincinnati freshman Annika Kinley, who had her best collegiate finish in only her second meet.
Two other Cincinnati jumpers captured wins. Anaya Dees won the long jump with her final attempt at 5.71, ahead of Kentucky's Annika Williams' mark of 5.70. In the triple jump Dees placed second at 12.21 to teammate Kennedy Marable who won at 12.58 on day two. Both Cincinnati jumpers were winners in those respective events at the Hoosier Open which was the first meet of the season, last month.
The host Wildcats had some winning moments as well. All-American Abby Steiner recorded the top time in the NCAA when she ran 22.58 in the 200 meters. All-American Alexis Holmes led Kentucky to a win in the 300 meters with a time of 37.37 which is a personal best. Holmes also ran the opening leg of the winning 1,600-meter relay which included Karimah Davis, Megan Moss and Dajour Miles. That foursome won with a time that is the second best in the NCAA at 3:33.02.