Stergiopoulos gets gold, Zaire silver at AAU indoor nationals
Top throwers almost kept out of competition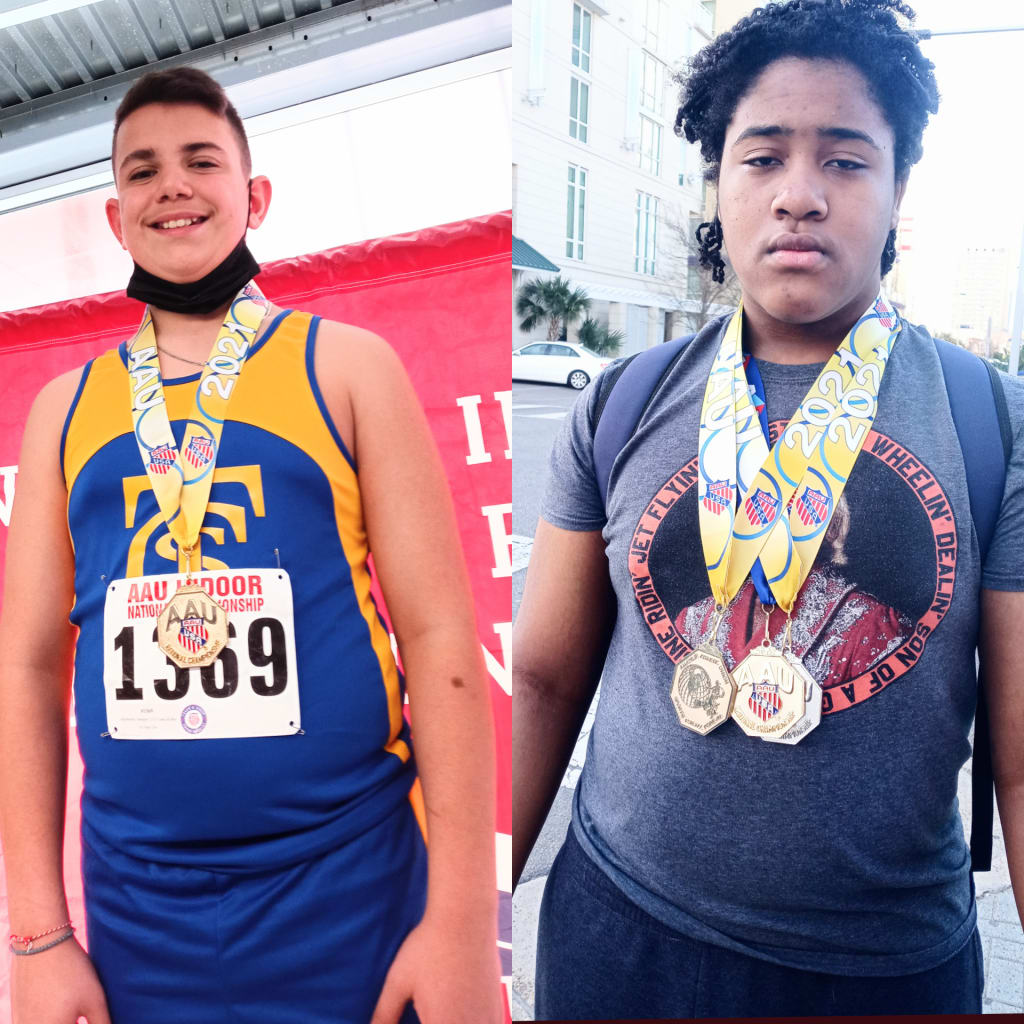 Georgios Stergiopoulos & Pharoahe Zaire
The AAU National Indoor Championship took place, March 15, in Virginia Beach, Virginia.
Athletes from the ages of five to 18 competed from all across the United States in hopes to earn gold, silver and bronze medals as well as the honor of being called an All-American.
Twelve-year-old shot put thrower Georgios Stergiopoulos of the TSC Track Club and Great Neck New York won the 13-year-old division. It almost never happened due to misinformation.
When the competition began Stergiopoulos and fellow thrower Pharoahe Zaire, an unattached athlete from Columbus Ohio, were outside like many other athletes due to capacity limitations involved with COVID-19 protocols. Building officials incorrectly insisted that their session had not began and after waiting over an hour. the two boys were allowed inside.
While they sat watching a competition that they thought was from different age division, they were eventually informed that they were watching the very event that they were supposed to participate.
Five other throwers were already battling it out as the event officials told the Stergiopoulos and Zaire that they would only be allowed to throw three times while the other five competitors threw six. They were also not allowed any practice throws.
"I felt that I could've done better," Stergiopoulos said after throwing the top mark of 37-feet-four and 1/2 inches. "I think that it was because there were no warm-up throws but I think I did okay. I thought that I wasn't gonna do as well because I wasn't gonna be as ready."
Despite not having the same amount of throws, Stergiopoulos and Zaire came in and quickly took control of the competition. Stergiopulos threw 36-feet-four and 3/4 with his first throw. Zaire followed that with a toss of 34-feet-eight and 1/2 inches. Prior to their throws the best mark was Mason Bell's throw of 30-feet-two and 1/2 inches. In fact Bell was the only other competitor that had thrown beyond 30 feet in the first three rounds.
Stergiopoulos never threw under 35-feet and seven inches and Zaire's lowest throw was his first throw which he matched on final throw.
After winning his first national championship, Stergiopoulos credited his best throw, with faster movement. "I think I moved across the ring more quicker, he said. "I put more effort into my throw and tried to get a quicker release."
Zaire's best throw was 36-feet-four 1/2 inches, which gave him his second silver medal in as many weeks. He also took second place at the AAU 14 & Under Indoor Youth National Championship, March 5, in Ypsilanti, Michigan, with a throw of 35-feet-nine and 1/2 inches. Zaire earned his first silver medal of the season at the TFCUSA Indoor National Championship in Birmingham, Alabama, last month, during a non-AAU sanctioned event. There he threw 36-feet and 1/4 inch.
"Considering the issues that this pandemic has brought with making it challenging at times to train, we are happy with Pharoahe's ability to be able to win three silver medals during the indoor season," said his coach and dad Gezus Zaire. "He is stronger than ever and we wanted to put that on display. In the future we will get him with some coaches that will assist him with technique and he will be hard to beat."
Zaire was by far the largest competitor, coming in at six-foot-four and over 280 pounds. He and Stergiopoulos should become household names that we will be hearing about on the amateur level for years to come.
Final Results
AAU National Indoor 13-year-old Boys Shot Put
1. Georgios Stergiopoulos, 37-feet-four and 1/2 inches
2. Pharoahe Zaire, 36-feet-four and 1/2 inches
3. Mason Bell, 31-feet-10 and 3/4 inches
4. Christopher White, 25-feet-10 inches
5. Michael Onuzulike, 24-feet-nine inches
6. Ja'eir Adams, 21-feet-10 and 1/2 inches
7. Aa'Kar Archer, 21-feet-one and 1/2 inches
8. Kobyn Ogletree, 18-feet-two and 3/4 inches