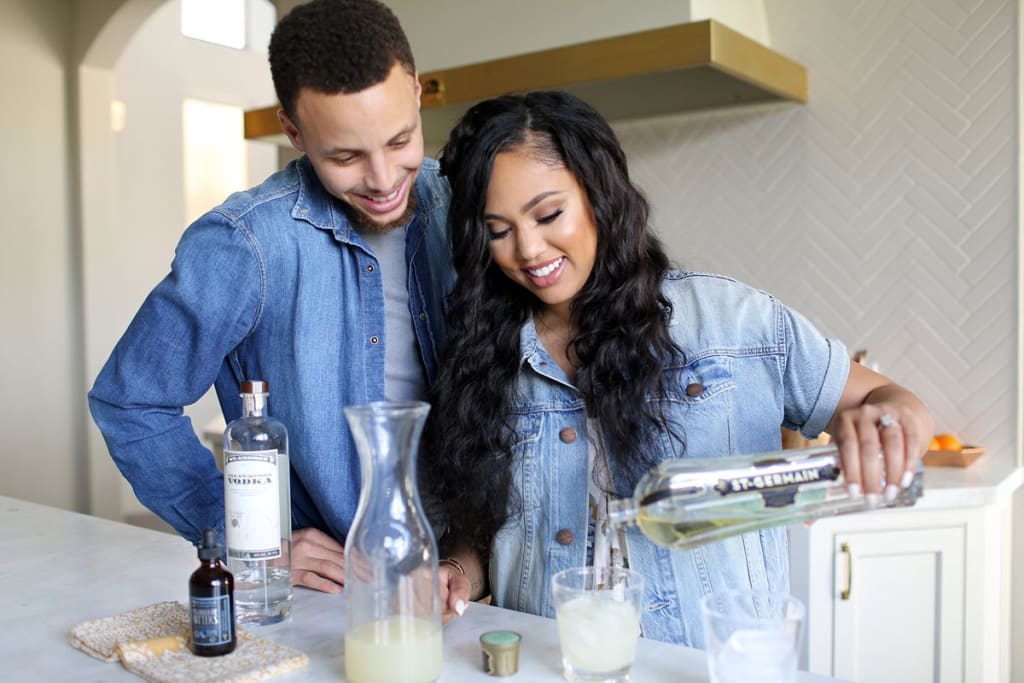 Ayesha Curry can cook.
Stephen Curry is one of the most accomplished and recognizable NBA players of his generation. Known for his exceptional shooting skills and leadership on the court, Curry is also a devoted husband and father off the court. In this article, we will take a closer look at Stephen Curry's family life, including his personal relationships and experiences as a father.
Stephen Curry was born on March 14, 1988, in Akron, Ohio. He is the son of former NBA player Dell Curry and his wife Sonya. Curry grew up in Charlotte, North Carolina, where his father played for the Charlotte Hornets. Curry has two younger siblings, a brother named Seth and a sister named Sydel.
In 2011, Curry married his college sweetheart, Ayesha Alexander. The couple met in a church youth group when they were teenagers and began dating when Curry was a sophomore at Davidson College. They were married in a private ceremony in Charlotte, North Carolina, and have been together ever since.
Ayesha Curry is a successful entrepreneur and author. She has a cooking show, a cookbook, and a line of cookware and kitchen products. She is also involved in a variety of philanthropic efforts, including supporting children's education and health initiatives.
Stephen and Ayesha have three children together: daughters Riley and Ryan, and son Canon. Riley, the oldest, gained national attention during the 2015 NBA playoffs when she joined her father during a post-game press conference and stole the show with her adorable antics. Since then, Riley has become something of a celebrity in her own right, appearing in various commercials and making public appearances with her famous family.
Stephen Curry has spoken often about how important his family is to him and how he tries to balance his busy basketball career with his duties as a husband and father. In an interview with Parents Magazine, he said, "I try to stay in the moment, whether it's basketball or family time. I make sure I'm present and engaged in whatever I'm doing at the time, and that helps me stay balanced."
Curry is also a dedicated father who is actively involved in his children's lives. He has been vocal about the joys and challenges of fatherhood, including the importance of setting a good example for his kids. In a post on Instagram, he wrote, "Being a father is the most rewarding thing I've ever done. I'm grateful for my family and the opportunity to be a positive influence in my kids' lives."
Stephen Curry is known for his incredible work ethic and dedication to his craft. He maintains a rigorous training routine both during the NBA season and in the offseason to stay in top shape and improve his skills. Here is a closer look at Stephen Curry's working routine:
1. Early Mornings: Curry is an early riser, often waking up before 6:00 a.m. to begin his day. He starts with a light breakfast and some stretching to get his body ready for the day.
2. Shooting Drills: Shooting is one of Curry's most important skills, and he spends a significant amount of time working on it. He typically starts with some shooting drills, focusing on different types of shots and working on his footwork and form.
3. Strength Training: Curry also places a high importance on strength training. He spends time in the weight room working on exercises to build strength and power, with a focus on his core and legs to help him generate more power in his shots and movements on the court.
4. Conditioning: To maintain his stamina and endurance, Curry also spends time doing cardio and conditioning work. He often does interval training on a treadmill or bike, alternating between high-intensity sprints and periods of rest.
5. Skill Development: In addition to shooting, Curry also works on other aspects of his game, such as ball handling, passing, and defense. He spends time doing drills to improve his skills in these areas and also works with coaches and trainers to identify areas where he can improve.
6. Film Study: Curry is also a student of the game, and he spends time studying film to analyze his own performance and learn from other players. He watches game footage to identify areas where he can improve and looks at footage of other players to learn new techniques and strategies.
7. Recovery: Finally, Curry knows the importance of recovery and rest. After a long day of training and practice, he makes sure to get enough rest and recovery time to allow his body to heal and prepare for the next day.
Overall, Stephen Curry's working routine is a testament to his dedication and commitment to his craft. He puts in the time and effort needed to stay at the top of his game, and his hard work has paid off in the form of numerous accolades and a reputation as one of the best players in NBA history.
About the Creator
Hello, my name is Ali. Basketball is my passion and I follow NBA and Euroleague closely. I'm a student in Istanbul. I follow the latest news about technology and music.
Reader insights
Nice work
Very well written. Keep up the good work!
Top insight
Excellent storytelling

Original narrative & well developed characters
Add your insights