Speakman Leads Beechcroft to Win
Pitcher and Hot Bats Defeat East, for Second Victory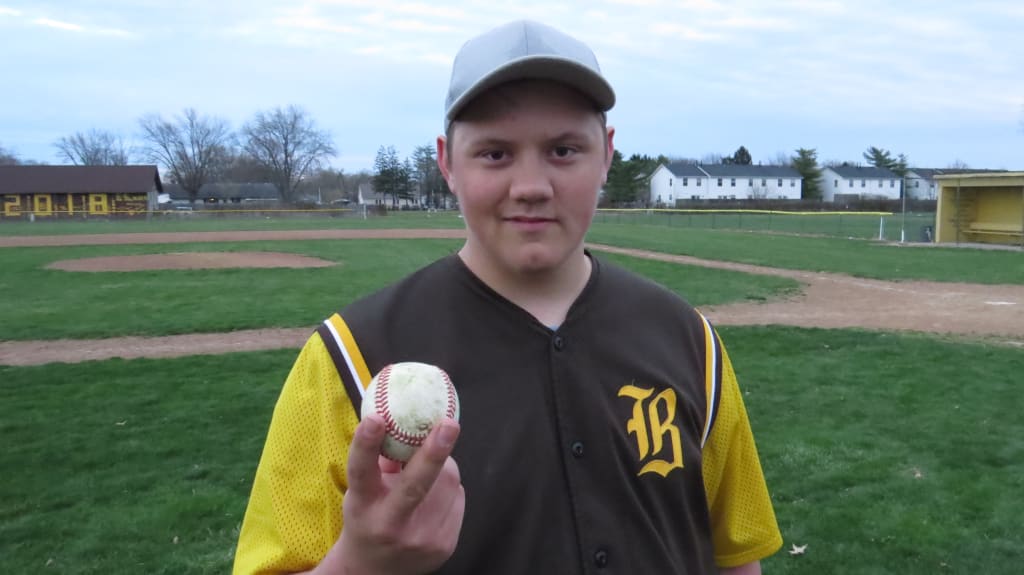 Beechcroft Pitcher Sean Speakman, After His Complete Game One-Hit Win
"I like striking people out. I like to see their face and the walk of shame when they leave the plate. It's just so funny and they look at me angry."

- Sean Speakman
On a chilly evening, Beechcroft High School's bats and the arm of Sean Speakman remained warm as the Cougars earned their second win of the season over East High School, in Columbus, Ohio.
Host Beechcroft (2-3) won 14 to 4 in five innings, as Speakman (1-0) was victorious in his first ever start and complete game, Wednesday, April 10. The stout pitcher convinced many of the parents of East's team that he was an experienced player. On the contrary Speakman hasn't pitched in a high school game prior to this season.
"I don't know, I just like to throw the ball," Speakman said when asked about how he accomplished his 11-strikeout performance. "I play dodge ball a lot at my church, so it probably got me better at aim and accuracy. [The baseball] is just a smaller ball and you're throwing at a target."
Speakman previously pitched in relief appearances this season, and showed great discipline and control. He carried those qualities into his first start.
"I liked his confidence and I liked how after he gave up a home run, he didn't keep his head down," said, Micah Newell who played third base for the first time this season.
Speakman surrendered one hit throughout his whole performance. "I like striking people out." he said. "I like to see their face and the walk of shame when they leave the plate. It's just so funny and they look at me angry."
That quote gives you an inside look at Speakman's personality. He's comical, pokes fun at himself, while also being able to laugh with and at others as well. Due to his hefty physique, he's been called Babe Ruth and David Wells, two former players whose talent and charisma matched their size.
While he makes his team and coach chuckle at his jokes in the clubhouse and in between innings, Speakman is helping his squad win, with his will to excel at his newfound talent.
"What I see with Sean right now, is he's a competitor, he wants the ball," said first year coach Brian Knisley. "Even today when I got here he was asking, "Am I pitching tonight?" He really likes pitching and right now, he's getting really good. As the game went on he got stronger and stronger, tonight. [He] had 11 strikeouts and I couldn't ask for anything better from him on the mound."
After opening the season with a 20 to 0 win over Mifflin High, Beechcroft played three very experienced teams, three days in a row last week. The Cougars dropped games to Whetstone, Northland and Centennial being outscored 47 to 4, due to a lot of errors, walks and missed opportunities.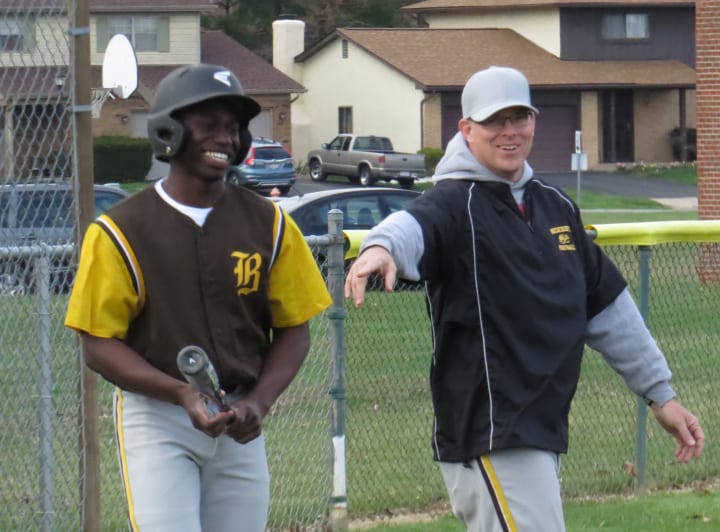 Beechcroft's struggles of having the mandatory nine players to compete haunts them every game. Some players have to work and are rarely at practice, injuries have reared their ugly heads as well, one of which cost the team its starting second baseman.
During the win over East, Beechcroft was able to gather a couple of track athletes, including Ibrahim Camara who got an RBI in his first game. The immigrant from Guinea admitted that he knew absolutely nothing about baseball, and was figuring the game out as he went along.
"The big challenge here is the crossover," Knisley said. "[Camara], really doesn't know much about baseball. He gets on the bag and you literally have to tell him every single second of what to do. So it does take attention off of the other guys. Another thing is our terminology and our defensive shifts you have to teach [newcomers] all of that, because that's new. Piecing it together is tough, because they don't always know everything when they get here."
Despite having the inexperienced players, the first thing that Knisley did after the game in his post-game speech, was thank the two players who joined his team, which allowed Beechcroft to compete and have the chance to win.
Believe it or not, Beechcroft does have a few experienced players. Newell, a junior, lead-off hitter, who is batting .538, previously played baseball his freshman season and throughout his elementary years.
"It did help me, because I got to see pitches when I was younger and I got to improve, based off of what I saw when I was younger," Newell said.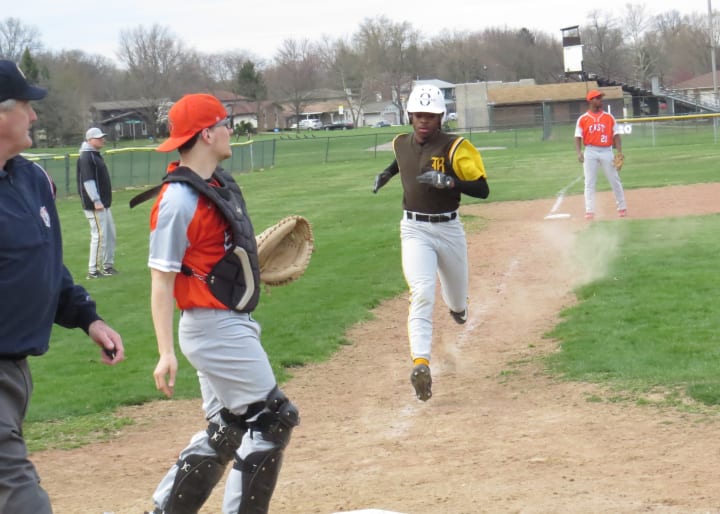 Another player that has a background in the game, is freshman Jalen Leavell. The lefty speedster has been playing since he was four years old. "My hitting has gotten me where I am," Leavell said. "I usually work on my hitting somewhere in the batting cages. Me and my dad just drive there and work on it."
During his last two games he amassed seven RBI, including four in the win over East. In baseball many left-handed batters struggle against left-handed pitchers. Leavell's experience in baseball shows, as he was able to explain how he got hits versus East's left handed pitcher.
"The ball drifts to the left, so I have more room to hit it," Leavell said. Usually where I hit is on the outside, and most lefties just throw to my left so I can extend my arms and hit it farther."
The win over East included great performances by Tyler Hasty, who batted two for three with two RBI. Alhaji Sidibe also had in an RBI and Newell collected an RBI, while scoring two runs.
"I'm most proud of how we bounced back from those three losses," Knisley said. "We could've just said, "Here it is, we're going down the same street as last year," but no, we didn't. We bounced back. We had a tough game against Linden-McKinley yesterday, which is still suspended. We still have to finish it when we go to their place. And then we come out today. We had great pitching, great defense and we won over East for our second win."
On Tuesday, April 9, Beechcroft hosted Linden-McKinley, and the game was stopped in the final inning, due to darkness, with the Cougars at the plate. Beechcroft was in the midst of a rally, as they entered the inning down 26 to 14. The Cougars brought the score to 26-19, without recording a single out, before the game was stopped. It will continue next week, when Beechcroft travels to Linden-McKinley.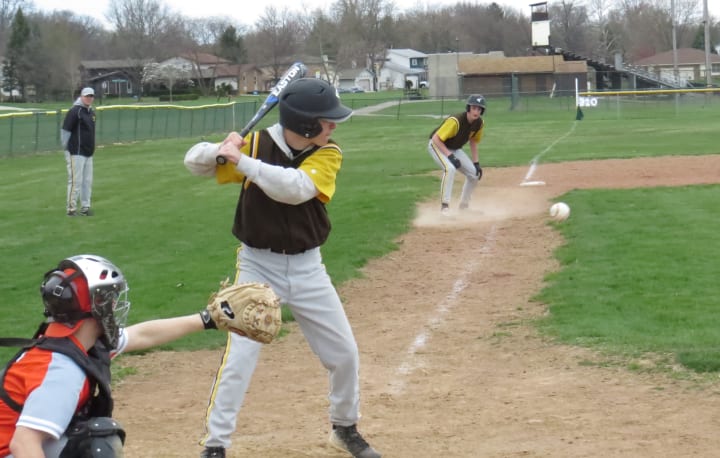 Northland will visit Beechcroft, Friday, April 12, as the Cougars look to exact revenge on their previous loss. Beechcroft's two wins is an improvement over the one win it accomplished during the entire 2018 season.
"We have to take advantage of our opportunities," Knisley said. "We're not having a problem scoring runs. If we can get on top of [Northland] and have some confidence that we can play with these guys, I think that's really gonna help us."
Newell said that Knisley is doing a great job of making sure that they're prepared for each opponent. "I think that he makes better use of practice time, and I think we get more work done in the same amount of time. With other coaches some people might not be doing anything at one point, [Knisley] is making sure somebody is doing something at all times during practice."