School of Hard Knocks
Last Play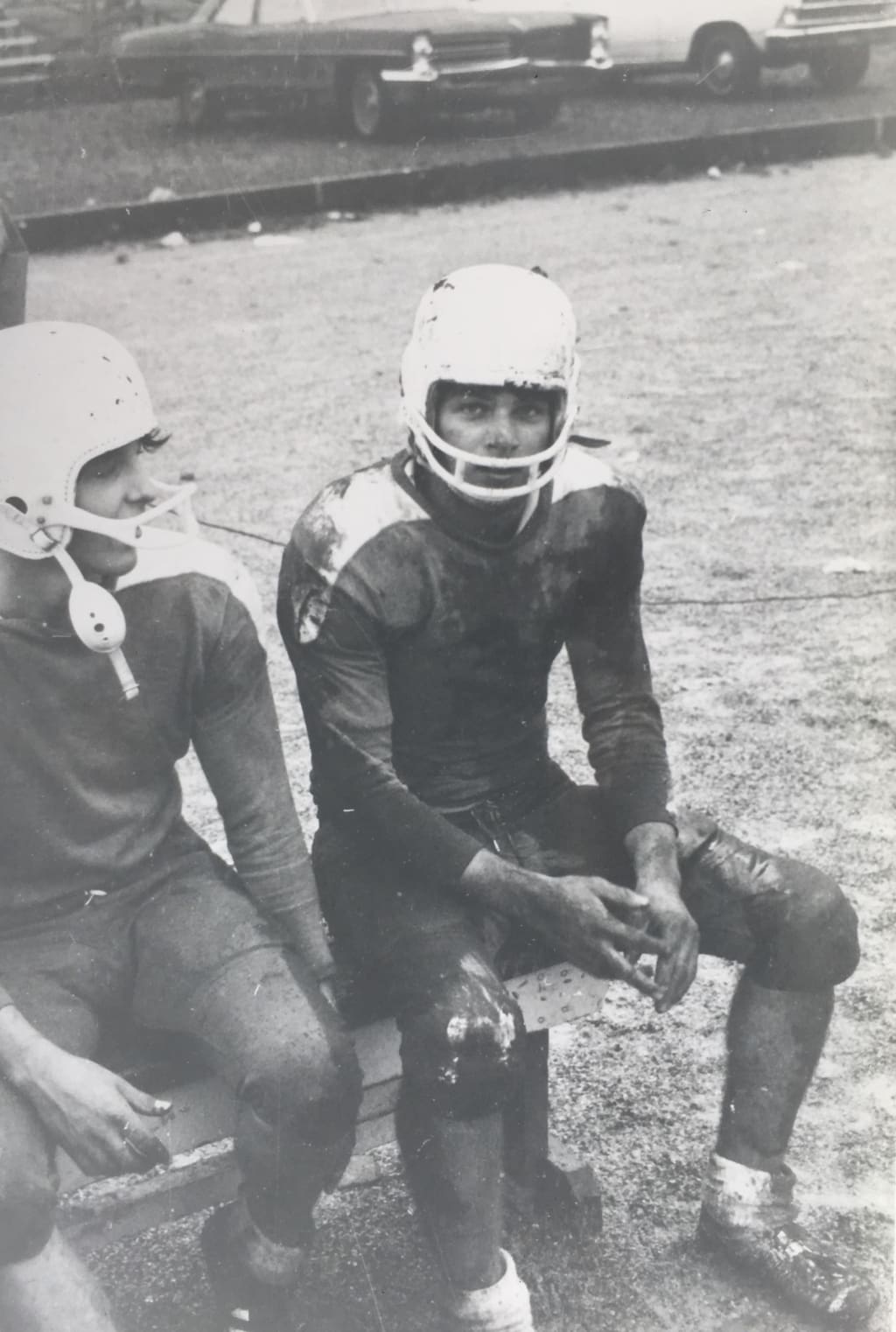 School of Hard Knocks
When I was a kid I was very fast. Both my twin and I grew to the size we are now, decades later, over a six month period when we were 12. We filled out as we grew, taller, stronger with more muscle mass and we both started shaving…adolescence to adulthood over night. As a result we overpowered all our contemporaries in all sports until our mid teens when the other guys caught up and grew by.
I was track and David was field. He put the shot and threw the discus and won most of the time until a much bigger guy moved to town and could put more weight behind his tosses and then David came second.
I ran. I ran all the time…I ran to and from school, to the sea, to my friend Tope's house across the graveyard, even after dark. I ran to the back of Sobeys where we met the girls on Friday nights. I was the 100 and 200 metre man and I won race after race. Of course every one of my opponents was smaller than me.
One morning at the provincials I ran the finals for each race and won them both. When the 400-metre guy sprained his ankle the coach asked if I would run it…I said no, I didn't think I had it in me. In reality I was scared of the distance…I had never run that far flat out and I didn't think could. My dad took me aside and encouraged me to give it a shot. "I think you can do it…but if you lose than that is a win too." At the time I didn't know what he was talking about but I picked myself up from the bench and walked to the starting blocks. A harder race I have never run but I did win it…large day.
We played many sports but the autumn meant football. For 5 years we wore the green and white of the west side in the city league. David and I played halfbacks and they could only tell us apart by the number on the back of the jersey.
Saint John was a pretty tough town back then, mostly blue collar, shipyard, dry dock, pulp mill, oil refinery, docks and the breweries… a workin'man town. You worked hard and you played hard.
Some parts of town were tougher than others. The deep North End, down in Indian Town, where native peoples would bring their catch to trade at the wharves in centuries past, was the toughest, longshoremen mostly, Irish stock.
When we played against St. Pats at Shamrock Park, it was always a run for your money. It was their home turf and they claimed it like a bulldog in a corner… you always came away bruised and battered. Because I was fast, I was hated and had a target on my back…other teams wanted to knock me off the field.
My mother told this story for years after the event.
It was near the end of the season and the weather had changed toward winter. On a dark, grey October Sunday afternoon the wind had swung to the Nor'west and blew steadily across the field. A scattering of snowflakes began to fall and the ground was hard from recent frost. The mud from the previous week's game was frozen and had sharp points where cleats had dug making the whole field resemble a bed of daggers. And it was cold.
Bundled in her parka and scarf my mom sat in the rickety old bleachers with her thermos of tea in hand to watch the game but she said she could feel the build up around her, the tension. She heard the locals shouting "Get'em! Smash 'em down…mash 'em, run 'em outta town!" every time I stepped onto the field. She didn't know what to think and she felt uneasy. But what could she do? She couldn't walk out the field and tell me to stop, certainly not in the 1960's, not in this town.
We were in the third quarter and up by one touchdown, I had three up 'til then. The play was called in the huddle and the quarterback took his time setting the play in motion making St Pat's defence twitchy and restless causing them to step off side twice and lose ten yards. Now they were really angry.
He counted out the call and finally got the snap and dropped back. St Pat's defence blasted through the line. I deaked left and ran a long pattern down the centre of the field. Despite the cold I remember feeling good, really good, like I was flying fast, every step and stride extended and reaching. I saw the last two guys between the goal posts and me and felt I had them…no problem. The quarterback saw me in the open and let the ball fly just before the St. Pat's defence ploughed him down. The rule is that the defence cannot touch the receiver until he has the ball. I cut left around two defensive backs and was in the clear to make the catch when I felt a jarring hit from behind. The ball touched my fingers as I lost balance but I didn't stand a chance. The Northender was on top of me before I hit the ground. Then 5, 6, 10 more guys piled in, one after the other, punching, kicking, elbowing every part of my body. I remember the grunting of effort and the profanity; all of them had a go at me, all of them had something to say. Even after the whistle blew I felt more jabs as they got up and walked away…I didn't.
I couldn't move. I lay there listening to the North End cheerleaders shouting at me, "We got ya, ya bastard!" whooping and cheering as I watched them with a frozen smile on my bloodied face.
Then one girl said, "I think he is hurt." Another rousing cheer. "No. I think he is really hurt!"
Coach Colwell ran out and leaned over me. "Can you get up lad? Are you alright?"
"I can't move my leg, Coach."
And I couldn't, I also couldn't stop that ridicules smile on my face. I think if I had I would have passed out.
He called for a stretcher and bags of ice and the field went silent as four of my teammates carried me off and put me into my mom's station wagon. The people seated around my mother stopped cheering when she rose from her seat and they realized who she was as she hurried to the car. Then they applauded the fallen player.
It is so many years later now and I can't remember if we won or lost that day but I do remember strapping on the leg brace for the next year, one of those old steel and leather contraptions that I had to keep oiled so it would keep bending and not squeak. I carried a 7/16's wrench with me at all times to tighten the nuts that were forever backing off.
The x-ray showed my tibia was broken in three places; my ankle was out its socket and my kneecap wandered all over the block for a few months.
I didn't play football after that.