Rugby Union: When Piennar made World Cup history
It's 25 years since Springboks first lifted trophy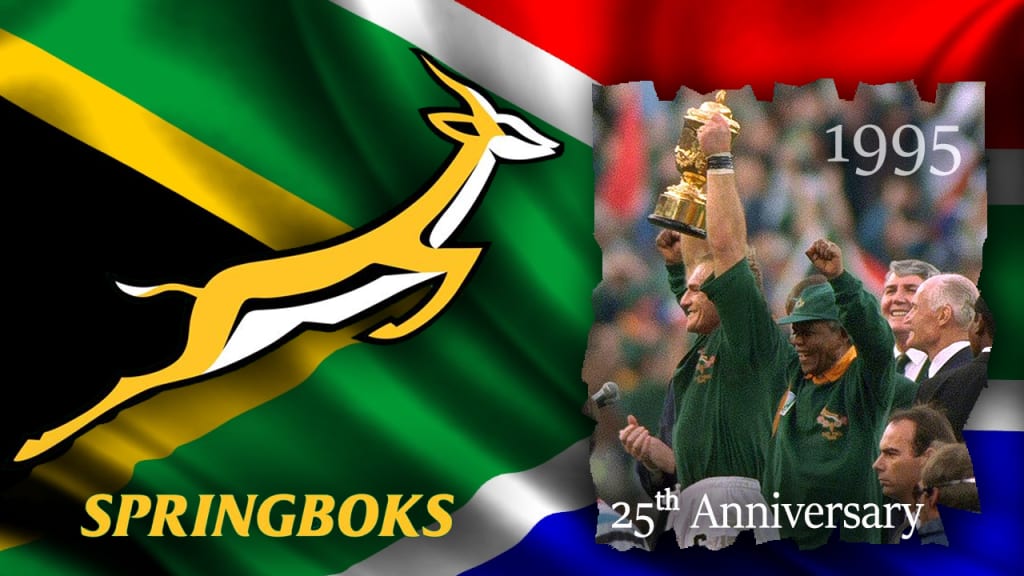 Last week, on 24 June, it was the 25th anniversary of the 1995 Rugby World Cup final when Francois Piennar inspired a nation by leading South Africa to their first World Cup triumph on home soil, earning great praise for his leadership from South African president Nelson Mandela.
The 1995 Rugby World Cup was the first major tournament held in South Africa following apartheid and the first in which the Springboks had participated, having only been readmitted to international rugby by the International Rugby Football Board (now World Rugby) in 1992.
In the final at Ellis Park in Johannesburg, South Africa beat New Zealand 15-12, with outside-half Joel Stransky scoring a drop-goal in extra-time to win the match.
The image of Pienaar, who turned 53 in January this year, accepting the Webb Ellis Cup from Mandela is one of the enduring sporting moments of all time, an everlasting symbol of South Africa's rehabilitation into the sporting landscape. It was a monumental moment and one that made Pienaar an all-time great.
The Springboks task had begun with a daunting opening fixture at Newlands against reigning champions Australia, who were undefeated for a full year before the tournament's curtain raiser. But Pienaar's side were in no mood to stand on ceremony as tries from Stransky and Pieter Hendriks sunk the Wallabies 27-18.
From then on Pienaar's side overcame obstacle after obstacle, whether it be a mass-brawl against Canada or the semi-final against France, in which conditions were almost unplayable following huge storms over the ABSA Stadium.
In the final Pienaar's men faced up to the fearsome All Blacks and their try-machine Jonah Lomu but three penalties and two drop-goals from Stransky were enough to see the Springboks to glory, but it was the magnificent marshalling of Lomu by the South Africa back-row led by flanker Piennar that really drove home their victory.
Last year in Japan the Springboks, captained by Siya Kolisi, repeated their glorious 1995 triumph, winning the Webb Ellis Cup for the third time by beating England 32-12 in the final, with Pienaar proudly cheering them on in Yokohama.
Born in Vereeniging into a working-class Afrikaner family, Pienaar was the eldest of four brothers and won an athletic scholarship to the Rand Afrikaans University where he studied law.
He made his provincial debut for Transvaal in 1989 before being selected for the South Africa squad in 1993, where he was appointed captain, a role he performed in all his 29 Tests for his country. He remains one of the most successful South African captains of all time.
In 1994 Piennar was named International Player of the Year by Rugby World magazine and Rugby Personality of the Year by Britain's Union Writers' Club.
After controversially taking on the South African Rugby Union as the sport moved towards professionalism following the World Cup and a run of losses against New Zealand, Piennar's international career came to an end when he was dropped from the Springbok side in 1996 by coach Andre Markgraaff.
The same year Pienaar made a high-profile switch to Britain, where he became player-coach of Watford-based club Saracens, teaming up with fellow superstars Michael Lynagh and Phillipe Sella.
Pienaar led Saracens to their first trophy in 127 years in the 1998 Tetleys' Bitter Cup before retiring in 2000. But his immediate future remained with the club, taking up a position as CEO and coach until 2002, when he resigned and returned to Cape Town where he lives with his wife and two sons, one of whom had Mandela as a godfather.
Pienaar wrote his autobiography Rainbow Warrior with Edward Griffiths in 1999 and was depicted by Matt Damon in the 2009 movie Invictus, which tells the story of South Africa's famous victory in 1995.
South Africa 1995: Andre Joubert; Chester Williams, Japie Mulder, Hennie le Roux, James Small; Joel Stransky, Joost van der Westhuizen; Os du Randt, Chris Rossouw, Balie Swart; Hannes Strydom, Kobus Wiese; Ruben Kruger, Francois Pienaar (captain), Mark Andrews
About the Creator
From Covid to the Ukraine and Gaza... nothing is as it seems in the world. Don't just accept the mainstream brainwashing, open your eyes to the bigger picture at the heart of these globalist agendas.
JOIN THE DOTS: http://wildaboutit.com
Reader insights
Be the first to share your insights about this piece.
Add your insights