Roman Reigns: A World Class Heel
The Head Of The Table Of Heels
Have you ever watched a television show or a movie and had one character just blow your mind? It seems like you are being drawn into this certain character and nothing will ever change…but then it does. As an audience or a viewer, things grow stale and we crave more. The same can be said for superstars in the wrestling industry.
If their character never adapts they just stay in the same spot, almost running in circles with no end in sight. Let's take a look at the legendary career of The Undertaker who's had morphed his persona and character to blend in with the times. It's always fascinating to me how one superstar's character could drastically affect a multitude of others.
If "The Icon '' Sting never donned face paint would there even be a Darby Allin in AEW currently? Would there have been a "Demon King" Finn Balor or the legendary Jeff Hardy? All of these superstars are visible examples of what it takes to develop their characters, as when they knew they needed to adapt they did. Right now, the biggest development in character goes to our WWE Universal Champion "The Tribal Chief" Roman Reigns.
If anyone had his work cut out for him, it was Reigns. The former muscle of The Shield was dealt a crappy hand after the stable disbanded. While his former partners went off to be endeared by the WWE Universe, "The Big Dog" received boos no matter where he went. It was no fault of his at all, but the creative team that kept him chasing after the WWE World Heavyweight Championship despite nobody wanting any of it.
It appeared that the upper management had finally learned this back in December 2015 with Reigns winning the WWE championship. At the 2016 Royal Rumble pay-per-view, Reigns was forced to defend his championship inside the battle royal only to lose it to his rival part-timer Triple H. Not only was this not the right call, but when The Big Dog finally won the title back in the main event of WrestleMania 32 the crowd booed.
In my opinion, the last time was "over" with the WWE Universe was when Reigns was feuding with "The Authority" back from 2015-2016. When Reigns was screwed out of the championship and obliterated HHH at TLC 2015, it was the loudest pop I had heard for him until now. At the beginning of the pandemic as the world knows, Reigns , who is in remission of leukemia decided to stay home and keep his family safe, leaving the championship wide open. During that time a "Huge" dream match between Reigns and Goldberg was slashed and Braun Strowman stepped in.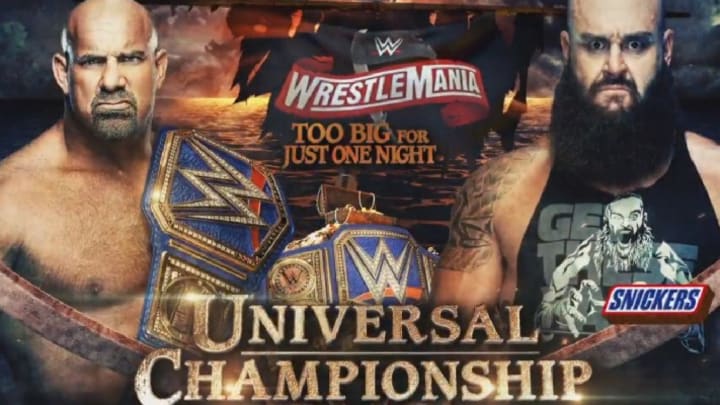 "The Monster Among Men" won the Universal Title in impressive fashion and would remain champion for a solid amount of time. At the 2020 SummerSlam pay-per-view, Reigns would make his shocking return completely obliterating Strowman and "The Fiend" Bray Wyatt. The Big Dog donned a brand-new mantra "Wreck Everyone and Leave" with a mouthpiece and a new swagger. Reigns for the first time in his WWE career felt like a badass. He walked, talked, and bragged like an entitled jerk.
Reigns went on to defeat both opponents in a triple-threat-match without having to do barely any work similar to his longtime rival's demeanor Brock Lesnar. The self proclaimed Tribal Chief did exactly what he proclaimed he destroyed everyone and left with the Universal title right over his shoulder. Typically, this would have been an easy transition for any given superstar but for Reigns this was a huge transformation in front of no audience.
There lies the problem, since there was no audience, WWE had to insert boos and cheers at their discretion via The ThunderDome. Fans would be set up virtually to watch and engage on a screen throughout the duration of the show. So now with no live audience and a ton of criticism on whether or not this change of character would work, Reigns put everything into his new arrogant character.
Reigns finally embraced his full darker side without any care for the fans or his doubters. He emphasized confidence in everything he did. If that wasn't evidence enough in all of his title defenses, just look at the main event of WrestleMania 37 where Reigns stacked both Edge and Daniel Bryan and made a t-shirt out of it. That's classic heel work right there, by using your opponents' misfortune and making merchandise out of it. To be fair, nothing against his real-life cousin but The Rock never capitalized on that.
At Money in the Bank after his successful title defense he took the mic like a boss. Reigns then claimed that now that we are back to sold out crowds it was time to "Acknowledge me." He was then interrupted by the sixteen-time WWE champion John Cena. The Tribal Chief just stood there in disbelief at the disrespect and shrugged it off.
I would be remiss to not point out that Cena garnered the loudest cheer of the night, someone who is normally getting mixed reactions. It goes to show two things one is that the WWE Universe missed him, and two that Reigns' character has finally reached the point where he can be included in the same conversation as "Stone Cold" Steve Austin, The Rock and other legends. On this week's episode of Friday Night SmackDown, what will The Tribal Chief have to say about the disrespect shown to him?
fighting
About the author
Hello my name is Chris I'm a single dad struggling to make an income. Ever since COVID-19 happened last year, I haven't been able to get my head above water. So I decided to give this a shot and see how it goes!
Reader insights
Be the first to share your insights about this piece.
Add your insights