REVIEW Week 8 #MoorePicks
Sports Review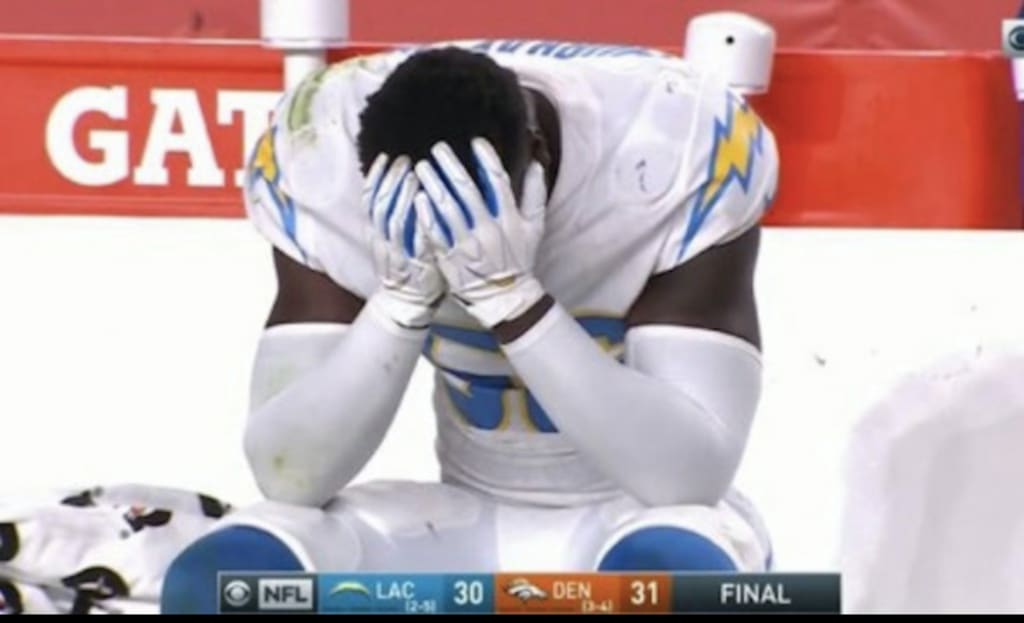 I promised you guys reviews every Tuesday from this point on. This week was brutal but there's also a lot to talk about. So let's talk.
My record for this week's lineup of games was:
7-7
There's a lot of room for improvement in my predictions. Don't be surprised if you see me go with my gut-choice a little bit more in the future. For now though, let's review the picks with this week's breakdown.
THURSDAY NIGHT FOOTBALL: FALCONS VS PANTHERS (LOSS)
MY SCORE: 20-31 PANTHERS
FINAL SCORE: 25-17 FALCONS
I'm never going to kick myself for rooting against the Falcons, they're too unpredictable a football team right now, so I'll eat this loss. That being said, I underestimated the iconic duo that is Matt Ryan and Julio Jones. It is truly a shame that they haven't won a Super Bowl together. In the end, though, the Panthers missed their opportunities and the Falcons played a full game.
SUNDAY GAMES @ 1:00
COLTS VS LIONS (WIN)
MY SCORE: 27-24 COLTS
FINAL SCORE: 41-21 COLTS
This is a win. And it's not unexpected. The Lions are, again, a below average football team, and they didn't have a good game against the Colts. All Stafford did, all day was run away from lineman. And here's interesting statistics: same third down efficiency, same amount of punts from either team... The Lions are shooting themselves in the foot with turnovers and that offensive line... Yeesh.
TITANS VS BENGALS (LOSS)
MY SCORE: 37-27 TITANS
FINAL SCORE: 20-31 BENGALS
I wanted, more than anything in the world to call this upset, so it's really hard to eat this. I had far too much faith in the Titans, who need to figure out something with this defense. They're beatable now. Henry is not enough to win every game. Tannehill isn't impressive. Titans need to regroup. And on the other hand the Bengals have a franchise QB, and a decent shot at being a great team if their patient and make smart moves.
VIKINGS VS PACKERS (LOSS)
MY SCORE: 7-31
FINAL SCORE: 28-22
Absolutely shocking. These two teams went for it on 4th down a total of 6 times. When you see this that means you're dealing with awful defenses on both ends. But the number of missed tackles the Packers made... Absolutely shocking. The Vikings did WHATEVER they wanted to do on this defense. Didn't expect the Green Bay defense (which is in no way elite) to be so absent in this home loss. Still processing this game...
BROWNS VS RAIDERS (WIN)
MY SCORE: 20-28 RAIDERS
FINAL SCORE: 6-16
The Browns are not as good as everyone thought they were. That's not to say they're not good, they're just in some trouble now, and need to regroup. The Raiders are SO much better than their record suggests. I'm not saying they're going to win the Super Bowl, just that they can give any team trouble with how hard they play. Looking forward to next week's game against the Chargers.
STEELERS VS RAVENS (LOSS)
MY SCORE: 24-27 RAVENS
FINAL SCORE: 28-24 STEELERS
This is the best loss of the day, considering the Steelers have been my team since 2002. A gritty game, a great rivalry, and definitely the game of the week because of the intensity. This was a second half game for the Steelers. The Ravens did exactly what I thought they would do, which is run all over the Steelers. Lamar just coughed up the ball too much. Tough loss for Ravens fans. Great win for Pittsburgh.
CHIEFS VS JETS (WIN)
MY SCORE: 38-10 CHIEFS
FINAL SCORE: 35-9 CHIEFS
The only surprise in this game is that Patrick Mahomes did absolutely EVERYTHING. 5 TD's, 416 yards, 0 INT's. The Chiefs averaged 7.4 yards per play, with only 50 rushing yards. An absolute massacre.
PATRIOTS VS BILLS (WIN)
MY SCORE: 14-27 BILLS
FINAL SCORE: 21-24 BILLS
The Bills are a good team. They made the right plays at the right time, and hey, it paid off. The Bills are 6-2 and look better than they have in a long time. If I'm a Bills fan I'm happy—nervous about next week against the Seahawks—but happy. On the other side the Patriots need a lot more strength at a lot of positions. And you may have to think about rebuilding at this point.
RAMS VS DOLPHINS (LOSS)
MY SCORE: 26-17 RAMS
FINAL SCORE: 17-28 DOLPHINS
I totally underestimated Tua going into this game, so this one's hard to eat. I loved him in Alabama so it wasn't his skills, it had everything to do with this Miami organization and thinking he would need time to gel more. He didn't. The numbers aren't the most beautiful thing, but he made the plays when he needed to and Miami got a VERY good win. I think this knocks the Ram's way out of any "contender" talks. Although it's still early to call.
SAINTS VS BEARS (LOSS)
MY SCORE: 21-28 BEARS
FINAL SCORE: 26-23 SAINTS
I'll eat this one. The Bears nearly did it but I think that describes their season "nearly." They've got to be a whole lot better in crunch time to win. The Saints pull it out in a hard fought win. Close wins are huge in the long run, but the Saints need to start thinking about how they're going to beat Tampa or Seattle. They need to consider bolstering up their D to make the Super Bowl.
SEAHAWKS VS 49ERS (WIN)
MY SCORE: 34-24 SEAHAWKS
FINAL SCORE: 37-27 SEAHAWKS
The Seahawks have to be the NFC "team to beat" Tampa. Russell Wilson has had whole seasons where he's handled pressure every game. That's never been Drew Brees' strong point so I'm taking Seattle. The 49ers meanwhile are 4-4 and their schedules not going to get much easier.
CHARGERS VS BRONCOS (LOSS)
MY SCORE: 28-10 CHARGERS
FINAL SCORE: 30-31 BRONCOS
This game made me laugh. The Chargers are the first team in the history of the NFL to blow 4 straight 16 point leads. They're lowest scoring game being 27 points in that 4 game stretch. There's no problem scoring, this is a coaching problem. And like I said about the Raiders, the Broncos are a team you cannot afford to sleep on.
SUNDAY NIGHT FOOTBALL: COWBOYS VS EAGLES (WIN)
MY SCORE: 10-24 EAGLES
FINAL SCORE: 9-23 EAGLES
This is a good win for Philadelphia. It wasn't a GREAT game but they got the W we all expected, and it's a confidence booster for a team that's played beneath their talent all year. A poor NFC east still gives them the opportunity to get in the playoffs, and wins like this help them capitalize. The Cowboys? Well they may need some manager and coaching changes before it's all said and done.
MONDAY NIGHT FOOTBALL: BUCCANEERS VS GIANTS (WIN)
MY SCORE: 31-7 BUCCANEERS
FINAL SCORE: 25-23 BUCCANEERS
Tampa gave us all a heart attack, didn't they? A W is a W, but this is a reminder that a lot of things still have to gel with Tampa Bay and we can't get too ahead of ourselves. I think, if you're New York, you take this close game and you move forward with confidence. I really think if this team makes the right decisions in the coming seasons they have a bright future.
This was a sub-par week of predictions. Good picks and bad ones. I'm going to see how I can improve next week.
Until next time.
football
About the author
I like to write: Fantasy, Suspense/Thrillers, Sports Articles,
Poetry, Songs...
Ok, I like to write everything.
Check out my fantasy novel on Amazon: https://www.amzn.com/B08HMLLRX1
Reader insights
Be the first to share your insights about this piece.
Add your insights