Ranking college sports' highest revenue producers
highest revenue producers..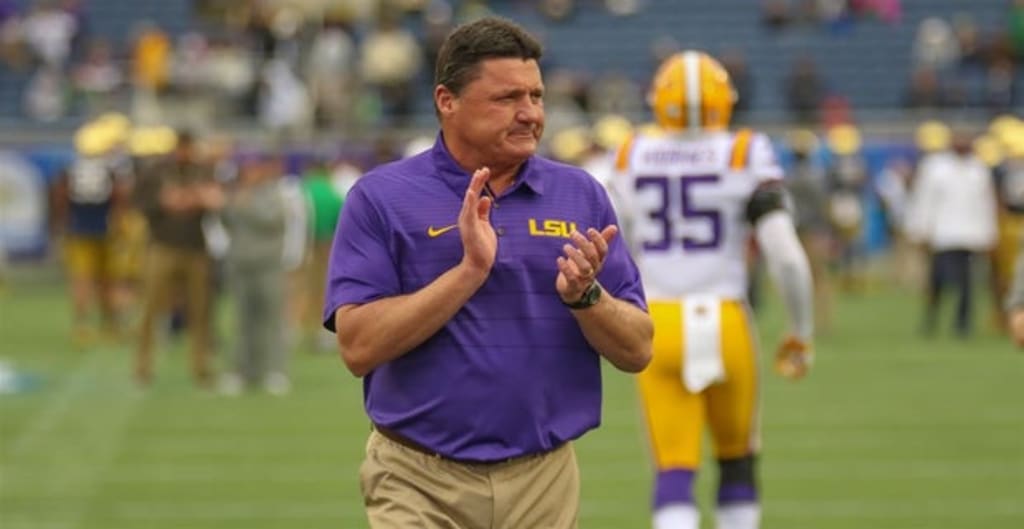 College sports has entered unprecedented financial waters stricken with revenue worry ahead of the 2020 fall season as important decisions over the coming weeks will have a long-lasting impact on athletic departments in the coming years. But as the arms race continues to grow exponentially in "normal" years, the recent nationwide fiscal report emanating from college athletics shows football is big business and Power 5 conferences are producing at exorbitant values.
Just a look at USA TODAY's list of revenue and expenses for athletic departments — one recently updated for the 2018-19 fiscal year — shows that staggering records revealed on a year-by-year basis just aren't so staggering any more. As 247Sports national analyst Kevin Flaherty notes, a decade ago, Texas led all athletic departments by bringing in slightly more than $120 million. That would rank the Longhorns 28th in 2017-18. Then-conference rival Texas A&M brought in shy of $75 million, while the 2017-18 Aggies, playing in the SEC, had revenues more than 2.8 times that.
Two seasons ago marked the first time a school had more than $200 million in operating revenues and expenses in the same fiscal year. During the past fiscal year, two schools hit the feat, while three schools crossed $210 million in revenue. Incredibly, 40 schools brought in more than $100 million.
So which athletic departments are building the biggest revenue arsenal? Here's a look at USA Today's updated list that details the 2018-19 fiscal year for athletic departments across the country:
(Photo: Tim Heitman, USA TODAY Sports)
20. Arkansas — $137 million
Despite struggles on the gridiron for several years, financially, things could be worse for the Razorbacks. Arkansas only had $129 million in expenses during the 2018-19 fiscal year, the lowest total inside the Top 20 nationally.
19. Louisville — $139 million
Scott Satterfield's early success with the Cardinals means revenue will only improve from here for a possible contender in the ACC Atlantic.
18. Michigan State — $140 million
17. South Carolina — $140.6 million
The Gamecocks have been up and down under Will Muschamp, but there remains significant fan interest and revenue hasn't been an issue. South Carolina is one of 10 SEC schools inside the Top 20.
16. Tennessee — $143 million
Ed Orgeron
(Photo: Terrill Weil, 247Sports)
15. Kentucky — $150 million
Basketball still owns in the Bluegrass, but Mark Stoops has done a masterful job with Kentucky's football program during his tenure. The Wildcats had a plus-$6 million difference in revenue vs. spending over the past fiscal year.
14. Iowa — $151 million
13. Auburn — $152.5 million
12. Florida State — $152.7 million
The Seminoles eliminated up to 25 positions within the athletic department earlier this month in a cost-cutting measure expected to affect nearly all major programs this fall in light of the pandemic. Budgets are being trimmed across college football up to 20 percent.
11. Wisconsin — $157.6 million
The Badgers missed out on the Top 10 by a mere $100,000.
10. LSU — $157.7 million
9. FLORIDA — $159 MILLION
Lamical Perine
(Photo: Don Juan Moore, Getty)
It might not be accurate to call Florida cheap, but the Gators did have the smallest total expenses during the 2018-19 fiscal year of any team inside the Top 10 ($141.8 million). In terms of revenue, Florida squeezed into the Top 10 ahead of LSU and Wisconsin by $2 million. Imagine what a trip to the College Football Playoff would do this fall for an athletics department that appears to be on solid footing financially?
8. OKLAHOMA — $163 MILLION
CeeDee Lamb
(Photo: Icon Sportswire, Getty)
With three consecutive 12-win seasons and trips to the Playoff, the Sooners are nearing breakthrough at football's highest level — and it's paying off, too. 247Sports national analyst Kevin Flaherty writres, "Oklahoma has long played second fiddle to Texas in revenues within the Big 12, and while the Sooners typically come in well behind the Longhorns in money, Oklahoma has made its money count. Oklahoma boasts sparkling facilities, a terrific athletic dorm in Headington Hall and, well, the results on the field to back those up."
7. ALABAMA — $164 MILLION
Tua Tagovailoa
(Photo: Michael Reaves, Getty)
Like everyone else, we expected the Crimson Tide to be higher on the list. Alabama is one of only two schools inside the Top 10 that spent more than it generated over the 2018-19 fiscal year. Alabama has won five national titles under Nick Saban and played for multiple others. The Crimson Tide spent more than $185 million, the most in the SEC and fourth-highest total nationally. Will it take another championship to push Alabama back inside the Top 5 on this list?
6. PENN STATE — $164 MILLION
(Photo: Harvey Levine-FOS/247)
The Nittany Lions made a major leap into the Top 10 over the last fiscal year with $164 million in revenue, third-highest in the Big Ten behind Ohio State and Michigan. Penn State has posted three 11-win seasons over the past four years and is considered to be a national title contender heading into the 2020 campaign. Basketball is on the upswing in Happy Valley as well.
5. GEORGIA — $174 MILLION
(Photo: Brett Davis, USA TODAY Sports)
Georgia spent more money on recruiting than any program nationally during the 2018 fiscal year and still, there was nearly a $30 million difference in total revenue and total expenses ($143.9 million) at the program.The Bulldogs were one of the Top 10's stingiest programs in terms of spending with the second-lowest total behind Florida ($141.8 million). Georgia was a play away from the national title three years ago and nearly got back to the final last season.
4. MICHIGAN — $197 MILLION
(Photo: Rob Carr, USA TODAY Sports)
The gap in revenues between Michigan and No. 5 Georgia is larger than the gap between Alabama and the No. 10 team on this list, LSU. What does this mean? Michigan Football is just fine under Jim Harbaugh in terms of support and being on solid financial footing. Football trumps all and attention is always geared toward the gridiron and ending the losing skid to Ohio State, but it'll be interesting to see how far Michigan's basketball program can push forward under Juwan Howard in the coming years.
3. OHIO STATE — $210 MILLION
Justin Fields
(Photo: Justin Casterline, Getty)
As it did two years ago, Ohio State led the country in expenses ($220 million) while also exceeding other Big Ten schools in total revenue. The Buckeys are one of two teams inside the Top 10 that spent more than they brought in (Alabama). Ohio State is always going to rank among the nation's most prolific money generators and money spenders, but the Buckeyes get pretty strong bang for their buck; the football program is traditionally great, and the basketball team, under Chris Holtmann, is an annual contender. Ohio State was one play away from a Playoff berth last season and expects to be there in 2020.
2. TEXAS A&M — $212 MILLION
(Photo: Getty)
Moving to the SEC has been a lucrative decision, as expected, for the Aggies. They haven't competed for a league title or spot in the final four just yet, but Jimbo Fisher's program is printing money as the conference's most successful in terms of total revenue. Texas A&M's revenue is nearly three times what it was a decade ago thanks to a 10-year investment in Fisher, stadium upgrades and unrivaled fan and booster support. Texas A&M spent 79 percent of its revenues this past year, listing expenses of $169 million.
1. TEXAS — $223 MILLION
(Photo: Chuck Cook, USA TODAY Sports)
1
COMMENTS
Per 247Sports analyst Kevin Flaherty, "Texas has been at or near the top of these lists seemingly since they came out, a credit to DeLoss Dodds helping to churn the Longhorn athletic department into a money-making outfit so efficient that Texas booster Red McCombs once joked that "All the money that's not under the Vatican is at UT." That process has continued under multiple athletic directors since, and appears solidified with now-AD Chris Del Conte. And Texas spends that non-Vatican money well; two years ago Texas set a record with $207 million in expenses, and the Longhorns fell just shy of that point in 2018-19, spending $204 million."
247Sports national analyst Kevin Flaherty contributed to this story.
Comments (1)
">247Sports
Go VIP - One Month for Only $1
JOIN TODAY
Ranking college sports highest revenue producers
College football recruiting: Every 5-star prospect in the 2022 class
Progress report: How the top 10 transfers have played in 2021
College football teams on Upset Alert in Week 4
College Football Playoff predictor: ESPN updates rankings for Week 4
College football recruiting: Every 5-star prospect in the 2022 class
By CHANCE LINTON21 hrs
0
Big visit weekend for OU, latest on Walter Nolen, thoughts on the Arch Manning experience
The 2022 recruiting cycle is heating up with just under three months remaining until the Early Signing Period. With that in mind, we have decided to check in on where things stand with the five-star prospects in the class.
According to the industry-generated 247Sports Composite, there are 31 players with a five-star rating in the 2022 cycle. The group of five-stars includes 15 players that have already announced their respective commitments, while the remaining 16 are still undecided on where they will play in college.
Eleven college football programs have already secured a commitment from a five-star prospect in the 2022 class. Alabama, Clemson, LSU and USC each have two commits among the group, while Florida State, Georgia, Michigan, North Carolina, Ohio State, Oregon and Texas A&M each have one.
The group of five-stars features three quarterbacks, one running back, three wide receivers and five offensive linemen on the offensive side of the ball. The defensive five-stars include six defensive linemen, two edge defenders, three linebackers, six cornerbacks and two safeties.
Get the fastest scores, stats, news, LIVE videos, and more. CLICK HERE to download the CBS Sports Mobile App and get the latest on your team today.
With that in mind, scroll down to take a look at the five-star prospects in the 2022 recruiting class, according to the 247Sports Composite.
1) Walter Nolen | DL | Powell (Tenn.)
(Photo: Ryan Callahan, 247Sports)
247Sports Composite: 5-star | 0.9998 | No. 1 Overall | No. 1 DL
Recruitment status: Undecided
247Sports Crystal Ball: No predictions
Top schools (VIP): Georgia | Tennessee | Texas A&M
Measurables: 6-4 | 325
Player evaluation: Stoutly assembled defensive lineman with college-ready size. Owns the requisite height and possesses verified length to foster more bulk addition if desired. Powerful build manifests in point-of-attack disruption. Flashes consistent suddenness at the snap and closes fast in pursuit. Shows outstanding lateral range relative to size. Punchy and physical. Motor runs hot. Strong enough to make plays through blocks. Can also run plays down from back side. Has posted outstanding verified testing numbers. Violent hands will become even more dangerous as pass-rush move set expands. Could thrive inside in a four-man front but looks to have position and scheme versatility. Among the nation's top defensive prospects in the 2022 class. Should become impact high-major defensive lineman with high-round NFL Draft ceiling. – 247Sports Midlands Region Recruiting Analyst Gabe Brooks
NFL Draft projection: First Round
Player comparison: Leonard Williams | DL | New York Giants
2) Travis Hunter | CB | Collins Hill (Ga.)
Travis Hunter
(Photo: Andrew Ivins, 247Sports)
247Sports Composite: 5-star | 0.9997 | No. 2 Overall | No. 1 CB
Recruitment status: Committed to Florida State
Measurables: 6-1 | 165
Player evaluation: Slender frame with the desired length. Should be able to fill out once lifting in a college strength program. A twitchy, bouncy athlete with elite ball skills that makes plays on both offense and defense. Has exceptional foot quickness and agility. Smooth in the backpedal. Able to flip his hips and mirror wide receivers of all different sizes. No verified speed times, but looks to have a turbo under the hood. Instinctive football player. Has a high success rate in coverage and creates takeaways on a consistent basis. Comfortable lining up on the boundary in man coverage. Not the strongest individual, but will fight with his hands and try to redirect wideouts at the line of scrimmage. Willing tackler that can help out in run support. Totaled over 1,500 receiving yards and eight interceptions as a junior playing in one of the Peach State's highest classifications. Could be an offensive weapon at the next level, but ceiling is highest on the other side of the ball as he's a natural ballhawk that has the skillset to be a shutdown corner. All signs point to him being a multi-year starter in college and eventually developing into an early round NFL Draft pick. – 247Sports Southeast Recruiting Analyst Andrew Ivins
NFL Draft projection: First Round
Player comparison: Xavier Rhodes | CB | Indianapolis Colts
3) Evan Stewart | WR | Liberty (Texas)
(Photo: Andrew Ivins, 247Sports)
247Sports Composite: 5-star | 0.9974 | No. 3 Overall | No. 1 WR
Recruitment status: Undecided
247Sports Crystal Ball: Texas 66.7% | Florida 33.3%
Top schools: Alabama | Florida | LSU | Texas | Texas A&M
Measurables: 6-0 | 175
Player evaluation: Adequate-sized receiver with lean, athletic build. Can play from the outside and the slot. Dangerous vertically and in run-after-catch scenarios. Explosive playmaking ability in the open field. Owner of one of the best track and field profiles in the 2022 class. Personal records include 10.74 100, 21.08 200, 24-6 long jump, and 47-9 triple jump. Athleticism translates to the gridiron. Gets on top of corners quickly and flashes runaway speed. Shows good acceleration. Quick-footed and should possess high ceiling as a route-runner. Springy in 50-50 situations and can go up and get it in traffic. Can more consistently leverage DB's into breaks. Filling out and getting stronger will help transition to facing high-major DB's, as a pass-catcher and a perimeter blocker. One of the top offensive prospects in Texas for 2022. Could become an all-conference wideout at the P5 level with long-term early-round NFL Draft potential. – 247Sports Midlands Region Recruiting Analyst Gabe Brooks
NFL Draft projection: 2-3 Round (Day 2)
4) Travis Shaw | DL | Grimsley (N.C.)
(Photo: Don Callahan/Inside Carolina, 247Sports)
247Sports Composite: 5-star | 0.9972 | No. 4 Overall | No. 2 DL
Recruitment status: Committed to North Carolina
Measurables: 6-5 | 310
Player evaluation: Shaw is a thick built player with a powerful lower half. Standing 6-foot-6 and weighing 330 pounds he is still athletic enough to play all over the defensive line with great production. He is light on his feet and makes plays off the edge and the interior. With his power and bull rush he does an excellent job pushing the pocket and causing disruption. Shaw is has excellent awareness and is able to read and react on plays that are away from him, chasing them down from the backside. He has good flexibility in his hips and he can drop his weight and turn the corner when rushing the passer. He has to continue to work on playing with a low pad level and utilizing his hands when he gets off blocks, along with adding pass rusher moves to his game. Shaw brings athleticism not normally seen in a player his size, that makes for his upside to being off the charts and him projecting to being a Power Five starter for multiple years. I think that he projects as an All Conference player with the chance of being a 1st round pick in the NFL Draft. – 247Sports National Recruiting Expert Chris Singletary
NFL Draft projection: First Round
Player comparison: Akiem Hicks | DL | Chicago Bears
5) Domani Jackson | CB | Mater Dei (Calif.)
(Photo: Elite 11)
247Sports Composite: 5-star | 0.9968 | No. 5 Overall | No. 2 CB
Recruitment status: Committed to USC
Measurables: 6-1 | 185
Player evaluation: Long well built corner with an NFL body right now. Is all of 6-1, 190 pounds with long arms and plays a physical game. Has tremendous straight line speed and has run in the low 10.5-100m range. Excels in press coverage and can bully opposing receivers at the line of scrimmage. Has the speed to turn and run with any receiver but needs to continue to improve his ball awareness and tracking the football. is very good in run support and will come up and unload on a running back or receiver. Can be a bit grabby at times and needs to improve on not trying to be overly physical in coverage down the field. Has improved his ball skills and could be a factor as a kick or punt returner in college. – 247Sports National Recruiting Analyst Greg Biggins
NFL Draft projection: First Round
Player comparison: Xavier Rhodes | CB | Indianapolis Colts
6) Luther Burden | WR | East St. Louis (Ill.)
(Photo: Andrew Ivins, 247Sports)
247Sports Composite: 5-star | 0.9956 | No. 6 Overall | No. 2 WR
Recruitment status: Undecided
247Sports Crystal Ball: Oklahoma 55.6% | Georgia 33.3% | Missouri 11.1%
Top schools: Alabama | Georgia | Missouri
Measurables: 6-2 | 194
Player evaluation: Above-average size and build. Very good athlete who is also a standout basketball player. Has been productive in two varsity seasons. Shows the ability to make plays from all over the field. Can take screens and break long gains and can be a downfield receiver who wins contested passes. Long strider, very smooth and has excellent body control. Has not been verified as far as speed. Can still get more explosive in and out of his breaks. Still on the raw side as far as craft, but has great upside with his natural athleticism and competitiveness. Should be an early impact college player and have a chance to be an early NFL pick. – 247Sports National Recruiting Analyst Allen Trieu
NFL Draft projection: First Round
Player comparison: Chris Godwin | WR | Tampa Bay Buccaneers
7) Zach Rice | OT | Liberty Christian Academy (Va.)
Zach Rice
(Photo: Don Callahan/Inside Carolina, 247Sports)
247Sports Composite: 5-star | 0.9949 | No. 7 Overall | No. 1 OT
Recruitment status: Undecided
247Sports Crystal Ball: No predictions
Top schools (VIP): Alabama | North Carolina | Notre Dame | Ohio State | Virginia
Measurables: 6-6 | 282
Player evaluation: Big frame with shoulder width. Ideal left tackle size with strength. Multi-sport athlete played on state class 3A semifinal team as junior. Agile and high-level athlete. Moves well in space. Plays with attitude and nastiness. Strong at point of attack and uses his lower body strength well. Initial punch is forceful and plays with heavy hands. Once engaged remains locked on and drives legs. Finishes blocks well. Effective down blocker from right tackle position. Shows ability to pull and move well in space. Can scrape and get to second level. Has body control to pinpoint second-level defenders. Has agility to cover the edge against speed rusher. Is patient in pass pro and does not lung often. Consistency with hand placement needed. Has to continue to work on bend to be more consistent with sinking hips and winning leverage battle. Has to refine kick step. Multi-year starter at top 10 program. NFL first round potential. – 247Sports National Recruiting Analyst Brian Dohn
NFL Draft projection: First Round
Player comparison: Jedrick Wills Jr. | OT | Cleveland Browns
8) Shemar Stewart | DL | Monsignor Pace (Fla.)
(Photo: Andrew Ivins, 247Sports)
247Sports Composite: 5-star | 0.9944 | No. 8 Overall | No. 3 DL
Recruitment status: Undecided
247Sports Crystal Ball: Miami 100%
Top schools (VIP): Georgia | Miami | Ohio State | Texas A&M
Measurables: 6-5 | 260
Player evaluation: Looks like a grown man out on the edge. Was mistaken by one recruiter for a college senior when he was a high school freshman because of his size. A legit 6-foot-4, pushing 6-foot-5. Added over 20 pounds of mass to his frame between junior and senior seasons. Still room, however, to get bigger as he's a tad on the leaner side. Owns one of the longest reaches out of any pass rusher in the entire 2022 cycle with a wingspan that stretches well over 80 inches. Uses that length to his advantage. Has shown on tape that he's capable of wining both inside and outside. Initial burst allows him to quickly work his way into the backfield. Does a nice job of keeping his feet moving while feeling out a situation. Powerful enough at the point of contact to walk back an offensive tackle and flush out a pocket. Not much of a finesse player at this stage in the development, but can execute a dip or rip to get around different obstacles. Tends to play with a high pad level, which can result in missed tackles. Has the foot speed to hawk down ball carriers, but needs to play through the whistle on a more consistent basis and be a difference-maker outside the hashes if he's going to reach his full potential. Must also get more flexible. Burst onto the scene as a sophomore when he totaled 15 sacks facing stiff competition week in and week out down in South Florida. Nagging shoulder and knee injuries, however, derailed a majority of his junior season. Rare physical traits and elite testing numbers suggest that he could blossom into an all-conference type of player at a Power 5 program and eventually an early pick in the NFL Draft if everything comes together. Has a chance to remain out edge, but future might be as an interior pass rusher as his body is starting to trend that way. – 247Sports Southeast Recruiting Analyst Andrew Ivins
NFL Draft projection: First Round
Player comparison: Chris Jones | DL | Kansas City Chiefs
9) Denver Harris | CB | North Shore (Texas)
Denver Harris
(Photo: Nick Harris, 247Sports)
247Sports Composite: 5-star | 0.9942 | No. 9 Overall | No. 3 CB
Recruitment status: Undecided
247Sports Crystal Ball: Texas 60% | Alabama 40%
Top schools: Alabama | LSU | Texas | Texas A&M
Measurables: 6-1 | 180
Player evaluation: Tall, long cornerback prospect with elite frame potential relative to the position. Size already gives opposing wideouts problems. Possesses a ton of potential as a jammer. Uses frame to advantage and plays physical brand of coverage. Physical nature translates to tackling ability. Light on his feet and sinks hips. Shows impressive redirecting ability, whether in coverage or pursuit. On-field top-end speed looks encouraging. Flashes turn-and-run ability to shadow wideouts in vertical passing game. Overall athleticism lacks context from verified testing or track perspective. Ball skills can get better. Turn-and-locate ability can improve. Elite corner prospect among the nation's top prospects at the position in 2022. Projects to high-major level with long-term early-round NFL Draft potential. – 247Sports Midlands Region Recruiting Analyst Gabe Brooks
NFL Draft projection: Second Round
Player comparison: Jeff Okudah | CB | Detroit Lions
10) Gabriel Brownlow-Dindy | DL | Lakeland (Fla.)
(Photo: Andrew Ivins, 247Sports)
247Sports Composite: 5-star | 0.9941 | No. 10 Overall | No. 4 DL
Recruitment status: Undecided
247Sports Crystal Ball: Oklahoma 100%
Measurables: 6-3 | 280
Player evaluation: Encouraging, well-proportioned build. Up and over 6-foot-2, 270 pounds. Spent part of youth doing Mixed Martial Arts. Posted elite testing numbers for an interior defensive lineman the summer before his junior season. Explodes off the ball with the first-step quickness to invade gaps. Coordinated athlete that doesn't lose his balance or bearing easily. Understands how to bend and use leverage. Keeps feet moving and plays with steady energy. Mauling tackler with the grip strength to corral ball carriers. Totaled 29.5 tackles for a loss and 11.5 sacks as a sophomore while playing in the Sunshine State's second-highest classification. Can win with a simple bull rush at the point of attack, but will also swim his way past blockers. Ability to just fire out of his stance and uncoil, however, might be his best pass-rushing attribute. Athletic profile is one of the best in the class of 2022 for his position, but still areas where he can improve his game, like when it comes to disengaging from double teams. Figures to be an impact player in college and someone that's eventually selected early in the NFL Draft. – 247Sports Southeast Recruiting Analyst Andrew Ivins
NFL Draft projection: First Round
Player comparison: Ed Oliver | DL | Buffalo Bills
11) Jeremiah Alexander | EDGE | Thompson (Ala.)
(Photo: Jason Caldwell/Inside The Auburn Tigers, 247Sports)
247Sports Composite: 5-star | 0.9938 | No. 11 Overall | No. 1 EDGE
Recruitment status: Committed to Alabama
Measurables: 6-2 | 235
Player evaluation: Alexander is a very talented and well put together player, that has a good well proportioned build and frame. He has long arms with a muscular body that at 235 pounds is college ready. You see a physical, aggressive and powerful player when you watch him play. He brings burst, speed and power off the edge when rushing the passer along with the ability to use his arm over move or speed rush to the QB. He plays with very good pad level and punch, where he is able to get off blocks using his heavy hands to make plays. You see that he is able to key and diagnose well whether the play is a run, pass or a blitz. During these plays you that he runs well and is a factor all over the field. He has natural snap on contact that is on display with him either knocking the blocker back or tackling the ball carrier. Alexander is a difference maker that is an ideal edge rusher that opponents have to always know where he is. He is a game changer with his play making ability and he should to be a multi-year starter at the Power Five level and ultimately become and early round selection in the NFL Draft. – 247Sports National Recruiting Expert Chris Singletary
NFL Draft projection: First Round
Player comparison: Shaquil Barrett | EDGE | Tampa Bay Buccaneers