Patrick Mahomes Has Secured the Highest-Paying Contract in Professional Sports
The Kansas City Chiefs have solidified their investment in the new face of the NFL.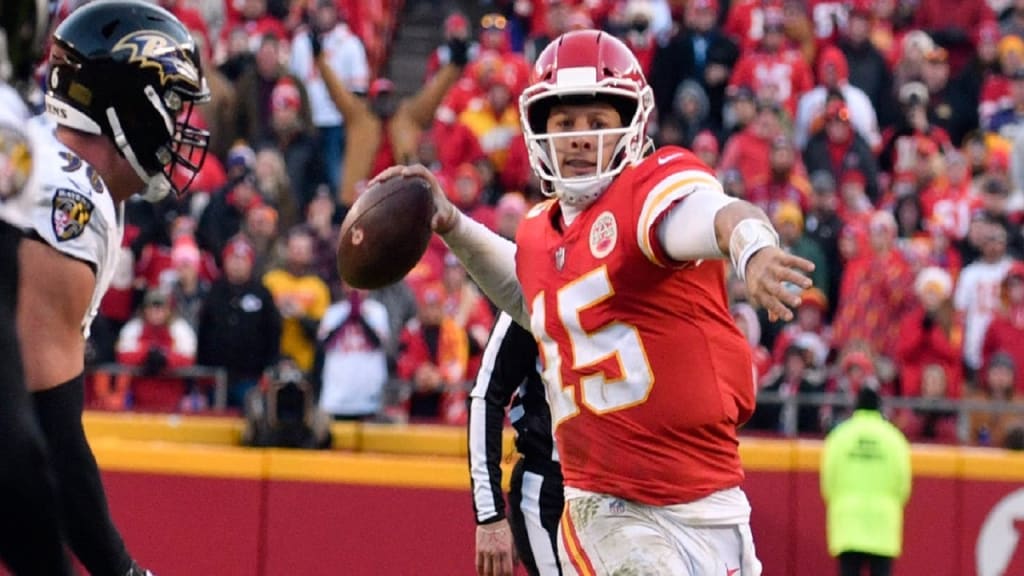 AP Photo/Ed Zurga
A young man who is both a newly-crowned Super Bowl champion and the new face of the NFL has just inked an astronomical franchise deal, which will make him the highest-paid athlete in any professional sport.
The Kansas City Chiefs football organization proudly announced on Monday (July 6) that its starting quarterback Patrick Mahomes (pictured) has signed a 10-year franchise extension. This new contract will give Mahomes, 24, a long-term opportunity with the NFL's reigning ball club. Not only that, it will make the 6'3″ and 230-pound rocket-armed passer a half billion dollar man.
Veteran sportscaster and ESPN insider Adam Schefter is the leading professional athletics analyst who has been working on this developing case. Legitimate sources who are seasoned NFL insiders spoke exclusively to Schefter about the more intricate contractual details of Mahomes' new commitment to the Kansas City Chiefs.
According to ESPN's official report released on Monday (July 6), the NFL's reigning Super Bowl MVP will be paid at least $450 million dollars through 2031. However, NFL insiders said that if Mahomes meets a particular term written into this new deal, he could potentially make $503 million dollars over the time frame, which spans throughout his contract.
ESPN did not officially disclose this in Mahomes' case but oftentimes, professional athletes can make a significant amount of additional money if they meet or surpass performance-based clauses in their contracts. Professional football is a dangerous sport. This is particularly the case for quarterbacks because they can become vulnerable to serious injury when a play breaks down.
However, NFL insiders did disclose to ESPN that Mahomes' new contract extension with the Chiefs will offer him an additional $140 million-dollar "injury guarantee" package. ESPN also reported that Mahomes has a no-trade clause in his contract, which will solidify his intention to remain with the team that originally drafted him.
At the same time, the new face of the NFL will have some contractual leverage that will exclusively work out in his favor if things do not go as planned. A clause in his new contract gives Mahomes the ability to leave the Chiefs if "guaranteed mechanisms" are not executed by the organization. This means that both sides are required to meet specified obligations.
Chiefs owner/chairman Clark Hunt released an official statement, which heralded Mahomes and expressed his organization's intention of maintaining a winning formula.
"Since he joined the Chiefs just a few years ago, Patrick has developed into one of the most prolific athletes in all of sports," Hunt said.
"With his dynamic play and infectious personality, he is one of the most recognized and beloved figures to put on the Chiefs uniform. He's an extraordinary leader and a credit to the Kansas City community, and I'm delighted that he will be a member of the Chiefs for many years to come," he continued.
Mahomes also released a statement on Twitter, which publicly expressed his enthusiasm about this historic opportunity. The former Texas Tech baseball and football star has made history by signing the richest contract in NFL history. To see the first NFL contract of this size be signed by a young athlete of color makes this case even more prolific.
Though the NFL has been bogged down in recent years for race-related public relations reasons, this new landmark deal by the Kansas City Chiefs shows a positive step in a new direction. Typically, high-character black athletes like Mahomes ultimately contribute significant portions of their wealth to fund some valiant causes, which help people of color.
Congratulations to Mr. Patrick Mahomes, Jr. for his new financial breakthrough, his rapid ascension to athletic prominence, and his unparalleled commitment to charity and goodwill. Hail to the Chief.
About the Creator
Mr. Trammell is an award-winning digital media producer, freelance journalist, and author. Formerly, he wrote national radio content for the Michael Baisden Show. He also served as Senior Editor at the Your Black World online news network.
Reader insights
Be the first to share your insights about this piece.
Add your insights