Pandemic Playoff
Why we need to expand the CFP for this season: And How an 8 team playoff could work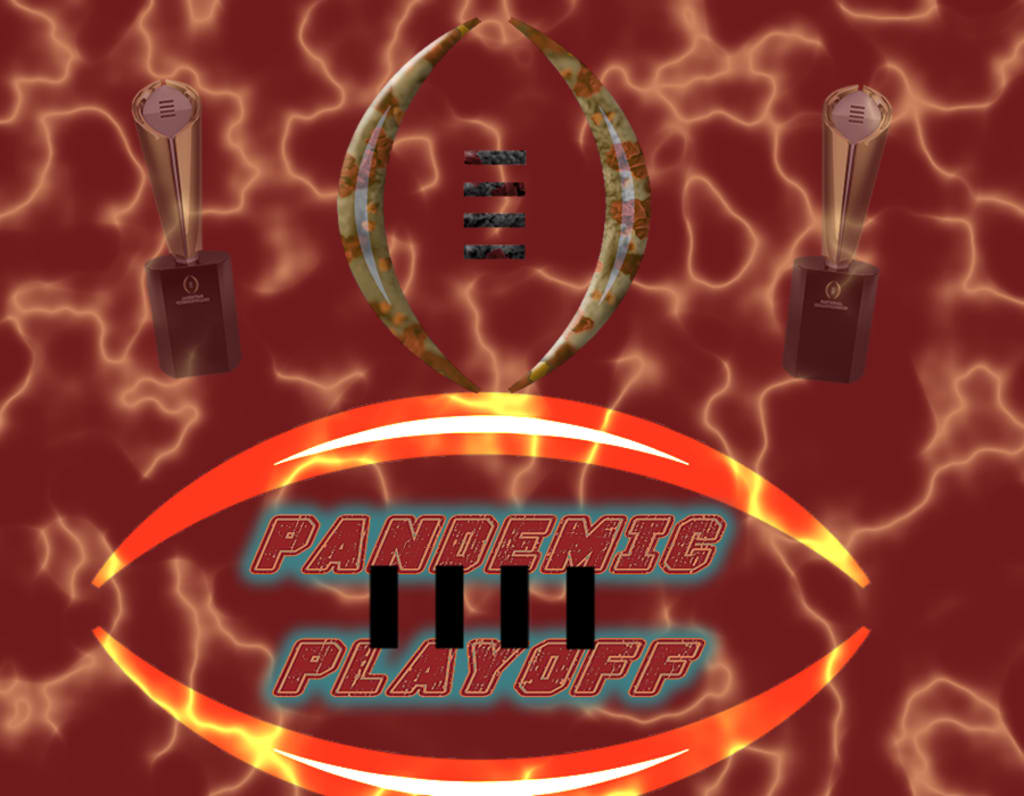 2020 has been an interesting year for College Football, from the SEC, ACC and BIG12 making sure their seasons got completed to the BIG10, PAC12 and MAC deciding they wanted in on the action. The latter conferences not starting early enough to have complete seasons, meaning any teams that had an issue with COVID, led to the game being cancelled, which hurts the conferences chances of crowning a proper champion, and hurting their shot at being a playoff team. These conferences inabilities to get a proper season put together makes it unfair for these kids who dream of being a National Champion and this is why the playoff needs expanded just for this crazy season. I'm not advocating for a NCAA Basketball tournament style expansion. You could have an expansion to say 8 to 12 teams based on the seasons end outcomes. In an 8 team playoff scenario, you would have the Power-5 championship teams plus 3 at large teams (if any group of 5 team is undefeated you could take the top 2 leaving one more spot for an at large group of 5). In a 12 team playoff scenario, you would have the Power-5 championship teams plus however many group of 5 undefeated teams are left (as of now there is potential for there to be 5 remaining) and you would have the remaining two spots for at large teams. 12 teams does feel like it would be a bit much, but there's even a catchy name you can use for this… The Pandemic Playoff!
Here is how the potential match-ups would look in an 8 team playoff, *a 12 team playoff would be too lengthy to write about*
1 – SEC Champion (Florida/Alabama) vs 8 – Lowest Ranked Group of 5 team (Coastal Carolina/Marshall)
Florida vs Alabama looks to be the SEC championship game, baring a Florida loss to Tennessee this weekend. Coastal Carolina (14) and Marshall (15) are both currently undefeated and don't look like they have anyone left on their schedule to derail their efforts, minus Coastal Carolina's date this weekend with the Liberty Flames (9-1) who had a close loss two weeks ago to North Carolina State. Marshall finishes their season with Rice (1-2) and Florida International before their conference championship game which will most likely be with UTSA. If there are no more "Group of 5" undefeated teams left, place next highest ranked team in.
2/3 – BIG10 Champion (Ohio State/Indiana/North Western) vs 7 – Second Lowest Ranked Group of 5 team (Coastal / Marshall / Cincinnati / BYU)
Ohio State vs North Western would be the most likely be the BIG10 championship, assuming OSU plays enough games to make themselves eligible for a BIG 10 Title. A cancellation with Michigan State would most likely mean that they wouldn't end up playing enough games (6) to contend for the title but they could play a 6th game against Wisconsin (who is ineligible for the title game) during championship weekend, helping their playoff chances. The BIG 10 as a conference failed Ohio State and their players by starting their season so late, so if the playoff were to expand to 8 teams, there is no reason to not include them in it if they are undefeated.
If Ohio State is deemed ineligible for the title game, that would open up the East side for Indiana who without Michael Penix Jr. may have a tough time with their remaining games, and most likely would lead to a North Western Big 10 title victory.
Cincinnati looks poised to be the highest ranked "Group of 5 team" and in all honesty should be considered even for a non-expanded playoff spot. They had one game cancelled against Temple, but they defeated #22 - Army, #16 - SMU and have an upcoming game for the American Conference Title against #25 - Tulsa. If they remain undefeated they deserve to be in the playoff, and definitely deserve it in an expanded playoff.
BYU and their lack of ranked opponents, outside of #21 – Boise State, isn't going to help their case of being considered for the current CFP format. If the playoff were to be expanded, they could get in as a Group of 5 undefeated. If there are no more "Group of 5" undefeated teams left, place next highest ranked team in.
2/3 – ACC Champion (Notre Dame/Clemson) vs 6 – At large team (SEC runner up / Group of 5 undefeated / 1 Loss Notre Dame/ 1 Loss Texas A&M)
Notre Dame and Clemson will most likely meet again in the ACC title on December 19. The winner of that rematch would garner the number 2/3 spot in this playoff scenario, depending on how the committee views an ACC champion against a BIG10 champion and that will be determined by who is who as the champions. An Ohio State Big 10 champion would probably get a higher seed over a Clemson ACC Champion (because of Clemson's lone loss to Notre Dame). A 2 loss Florida team would not be in, but a 1 loss Texas A&M or Alabama team would get in and with this expanded system it would be easier to justify that. If there are no more "Group of 5" undefeated teams left, place next highest ranked team in.
4 – Big 12 Champion (Iowa State / Oklahoma) vs 5 – PAC-12 Undefeated Champion (Washington / USC) or (SEC runner up / Group of 5 undefeated / 1 Loss Notre Dame)
Iowa State is looking to take their first conference championship since 1912 when they were in the MVIAA. This playoff scenario is most likely the only way the BIG 12 has representation in the CFP. What a better way to celebrate Iowa State's first BIG 12 title, than to be included in an opportunity to win a National Championship though. The Cyclones could possibly be the dark horse of the playoff if given an opportunity. They have two losses though and that is what would keep them out of the current CFP format.
The 5 seed goes to an undefeated PAC-12 Team, even though they will have only played a 6 game schedule with the championship included, it's still an undefeated team and will have played as many games as Ohio State. Keeping this potential conference champion out of the 4 seed, is the lack of ranked opponents that they have played. Washington has faced Oregon State, Arizona, and Utah. Their remaining two games are Stanford and #15 Oregon. Facing only two potential ranked opponents doesn't bode well for a National Championship attempt, when only playing 5 regular season games. USC has played Arizona State, whose season is all but done due to a virus outbreak among the team, Arizona and Utah. They finish the season with games against Washington State and UCLA, neither of which are ranked opponents. USC was less than impressive in both games against the Arizona schools as they were nail biters where USC had to come back in the end to win. Assuming they remain undefeated, they will have only played one ranked opponent with that being in the conference championship game against Washington. If they can have a strong showing in these last few weeks, it's possible that they become considered for the #4 spot in the current College Football Playoff format, assuming Ohio State doesn't get to participate and win the BIG 10 Title and Clemson loses to Notre Dame again.
If there is not an undefeated PAC-12 Champion, then a 1 loss Notre Dame team being a loss to Clemson, would deserve to be in this; you could even argue that they deserve to be in the current format if they lose the ACC title. Assuming Notre Dame wins, and there isn't an undefeated PAC-12 team, then the highest ranked undefeated Group of 5 would be next. Basically the point is the Group of 5 teams, if undefeated should be a higher seed than any Power-5 non conference champion.
All in all, there is a case for almost every undefeated team to be considered for the college football playoff this season with no out of conference games being played this year, but with only 4 spots being available, we can't do that. The NCAA needs to consider expanding the playoff just for this season due to the unique circumstances of this season.
football
About the author
I'm 32 years old, I've worked in the restaurant business as a cook/server/GM/Assistant Manger I've been a highschool football coach (short lived but still a great experience) and I am a true student of the game.
Reader insights
Be the first to share your insights about this piece.
Add your insights