P.K. Subban Should Be the Face of the NHL
Outspoken and exciting, Subban commands attention wherever he goes — and that's a good thing.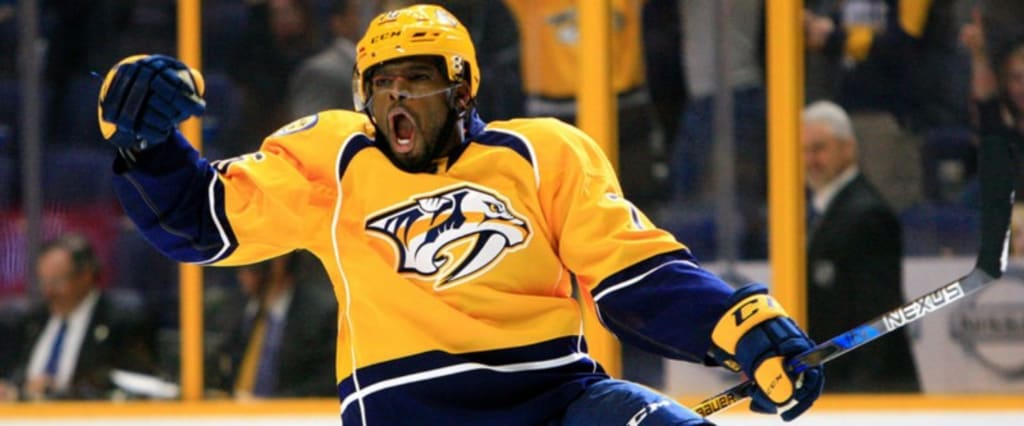 P.K. Subban has a knack for flare, and the NHL would be wise to take advantage of it. (Image courtesy of SportsBlog.)
The NHL's culture of disliking anyone going against the grain is one major reason why it struggles to keep up with the other three leagues in the "Big 4" leagues, and there is no better evidence of this toxic mindset than the treatment of P.K. Subban by those associated with the game.
Subban is one of the most dynamic players on the ice, and one of the biggest-hearted individuals off it. He's the kind of player that can (and often does) take over a game by himself, and actively appear to have fun doing it. He's also the kind of guy to donate more than a year of his salary to a children's hospital out of the goodness of his soul. He sounds like the quintessential role model athlete, someone whose poster you would be proud to have adorning your or your child's wall.
Despite this, it seems all we hear about is how he's too flashy, too selfish, and too arrogant to ever lead a team to the ultimate prize, as well as how his "larger-than-life" personality was, allegedly, a locker room issue that even his former captain, Max Pacioretty, couldn't handle.
And yet, it is Subban, along with his new, smarter team, that is playing in the Stanley Cup Final while the Montreal Canadiens, his former team, has been on the golf course since the end of April.
It may seem difficult to discern why a player that can dominate on both ends of the ice, has won the Norris Trophy as the league's best defenseman, and has led his teams to two Conference Finals and a Stanley Cup Final might be regarded as a player with whom you can't win, but this is the NHL we're talking about. Character is viewed as not just an important quality to success, but the central tenet of it. Any player perceived as anything other than the consummate, vanilla, standard-answer teammate is considered a problem, and that's just not who Pernell-Karl is. But does that make him a bad teammate? Does it mean he lacks character? That hospital donation makes me think, "uh, no." Even it were true, I have to wonder how these same critics explain his continued success in all facets of the game.
And furthermore, isn't a guy that stands out for almost all the right reasons someone the NHL should actively market? Sidney Crosby is the world's best player, and Connor McDavid isn't far behind him, but damn if the two dudes aren't some of the most boring individuals in the world. They're like extremely well-designed robots or computers: excellent at their main function, and lacking in engaging social expression (at least publicly, anyway). And that's okay! Perhaps they don't like drama in their lives, and that's completely understandable. But it doesn't sell well.
Compare this to the NBA. The NBA may annoy everyone to death with their coverage and support of LeBron James's antics, as well as the emphasis on the messy break-up of Russell Westbrook and Kevin Durant, but exciting talent combined with a hint of drama draws viewers. It's the reason the NBA has risen to become the second-most popular sport over the MLB. And Subban possesses both skill and sensation in droves.
There are numerous reasons as to why the NHL and hockey in general aren't all that popular, not least of which is the cost to play the game. But the NHL doesn't do itself any favors by not promoting the right players. Until it learns that players like P.K. Subban are the exact guys they should highlight, it will never leave the basement in the division of the "Big 4."