One Chip is Not Enough and Patrick Mahomes Knows That
rantings of a spoiled fan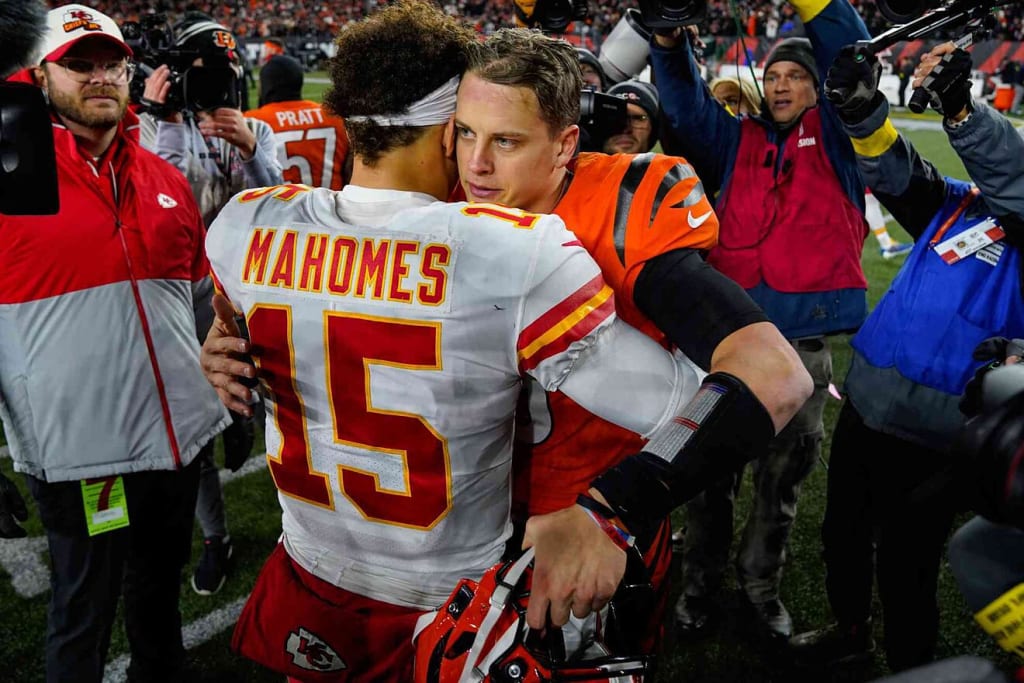 Patrick Mahomes and Joe Burrow embrace after a game
As the subtitle implies, I am a Chiefs fan and I have been since I was a kid. I lived through the down years and now here I am in the golden years enjoying the moment and soaking up rivals hate like a sponge.
Admittedly, I enjoy soaking up all the hate (Broncos hate is a particular favorite of mine). But honestly, why shouldn't they hate? They have every right to be sick of seeing us.
Patrick Mahomes will play in his fifth AFC Championship game on Sunday against the Cincinnati Bengals. Despite having a high ankle sprain, Mahomes will need to be better than ever if he plans on seeking revenge against the hot handed and very impressive Joe Burrow, one of the few challenges Mahomes has yet to overcome.
Patrick Mahomes has been a godsend for Chiefs fans. In 2020, Mahomes led the Chiefs to their first Super Bowl victory in 50 years. He was named the Super Bowl MVP after throwing for over 300 yards and three touchdowns.
As if that were not good enough for KC fans, Mahomes has more playoff wins than all the other Chiefs quarterbacks combined. His resume speaks for itself. He is widely regarded as one of the best quarterbacks in the league and has already been named the NFL MVP in 2018 after throwing for over 5,000 yards and 50 touchdowns, becoming the youngest player to ever win the award. Mahomes is currently favorite to add his second this year.
Without a shadow of a doubt, Mahomes is electric. He is one of the most talented and exciting players in the NFL and is sure to be one of the faces of the entire league. Mahomes is known for his strong arm and ability to extend and make plays outside the pocket. Making the exceptional look routine. He is a leader on the field and has an amazing ability to rally his team in tough situations. All that to say, his ability to move in the pocket will be limited on Sunday and nothing should be taken for granted with Cincy coming to town, Joe Burrow and the Bengals are currently on a 3-game win streak vs Mahomes and the chiefs including last year AFC Championship game. A limited Mahomes has a chance to defy the odds one more time and again make the exceptional look routine. But it will not be an easy task.
Anyone who has seen Joe Burrow play lately can verify he has no plans of going quietly into the night, as he hopes to lead the Bengals back to the Super Bowl, with another chance to get his 1st win. The Super Bowl hangover has not seemed to be a factor for them this year, after a slow start the Bengals have not lost since October. But The Bengals as a franchise are 0-3 in the Super Bowl, but it can be reasoned that they would not want anyone else at their helm in proven winner Joe Burrow.
Before being the face of the Bengals, Burrow played college football at LSU, where he won the Heisman Trophy, Maxwell Award, and Walter Camp Award in 2019. Burrow was selected first overall by the Bengals in the 2020 NFL Draft. He is the first Heisman Trophy winner to be selected first overall in the NFL Draft since Cam Newton in 2011.
Burrow had a successful college career, setting numerous records and leading LSU to an undefeated (15-0) season and national championship in 2019. He set the NCAA record for passing touchdowns in a single season with 60, and set the SEC record for passing yards in a single season with 5,671. He was named the MVP of the 2019 College Football Playoff National Championship Game after leading LSU to a 42-25 victory over Clemson. While these accolades are fine, anyone familiar with the competitive nature of Burrow will tell you he wants the Super Bowl trophy on his mantle.
Aaron Rodgers also went to five NFC Championships and has one Super Bowl win, but that is where the buck stops. No pundit I have seen lately is bold enough to claim his best days are ahead of him. Both Eli and Peyton Manning have two Super Bowl wins, so the question remains: Will Mahomes become a playoff Manning or a regular-season Rodgers?
Yes, Patrick Mahomes has been a godsend to the Kansas City Chiefs and Chiefs Nation, but will it all be an afterthought unless he secures a second Super Bowl title?
Signed,
A Spoiled Chiefs Fan
About the Creator
Adversity is kindling I choose to burn to keep my hands warm in winter ensuring my words will stretch beyond the years that turn my bones to dust.
Any and all, subscribers, pledges and comments are welcome.
Thanks for reading!
Reader insights
Be the first to share your insights about this piece.
Add your insights