OBJ: The Cleveland Problem
With the blockbuster move of Odell Beckham Jr. still rocking the NFL Universe, I look at how the move to Cleveland will not guarantee a Championship of the Browns and OBJ.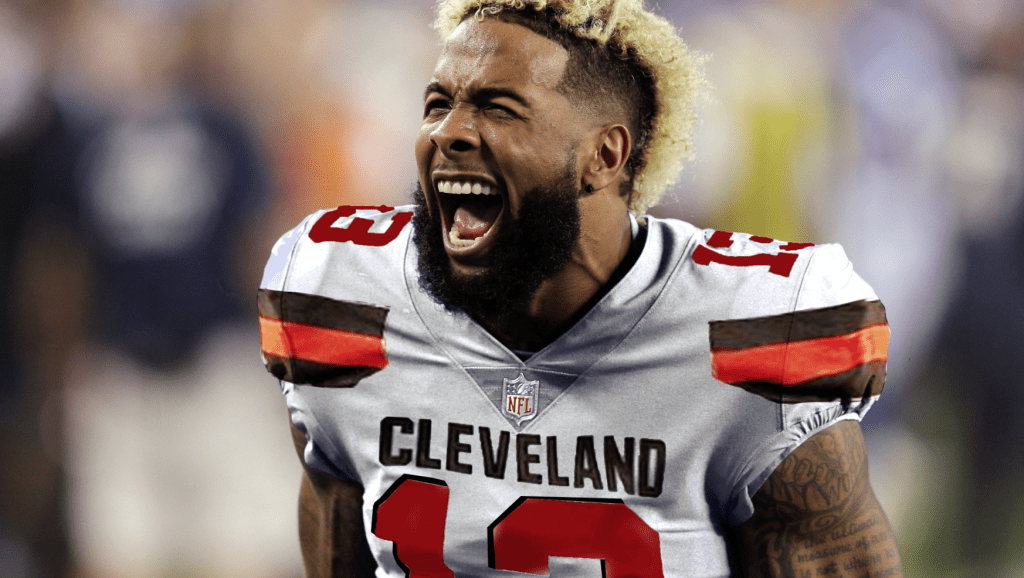 Man on a Mission: Odell looks to bring a Championship to a young Browns Roster
There a lot of big trades and game-changing acquisitions that can alter a season, and some that just fly by with two-second recognition, like pigeons. OBJ is both of these. He is a big presence on Instagram, when he's having a tantrum on the sidelines, or making some insane catch. Don't get me wrong, I like Odell as much as the next person. His presence is unavoidable, and his effect on the game is unmatched, but he, and AB (Antonio Brown for you casual watchers) have become the cornerstone for the Diva Wide Receiver in the League, and it's shown to not win Championships.
Diva WR, Explained
Diva, noun; a self-important person who is temperamental and difficult to please.
Its a word that we are hearing far too often in sports these days. Probably where it shouldn't be used in, ironically, is with women playing sports. The way it has come around in the NFL is from players, usually Wide Receivers, thinking that their self worth, stats, and notoriety stands head and shoulders above the team success. A major participant is Antonio Brown, who only seems to be an integral piece of a team when he is thrown the ball, as if he is the only wide out on the field. I know AB's story, I know where he came from, and I love where he is going, but that gives him little to no right to be part of a world class organisation like the Steelers, and be able to act and display these type of actions on social media, and on the field. The ironic thing, is that when AB went to Oakland, he was immediately seen at a Warriors game, a squad that has preached teamwork and togetherness despite the skill level and pay grade. Maybe he can learn from this mindset, and begin to put the team above himself, whilst accepting that one person cannot run a TEAM (hopefully Jon Gruden instills that in him somehow)
This is where OBJ has grasped the idea of being above the team. He must've been watching AB for four years before he was drafted, and thought about from where and when his recognition would come. That being said, OBJ has been nothing but a worldwide phenomenon, as of the time that he entered the league, and made that ridiculous catch as a rookie. This one catch sky rocketed his status to the stratosphere, and has made him a face of the league ever since. Literally, you can't mention the NFL without somehow mentioning Odell in the conversation, kind of like Tom Brady and the Patriots. This is probably why he compared this new Cleveland team to the Patriots. He is such a talking point in the NFL world, like the Patriots, that he feels that he can make a dysfunctional, low-ceiling, and practically, absurdly delusional team, and city to the GOAT status of the Patriots organisation. The one difference between the Patriots and OBJ is the overall presence of themselves on Social media, despite how popular it has become. Where have we seen Tom Brady most of the time? With Julian Edelmen practicing out routes. Where have we seen OBJ most of the time? Anywhere else, but the field (most recently at the Monaco F1 Grand Prix). Need I say more?
If OBJ wants to be, in his own words, "Legendary," then I feel he has to put himself behind the team, and not become another AB, a high-intensity, talkative, needy, and dramatic football player, who cares about his paycheque, rather than a legacy.
Issues, Defined
As far as I'm concerned, it's not the hotel rooms or glitz and glamour lifestyle that has me more concerned about Odell. He's young and he's wealthy. What worries me is that the man can keep a consistent season going. He has played one full season, and he is a quarter way through his career already. I see him as a much more talkative Westbrook-esque type of player. Someone who wants to make every play, but most of the time burns himself out before he gets to the end of the season, and ironically suffers a first-round exit, and disappears in the Playoffs. Which brings me to the fines. According to pro-football-reference.com, Beckham has had four instances in which he has been fined or suspended, which is the same amount as, surprise surprise, Antonio Brown. These fines have added up to a hefty sum of just over $45,000, but I don't think that was OBJ's main concern at the time he did those fines. I have played sports. I understand that sometimes emotions in the middle of a physical game can be high and uncontrollable. I also understand that a lot can happen if you act the wrong type of way towards an official.
If OBJ thinks that he, in his own words, "hasn't done anything yet," maybe he should focus on doing the right things, before he intends on becoming an All-Time wideout in this league.
Solution, Presented
I will say this about Beckham. Teams recognise that he is a threat whenever he steps foot on the field. Be that deep, inside, ball carrier, after the catch, screen, over the middle. He is a jack of all trades as far as route running is concerned. The one season that he plays all of the games is, ironically, the one season that the Giants made the playoffs since their 2011 Superbowl Run, which means that Odell played a part in that, despite going out in the first game. He also non-stop talks about togetherness in Cleveland, the city showing what it can do, and the overall dreams of the city being rested on his shoulders. These are very high hopes that he is portraying, and ones that, I hope, he and this young core of players can aspire to.
This is a message that Odell needs to hear: stop talking and do. We've seen the lavish parties, the stunning destinations, and that's nice. How about you put up some work. Put up some out routes with Baker. Put up you destroying your personal best in squats or press. Work. Harder. We all know your past, time to write the future. Silence what they are saying, and write your story your way.
If OBJ wants to be, in his own words, "the very very best player that I can be," and believe me I want him to, I want to see what he is willing to sacrifice for that. What he is willing to do and achieve before himself, and what would make that team a rival to what is already a strong conference. Be what you said you would be. Practice what you preach. Become Legendary.