Not Yogi
The wit and wisdom of Elston Howard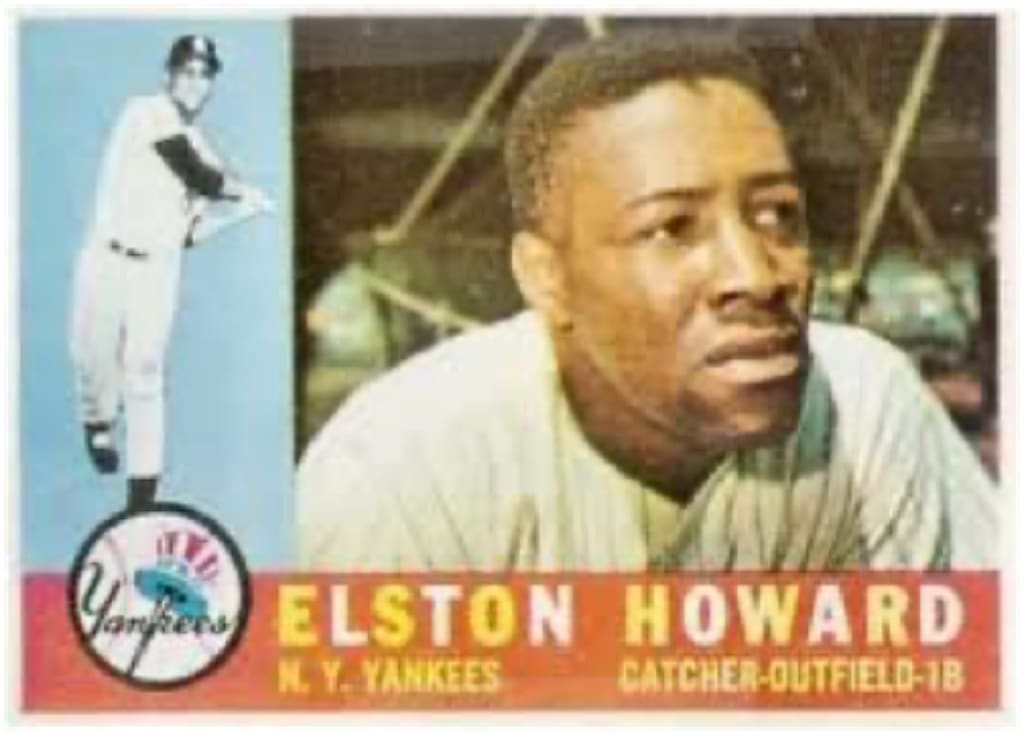 Everyone's heard the famous Yogi Berra-isms, with their odd syntax and convoluted logic. Even things he didn't say, but could have, are attributed to him. But amidst all the well-deserved acclaim for Berra, there is a forgotten man. He played second fiddle to Yogi on the field, and now in legacy. He broke the color line for the Yankees, a scant ten years after Jackie Robinson (the Yankees might have been late in hiring a black player, but that had nothing to do with the fact that their fan base consisted of corporate CEOs and Bronx italians...they probably just couldn't find any talented black players in the 50s). He was number 32, the fairly-good Elston Howard.
Elston Howard was a player on the classic Yankee teams of the late 50s and early 60s. He was well-spoken, well-liked and a class act. But most people haven't heard the witticisms with which he'd amuse his friends on the team (Hector Lopez).
"Everyone goes to that restaurant because it's so popular." - Elston Howard, 1957
Ellie, as he was called, was one of the three catchers on the 1960 Yankees, along with Berra and Johnny Blanchard, who each hit 20 homers, a feat no other catching staff has equaled. And yet, the Hall of Fame hasn't called. They did email once, but never called.
"It ain't over until you're down nine or ten runs." – Elston Howard, 1959
Howard was also versatile. Not only did he handle the pitching staff (or at least the northern-born ones), but often roamed Yankee Stadium's expansive left field. He wasn't in the lineup; he just liked roaming left field. Everywhere he went, he endured the taunts of racist fans. Back in those days, racists had fans. Of course, today they have air conditioning.
"Baseball is 90% physical, and 10% other intangible factors." – Elston Howard, 1961
In his later seasons, his speed greatly diminished, Ellie was relegated to riding the pine. This was a painful period for Ellie, as the rest of the team would travel by plane. He knew his days were numbered. Tuesday became 17, for example...Friday was 83.
"If you see a fork in the road, wash it off first." – Elston Howard, 1964
One day in 1966, Ellie decided he'd have to hang 'em up. Known for his wrinkly uniforms, this was certainly a step in the right direction. But it was too little, too late for old #32. Though maybe not in a league with a Mays or even a Roseboro (they were in the National League), as long as there is baseball, Elston Howard will not be forgotten. In fact, he won't even be remembered.
"It's like deja-vu, in that it repeats." – Elston Howard, 1966
Howard died in 1980, 1992, or is still alive, depending on which version of his auto-biography you believe.
"You should always go to other people's funerals, otherwise, well, I don't know what might happen. Probably nothing." – Elston Howard, 1973
A REBUTTAL -
Elston Howard was not a fake person. He was a real person, with feelings and all that stuff. I knew Ellie (and you're no Ellie).
First of all, he had more friends on that Yankee team than just Hector Lopez. He often played Go Fish with Joe Pepitone.
Also, he was a very smart man. Sure, he couldn't turn a phrase like Yogi, but he was faster, and didn't tell people to drink Yoo Hoo, which has to be a feather in his cap.
When Ellie retired, he became a solid citizen. Of course, up to that time he was a little shady, but who wasn't in those glory days of baseball?
Few people know this, but Ellie came up with the slogan 'Baseball and Ballantine', though he meant George Balanchine, the dancer and choreographer who revolutionized dance in the 20th century. (Ellie was a very sophisticated cat!) The beer company, unfortunately stole his idea and turned it into a crass tv commercial jingle, for which he was never paid a cent. Though he did get a free bottle of beer once.
There are a lot of things Ellie Howard did in his time with us. I remember one time he drove his Edsel all the way to Peekskill. He was just 'that kind of guy'.
So, just because Yogi Berra is known for his off-the-cuff quips which mangled the English language in brilliant ways, his playing career which spanned 20 years of being one of the best catchers and hitters of all time, landing him in Cooperstown (he couldn't find Peekskill), his managing career, which landed him in several World Series', and his philanthropic works for kids, that doesn't mean Elston Howard should be any less well- regarded, despite having done none of those things.
Because when all is said and done, there was no talent like Elston Howard. Better, yes. But none quite like him.
- Jason Bulworth, Peekskill, NY