No More Years Of Hurt
England Women Beat Germany To Claim Euro 2022 Title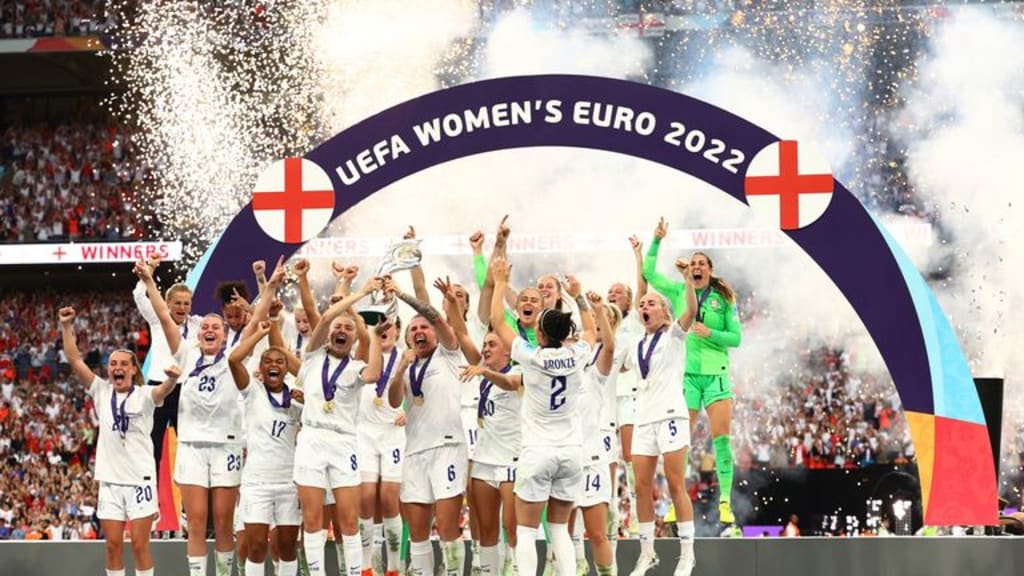 England lift Euro 2022 trophy, image: Sky News
England have won the final of Euro 2022 after beating Germany 2-1 in extra time at Wembley. The victory gives England their first major sporting trophy since the men's team won the World Cup in 1966. Chloe Kelly scored the decisive winner deep in to extra time in what was an extremely nervy match in which both teams had opportunities to score and possibly win the game.
She described winning the trophy as unbelievable and said it was what dreams were made of as it is only the second major trophy that the country has won in football through out it's history.
Ella Toone gave England the lead in the 62nd minute with a sublime lob after being sent through one-on-one with the German goalkeeper. The Lionesses were unable to hold on to their lead as Germany came back in to the game after Lina Magull scored a flick-on at the near post in the 79th minute.
Captain Leah Williamson said: "We talk, and we talk, and we talk and we finally did it," adding: "I just can't stop crying."
Ella Toone said it was the "best day" of her life and it "doesn't seem real".
"I am absolutely buzzing my head off," she went on. "I can't even explain what it feels like. It's come home!"
Jill Scott, 35, who was brought on late in the second half, said the younger players had "played with such freedom", adding: "I don't think I'm going to sleep this week."
The victory should serve as a good example to young girls who want to go in to a career in football as it shows them what they can achieve if they really try and that football is not only a sport played by men which is what some people may think. More opportunities and equality needs to be created with in the sport to make it more inclusive so that no one is discriminated against because they are of a different gender to the majority of others who play the sport.
There needs to be a lot more funding put in to the sport at grass roots level. Only this way, will we ever be able to accommodate and create more facilities which are needed to help train the next female sports stars of the future. Playing sport in schools needs to be more inclusive as from a young age, children are taught what sports or activities are meant for boys and which are meant for girls. Through practising this, it becomes a regular way of life for them so they may not want to take up football in the future.
As well as through PE lessons, there should be more improvement through the education system as well so that all children know how to play sport and what matters to create a more inclusive society where there are opportunities for all, no matter whether you are a boy or a girl.
"It is a fantastic achievement by the lionesses and shows that girls like football as much as boys and it should highlight the need for more funding for girls at grass roots level and also that girls should be allowed to play football at school if they want to."
That's according to Mark Fairbrother, Chairman of Bold Rangers JFC, who are a Charter Standard Development Club based in the Merseyside area and are affiliated to the Liverpool FA. At Bold Rangers, as well as running teams for boys, they also cater for and help train the next generation of female sports stars at their Wildcats Centre For Girls. This helps to ensure that the club are fully inclusive and don't discriminate against anyone based on their gender. This helps to ensure that there is a good pool of talent for the next generation of football stars to be trained and may be one day represent their country. If you'd like more information on Bold Rangers JFC, please visit www.boldrangersjfc.org.uk