Nick Newell: The MMA Fighter Taking Away All Your Excuses to Skip the Gym
Nick Newell is a one-handed, well-respected fighter.
Full Disclosure
Part of the reason I'm writing this is that I'm stressed and I can't sleep. See, I'm a bit of a gym rat, and I think about my fitness level a lot—therefore, I stress about my waning cardiovascular strength a lot.
It once was wonderful, and it can be once again. Unfortunately, the only time I can dedicate to a full cardio session is at 5 AM, which means waking up at 4:30.
I'll try to wake up, or I'll succumb to the comfort of the bed. We'll see if I let myself down again or not.
But the main reason I'm writing this is because I feel Nick Newell deserves a bit more respect than he's received—especially from people who can't overcome the temptation of the snooze button.
Who is Nick Newell?
Nick Newell is an MMA fighter based in Massachusetts. He is 5'10", 32-years-old, fighting in the lightweight division at 155 lbs, and as of August 13, 2018, he's had 16 professional fights. He won 14 of those, fighting in organizations such as the World Series of Fighting (now known as the Professional Fighters League), Legacy Fighting Alliance, etc. Two of those were losses, one to Justin Gaethje in 2014 and one more recently to Alex Munoz, in July 2018.
At first, this fails to stun. As far as professional fighter biographies go, this is fairly standard. No one would look at this in awe. Newell's claim to fame is that he achieved all of this with one arm.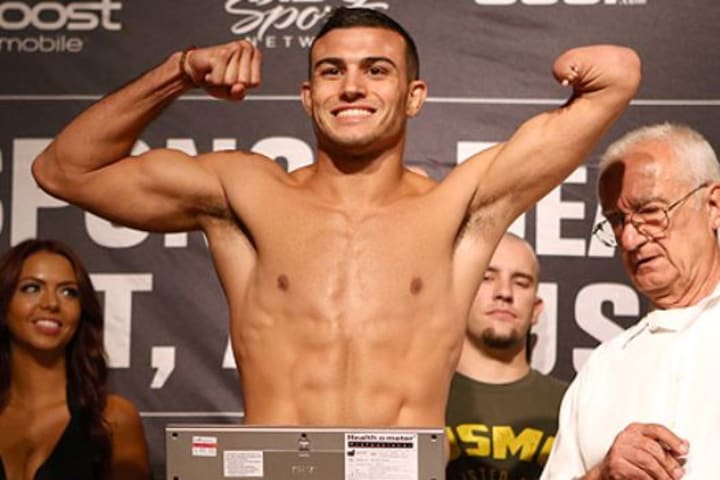 Newell was born this way. Probably the only light I would have been able to see, had I ever found myself in this situation, would have been that I didn't have to lose it in some traumatic fashion. Yet, in his eyes, this doesn't seem to be an issue at all.
Considering his 14-2 record, it isn't.
I like to stay open-minded, to believe that nothing is insurmountable when approached with persistence and brain power, but I admit to being skeptical when I first heard of Nick Newell. In a game of fisticuffs, it only seems logical that you'd want two fists, right? But fuck it, what do I know?
Nothing, it seems.
After a few years of fighting professionally, Newell started garnering more and more attention and somewhere along the way, he got the attention of UFC President Dana White.
Not everyone likes Dana White. Being as outspoken (and rich) as he is, he's bound to catch some haters. Whatever, he's not kicking puppies. And at first, he seemed pretty hesitant to invite a one-armed fighter into the UFC, citing concerns for his safety and his ability to perform against such talented fighters. Fair enough, but disappointing. In the end, he gave Newell a chance to join the UFC.
Dana White's Tuesday Night Contender Series is a show in which hopeful individuals get one fight to prove themselves to the boss and, if they show particular potential, earn a UFC contract. The fights tend to be very fiery and exciting, and are exclusive on UFC's streaming service, Fight Pass. (In the first season, Urijah Faber—UFC Hall of Famer—and Snoop Dogg—you know who he is—provided commentary, if you needed any further incentive to watch.)
July 24, 2018, Newell made his appearance on this show, facing off against Alex Munoz, a 28-year-old training with the famed Team Alpha Male. Everyone watched biting their nails and peeking between their fingers as the referee started the fight, and so did I. I had no reason to care, no reason to watch this except for the fireworks and violence, but something in me needed to see Nick Newell do well.
In the end, it was Munoz who won, via unanimous decision from the judges—a huge congrats to him as he performed beautifully.
Now that some time has passed since Newell's loss, all I can think is that his bravery should be commended. I can only imagine the disproving looks he must have gotten when he first started mixed martial arts. People are weird enough to me simply showing up in the gym because I'm short, and god knows it must only have been worse for a fighter with one hand. Pushing past the doubt, finally reaching that moment he'd worked so hard for, to lose, must be crushing—especially now. Dana White seems to think it's over and the general public continue to doubt him, and yet…
What a champ.
It's time for me to sign off and, finally, fall asleep. Maybe tomorrow is the day I'll get myself out of bed on time.
fighting
About the author
I once listened to "Closer" by Nine Inch Nails for nearly 12 hours straight in an attempt to hurry along my inevitable descent into madness.
I failed.
#StillSane
Reader insights
Be the first to share your insights about this piece.
Add your insights