NFL Week 8 Recap: Going South
A new team takes over the NFC South lead, and Christian McCaffrey makes his first big splash as a Niner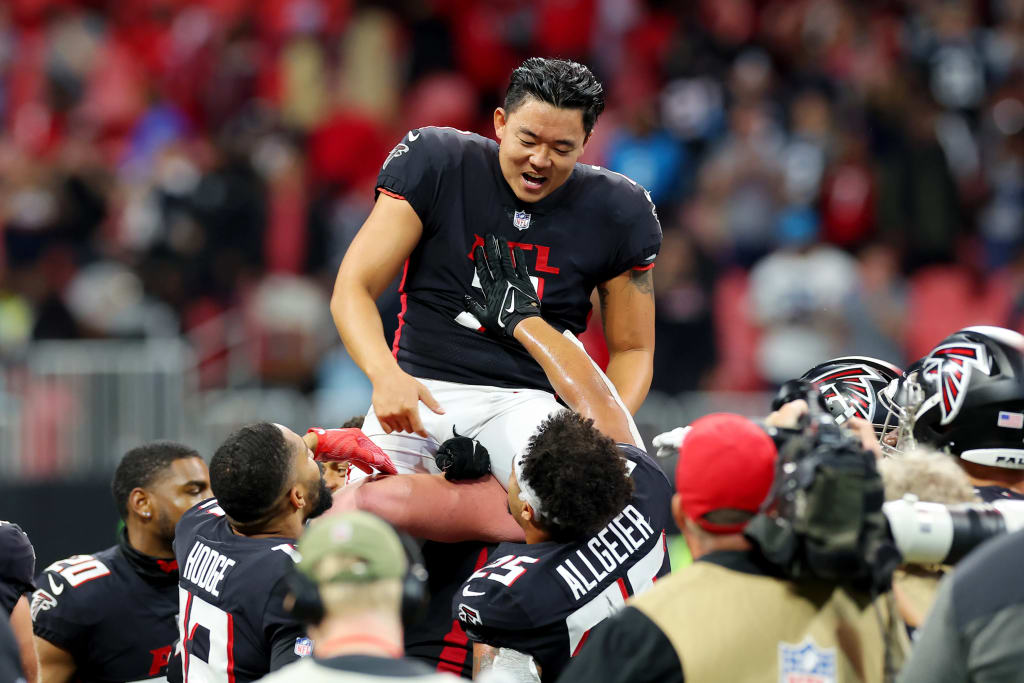 Week 8 began with the Tampa Bay Buccaneers facing the Baltimore Ravens on Thursday Night Football, and that outing was not a good one for the Bucs. They found themselves dominated by the Ravens defense, as the Bucs couldn't do a thing until it was too late. The Bucs lost, 27-22, which is their third straight loss--a trait that is very foreign to Tom Brady. So why am I mentioning this with the main photo centering the Atlanta Falcons? It's simple. Because of Tampa Bay's loss, the Falcons and the Carolina Panthers' head to head game was for first place in the NFC South.
With the New Orleans Saints' 24-0 victory over the Las Vegas Raiders (more on that later), a Carolina win would mean that every team in the division would be 3-5, with the Panthers leading the 3-5 party. This game was back and forth offensively, and regulation ended with a clutch touchdown pass to DJ Moore, an absolutely long bomb. The game was tied at 34, and the Panthers were set to kick the extra point, but before that, there was a penalty. Unfortunately, Moore's celebration saw him remove his helmet. Unsportsmanlike conduct--a penalty that was assessed on the extra point, making it 48 yards. The point was missed, resulting in overtime.
Overtime saw the Falcons with the ball first, but Marcus Mariota's interception turned the period into sudden death. However, Eddy Pineiro hooked the chip-shot field goal, giving the Falcons another chance. All they had to do was get into field goal range, and they did just that, with Younghoe Koo nailing the game winning kick after the two-minute warning. The Falcons won, 37-34, moving into first place in the NFC South at 4-4, while the Panthers dropped to 2-6, but sit two games behind.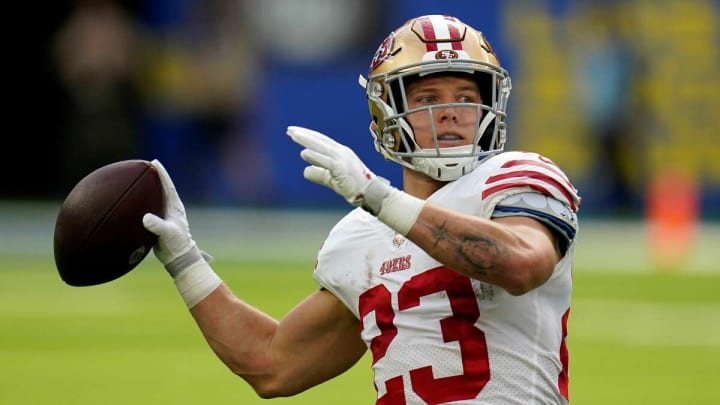 You know, it's very interesting that the Panthers actually find themselves in a division race after trading their star running back, Christian McCaffrey, to the San Francisco 49ers. While CMC didn't have too much of an impact in his Niners debut last week, he would definitely show out in the team's division battle against the Los Angeles Rams. This was the second meeting between the division foes, but this go-around took place at the very scene of their NFC Championship battle last season: SoFi Stadium. The structure nicknamed "Rams House" ended up being the house that CMC tore down, as he had three all-purpose touchdowns in that game: a passing TD to Brandon Aiyuk, a receiving touchdown, and a rushing touchdown. The Niners won, 31-14, over the Rams, sweeping their division rivals for the fourth straight season.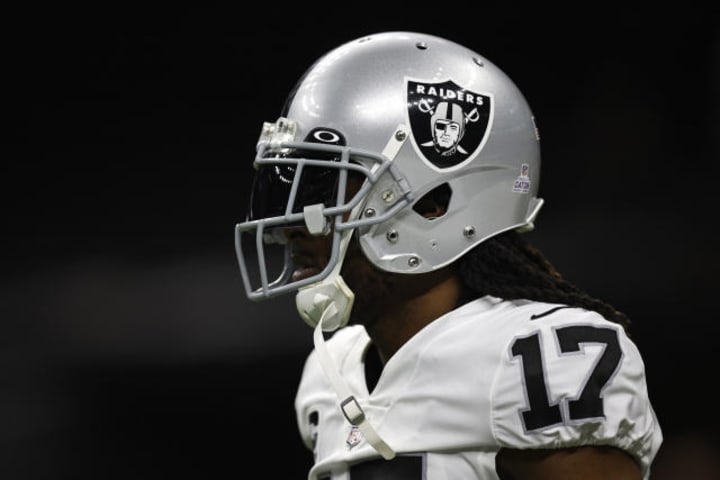 Back to the Raiders. My goodness. Personal story: so during the Raiders' bye week, someone offered me Davante Adams in a trade. All I had to do was give up Josh Jacobs. My thought: "Let me take this deal before this idiot changes his mind." What makes this sweeter: the deal means that I have Adams and Cooper Kupp on the same fantasy team. Delicious, isn't it? So this week was my second with Adams, and with the Raiders playing the Saints, I figured I'd see numbers. Instead, the Raiders get blanked by a team with a very shoddy defense. Even worse, Davante Adams had a grand total of two all purpose yards. I am not making this up. They actually had a running play for Adams that caused him to lose one yard, and he had only one reception for three yards. That's it. A grand total of 1.2 fantasy points. It's all because the Raiders hired a complete idiot as a head coach, but that is another story for another time.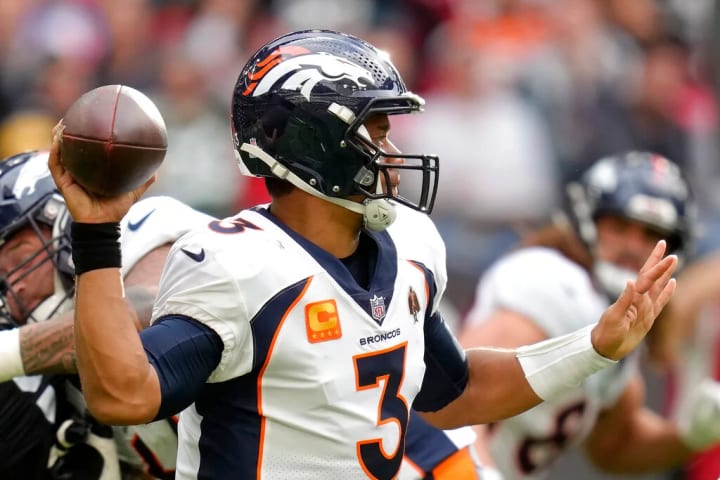 Speaking of teams with idiot coaches, the Dallas Cowboys picked up a bigtime blowout win over the Chicago Bears, a win that saw Dallas score nearly 50 points, and Tony Pollard score three touchdowns while Ezekiel Elliott was sidelined and cheering his teammate on. Prior to this, the Denver Broncos faced the Jacksonville Jaguars in London, with the former managing to eke out a victory over the latter, thanks mainly to Trevor Lawrence not having such a good game. Prior to Sunday, it was stated that Nathaniel Hackett's job was basically on the line this week. Denver's win actually bought him two weeks, as the Broncos are on a bye next week, and after that, they will head to Nashville to face the Tennessee Titans.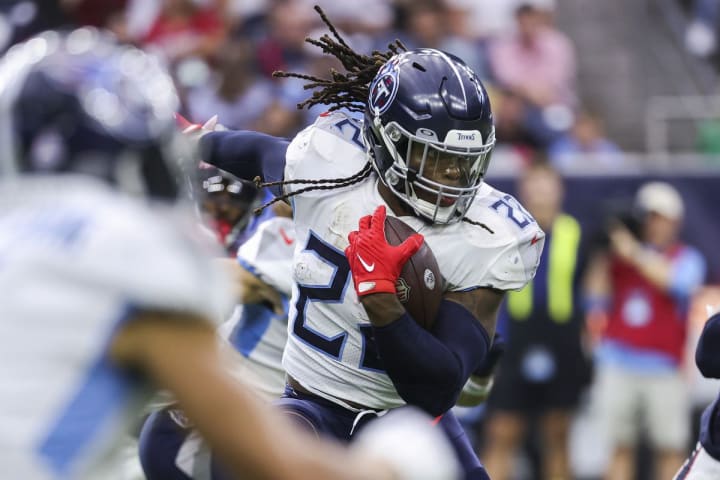 In the immortal words of Ashley J. "Ash" Williams, "Hail to the King, baby." Derrick Henry is back, and by that, I mean the Derrick Henry that we have known for the last few years. The man known as "King Henry" had a few good rushing performances this season, but this one definitely takes the cake. Let's just say that those who have him on fantasy (I am lucky enough to be part of that group) were immensely and deliriously happy on Sunday. How happy were they? Let's go to the numbers.
Fantasy scoring for runningbacks: one point for every 10 rushing yards, and rushing touchdowns are six points. PPR rules apply as well. Henry ran for 219 yards (21.9 points) and scored two touchdowns (12 points), while also having a nine-yard reception (1.9 points), giving him a grand total of 35.8 points. That fantasy total is third among runningbacks in Week 8, behind Alvin Kamara (42.8 points) and Christian McCaffrey (40.26 points).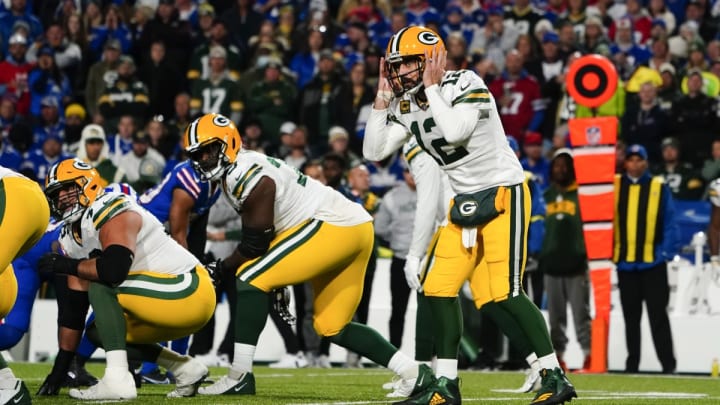 So the Green Bay Packers were defeated by the Buffalo Bills, 27-17, on Sunday Night Football, but despite this, I--as a Packers fan--am happy with how this team played. Why? Because it was better than a lot of people figured. A lot of people (including a number of Packers fans) figured that the Bills would blow this team out of the water, but that's not what happened. The thing that really made me happy was seeing Aaron Rodgers getting some good passes in for touchdowns, and even better, he had a ten yard run for a first down late in the game.
That run actually made me emotional, because with that, I went, "That's my GOAT. That's the GOAT I know." I hadn't seen that guy all season. I don't know if it's age or apparent apathy or mental exhaustion, but Rodgers wasn't himself. What I saw was a glimpse of the Rodgers I've watched for years, and because of this, my confidence in the Packers has increased. I've always believed in this team and what they can do. Now I'm damn sure. 3-5 is not the end of the world. I watched this team go from 4-6 to the NFC Championship Game six years ago! What's to stop them from doing it again?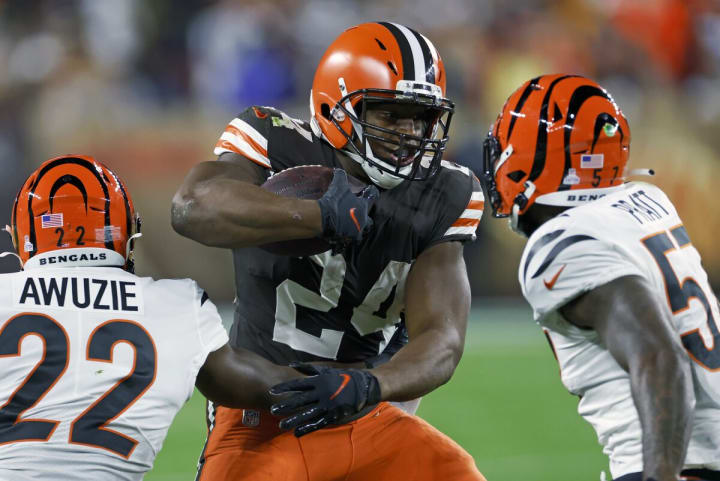 The Battle of Ohio ended Week 8, with this first meeting of the year taking place in Cleveland on Halloween night. Days prior to this, the Cincinnati Bengals received some damning news: Ja'Marr Chase sidelined for 4-6 weeks. Yikes. Now Chase was Cincy's top receiver, but I figured that with Tee Higgins and Tyler Boyd, the Bengals would be fine. Boy, was I off. What I saw was the Cleveland Browns dominate their in-state rivals (mainly with their run game), while the Bengals had the "poor me" syndrome and acted like they couldn't do a thing right without Chase. As a result, the Browns dismantled the Bengals, 32-13, and I'll say this: this is only Game One without Chase. If this is how the Bengals act and play without Chase, then this team is in deep, deep trouble.
The NFL season now enters the month of November, and Week 9 will mark the final week of season's first half. It will kick off with, get this, the Houston Texans hosting the undefeated Philadelphia Eagles, and thanks to Game 3 of the World Series between the Houston Astros and the Philadelphia Phillies being postponed, and everything being pushed back a week, this means that Eagles/Texans will happen on the same day as Game Five of the Series between the Astros and Phillies. Sunday Night Football will feature the Kansas City Chiefs (coming off their bye) hosting the Tennessee Titans, and on Monday Night Football, the Baltimore Ravens and the New Orleans Saints will face each other. As for yes, the aforementioned Broncos, the Giants, the Browns, the Cowboys, the 49ers, and the Steelers will all be off during Week 9.
If you like this story, click the heart, and click the subscribe button for more of my stories! Tips and pledges would be greatly appreciated, but only if you want to do so!
About the Creator
Born on March 18, 1985. I am an avid fan of sports and wrestling, and I've been a fan of female villains since the age of eight. Also love movies--especially comedy and horror--and among my favorite TV shows are The Simpsons and Family Guy
Reader insights
Be the first to share your insights about this piece.
Add your insights