NFL Mock Draft
Post first waves of free agency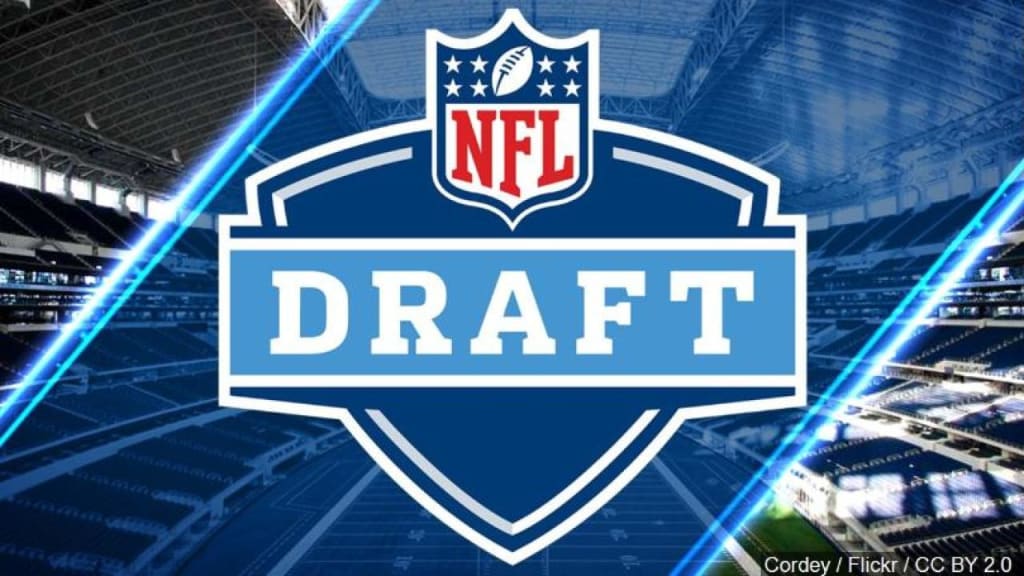 Following the first wave of free agency, I thought it would be a great time to do another mock draft. I did this draft with my brother JAC Conlu to have more fun with it. A lot of big moves were done so far in free agency making this time of the year always exciting as a fan. This mock draft was done following the additions through free agency and catered to what the remaining needs are for each team. No trades were done in this mock draft.
1. Cincinnati Bengals (2-14)
Draft Selection: Joe Burrows QB (LSU)
I project QB Andy Dalton gets traded before the start of the regular season and backup Ryan Finley gets the starts for the first two weeks. Second year head coach Zack Taylor is prominent about taking his time with Burrows but week 3 is when he pulls the trigger.
2. Washington Redskins (3-13)
Draft Selection: DE Chase Young (Ohio St. University)
The Redskins have tunnel vision and stick with what they know is best for their organization and take DE Chase Young. Despite not working out at the Combine, I believe the Redskins continue to build their defensive front and give 2017 first round pick DE Jonathan Allen a partner in crime.
3. Detroit Lions (3-12-1)
Draft Selection: CB Jeff Okudah (Ohio St. University)
The loss of CB Darius Slay leaves the Lion's in need of a defensive back over anything else. Pairing Okudah with former Seattle Seahawks CB Justin Coleman doesn't sound as great as Okudah with CB Darrius Slay but HC Matt Patricia has a CB he can rebuild the back field with. Patricia will need Okudah to compete in a strong NFC North.
4. New York Giants (4-12)
Draft Selection: OL - Jedrick Wills Jr. (Alabama)
OT Tristan Wirfs is a strong play here but Jedrick Wills Jr. fits the scheme of a power run offense. New HC Joe Judge has his offensive franchise players in QB Daniel Jones and RB Saquon Barkley and what will make their lives easier is a mauler at tackle. Put Wills at right tackle and eventually move him to left tackle and replace Nate Solder.
5. Miami Dolphins (5-11)
Draft Selection: Tua Tagovailoa - QB (Alabama)
Tua fits the new OC Chan Gailey's spread offense scheme. He has the mobility to run it while possessing the arm strength to stretch opposing defenses vertically. This does give the Dolphins 3 QBs on the roster with two having started. I do anticipate that Josh Rosen will be with one of the other QB needy teams by the time the draft comes around - New England? Green Bay?
6. Los Angeles Chargers (5-11)
Draft Selection: Tristan Wirfs - OT (Iowa)
They got their right tackle in Bryan Bulaga via Free Agency. Now let's get a fast and powerful left tackle in Wirfs and the reloading process for the Chargers' offense is near complete. With new QB Tyrod Taylor more mobile than Philip Rivers, Wirfs will become the best security guard Tyrod could ask for.
7. Carolina Panthers (5-11)
Draft Selection: Isaiah Simmons - LB (Clemson)
The Panthers need to rebuild their linebacking core. Luke Kuechly retiring meant the loss of leadership, great football intelligence and a freak of an athlete. Luckily, Isaiah Simmons has the football intelligence with his ability to play safety and lineback. Isaiah is the freak athlete that can make the first year without Luke Kuechly smoother.
8. Arizona Cardinals (5-10-1)
Draft Selection: Derrick Brown - DL (Auburn)
The Cardinals need to build their defensive front. They were ranked close to last place in all categories of points allowed and yards allowed, for both passing and rushing. They signed DT Jordan Phillips - who had 19 solo tackles, but pairing him with Brown would help bring the Cardinals D become more relevant.
9. Jacksonville Jaguars (6-10)
Draft Selection: CJ Henderson- CB (University of Florida)
At the start of the 2019 season, the Jaguars had two top corners in Jalen Ramsey and A.J. Bouye, By mid season, it was just Bouye holding the fort down. Now the Jaguars just have former Seahawks Justin Coleman as their top cornerback. Drafting the number two cornerback in CJ Henderson makes too much sense here.
10. Cleveland Browns (6-10)
Draft Selection: Mekhi Becton - OL (Louisville)
The Browns got their left or right tackle with Jack Conklin. Drafting Becton to anchor the opposite side can give the Browns the foundation to continue their strong running attack. If Conklin goes LT with Joel Bitonio stationed in the LG then the formula to run the ball to the left is there. This will also give Baker Mayfield more time to throw the ball with two solid foundations at the end.
11. New York Jets (7-9)
Draft Selection: Javon Kinlaw - DL (South Carolina)
The Jets invested in their defensive line last year with DE Quinnen Williams in last year's draft. I believe pairing Williams with Kinlaw can help the Jets defense become contenders in a post Tom Brady AFC East division. The Jets will need a force in the middle if Williams is set to serve a suspension due to his arrest in early March.
12. Las Vegas Raiders (7-9)
Draft Selection: CeeDee Lamb - WR (Oklahoma)
Tyrell Williams did an amazing job stepping into the starting wide receiver position, following the release of Antonio Brown, by replicating his final year of production with the Chargers. Now is a perfect time to give Williams a running partner and CeeDee Lamb is that partner. His performance in the Combine drills and his pro day shows that he has the ability to high point the ball and go get it while having top tier speed to burn.
13. San Francisco 49ers (13-3)
Draft Selection: Jerry Jeudy - WR (Alabama)
The 49ers lose Emmanuel Sanders to the Saints in free agency, leaving last year's second round pick WR Deebo Samuels as the team's top target. Samuels didn't come into his own until middle of the year and at that point Emmanuel Sanders had arrived and was able to take the top off of defenses. I think Deebo can replicate that same success but with a younger and faster wide out on the other side in Jerry Jeudy.
14. Tampa Bay Buccaneers (7-9)
Draft Selection: Andrew Thomas - OL (Georgia)
The Tampa Bay Buccaneers are now led by Tom Brady. That feels weird to say. There were multiple on-field issues in his last year at New England and one of the major issues was the offensive line. Picking up Thomas will give Brady a young security blanket and a guard wall for him to stand behind and deliver the ball.
15. Denver Broncos (7-9)
Draft Selection: Tee Higgins - WR (Clemson)
Both Courtland Sutton and DaeSean Hamilton came into the organization from the 2018 draft. Sutton has established himself as the team's #1 target but giving him a physical receiver on the other side of the ball is too good to pass up. In Higgins' last year with the Tigers, he amassed 59 rec for 1,167 yards for 13 touchdowns. Hard to say if he can replicate that statics with Drew Lock but the potential is there.
16. Atlanta Falcons (7-9)
Draft Selection: K'Lavon Chaisson - EDGE (LSU)
Putting him on the other side of Takkarist McKinley with Grady Jarrett and Tyeler Davison in the middle will give the Falcons a defensive front that can compete in the division that will now see Tom Brady twice a year. The best way to stay competitive in a tough division that includes Tom Brady, Drew Brees and now Teddy Bridgewater twice a year, getting after the quarterback is the best way.
17. Dallas Cowboys (8-8)
Draft Selection: Xavier McKinney - S (ALA)
The Cowboys were in the conversation for S Earl Thomas during the offseason last year but missed out. They ended up signing safety Ha Ha Clinton-Dix as an upgrade at the position drafting Xavier McKinney and having him play free safety or jump down to corner is going to give the Cowboys a stronger and versatile back field.
18. Miami Dolphins (5-11)
Draft Selection: Josh Jones - OL (Houston)
The Dolphins could have taken Tristan Wirfs with the 5th overall pick but taking Tua Tagovailoa is the smarter play as he fits the new scheme. Now whoever is the week 1 starter for the Dolphins needs an upgrade at the offensive line. Jones can step into the right tackle position providing protection and more stability.
19. Las Vegas Raiders (7-9)
Draft Selection: Kristan Fulton - CB (LSU)
Adding in Fulton is going to give the Las Vegas Raiders a nice rotation of players that can go right, left, or the nickel position. Add in the veteran leadership from newly signed Eli Apple and GM Mike Mayock has got himself a nice stable of corners. Depth at this position is never a bad thing.
20. Jacksonville Jaguars (6-10):
Draft Selection: Neville Gallimore - DL (Oklahoma)
Calais Campbell is off to Baltimore and left behind is a 6'8" 300lb hole. Bringing in Gallimore can help fill that physical gap and give the Jaguars a playmaker in the middle. In his senior year, Gallimore had 18 solo tackles, 4 sacks and two forced fumbles. Defensive Line Coach Jason Rebrovich can use the untapped potential and unending motor can help bring Sacksonville back to life.
21. Philadelphia Eagles (9-7)
Draft Selection: Henry Ruggs II - WR (Alabama)
The Eagles are sprinting to the turn in the draft card after seeing Henry Ruggs II is still available. Ruggs is exactly what the Eagles need and would go to the perfect situation. DeSean Jackson is still a threat but he is 33 years old and didn't complete his first season back with the Eagles. He and Ruggs can work closely together and give the Eagles a wide receiver room that will keep NFC East defensive coordinators nightmares.
22. Minnesota Vikings (10-6)
Draft Selection: A.J. Epenesa - DE (Iowa)
The Minnesota Vikings got gutted at the defensive line as Everson Griffen and Linval Joseph left, but bringing in A.J. Epenesa is going to help. Current DE Ifeadi Odenigbo could swing to the interior to help bring production to that area. In his last year with Iowa, he had 32 solo tackles, 11.5 sacks and 4 forced fumbles. Danielle Hunter would be doing back flips with this pick.
23. New England Patriots (12-4)
Draft Selection: Justin Herbert - QB (University of Oregon)
Justin Herbert's slide stops and it's the best stop for him. There would be no rush to get him on the field as they have second year Jarrett Stidham and newly signed Brian Hoyer to compete for the starting job. All of Herbert's issues can be addressed under the guidance of Josh McDaniels and Bill Belichick as they groom him for the long term. Stidham has their confidence but Herbert can make the Patriots contenders.
24. New Orleans Saints (13-3)
Draft Selection: Justin Jefferson - WR (LSU)
Justin Jefferson possesses big play ability with blazing speed (4.43 40 yard dash) and excellent hands. Adding him to the receiver room will hopefully make Sean Peyton use backup QB Taysom Hill more like a traditional quarterback instead of a wildcard receiver. Whether Jefferson ends up being the third receiver or a rotational second, adding him to the arsenal will blow open the Super Bowl window for the Saints' and potentially the last years for Drew Brees.
25. Minnesota Vikings (10-6)
Draft Selection: Denzel Mims - WR (Baylor)
The Vikings traded away Stefon Diggs along with all of his production. They did sign Tajae Sharp from Tennessee to help refill but drafting Mims will help lessen the blow. Mims has an insane catch radius and always a catch away from the endzone. He is the playmaker the Vikings will need to compliment Adam Thielen as he now serves as the team's top target.
18. Miami Dolphins (5-11)
Draft Selection: D'Andre Swift - RB (Georgia)
The complete offense make-over is completed as the Dolphins select their running back of the future in D'Andre Swift. The University of Georgia is quickly turning into Running Back U as they produce another top tier talent at the position. Swift has the vision and quick cut ability leading to big yardage chunk plays. I could see him in the starting rotation with current starter Kalen Ballage.
27. Seattle Seahawks (11-5)
Draft Selection: Ross Blacklock - DL (TCU)
Ross Blacklock lined up next to newly resigned Jarran Reed and the Seahawks suddenly have a formidable defensive line. They brought back former 2012 first round pick DE Bruce Irvin and third year DE Rasheem Green had 15 solo tackles in 2019. Blacklock can help the Seahawks get closer to making another appearance in the Super Bowl. Need proof? Look at their division rivals the San Francisco 49ers.
28. Baltimore Ravens (14-2)
Draft Selection: Kenneth Murray - LB (Oklahoma)
I had thought the Ravens would have kept LB C.J. Mosley last offseason and made him the next defensive general but that obviously didn't stop them from getting to the AFC Divisional round. The team brought in S Earl Thomas last offseason and gives them a team captain at the backfield. The recipe that got the Ravens a Super Bowl championship in 2013 was having two generals in both the middle and back field. Murray could step into the middle and give the Ravens
29. Tennessee Titans (9-7)
Draft Selection: CB- Trevon Diggs (Alabama)
The Titans lose Logan Ryan through free agency but bringing in Diggs will give HC Mike Vrabel's defense a tall and lengthy corner. Diggs comes in as a former wide receiver so with his knowledge of routes and how to pinpoint a ball can help bring this defense to another level. The Titans will need a big corner to stay atop the division now that it is DeAndre Hopkins-less.
30. Green Bay Packers (13-3)
Draft Selection: Brandon Aiyuk - WR (Arizona St.)
Current Houston Texans' wide receiver Randall Cobb struggled in his last season with the Packers in 2018 and got cut prior to the start of the 2019 season. The Packers had a hard time finding a receiver to pair with Davante Adams, opting to use a rotation of players in 2019. Allen Lazard did admirably but Aiyuk's production (65 receptions for 1,192 yards and 8 touchdowns) grouped with his 4.5 40 yard dash and the Packers have two legitimate threats at receiver.
31. San Francisco 49ers (13-3)
Draft Selection: A.J. Terrell - CB (Clemson)
Richard Sherman is still a top cornerback but thinking about investing in the future isn't a bad option at the tail end of the first round. They re-signed FS Jimmie Ward so adding in a young and big-play-ability player in Terrell and the 49ers are extending their stay in the talks for Super Bowl contention. Their backfield was exposed in the Super Bowl so investing in improving that area should be GM John Lynch's top priority.
32. Kansas City Chiefs (12-4)
Draft Selection: Yetur Gross-Matos - EDGE (Penn State)
Gross-Matos fits the Chiefs' 4-3 defensive scheme. Frank Clark was a machine during the playoff run but he needs a friend on the other side to wreak havoc. Gross-Matos poses the height (6'5") and the frame to be a dominant force at the next level and learning under Frank Clark is just going to excel his growth towards being one of the top defensive producers in the league.