NBA: The Rockets Are 'Aggressively Pursuing' Jimmy Butler
With a championship window open, the Rockets aggressively pursue Jimmy Butler.
Welcome, NBA fans!
As "free agency" approaches, the Rockets are in a midst of a crisis.
The Rockets came up short against the former two-time defending champions, the Golden State Warriors in six games.
Chris Paul and James Harden's relationship went sour after that loss. The two backcourt mates reportedly didn't speak to one another in two months. Mike D'Antoni's contract is not extended. What makes this situation worse is Paul demanded a trade because he doesn't respect Harden's stand in the league. Likewise, Harden doesn't respect the work Paul puts in.
Let's just say, both men don't respect each other. If Harden and Paul continue their tenuous relationship, the Rockets will never re-group and win an NBA championship. The only way for Rockets to move forward is to either separate Paul and Harden or build around Harden.
We all know that Rockets General Manager Daryl Morey will not allow both Harden and Paul to tear each other apart and destroy their team's success.
Daryl Morey "denies" Chris Paul demanding a trade.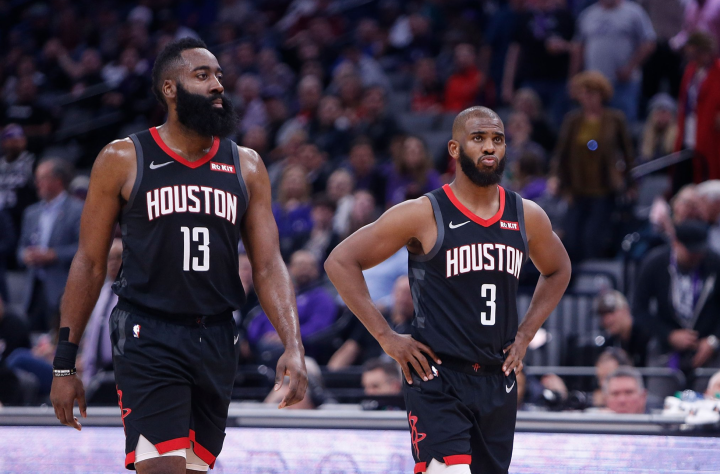 In an interview on the Dan Patrick Show, Morey made it known that Chris Paul is "not available" and denied any reports about him demanding a trade.
Here is Morey's comments:
"We were the best team down the stretch. We've spent a lot of time putting together two superstars. We're trying to add a third," Morey said. "Going backward from that doesn't make a lot of sense to us."
Morey does have a point here.
With an opportunity to win a championship next season, both Paul and Harden need to settle their differences as teammates. As far as adding a third star, it will be a tough task to execute. Now, Morey has been wanting to add a third star for some time and wants to take advantage of this offseason to pull it off.
Enter Jimmy Butler.
GM Daryl Morey is "aggressively pursuing" free agent Jimmy Butler, states a report by Brian T. Smith of the Houston Chronicle.
Jimmy Butler moving to Houston would make a lot of sense.
Butler is a Houston native.
He enjoys playing against the Rockets. Butler is friends with James Harden.
Taxes are not high.
I mean, what more can I say?
To further prove that Jimmy Butler to Houston is a possibility, check out the above video clip of him driving towards downtown in Houston.
Thank you Bleacher Report for this much needed evidence!
Will Jimmy Butler be traded to Houston?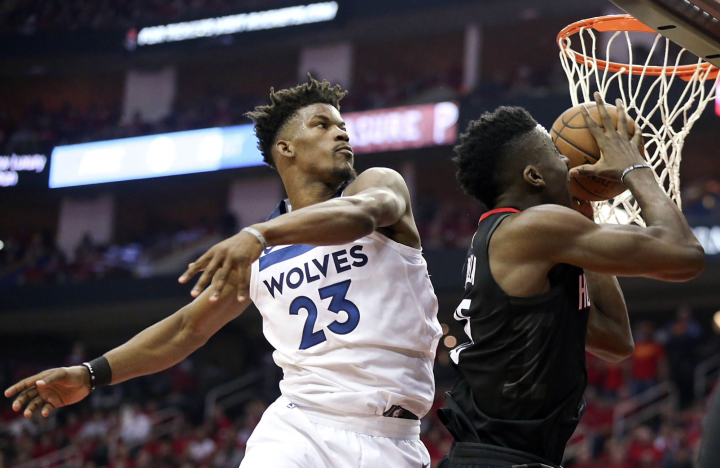 Although Butler would be a good fit in Houston, his ego may play a huge role of not fitting with the team. Butler's hard-playing style will definitely compliment Harden's isolation plays and Paul's court vision. In order to land Jimmy Butler, Morey has to unload multiple contracts.
Remember, Morey is "willing" to trade players, except James Harden and it will be difficult to maneuver. I wouldn't be surprised if Morey finds a way to trade for Butler. Besides Pelicans' Vice President David Griffin, Daryl Morey knows how to execute a trade and build a title contending team.
It's possible that Butler ends up in Houston between June 30 and July 10. We have to wait and see how this trade unfolds. All we know is Morey wants him some Jimmy Butler and you can't blame him. The Rockets are not the only team who wants Butler.
There are several other teams, including the Sixers, Lakers, Clippers, and Nets, who are willing to give him the max he desperately covets.
Above all the teams, Philadelphia can offer more money (a five-year $191 million max deal) to Butler than any other team. Furthermore, the Sixers will do whatever it takes to keep him long-term.
Who wants to leave a team with All-Stars Joel Embiid and Ben Simmons that has a chance to win a championship?
If I were Butler, I would stay with the Sixers and win now. For the first time in five years, the Warriors will not be the title favorites. This means that any team can have a chance to win a championship.
At the end of the day, it's Jimmy Butler's decision and we have to respect whichever team he chooses. As for Daryl Morey, he has a lot of time to facilitate a good trade for Jimmy Butler.
The trade may be challenging, but Morey will to whatever it takes to get a deal done.
That's all the news I have for you today!
I hope you guys enjoyed reading my article!
If you like what you read, make sure to support it by tipping it. You guys are the best!
Enjoy the rest of your week!