My Thoughts (So Far) on Mandy Rose's Heel Turn and Her Faction
Mandy Rose has made a villainous impact since her return to NXT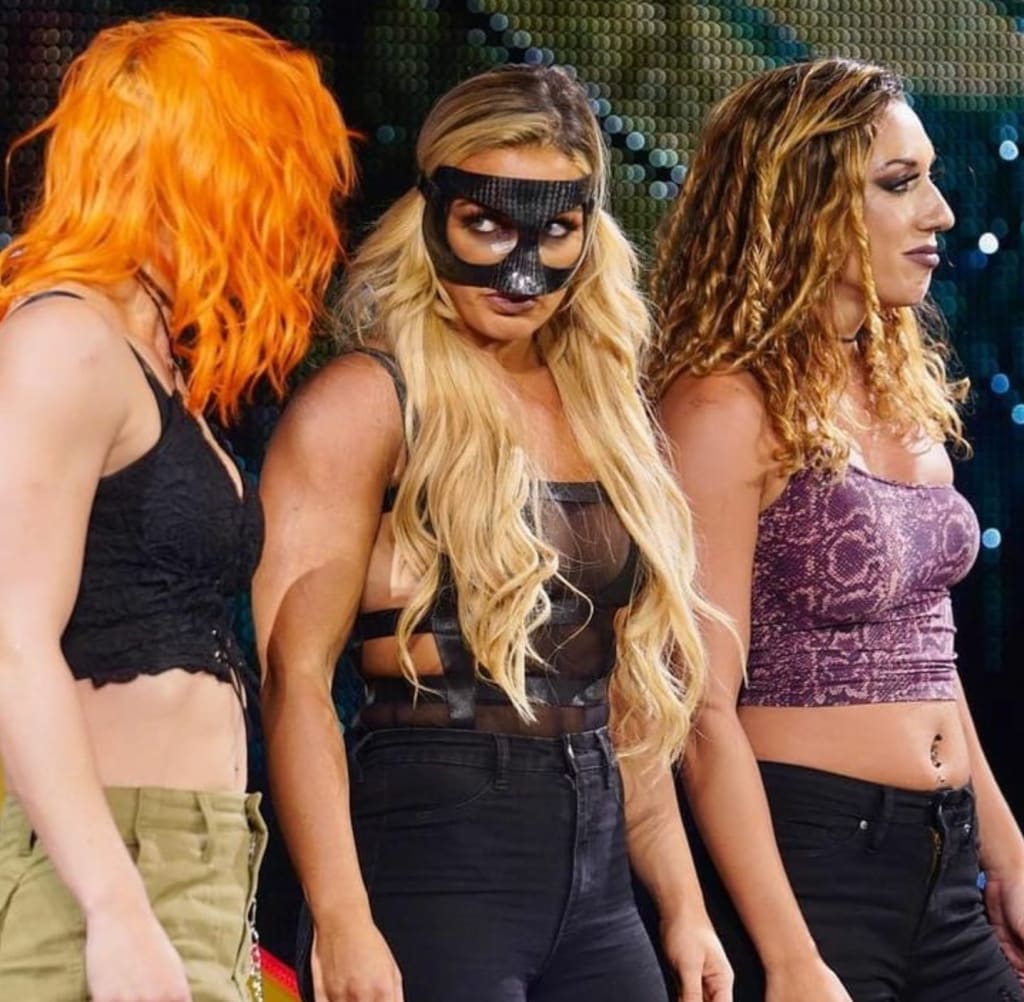 Mandy Rose (center) standing between Gigi Dolin (left) and Jacy Jayne (right)
What a difference two months makes! Two months prior, Mandy Rose suddenly returned to NXT; a huge surprise considering she had spent several months as part of a tag team with Dana Brooke. Her surprise return came on the July 13 edition of NXT, as she stood at the entrance ramp and watched Sarray's match against Gigi Dolin, which Sarray won.
In my review of Mandy's return, I had believed that Mandy turned heel in her return, though I also had a feeling that she could be in a feud with Franky Monet's group, which would have kept her as a face. Time would tell the story, as Mandy continued to appear and watch not only Gigi, but Jacy Jayne as well. It was clear that the three of them were forming an alliance, and it was cemented after Jacy and Gigi were defeated by Kacy Catanzaro and Kayden Carter, as Mandy approached the pair backstage and gave them the offer of a lifetime.
The trio officially entered together on the August 31 edition of NXT, as Mandy was making her return to in-ring competition on the black-and-yellow brand. Her opponent, fittingly, was Sarray, and we see Mandy (as well as Gigi and Jacy) in heel mode through the contest, which came to an abrupt end when Mandy was kicked in the face by Sarray, leading to her two cohorts taking their leader out of the ring and tending to her. Gigi and Jacy attacked Sarray backstage, and the latest edition of NXT saw Mandy's heel turn fully completed, as she led an attack on Kacy and Kayden, with her evil cohorts joining in.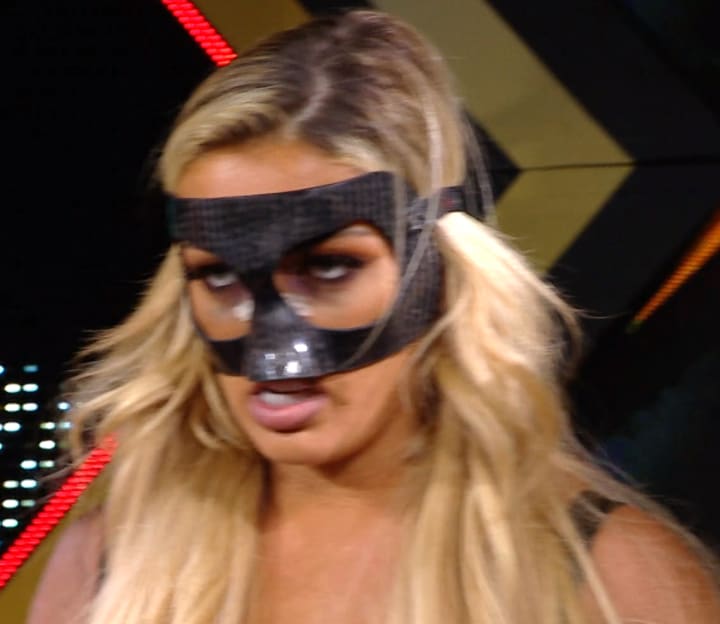 To say that I loved Mandy's transformation into a ruthlessly vicious villainess would be a huge understatement. As I said in my story about her return to NXT, Mandy had never experienced actually turning heel; she started out as a heel and turned face in 2020 due to the actions of Sonya Deville regarding her relationships. Until the latest edition of NXT, that was Mandy's only turn, and I have to say, Mandy's heel turn was a thing of beauty. It was steady and slow, and it saw a very vicious completion as she led her group's attack towards Kacy and Kayden. One more thing: the mask. As the photos show, the evil Mandy donned a protective mask in response to getting kicked in the face by Sarray, and I myself just love it because it truly adds to her ruthless heel persona. And yes, the Trish Stratus comparisons have been coming; Trish donned a face mask for a brief while in 2004.
The main reason why I love Mandy's current heel role is that it's completely different from her past heel character, which had centered on her allure and beauty. In this regard, Mandy is ruthless, violent, and immensely vengeful; she will do whatever it takes to get ahead, and will destroy anyone who gets in her way. We are also seeing that with Gigi and Jacy, which is a nice added bonus. I am very familiar with Gigi Dolin, as I and other fans have seen her as Priscilla Kelly, and she had been making several waves prior to joining WWE. Jacy Jayne is new to me, but I have loved what I've seen from her, and she, too, will shine as part of this villainous faction led by the evil Mandy Rose. If this gets done right, this trio could be the most dominant female faction in NXT. I would think that Gigi and Jacy could be pushed to the tag titles, while Mandy goes after the NXT Women's Championship. Until that happens, I (among other fans) will definitely drink this in and enjoy the proverbial ride.
If you like this story, feel free to click the heart below, and if you really love this story, feel free to leave a tip (if you want)!
fighting
About the author
Born on March 18, 1985. I am an avid fan of sports and wrestling, and I've been a fan of female villains since the age of eight. Also love movies--especially comedy and horror--and among my favorite TV shows are The Simpsons and Family Guy
Reader insights
Be the first to share your insights about this piece.
Add your insights