Much Ado About Melo?
After a tough season with the Oklahoma City Thunder, Carmelo Anthony looks to bounce back with the Houston Rockets.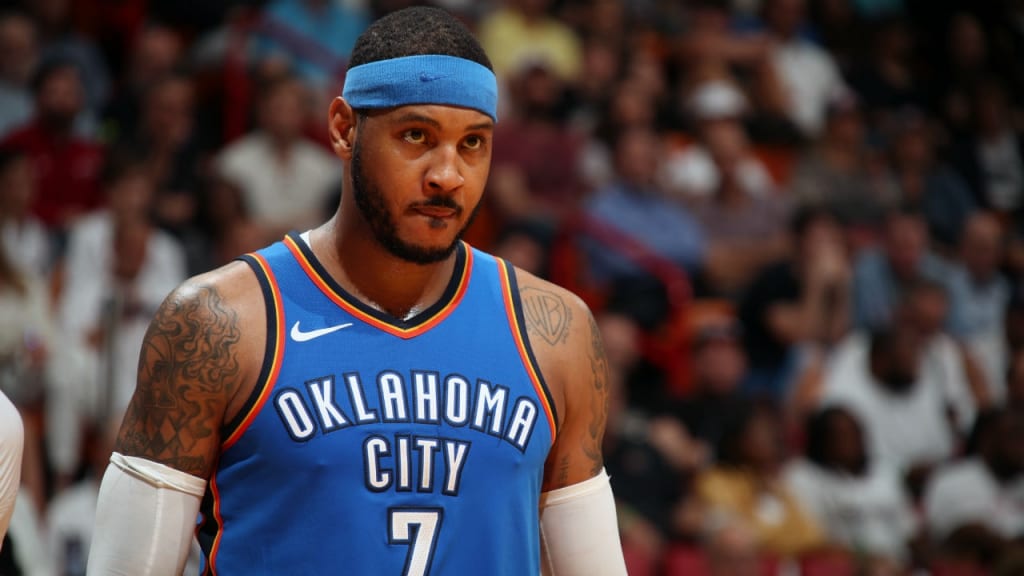 I'll be the first to say I'm not a Melo fan, but I gotta respect the headband he's been rocking from Day 1
Pre-Script: I had actually written this article weeks ago, but didn't feel like releasing it because I didn't think it had enough substance. Then I saw Mike Korzemba's video on Melo, and I couldn't have said it any better than he did. Now enjoy!
Let's get something straight: I am not a Carmelo Anthony fan. I don't like his play style and I think for the majority of his career, he has been overrated; if you don't believe me, just ask Mike Korzemba. There have only been three times I have cheered for him. Two of those times came in the 2012 and 2016 Olympic Games—weird how I'm a Canadian cheering for the USA National Team and Melo absolutely destroyed my home country, Nigeria, in 2012. The other time was last year. I believe Melo handled the whole Phil Jackson mess with the utmost sense of professionalism and I hoped he would get to a team where he could contend for a championship. Though I thought Houston was the best option at the time, I viewed OKC as a great landing spot for Anthony and genuinely thought that they could contend with the Warriors if things went right. And boy did things go wrong.
Melo Competing for Team USA in 2016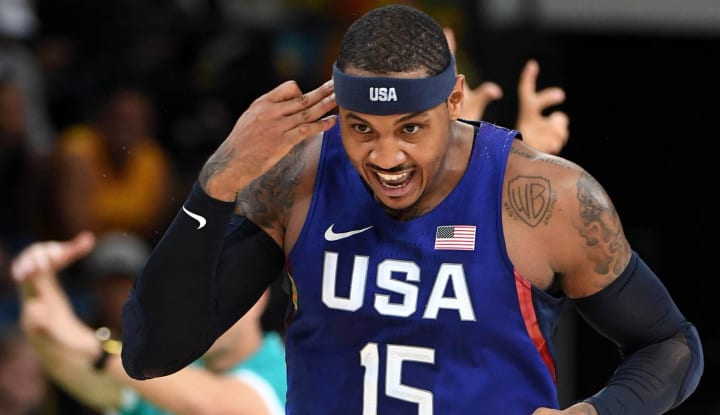 The Thunder, with reigning MVP Russell Westbrook and All-Star Paul George, won just one more game from the previous season, never truly figured things out (particularly after Roberson's injury) and got eliminated in the first round by the Utah Jazz 2-4. Melo had the worst season of his career, averaging career lows in points, assists, steals, minutes, field-goal percentage, and free-throw percentage. Melo was eventually traded to the Atlanta Hawks where he was waived—shoutout Atlanta for making a joke of the whole situation—and ultimately signed with the Houston Rockets.
This is not the same Houston Rockets team that won a league-high 65 games and lost a hard-fought seven games Western Conference Finals series to the Golden State Warriors that many argue they would have won had Chris Paul not been injured. The Rockets lost key 3 & D players Trevor Ariza and Luc Richard Mbah a Moute. While Houston relied heavily on the three-point shot, they were a sneaky good defensive team (6th in Defensive Rating), Ariza and a Moute helping that effort.
So, the Rockets replaced defensive specialists with Melo... in the words of Jake Peralta, "Cool, cool, cool, cool, cool."
Now, I have the utmost respect Stephen A. Smith as a person and analyst. And he may have a point saying that D'Antoni and Chris Paul can optimize Melo's offensize impact. But, like in most cases, I'm with Max Kellerman on this one. Melo still thinks he's an isolation-master (he's not) but even if he was, Paul and James Harden are elite, high-volume iso players; there simply wouldn't be enough possession to go around. Anthony also loves his mid-range jumpers, a shot Rockets General Manger and analytics whiz hates with a passion. And even if Melo is ready to accept a bench role, he's still going to have a hard time getting past second units, let alone starting players. And I don't even need analytics to know Melo more porous than a sieve defensively.
We can only wait and see what comes of Melo and the Rockets this season. I believe the Anthony acquisition was a step backwards for the organization and if matched up against the Warriors again wouldn't even push the series to 6 games. But hey, at least Melo made over $30 million this summer.
Post Script: Sorry I've been on a bit of a hiatus; between university prep and rugby, I haven't had time to write articles. Fear not, because I am to get back into the swing of things really soon.
About the Creator
Huge NBA (more importantly LeBron) fan, love writing about things happening around the league.
Instagram: @mdaywiththetrey
Facebook: Olamide Olatunbosun
Reader insights
Be the first to share your insights about this piece.
Add your insights