Most Beautiful Basketball Players of 2022
A Celebration of Women, Basketball & Beauty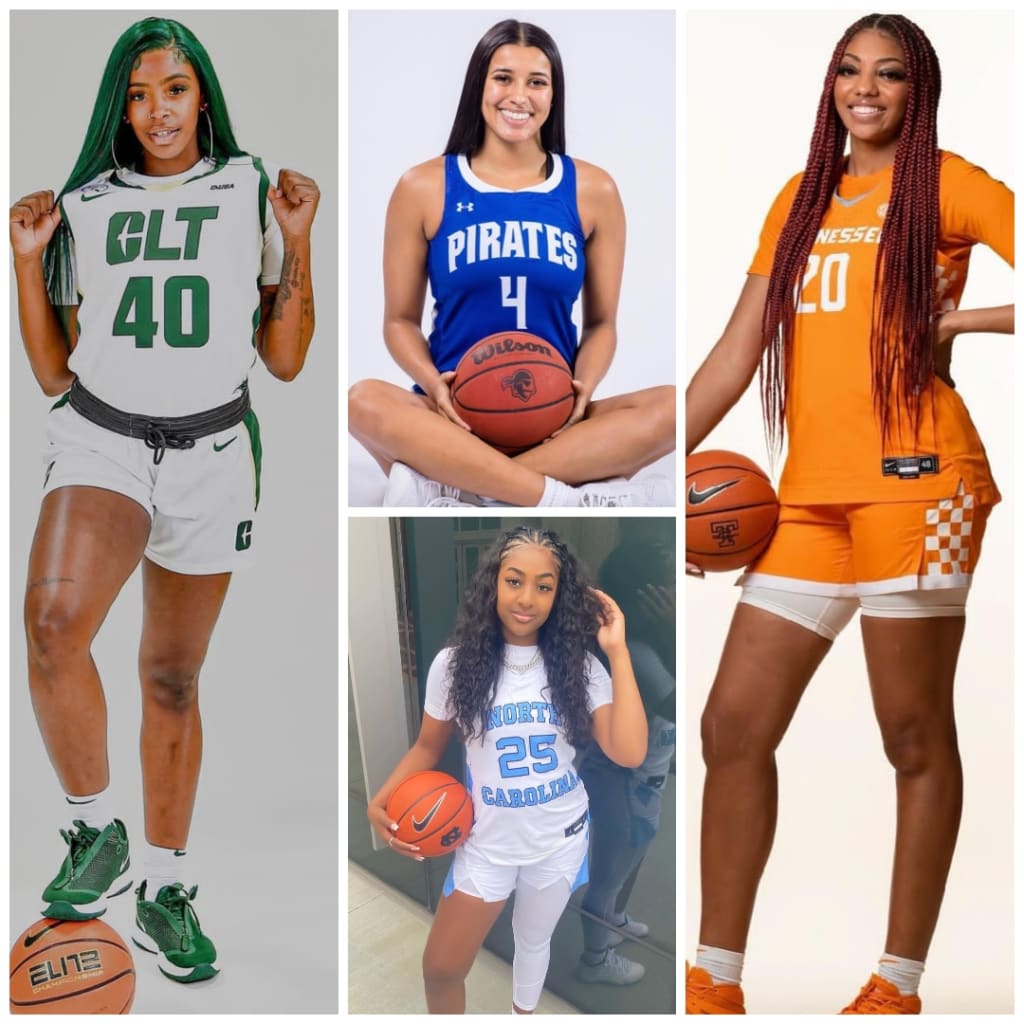 KeKe, Andra, Tamari & Deja
Once upon a time many people in the world had this thought that women's basketball players were not as beautiful as others. It's sad but true. However as we have shown you since 2020 (check the links at the end of this feature), women's basketball players are beautiful both inside and out. These women set goals in athletics, education and elsewhere. The most important thing is that they accomplish their goals while living a healthy lifestyle which serve as examples to all of us (male and female) that we can all have large dreams and exceed all expectations! We present to you 2022 version of our "Most Beautiful Basketball Players" series.
Deja Kelly - North Carolina
A sophomore out of San Antonio, Deja Kelly is one of the more popular players in NCAA women's basketball. The point guard has 130,000 followers on Instagram and 264,000 followers on TikTok. Kelly is shining this year with the Tar Heels as she is averaging 17.9 points per game as her team has gotten off to a 14-2 start. Those numbers are up from last season's record of 13-11 and scoring average of 10.9 points per game.
KeKe McKinney - Charlotte
During the previous four seasons KeKe McKinney made a name for herself as a defensive specialist for the Kentucky Wildcats. This year she is competing for Charlotte and the 6-1 forward who is a native of Knoxville is having her best season as a rebounder. After her first 12 games of the season McKinney is averaging a career best 7.3 rebounds per game. She has had four games with 10 or more rebounds. The player with the colorful hair is also keeping up her totals in steals and blocked shots. Along with leading the team in rebounds, she is also tops on the squad with an average of 1.4 blocks per game and second with 1.3 steals per contest.
Andra Espinoza-Hunter - Seton Hall
Andra Espinoza-Hunter started her career at UConn for one year before transferring to Mississippi State where she competed for two seasons. The 5-11 guard/forward found a home at Seton Hall where she has blossomed as a team leader. After her first 15 games this season she is averaging 17.2 points per game, scoring at least 20 points on seven occasions. She has also had some big nights as a three-point shooter, draining three or more triples seven times as well. A native of Ossining, New York, Espinoza-Hunter was one of the best high school scorers in the country as she averaged 36.9 points per game as a senior.
Tamari Key - Tennessee
At 6-6, Tamari Key is imposing but more importantly she is productive. As Tennessee has gotten off to a 17-1 start, Key has slowed down opponents with her impressive shot blocking skills. After her first 18 games of the season she is second in the NCAA with an average of 3.7 blocked shots per game.
She collected her second career triple-double with 10 blocks to go along with 18 rebounds and 10 points in an early season win over Texas. That performance made her the only player in school history to record more than one triple-double. Earlier this month she racked up 11 blocks in a win against Texas A&M. Key has served as a valuable member on campus as an SEC Student-Athlete Leadership Council & SAAC Representative. She also has shown a knack for business with t-shirts designed in her likeness, sold on the Orange Mountain Designs store.
For the previous editions of the Most Beautiful Basketball Players click the following links!