Moments that defined the career of the Dynamite Kid
The tragic story and controversial legacy of the Dynamite Kid
The Dynamite Kid
Dynamite Kid (Thomas Billington) is unarguably one of the most influential in-ring performers of the 1980's pro-wrestling scene; divulging others to a fast-paced , increased level of athleticism from which the art form would replicate and progress towards.
A career and controversial lasting legacy that is somewhat - comparative with his more acclaimed contemporaries - an obscured facet of wrestling history and influence; Dynamite Kid's career spanned three continents, gathering titles in a multitude of organisations that includes both the World Wrestling Federation - where he was represented as one half of the legendary tag-team: The British Bulldogs. As well as performing in New Japan Pro Wrestling, further cementing his cult status shared by Japanese audiences.
Unfortunately, his legacy divides a wrestling fan base who have, as a consensus, bestowed a pioneering status surrounding Dynamite Kid's wrestling influence whilst still remaining reserved to the personal frailties surrounding Thomas Billington.
Presented are pivotal moments that not only defined Dynamite Kid's career, but also his life.
Acclaimed rivalry with Tiger Mask
Throughout the early-to-mid eighties, a multitude of matches were fought between the pair in wrestling territories all across the world; such as the WWF (World Wrestling Federation) and NJPW (New Japan Pro Wrestling). During these bouts, their endeavours demonstrated to audiences a completely progressive ideology pertaining to pro-wrestling; combining the various approaches of other wrestling styles that delivered both fast-paced action and dynamic manoeuvrability.
Throughout their numerous bouts the crowds are both audibly and visibly impressed. This is demonstrated profoundly during their 1983 Madison Square Garden debut match, in which the post-modernised approach to professional wrestling clearly sends hushed admiration towards an audience who were more accustomed to a more static, slow-trodden acceptance to the art form.
These bouts are fundamental to measuring the progression of the art form and have firmly stood the test of time, thus cementing that this rivalry will always be embraced within the hearts of many a wrestling purist.
Mentor to Bret Hart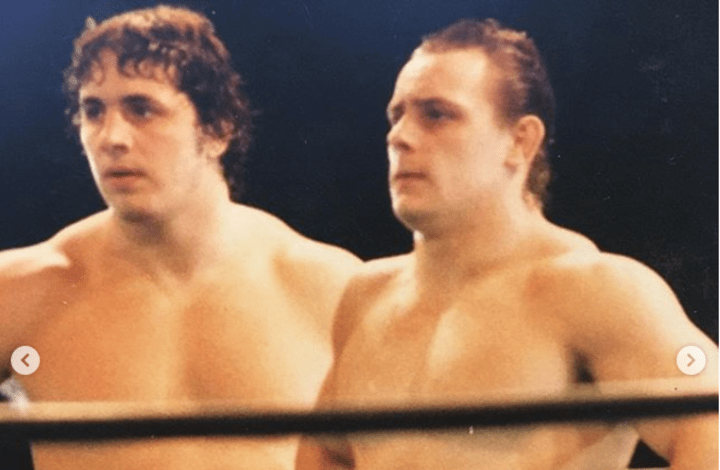 Bret Hart is universally renowned for being one of the greatest professional wrestlers of all time; delivering a technical in-ring presentation during the 1990s that assisted in changing the perception of mainstream North-American professional wrestling.
Performing in the Canadian based promotion: Stampede Wrestling. A younger, less experienced Bret Hart would find himself partnered up against the more adept Dynamite Kid. Billington would proceed in taking the young Canadian under his tutelage, educating him on the technical nuances and craftsmanship of the squared-circle with leadership that delivered a contrasting, authoritative pummelling of stiffening and tough love.
Bret Hart gives credit to Dynamite Kid's influence on his early career within a Facebook post remembering Billington:
"The second professional wrestling match of my career was against Dynamite. I benefited from his greatness and through our matches in Stampede, WWE, and everywhere in-between, I became a better wrestler because of him.
Dynamite truly was the best wrestler ever, pound-for-pound. Tom was family, my brother-in-law, and we were very close. In many ways I felt like one of the few people who truly knew him, both the good and the bad. I saw Tom one final time this past June in England and I can only hope he is finally at peace."
First five-star match to be awarded by Dave Meltzer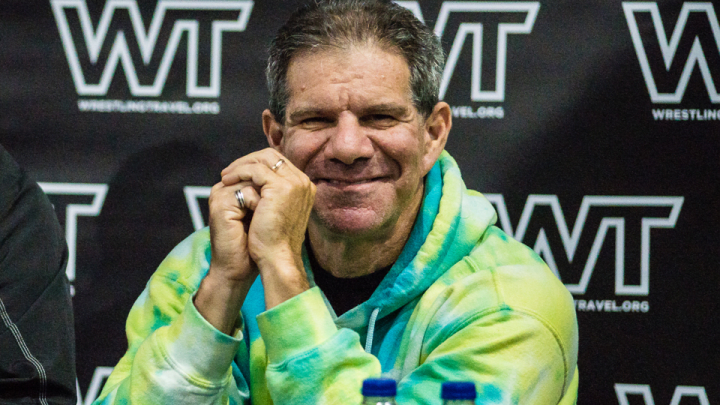 Like many industries that fall under the umbrella that is performance arts, institutions exist that assess and critique the actors at play; cultivating a measurement that is usually as a consensus honoured by the consumer. A pro wrestling centric institution with notoriety is that of the Wrestling Observer Newsletter edited by Dave Meltzer. It adheres to the aforementioned context.
So with this in mind, it is quite significant that Meltzer would accredit Dynamite Kid vs Tiger Mask at the sumo hall in 1983 as his first 5-star rated match. Meltzer would reaffirm his praise for Dynamite, tweeting the following: "Dynamite Kid was a real game-changer in this business. For his time, he was a revolutionary worker. He had an intensity and working ability at the level of very few in history."
A five-star rated match attributed by Meltzer would become a celebrated tradition, following a lineage that many more would succeed in claiming.
The British Bulldogs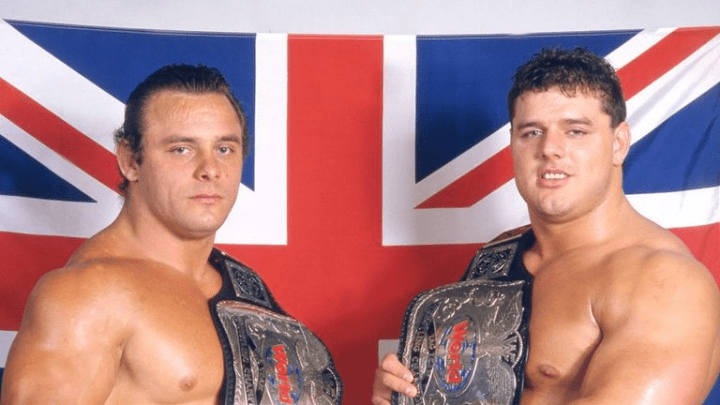 Perhaps Dynamite Kid's most famous stint - particularly in North America - was during his WWF (World Wrestling Federation) tag-team partnership with first cousin Davey Boy Smith as one half of The British Bulldogs.
Originally, during their respective Stampede Wrestling period, the British duo were first presented as being in a fierce rivalry. This was initiated when Dynamite provoked Smith (in kayfabe) by claiming he was "a test-tube baby". Once resolving their differences, the pair would eventually form The British Bulldogs and go on to win the Stampede International Tag Team Championship for the first time.
Once becoming WWF-exclusive, the team would have an intense rivalry with The Hart Foundation, producing a series of critically acclaimed matches that assisted in elevating the tag-team's legacy. They would ultimately go on to win the WWF World Tag Team Championship and further cement themselves as being one of the greatest tag-teams of all time.
Incident with Jacques Rougeau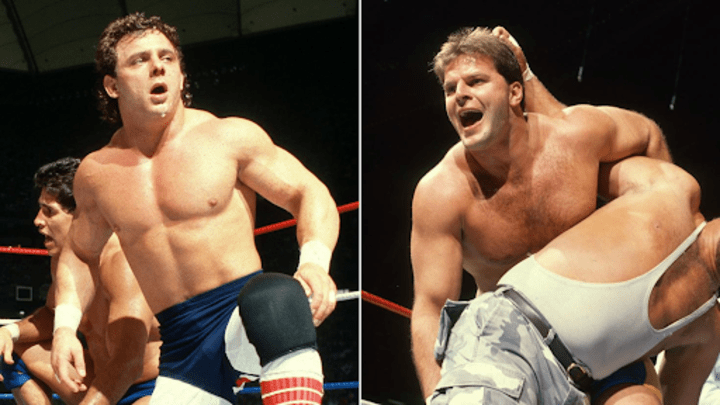 Dynamite Kid, along with his long-term partner Davey Boy Smith, were well versed in the art of manufacturing ribs and practical jokes at the expense of others; with the worst of these trepidations deemed to be that of callous bullying. Although many would accept and conform to this type of locker room behaviour - accepting it as a standard - one wrestler named Jacques Rougeau decided upon retaliation.
Upon returning to the locker room after working a match, Jacques Rougeau would find that his personal belongings had been tampered with. In the autobiography written by Jimmy Hart entitled, The Mouth of the South: The Jimmy Hart Story, he goes into his first-hand account of the incident that ensued:
"They double-locked Jacques Rougeau's suitcase one day, and [Rougeau] decided it was time to put an end to their reign of terror. He warned them: 'Dynamite,' he'd say, 'you keep on messing with me and I promise you something bad's gonna happen.' Well, sure enough, before a show in Miami Beach, Jacques was minding his own business playing cards in the back. Next thing you know, Dynamite storms in, turns Jacques around and goes off on him. He really beat him up, busting Jacques' nose wide open."
Dynamite would defend this behaviour by claiming that Rougeau had spoken to senior representatives of the organisation, effectively snitching on the Bulldog's back room antics. In ac act of revenge, Rougeau would punch Dynamite in the mouth with a roll of quarters clenched within his fist; knocking out four of his teeth.
Came close to death twice whilst taking LSD
Perhaps one of the more traumatic experiences of Dynamite's life arrived weeks before embarking on another All-Japan tour. He visited fellow professional wrestler and friend Dan Spivey and stayed in his home in Florida for a week, while Spivey went on holiday. When Spivey returned, he and Billington took hits of LSD, which resulted in Billington coming close to his death twice in one day, fortunately being revived with adrenaline shots by paramedics both times.
Stiffening Mick Foley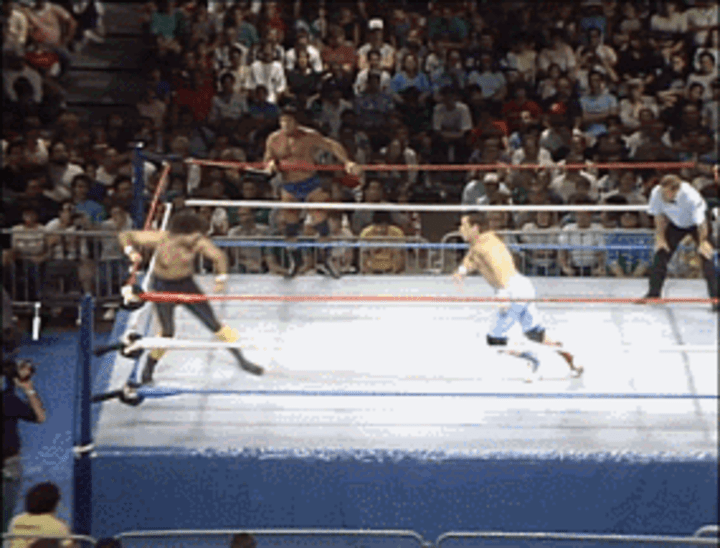 Billington was known for being somewhat overzealous in the ring on occasion, stiffening his fellow workers. Perhaps one of the more celebrated names on the end of one of Dynamite's stiffening's is that of the hardcore legend Mick Foley, also famously known as Mankind and Cactus Jack.
Mick Foley reported in his book that when he and Les Thornton (another British wrestler) wrestled the Bulldogs in a tag-team match early in Foley's career, Billington manhandled him so badly in the ring that he tore a ligament in Foley's jaw with his signature Hook Clothesline, preventing Foley from eating solid foods until his recovery.
Controversial admittances
Long before his WWF days, The Dynamite Kid was managed by a former wrestler turned manager named John 'Jr' Foley in Stampede Wrestling. During this period of time, Jr Foley's daughter was involved in a car accident.
Foley was looking to claim a large amount of money from the insurance company and felt that his daughter wasn't damaged enough with substantial effect. Foley would allegedly approach Dynamite Kid and offer payment to break both of his daughter's legs. Dynamite Kid agreed, allegedly breaking both of her legs from the kneecaps down. Foley would collect the insurance money in the scam but his daughter apparently never fully recovered from her broken legs and would permanently walk with a limp.
Another controversial tale is that Tom would cause sadistic violence to his now ex-wife Michelle Billignton, allegedly placing a shotgun against her face whilst she slept. Perhaps what makes these allegations all the more terrifying, is that in a somewhat sociopathic admittance, both these incidents would both be corroborated by Billington himself during an interview. He would state "I don't think it was violent. I mean, I put a shotgun under her chin once, but I had no shells. I only pretended that." As well as nonchalantly responding "True." to questioning over breaking his niece's legs.
Career-ending back injury
The catalyst that spelled the end for Dynamite's in-ring career as a competent performer was during an incident that took place December 1986 in Hamilton, Ontario, Canada during a tag-team match against Don Muraco and Bob Orton, Jr.
During this bout, Dynamite would suffer a serious back injury that he states in his autobiography - Pure Dynamite - occurred when "...he (Bob Orton, Jr) dropped, flat on his belly, so I had to jump over him to get to the other ropes. As I jumped, literally in mid stride, I felt something go in my back."
Although Dynamite would proceed to successfully have surgery, this injury was overall detrimental; adding to an already accumulated amount of mat hours, drugs and steroids. Injury would ultimately lead to Dynamite's premature departure from mainstream wrestling.
By the end of Dynamite's career, he would physically look like a shell of his former self, resulting in a considerable loss of mass and thus losing his comprehensive physique. Retirement from the squared-circle loomed, finally culminating on the 10th October 1996, at a Michinoku Pro event named These Days, where The Dynamite Kid would wrestle his final match aged just 38.
The Price You Pay for Wrestling Stardom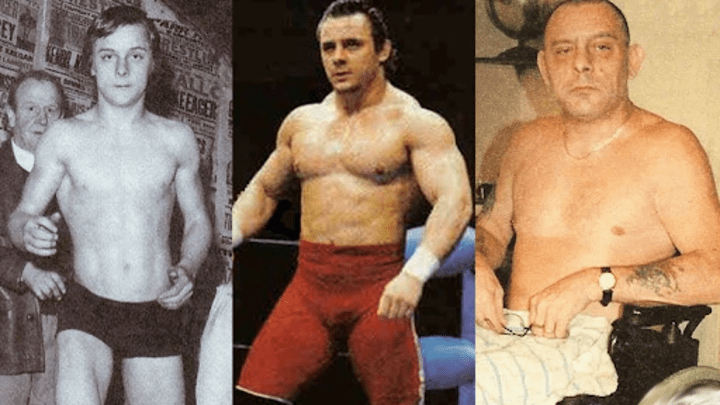 Post-wrestling, health issues would continue to plague Tom Billington's life. Tragically, complications due to back and leg injuries suffered throughout his career would result in him losing the functionality of his left leg. Being informed he would never walk again, Billington had to rely on a wheelchair for mobility.
In addition to his paralysis, Billington also suffered from heart problems. In November 2013, Billington reportedly suffered a stroke. During this time, Billington was almost unrecognisable. Suffering from both aphasia and paralysis, he could only muster subtle facial expressions with only his cognitive processes seeming somewhat functioning.
It would seem somewhat appropriate to end this article how it began, with both Dynamite Kid and Tiger Mask within each other's cross hairs one last time. In 2016, whilst Billington was in the last stages of his life, Tiger Mask would video call his long-standing rival and dance partner, both men seeing each other one final time. Tiger would apply his prominent mask, uttering the words "Hey Tommy, remember? Hey Tommy, wake up.. wake up." Billington, who would seemingly appear to be in a comatose state, would surprisingly reciprocate this gesture with the opening of his eyes, seeing his faithful, long-standing rival for one last time. For one last fight. A sharing of mutual respect and memories.
Many have lambasted Tom Billington for his immoral tendencies, but one thing is for sure, he did love and care for wrestling, offering it his life.
Tom 'Dynamite Kid' Billington would die on the 5th December 2018, his 60th birthday.