Michael Jordan partners with Denny Hamlin for NASCAR team
How much will owning a Cup Series team cost you?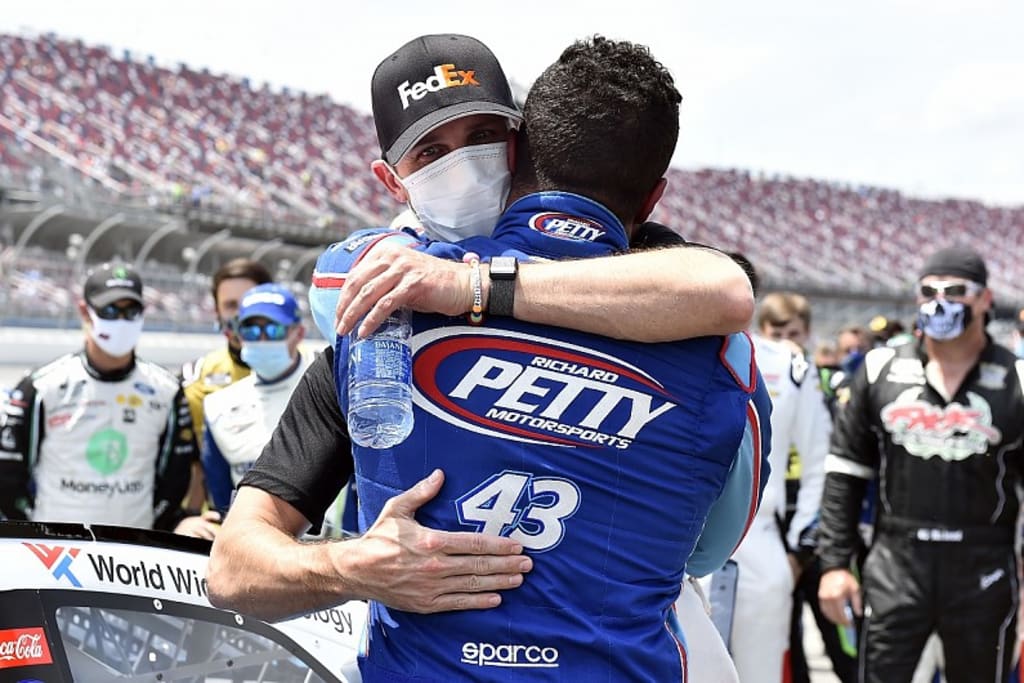 Denny Hamlin hugging Bubba Wallace. http://autosport.com/ photo credit.
Bubba Wallace has been chosen as the sole driver for the new NASCAR team that NBA legend Michael Jordan and NASCAR star Denny Hamlin will be owners of.
Hamlin took to Twitter last night on September 21, to announce that he and Jordan will be starting a new, single car NASCAR Cup Series team for the 2021 season.
Hamlin said, "Deciding on a driver was easy — it had to be Bubba Wallace."
The new NASCAR team hopefuls decided that they will only have a single-car team with Wallace in the driver seat. Wallace has been noted for being the most successful African-American driver in the history of NASCAR.
Wallace who is currently the driver for the No. 43 car with Richard Petty Motorsports has been a big activist in the fight against racism and social injustice, especially in NASCAR where it is a predominately white sport, Wallace is the lone driver of colour.
Wallace who commented on being selected to be apart of the newly formed team said, "This is a unique, once-in-a-lifetime opportunity that I believe is a great fit for me at this point in my career. I'm grateful and humbled that they believe in me and I'm super pumped to begin this adventure with them."
Hamlin has also said on Twitter that Bubba has shown a great deal of improvement since joining the NASCAR Cup Series and that, "we believe he's ready to take his career to a higher level." He went on to say that Bubba deserves the opportunity and chances to compete for race wins.
As for off-the-track actions, Hamlin said, "Bubba has been a loud voice for change in our sport and our country. MJ and I support him fully in those efforts and stand beside him."
While we wait for the 2021 NASCAR Cup Series to begin, we take a look at how much running a NASCAR team really costs, and yes, Jordan can afford it.
Another former NBA star, Brad Daugherty, who co-owns Bobby Labonte's No. 47 car commented that "It's certainly not for the faint at heart," when asked about the costs of owning a team.
The costs can run from $400,000 a week for some of the bigger teams and as low as less than half that for smaller teams, where they have to make ends meet.
If we break down all of the costs, starting from most expensive, first, would be the driver pay which depends on the team but pay ranges from 50-per-cent of winnings up to $185,000 for the higher-level drivers.
The second highest cost goes to the engines, which run up to $100,000 for a single-engine. The cost includes the engine and one engine specialist dedicated to each car.
Next would be your team payroll, which costs up to $83,500 and includes payments to two tire changers, a jackman, a gas man, two tire carriers, six mechanics, a car chief, two engineers, and a truck driver.
Following the team payroll, comes parts and pieces which run you up to $50,000, which all include suspension parts, springs, shocks, axles, bearings, cooling ducts, nuts, and bolts.
All the other expenses amount to $130,500 and all of that includes your travel expenses, tires, radiator, transmission, brakes, insurance, per diem, and sanctioning fees.