Meeting D'Angelo Russell
open letter to a cool guy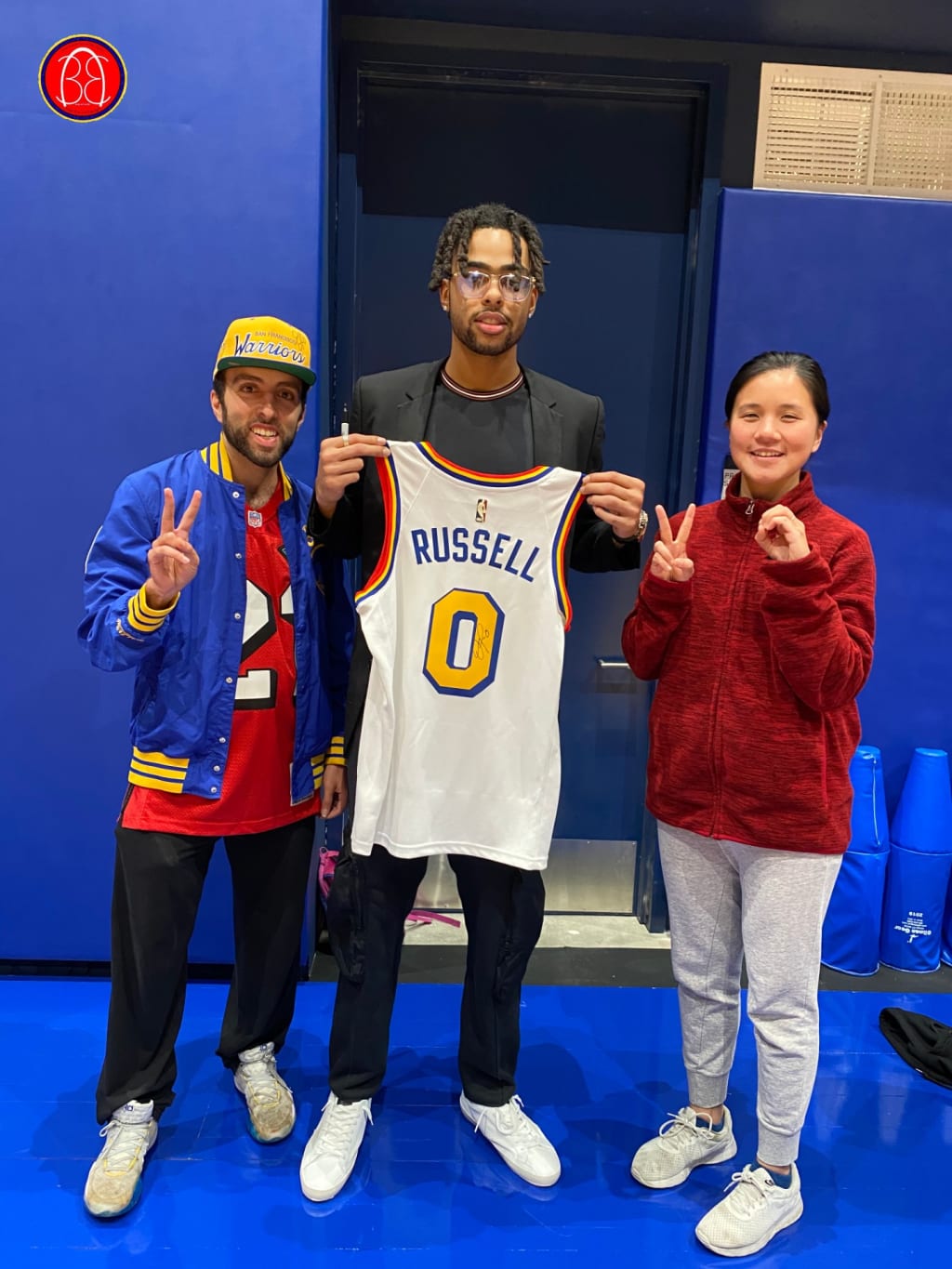 D'Angelo 2020 || Golden State Warriors 01/04/2020
Dear D'Angelo Russell,
It was great to meet you after the Golden State Warriors game tonight. It's always good to meet a fellow genius left-hander. You know what they say: "left-handed, right-minded." A lot of geniuses have been left-handed: Einstein, Da Vinci, Michelangelo, a bunch of others too.
I feel like when I watch you during the game, when you're really in the zone, it's like watching water. It's so natural and fluid, the motion is almost like dance, it's that smooth. That's a pretty special experience and I gain a ton of inspiration from it. That's what people who don't watch sports can't understand about it. They tell me, "Why do you watch that stuff?" And I tell them, "because it's fun and exciting and it gives me a ton of inspiration for my own life."
Anyway, Kevin Durant was my favorite player on the Warriors, but he left and we got you in return. It's funny how life works like that, you lose something but then get something great back. That was a pretty slick move by Bob Myers to make that deal for you. He went to UCLA just like me and he took a bad situation and made it good. That's the sign of another genius. I wonder if he is left-handed?
I hope you have learned from mentors like Stephen Curry, Klay Thompson and Draymond Green, so you can carry the torch in the future. That must be so special to have those guys on your team, what a wealth of experience and knowledge. The other thing is that they're pretty cool and kind like you. It must make a world of difference to be on a team with a positive culture that encourages others to grow. We're really lucky to have you on our team.
Also, hope you feel better, it was a bummer you didn't play in the game tonight. Have you ever tried meditating? It really helps with pain, if you can keep your mind calm and strong, it can have a reverberating effect on the body. I meditate pretty much everyday. I meditate in the morning, the afternoon, the evening, at night sometimes too. It's like even more powerful than a nap and it makes you smarter and sharper too.
And, if you get a chance, make sure to check out the show Shen Yun, you'd get a ton of inspiration from them for your game and your Instagram page. Your instagram page is super sweet, by the way, I think the pictures you take around San Francisco are really inspiring. I live in the city too and take pictures all the time. I'm gonna write a book and put a bunch of those pictures in there.
So, I know that everything takes time and the Warriors are building something great again at the new Chase Center. I love the stadium by the way and I think the way it turns into a concert venue is pretty sweet too. I plan on performing there one day, hope you'll come to my show. I make all kinds of music, everything from folk to rap to rock'n'roll, even classical. But, I'm looking forward to seeing everyone healthy and on the floor together next year, to really give the Chase Center the grand welcome that it deserves.
Alrighty, feel better and thanks for signing my jersey and taking time to chat with me!!! It's always good to know that the big stars are good people too. Actually, the reason you're a star is because you have a lot of virtue, which means you have a lot of blessings.
Sincerely,
Michael Niktaris
CEO Aquarius3E LLC