Many Happy Returns: Reviewing a Spectacular SummerSlam for WWE's Women's Division
The 35th annual SummerSlam provided many pleasing moments for WWE's Women's Division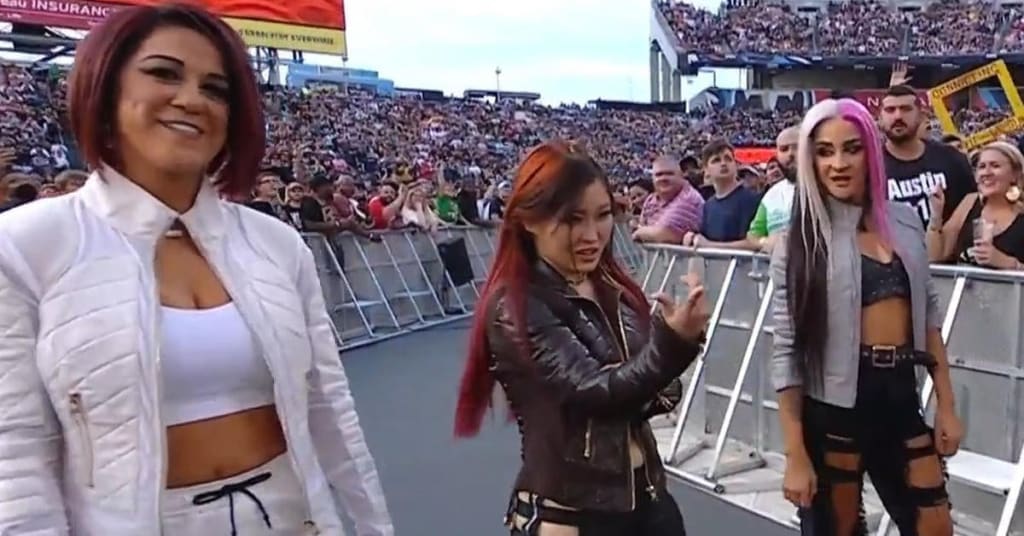 Bayley returns with the renamed Iyo Sky (Io Shirai) and the rehired Dakota Kai
When Triple H took over calling the shots in World Wrestling Entertainment, many fans (myself included) saw this as a much needed breath of fresh air. So many stated that Triple H running things would lead to improvements throughout WWE, and the diehard women's wrestling fans (again, myself included) felt that there would be moments that would leave us shocked, amazed, and most importantly, deliriously happy. The feel hadn't arrived yet, but it was believed that it would hit us at SummerSlam.
Boy, did it!
The 35th annual event kicked off with the highly anticipated rematch between Bianca Belair and Becky Lynch for the former's Raw Women's Championship. We all know the story; it was at last year's SummerSlam that Becky made her return from maternity leave, and challenged Bianca for the SmackDown Women's Championship, which only saw a cheap shot and a quick finish in Becky's favor. In the time that passed, Becky became dissatisfied with what she considered an act of betrayal from the fans, accusing them of turning their backs on her after her return, and the ego boost transformed "The Man" into the villainous "Big Time Becks." Becky ducked every one of Bianca's challenges until WrestleMania forced her to face her nemesis for the Raw Women's Championship, which Bianca won.
Becky became obsessed with regaining the title, and SummerSlam was her chance. For Bianca, it was the return to the event where all of this started, as well as a chance to exorcise a proverbial demon: the 26-second loss last year. Bianca managed to be successful at doing just that; retaining against Becky in a hard fought match, and afterwards, Becky extended her hand in a show of respect.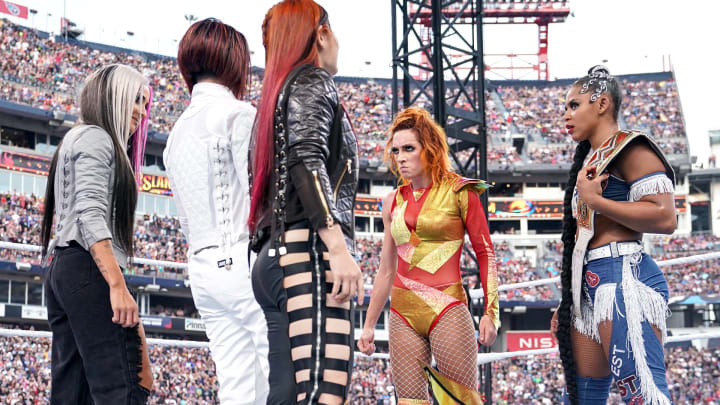 It didn't end there! After Bianca's victory, we heard the familiar music of Bayley, and out came the self-professed "Role Model," making her return to WWE after a year on the shelf. She did not come alone, as next up was Dakota Kai! Yes, you read that right! Dakota Kai, who was released in the April 2022 fire sale shortly after WrestleMania Weekend, was back in WWE! And there's more! Next up was Io Shirai, the former NXT Women's Champion and NXT Women's Tag Team Champion who is now going by the name Iyo Sky. So the three of them formed a villainous faction and confronted Bianca, but to the champion's surprise, Becky stood up alongside her longtime foe and joined her in confronting the trio. So to recap, Bianca retained the title, Bayley returned, Dakota Kai was rehired, the renamed Iyo Sky was promoted, and Becky Lynch turned face.
Dakota's return was the biggest surprise, as it came so quickly after she was released, and she has a new gimmick! After that, I also loved that Becky turned face after her loss, because it needed to happen. We definitely received a lot from her evil "Big Time Becks" character, and when the WM loss happened, we saw Becky unravel and descend into madness in her various attempts to get back to the top. She had chance after chance, and SummerSlam was her last one, and now that she was defeated once more, the only path that Becky had to take was a more righteous one.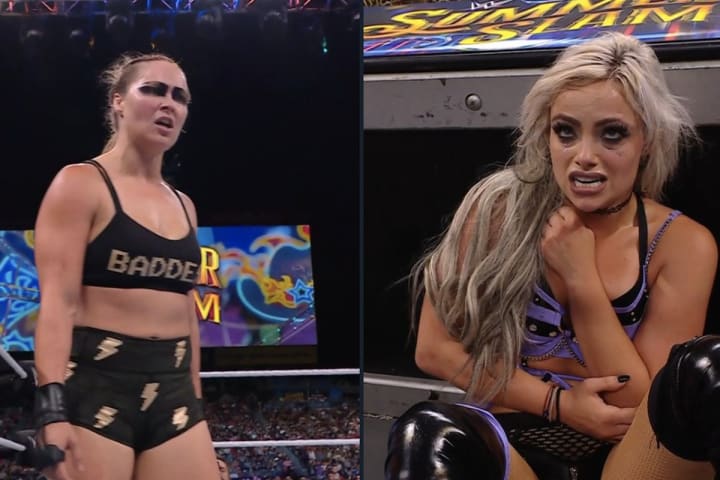 So with all of that happening in the Raw match, I was left wondering what to expect in the SmackDown match between Liv Morgan and Ronda Rousey. For obvious reasons, I was left very confident that Liv would retain the title, but the way it went down was pretty crazy. So Liv was checked on due to a bad arm, and Ronda capitalized and placed her in the armbar. Liv, somehow, managed to get a pinning combination on Ronda and get the victory, but it's what was missed as this happened. When the referee hit two, Liv tapped. It was plain as day--well, night. Ronda was livid that the tap was missed, and she took it out on not only Liv, but the official as well.
So Liv remains SmackDown Women's Champion, but Ronda has apparently turned heel, so they say. I am not going to refer to this as a heel turn, and there's a simple reason: Ronda's gripe is legit. If she was making excuses and throwing a temper tantrum, then yeah, Ronda could be portrayed as being a sore loser. This was not it. The upcoming SmackDown will tell the tale, but we'll probably see an evil side of Ronda on that evening to cement the swerve.
Overall, this was an unforgettable SummerSlam overall, but especially for WWE's Women's Division. The event was definitely had the aura of change in the air for WWE and their fans, and I am anxious to see the results of the spectacular moments for the women of WWE.
If you like this story, click the heart, and click the subscribe button for more of my stories! Tips and pledges would be greatly appreciated, but only if you want to do so!
fighting
About the author
Born on March 18, 1985. I am an avid fan of sports and wrestling, and I've been a fan of female villains since the age of eight. Also love movies--especially comedy and horror--and among my favorite TV shows are The Simpsons and Family Guy
Reader insights
Be the first to share your insights about this piece.
Add your insights