Make Football Fun Again
How the XFL Will Succeed in 2020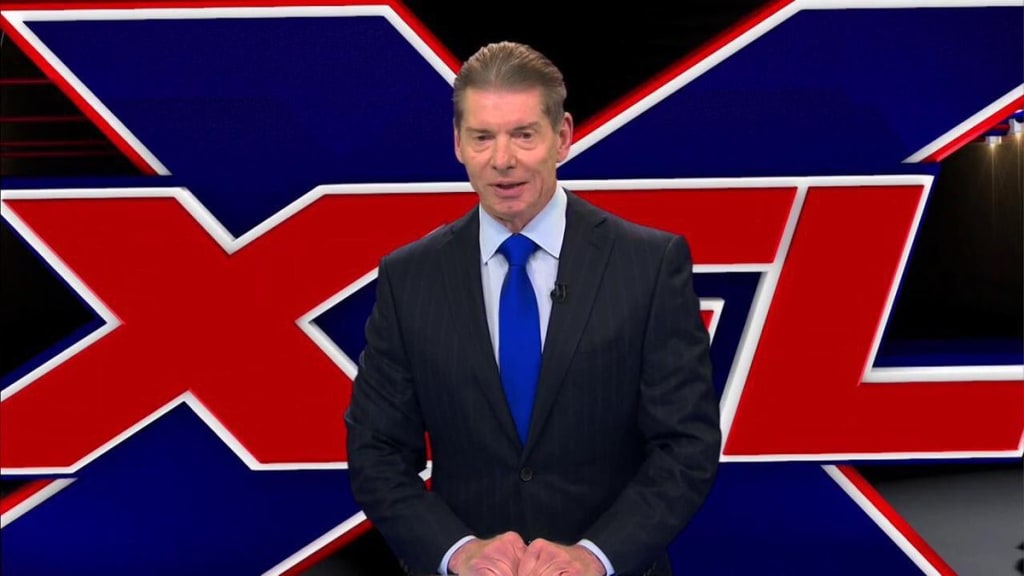 Make football fun again.
Last January, WWE present and CEO Vince McMahon held a press conference with ESPN announcing the return of the XFL in 2020. He pledged to give football fans "professional football the way we imagined it." I was excited about this, because I've been feeling like something has been missing from the traditional game for some time. For this article, I will explain why I think the XFL will "make football fun again," and provide some suggestions for what I think will make it successful.
They learned from past mistakes.
McMahon intends to build on his experience from his previous attempt at running a football league. The original XFL was started in the late 1990s. At the time, McMahon stated that If the National Football League (NFL) stands for, "No Fun League," the XFL stands for the "Extra Fun League" (Richard, 2000). He promised a hard-nosed, smash-mouth version of professional football with fewer rules. Unfortunately, McMahon focused too much on presentation and not so much on what happened on the field.
According to the ESPN 30 for 30 Documentary, this was the XFL; the teams only had a one-month training camp. A lack of practice made for a poor-quality product on the field. The league also incorporated a lot of sappy, WWE-style theatrical shenanigans that alienated fans of the traditional game. These issues—combined with weak revenue—led to the league folding after a single season. This time around, McMahon is taking his time putting the league to together.
McMahon told ESPN in an exclusive interview that he viewed this new opportunity as a "chance to do it with no partners, strictly funded by me, which would allow me to look in the mirror and say, 'You were the one who screwed this up,' or 'You made this thing a success'" (Rovell, 2020). McMahon also said he's going to take his time consulting with players, coaches and, most importantly, the fans about how to make the league better. This time around, he's doing things right.
No Political Statements
Watching football is supposed to be an escape. Fans go to the games to get away from work and personal drama and let loose. Recent political and social commentary like the NFL's national anthem protest has taken away from this and has detracted from the on-field action as well. While the intent of these protests was good, many Americans viewed them as disrespectful to the nation, particularly those who served in the armed services. Many of my veteran friends and family now refuse to watch the NFL as a result.
In his press conference for ESPN, McMahon decreed that the new XFL would be devoid of political statements. "People don't want social and political issues coming into play when they are trying to be entertained," McMahon said. "We want someone who wants to take a knee to do their version of that on their time" (Rovell, 200). The focus of the league will be where it belongs: on the field with hard-nosed, high-flying action, and two teams battling for the win!
Simplified Rules
The NFL is over-regulated. Among the pedantic rules that teams and players must follow are rules about the color of cleats, end zone celebrations, number restrictions, illegal trick plays and targeting calls. These rules make for a dull football game.
Football is supposed to be fun. Every score should be a party on the field. Let the players get excited and celebrate as long as they don't hire a choreographer.
As for jersey number restrictions, I coach 8-man high-school football in Oregon in a league where we don't have number restrictions. Our kids have to do a good job recognizing eligible players. Also, the use of unbalanced formations makes for a more fun, razzle-dazzle experience. Guard-eligible passes and designed running plays for our "hogs" are part of the game plan. Bringing back previously outlawed plays like University of Nebraksa's fumblerooski will make for some wild, action-packed games.
Allow unlimited contact between coaches and players.
For the XFL to stand out, they need to give the players every opportunity to be the best they can be. They should get rid of limiting regulations like the no-contact rule. In the NFL, the collective bargaining agreement keeps coaches from having extensive contact with their players from the end of the season until April 9th. Newly-hired Oakland Raiders head coach Jon Gruden is distraught by this. Gruden stated, "A lot of players would come to see me in Tampa to get their football fix. So you're not allowed to have contact with these guys, and what's most discouraging to me is we've got to make some decisions on our roster, on salaries, on players and their futures and you can't even meet them" (Jones L.H., 2018). Part of the league being successful is giving the players unlimited access to their resources, namely to their coaches and their training facilities. It will allow for players and teams to get faster, stronger and smarter and build for strong team chemistry.
Get rid of targeting calls.
The XFL should get rid of targeting calls. These are a constant topic of controversy in organized football. Don't get me wrong, I'm all for keeping our players healthy and safe, but there are a lot of "shades of grey" with these calls. I've seen a lot of outstanding young men get ejected from games for doing their job. They can always improve helmets and encourage the latest tackling techniques, but for the product to be outstanding, the XFL needs to let the hitters hit.
Study the old American Football League.
Mr. McMahon has made it clear that he doesn't want to compete with the NFL in any aspect of his operation. However, it would be wise for him and his subordinates to study the now-defunct American Football League and understand what set that league apart: putting teams in football towns without an NFL franchise, and focusing on the recruiting and allocation of talent. Make the XFL a second chance for players who couldn't make it to the NFL.
Give young and untested coaches an opportunity to show their stuff.
As a football coach, the one thing I've always despised the most about the profession is how clicky it can be. A coach will often hire someone he knows over someone who may be a better fit for the job. If you are not someone's buddy, you are not getting on the staff. With the XFL being centrally-owned, I hope there will be an opportunity for young unknown coaches to show their leadership and ability when working with players.
Give the game back its flavor.
I often talk with my father about the old football teams from the 60's, 70's and 80's. The NFL of old had a colorful cast of personalities amongst the players and coaches. We had teams with nicknames like the "Purple People Eaters" and "The Steel Curtain."
Free agency in the 90s changed all this and has created a bland product in the NFL in the 2010's. Coaches and players come and go all the time. There is very little creativity or originality on the field to the naked eye. It's a very tough product for a high school coach to enjoy watching. I am hoping that with a centrally-owned and managed league like the XFL, that teams will stick together for an extended period. It will allow them to build chemistry and personality, and put out an outstanding product. We want to see colorful coaches like Hank Straham and "Iron Mike" Ditka on the sidelines. Every game should be like the 1985 Bears playing against "The Steel Curtain." We want to see running backs, like Mike Alstott dragging defenders to the end zone, and receivers like Michael Irving make catches over the middle. Most of all, it should be a fun, wild ride that every fan will look forward too.
Last but not least, they've realized that professional football survives on the critical factor: the fans. The national football league is tied up in TV revenue, multiple business deals, and outside revenue. They no longer seem to care about their fanbase. Football Leagues outside the NFL survive on their relationships with the communities they play in; as well as their ability to rub elbows with their fans. If you make the fanbase feel like family, you will have yourself a league!
References
Jones, L. H. (2018, February 28). Jon Gruden frustrated with a rule limiting contact with Raiders players. Retrieved March 26, 2018, from https://www.usatoday.com/story/sports/nfl/raiders/2018/02/28/jon-gruden-oakland-raiders-rule-contact/380803002/
Rovell, D. (2018, January 26). Vince McMahon: XFL to return in 2020 without gimmicks. Retrieved March 26, 2018, from http://www.espn.com/nfl/story/_/id/22213241/vince-mcmahon-gimmick-free-xfl-return-2020
Sandomir, R. (2000, February 04). W.W.F. Alters Script And Looks to Football. Retrieved March 26, 2018, from http://www.nytimes.com/2000/02/04/sports/sports-business-WWF-alters-script-and-looks-to-football.html
football
About the author
A High School football Coach and a teacher in training. I was diagnosed with Autism Spectrum Disorder at a young age. I don't let it define who I am. Also, Football done right is a beautiful thing!
Reader insights
Be the first to share your insights about this piece.
Add your insights