Kayla Thompson Wins Long Jump at Blizzard Buster Invitational
Sophomore has strong showing in two events at Ohio meet.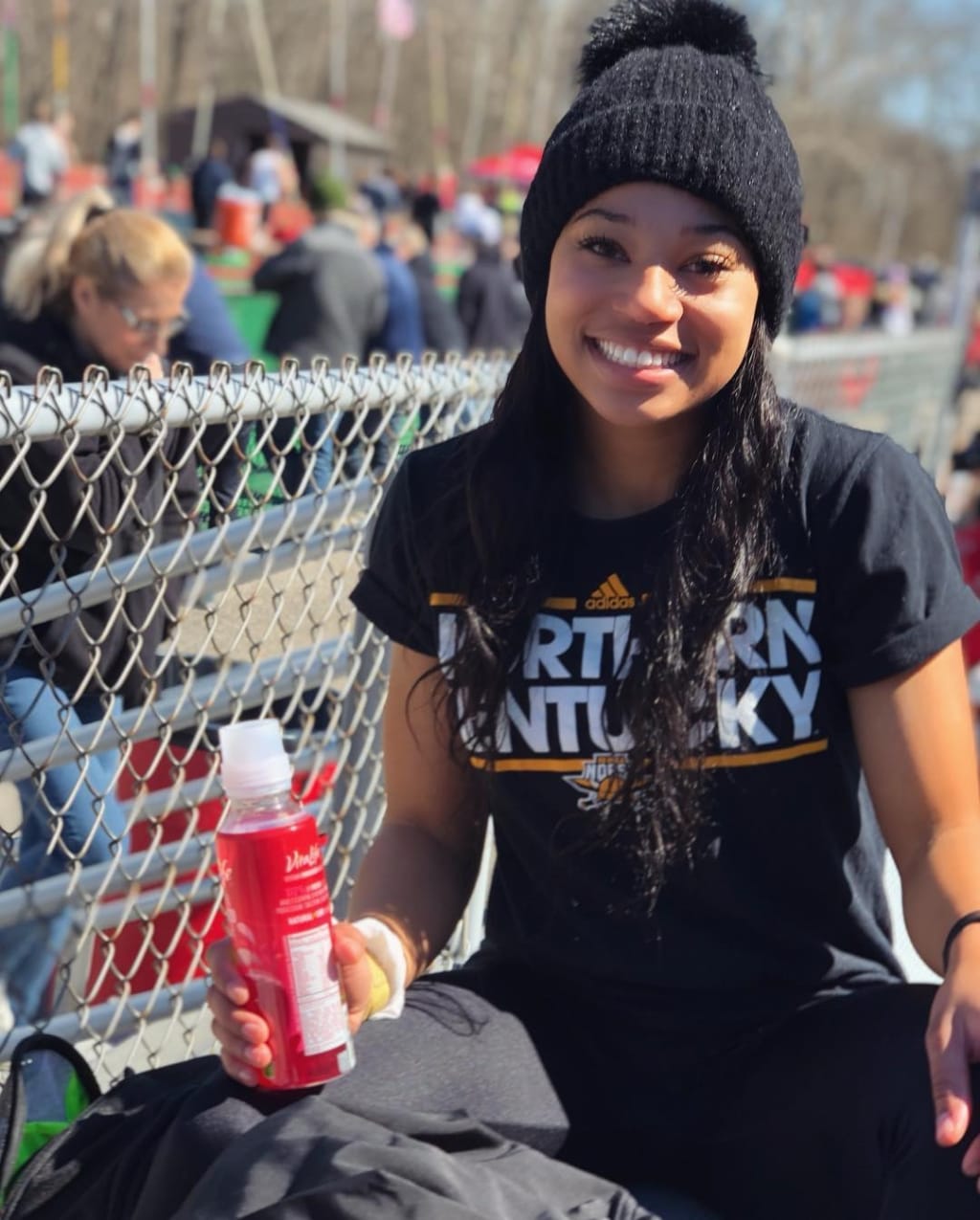 Northern Kentucky's Kayla Thompson wins at first outdoor meet of 2019.
Northern Kentucky's Kayla Thompson beat a field of 17 other competitors in Oxford, Ohio, at the Blizzard Buster, Saturday, March 23. The meet was hosted by Miami (Ohio).
Thompson won with a long jump of 5.60, ahead of Eastern Kentucky's Hailey Lacy (5.49) and Hannah Falcione of Miami (5.37). Her teammate Tyra Kennedy placed fourth at 5.34. The sophomore, Thompson, has been among the top long jumpers in the Horizon League. She placed fourth in the league's outdoor championship in 2018.
The 100-meter hurdles also saw Thompson take a third place finish (14.95) behind Miami's Sarah Bruns (14.82) and Mallory Harr 14.84. Last season, Thompson placed third at the Horizon outdoor championship in the 100-meter hurdles. On Friday, March 29, Thompson and her team heads to the Raleigh Relays, hosted by North Carolina State.
National champ Twanisha Terry wins at Power 5 meet.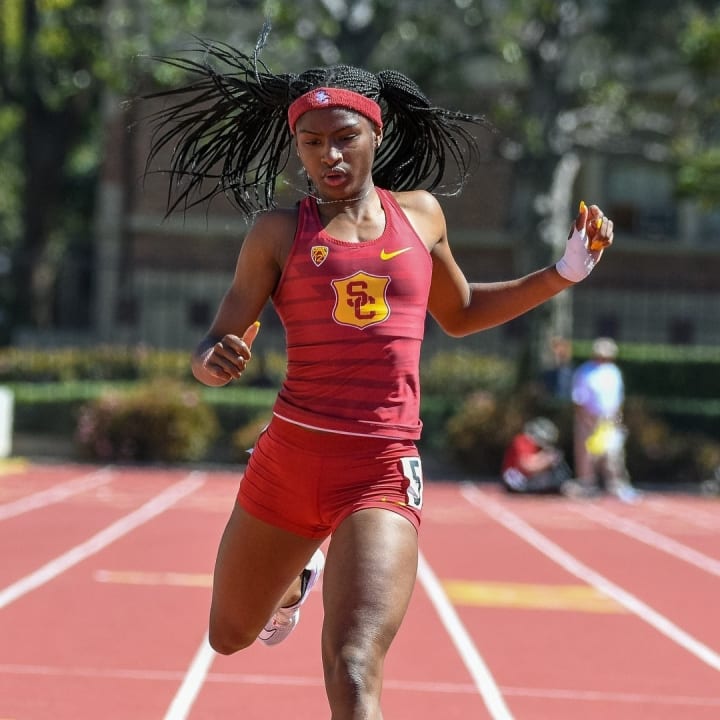 USC sophomore Twanisha Terry took first place in the 100-meter dash at the 2019 Power 5 Trailblazer Challenge, hosted by the University of Miami, in Coral Gables, Fla., March 23.
Terry finished ahead of Ohio State's Anavia Battle (11.41) and USC's Anglerne Annelus (11.50), who placed second and third respectively in a field of 15.
Terry grabbed headlines, March 9, at the NCAA Indoor championship meet, where she won the national title in the 60-meter dash at 7.14, in Birmingham, Ala.
During the indoor season, she took 60-meter wins in the Dr. Martin Luther King Jr. Collegiate Invitational, in Albuquerque, NM, Texas Tech Classic, in Lubbock Texas and Tyson Invitational in Fayetteville, Ark. As of March 19, Terry ranked 33rd worldwide in the 100-meter dash. She ranks seventh nationally and is currently the youngest runner ranked in the top 20 of the US.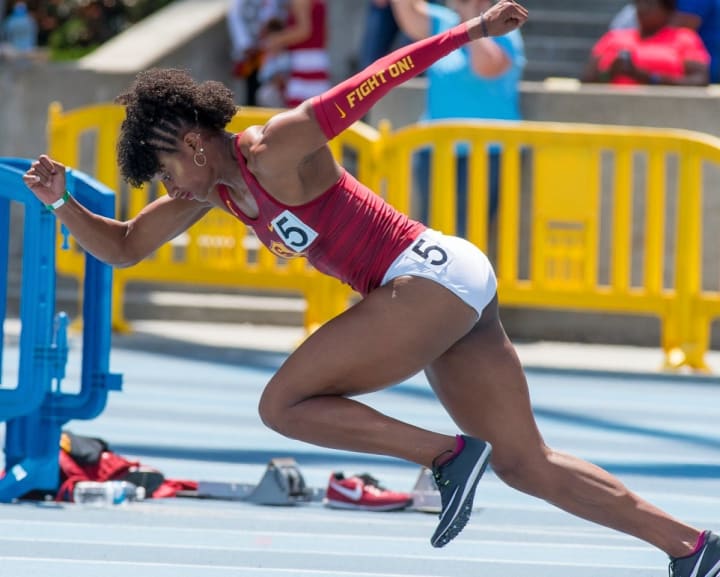 Terry's teammate sophomore Kaelin Roberts took first place in won the 200-meter dash with a personal record of 22.97.
Roberts finished ahead of Miami runners Alfreda Steele (23.45) and Symone Mason (23.67) on their home track in a field of 19 competitors. Three other USC sprinters, Mecca McGlaston, Dior Hall, and Kyra Constantine placed in the top eight as well.
Roberts took the national crown in the 400-meter dash during the indoor season. She won with a time of 51.50.
USC will be competing, Saturday, March 30, at the California Collegiate Invitational, in La Jolla, Calif. The meet is hosted by UC-San Diego.
Razorbacks sweep sprints at Arkansas Spring Invitational.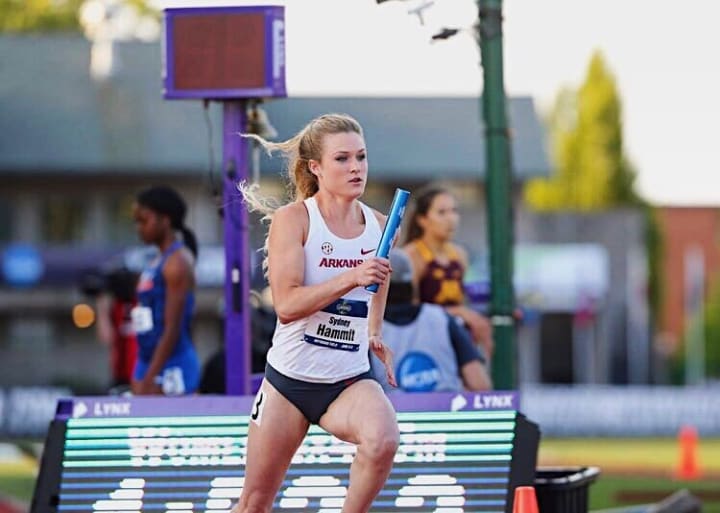 To say that the Razorbacks owned the sprint events at the Arkansas Spring Invite, on March 23, would be the understatement of the weekend.
Arkansas took the top four spots in the 100- and 200-meter dashes as well as the top five spots in the 400-meter dash. Kethlin Campbell won the 100- and 200- meter dashes at 11.51 and 23.37 respectively. The sophomore's time in the 100-meter dash was a personal record, where she was victorious ahead of teammates Payton Chadwick, Morgan Burks Magee and Tiana Wilson in a field of 25 runners. SMU's Chelsea Francis was the top non-Razorback, placing fifth with a time of 11.78.
Senior Sydney Hammit won the 400-meter dash at 53.92, ahead of teammates Paris Peoples, Alexandra Byrnes, Sydney Dasvis, Shafiqua Maloney. Hammit's time was also a personal record. The field of 18 saw Arkansas take seven of the top eight spots. Tulsa's Jaidyn McCallon placed sixth at 56.36.
During the indoor season, Hammit placed fourth at the SEC Championship with a time of 54.09. Hammit was ranked 90th nationally in the 400-meter dash on March 19. Her performance at the Arkansas Spring Invitational showed her growth as she improved upon last year's ninth-place finish at 56.79.
Other schools that competed in this meet included Oklahoma State, Iowa State, Iowa Central, Cloud County, Coffeyville, Missouri S&T among others. Arkansas will continue its season at the Texas Relays in Austin, March 27-29 and the Stanford Invitational March 29-30.