Just one step at a time for Tiger
But is it too soon to claim the Golden Bear's record is safe?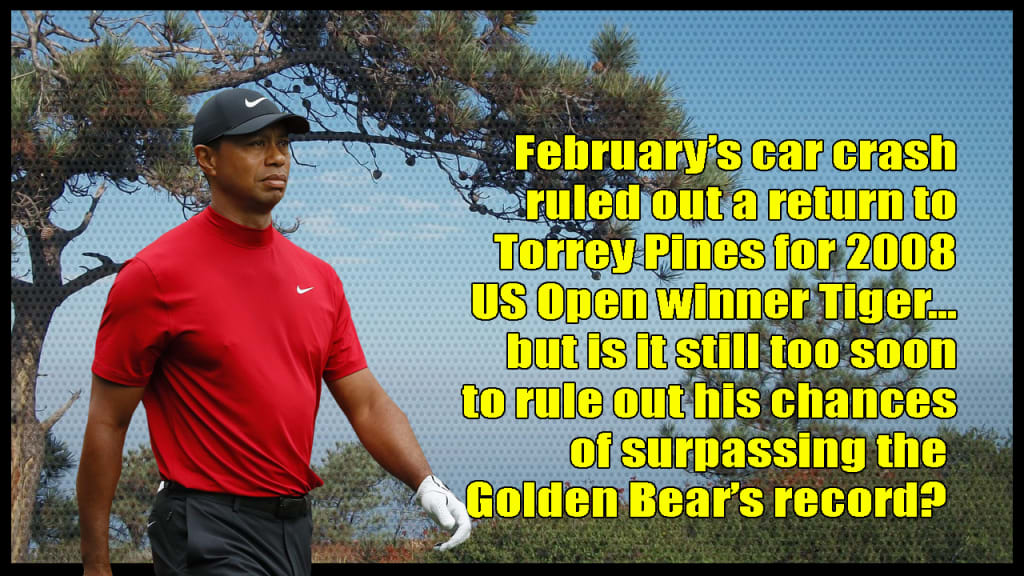 Tiger Woods has won 15 majors, three less than the legendary Jack Nicklaus
In two weeks' time the Torrey Pines South Course plays host to the US Open for only the second occasion.
The last time the championships were held at the San Diego course, Tiger Woods defeated Rocco Mediate in a 19-hole play-off to lift the trophy in 2008.
After trading the lead three times on the front nine, Woods built a three-stroke lead through the 10th but Mediate rallied on the back half with three consecutive birdies to move into a one-stroke lead heading to the 18th.
But in similar circumstances to events during the final round the previous day, Woods birdied the last to force the contest into sudden death… and it didn't last long, starting and ending on the par-four seventh hole. Woods left his birdie putt inches short of the cup and tapped in, while Mediate's tee shot found the left fairway bunker and his 18-foot putt to save par missed right.
It was Woods' 14th major triumph in just 11 years, a run which began with his Masters victory in 1997. The PGA Championship followed in 1999, repeated a year later when Woods won both the US Open and the British equivalent.
Back-to-back Masters victories from 2001-02, preceded a second US Open title in 2002 and a fourth Masters in 2005, when Woods also won his second British Open crown.
He successfully defended his Open title the following year and also sealed his third PGA Championship, the first of another back-to-back success in the tournament.
That was followed up by Woods' third US Open victory at Torrey Pines, when it seemed inevitable the 32-year-old would soon surpass Jack Nicklaus' career-record 18 majors.
But how things change, a year later and Woods was involved in an infidelity scandal which led to the break up of his marriage to Elin Nordegren in 2010.
And controversy was never far from his door in the years that followed, accounting for a big slump in form, aggravated by ongoing issues with back pain.
So 10 years on from Torrey Pines and it had become almost unthinkable that Woods would get any closer to Nicklaus' major haul.
He was still feeling the effects of surgery on his back when he pulled out of the Masters in 2016 and for the first time in his career missed all four majors as a result that year.
His back problems continued to hinder him in 2017 when he withdrew from the Masters again, announcing he had undergone his fourth back surgery since 2014... with another six months off the tour needed for recovery.
He made his return to competitive golf in the Hero World Challenge in the Bahamas, shooting rounds of 69, 68, 75 and 68 to finish in a tie for ninth place, and taking his world ranking down from 1,199th to 668th, the biggest jump at any stage of his career.
In March 2018 his upturn in fortunes continued at the Valspar Championship in Florida, where he finished one shot back in a tie for second, his first top-five place on the PGA Tour since 2013.
Woods seemed to be returning to something like his best form with a tie for sixth place at the 2018 Open Championship and in the last major of the year, the PGA Championship, he finished second, two shots behind winner Brooks Koepka.
It was his best result in a major since 2009, when he'd been runner-up in the PGA Championship, and moved him up to 26th in the world rankings. His final round of 64 was his best-ever final round in a major and whispers of him closing in on Nicklaus' record were once again circulating.
Woods returned to winning ways for the 80th time in his PGA Tour career on 23 September when he won the season-ending Tour Championship for the third time, winning by two strokes over Billy Horschel. So, the signs were clear, at 42 Woods was definitely back in the hunt for more majors.
And, 22 years after winning the tournament for the first time in 1997, Woods was back at Augusta in 2019 teeing up with high hopes of adding to his four wins in the Georgia sunshine.
Over four scintillating rounds Woods turned back the clock on his career, putting in an imperious display to finish on 13 under par… one stroke better than Dustin Johnson, Xander Schauffele and Koepka to claim his fifth Masters green jacket and his 15th major victory.
Aged 43, he became the second oldest golfer ever to win the Masters, after Nicklaus who was 46 when he triumphed in 1986. So the chase for the all-time record was back on, all of a sudden 18, even 19 majors, seemed achievable once again.
But the toll of life back on the circuit saw Woods forced to undergo knee surgery later that year and following the operation he didn't play another tour event until the Zozo Championship in October 2019, which was the first PGA Tour event to be played in Japan.
Woods held at least a share of the lead after every round of the rain-delayed tournament, giving him a three-stroke victory over Hideki Matsuyama, who went on to win this year's Masters title and become the first Japanese player to do so.
Woods' win in Japan was his 82nd on tour, tying him with Sam Snead for the most all-time victories on the PGA Tour, but in December last year he was once again on the surgeon's table for a fifth back procedure just short of his 45th birthday.
Nicklaus won his 18th major at the 1986 Masters tournament when he set the record for the oldest winner at Augusta, meaning Woods would have to win all of this year's majors to get to 19 while still younger than Nicklaus when he won his last.
Could he do it? Well, the answer was no, in February his misfortune off the fairways continued when he was involved in a rollover car accident in Rancho Palos Verdes, California, which left him with serious leg injuries, sustaining broken bones in both legs and compound fractures.
It was hardly the preparation he would have wanted ahead of the Masters, won by Matsuyama, or the PGA Championship, when 50-year-old Phil Mickelson lifted the trophy to become the oldest ever major winner.
Ahead of the 121st US Open at Torrey Pines later this month, Woods recently told Golf Digest he's taking things "one step at a time" as he continues his painful road to recovery.
"This has been an entirely different animal," he said. "I understand more of the rehab processes because of my past injuries, but this was more painful than anything I have ever experienced."
Woods declined to answer a question about his hopes of playing golf again, saying he was using the time to recover, and said his focus was on a first unaided step.
Since the accident he has been resting at home in Florida and undergoing intense physical therapy.
"My physical therapy has been keeping me busy," he said. "I do my routines every day and am focused on my number one goal right now: walking on my own. Taking it one step at a time."
According to Golf Digest it's unclear whether Woods will need further procedures or if he is expected to regain full mobility and strength, but the suggestion is he faces a huge challenge to return to the sport he dominated for 11 years following his first major win.
While his recovery remains uncertain, Woods said messages from all over the world had kept him in high spirits. "It's been incredible," he said. "I have had so much support from people both inside and outside of golf which means so much to me and has helped tremendously."
But with Mickelson's success at Kiawah Island last month Woods must still have that elusive record in the back of his mind… it's probably still too soon to be writing off Tiger's chances of going one better than the Golden Bear. For now though, it's just one step at a time!
About the Creator
From Covid to the Ukraine... nothing is as it seems in the world. Don't just accept the mainstream brainwashing, open your eyes to the bigger picture at the heart of these staged productions.
JOIN THE DOTS: http://not.wildaboutit.com
Reader insights
Be the first to share your insights about this piece.
Add your insights