J.D. Martinez Would be a Perfect Fit for the Red Sox This Offseason
The 30-year old brings a much needed power bat to the heart of Boston's lineup.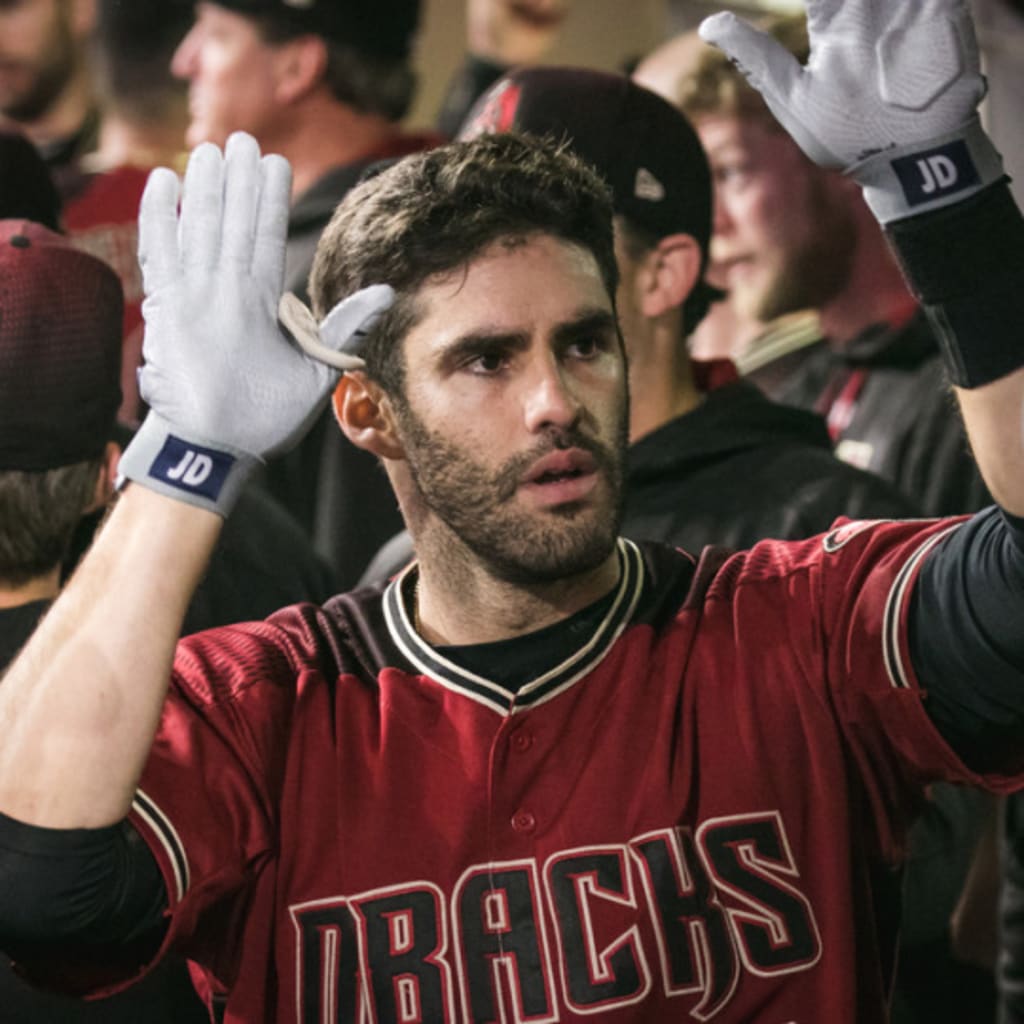 When the Arizona Diamondbacks acquired J.D. Martinez at the trade deadline, I wrote a short article about how Martinez would thrive playing in the hot, dry weather in Arizona. Coming from Detroit, where he hit 38 home runs in 2015, to a climate where the ball flies. Well, that is exactly what happened: Martinez came to Arizona with 16 homers, and within 62 games with the Diamondbacks, he hit an astounding 29 homers. He was a big reason Arizona even made the postseason in 2017, finishing the season with a .303 average and 45 bombs.
Arizona failed to make a qualifying offer for the power-hitting outfielder, so he now becomes a free agent. Martinez has recently linked up with super agent Scott Boras, who handles a ton of major leaguers. There have been reports that Boras wants a $200 million contract for Martinez. A lofty number yes, but there is no doubt that clubs out there can definitely afford it. That is where the Red Sox come in.
Boston is a fit.
Never mind the fact that Dave Dombrowski and the front office at Fenway have the money. It is about the value of Martinez to this organization. If we look at Boston last year, the one area that jumps out on the page is their lack of power in the lineup. Mookie Betts hit 24 home runs last season, and he led the Sox in homers. Next was Mitch Moreland, Andrew Benintendi, and Hanley Ramirez, who all hovered around the 20 homer mark. They hit just 168 homers as a team this past season, which ranked them third last in the big leagues to the Padres and Giants.
Martinez would bring a bat to the middle of this lineup who can hit home runs on a very consistent basis. If you look at his swing, he has an uppercut stroke, and he is trying to lift the ball in the air and give it a chance to sail into the bleachers. As a right-handed hitter playing at Fenway, with the short porch in left field, the number of homers he could hit could be mind-boggling. The one thing Martinez does extremely well is getting to that inside pitch, even if it is three inches off the plate. With his quick hands, getting the barrel to a ball that much inside, he could be keeping a lot of balls fair as they sail over the green monster.
With an already stellar outfield with Mookie Betts, Jackie Bradley Jr., and Andrew Benintendi, I do not know how much playing time JD would get in the outfield. But that is the beauty of the American league. He could be a DH for Boston. This gives him even more of an advantage because he is literally focusing on just one thing: swinging the bat and producing offensively.
There is the talent aspect of Martinez's game, but there is another category where he adds a boost to any club: his mental makeup. As a big leaguer, you need to be so mentally strong at all times. It's baseball. You are going to endure a lot of failures. He is one of the few players I have watched who does not get frustrated and let his emotions get the best of him. This is the type of player the Red Sox could definitely use in their clubhouse.
Let's just put this in perspective: the last two seasons, the Red Sox won the AL East, but then failed to make it past the Divison series, in which they lost to Cleveland in 2016, followed by the Astros this past September. Even with the lack of a power bat in their lineup, they were still able to win one of the most difficult divisions in baseball. Their pitching staff is a topic for another day. But, what if they had this type of power bat who could hit 45 homers in a season, just like Big Papi used to on a yearly basis for the Sox? It would make a very big difference for this club.
Deeper Look Into Martinez's Numbers
According to Statcast metrics, Martinez was truly one of the best hitters in the majors in 2017. According to a mlb.com Statcast article, Martinez has been atop the big league in a number of categories in the last couple of seasons, as well. We also have to take into consideration he did not start playing until May because of a foot injury, and still, he put up these types of numbers.
xwOBA combines a player's strikeouts, walks, and quality of contact on batted balls to produce an offensive metric that removes the opposing defense from the equation. Martinez had a .423 xwOBA in 2017, ranking him fourth in the big leagues.
Another area where Martinez thrived was homer rate. From July 19 onward, he homered on 5.4 percent of his swings, which put him second behind just Giancarlos Stanton at 6.4 percent, who hit a major league-leading 59 homers in 2017.
Barrel rate. This metric combines exit velocity and launch angle, which determines how hard a ball comes off the bat. Since 2015, Martinez ranks second in the bigs with 182 barreled balls. Pretty impressive.
The last one is especially important. Slugging on pitches 95 mph and greater. This stat really proves how good of a hitter a player is based on his ability to barrel up heaters coming at such a fast speed. He slugged 1.023 in 2017, the best among big leaguers. His talent to square up some of the best arms in the game and take them deep is second to none.
All of these topics I discussed are factors that come in, and there is no doubt organizations out there are looking at these same categories when trying to decide which players to sign. The numbers speak for themselves for J.D.
Like I said, the Red Sox have the money. If they were to make any move to strengthen their offense this offseason, J.D. Martinez is the answer.