It's Time for Byron Buxton to Break Out as a Star
The Twins outfielder has all the tools to be one of the best in the big leagues, but it's taken some time for Buxton to reach his true potential.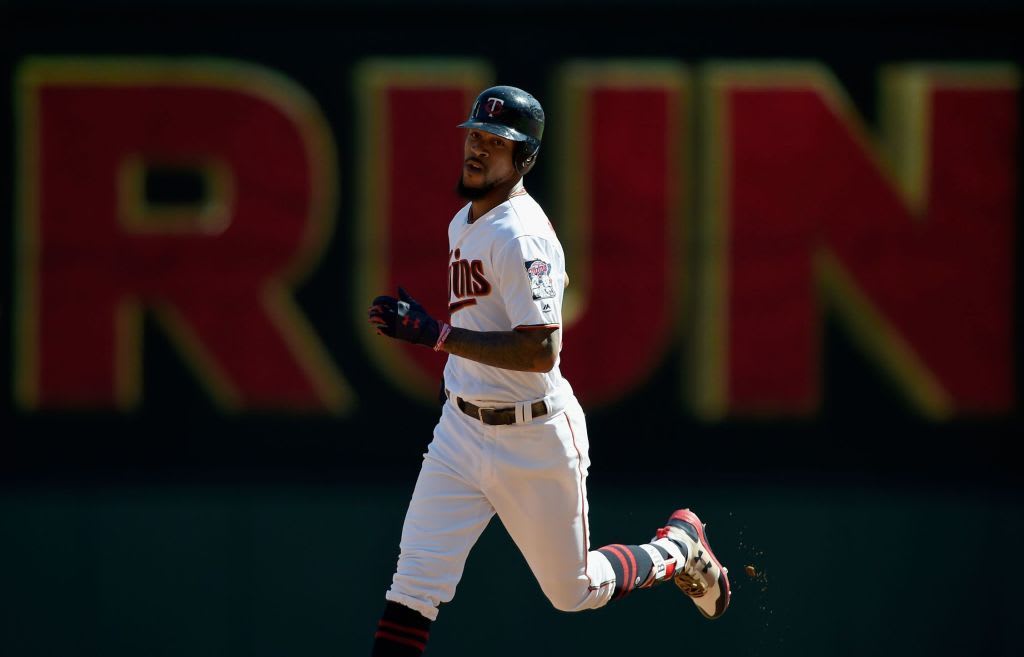 When Byron Buxton was drafted second overall by the Twins in 2012, Minnesota's future got extremely brighter in a heartbeat. Buxton has extremely loud tools in all aspects of the game. He can run, hit for average, field, hit for power, and he's got a cannon in the outfield.
It took three years for Buxton to rise through the minor leagues to the big league club, making his major league debut in June of 2015. Defensively, Buxton has been outstanding. He led all big league center fielders in defensive runs saved in 2017 on his way to an American League gold glove award. He covers a lot of ground out there thanks to some tremendous athleticism and the ability to run down balls in the gaps.
His defense hasn't been the downfall. It's been Buxton's consistency at the plate. He has a career .238 batting average across three seasons for the Twins while going deep 28 times. He's also swiped 42 bags. Things are looking positive for Buxton though. He hit an impressive .300 post All-Star break last year, showing glimpses of greatness offensively.
An area where he must improve to reach his potential at the dish is being more disciplined.
Plate Discipline
Buxton tends to chase a lot of heaters out of the zone, evident by his 150 strikeouts in just 140 games last season. It's understandable because he is still young, but he does need to be more patient at the plate. He drew just 38 walks last year. Buxton got rid of a small leg kick he had last season, and it's paid off. His swing has a lot less movement now. He looked much more comfortable at the plate in the second half in 2017, and that should most certainly excite Twins fans. Buxton was rated the best minor league player for several years, so there was a lot of pressure on him to live up to expectations. He is becoming a much more mature hitter now, and if he continues to improve the plate discipline, it's going to be huge for Buxton's offensive game.
Getting on Base Any Way Possible
There's absolutely nothing wrong with him drawing more walks too. Buxton is the fastest player in baseball; ahead of Billy Hamilton, who absolutely flies. Statcast measured Buxton last year at a blazing 30.7 mph from home to third last year, the fastest home to third speed in all of 2017. If he can get on base from walks, it's still very productive. He is a threat every time he gets on base, and it makes pitchers nervous when they know there's a guy on the basepaths that can swipe bags like no one's business. He simply just needs to put the ball in play on the ground as much as he can because it'll give him the chance to get on base. Buxton can be another Ichiro-type player in the sense that he can collect a lot of infield singles thanks to his ability to run.
Buxton can flat out play defense, there is no doubt about that. People have criticized his ability to hit, but considering how Buxton ended his 2017 season, 2018 could be a breakout year at the plate for the 24-year-old. He has the ability to affect the game in so many different ways because of his speed. Whenever he can get on base, it gives the Twins a chance to score runs. Defensively, any balls hit in the left or right center alleys are sure to run down by Buxton because he is so fast on his feet.
Buxton is a very important piece of this Minnesota Twins team. If he and Jose Berrios both have productive seasons, Minnesota could definitely see themselves contending for a playoff spot come October.