Is This the Official End of "The Process?"
Does intentionally losing produce a winning culture?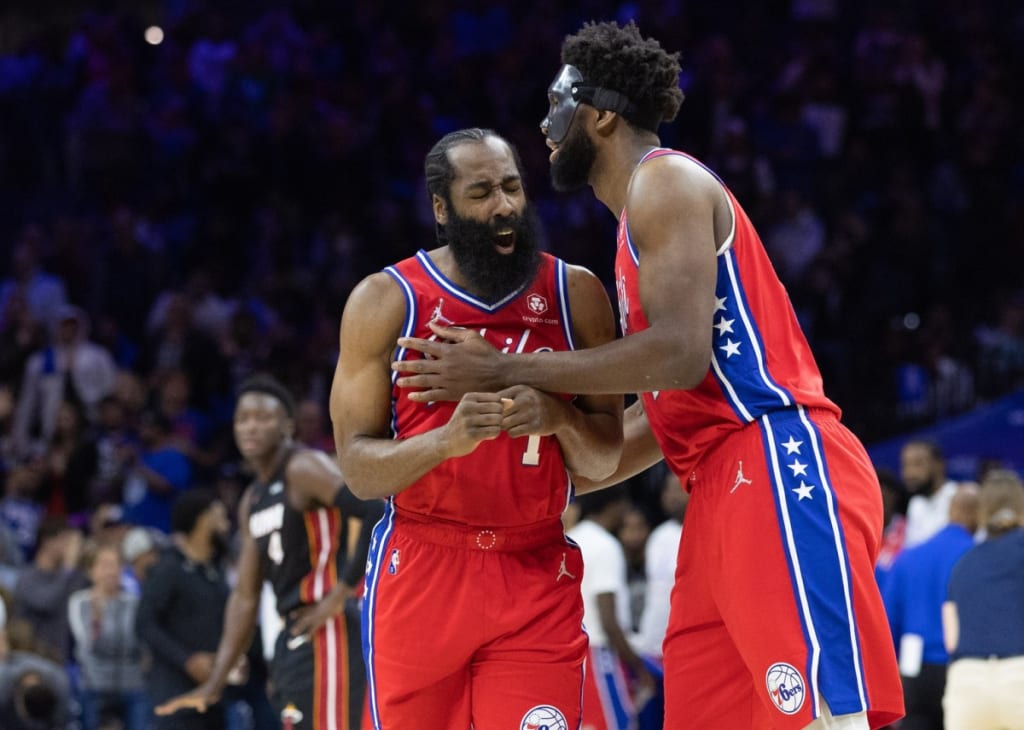 Image Credit: @asastechno
I've written articles about "The Process." In fact, 11 months ago I wrote this article detailing the Problem with The Process. This is not a hot take, but one that began once the Sixers started tanking.
When the Sixers traded for James Harden, I sent a flurry of text explaining how it was a terrible move. Now, after another disappointing exit to the season, it is time again to discuss how this all came to be. Discuss what is so obvious to me when I watch the NBA and thus, we are here again to address the reality of the Sixers.
The first thing we need to discuss today is The Process.
Not the actual Sam Hinkie "Process," which I warned my Sixer friends would build a bad culture for the players. Again, this is all well documented in my previous articles. No, today we are discussing the namesake of The Process in Joel Embiid. A fascinating discussion around a player who is oft injured. However, should that be a surprise? The only reason Joel ended up in Philly is because teams were avoiding taking the 7-footer with a foot injury. Teams were concerned over the health and longevity of an athlete at that size to begin with. Is it possible that this athlete is "injury prone?" Now, I hate that notion and the term. Unfortunately, this is the terminology used within the league. What is relevant is that when the pressure increases, and the games mean more Embiid seems to come up lame.
At Kansas, Embiid was a rising star. A relative unknown, he opened every eye in the basketball world while playing alongside the presumed number one overall pick Andrew Wiggins. With talk of potentially being the number one overall pick in the draft, he continued to wow on the court with incredible stats. A relative unknown who didn't have the microscope on him like the other highly touted players. Now, with his raw potential seeming to reach its peak, he would surely make his mark in March Madnesss. Except, he suffered a stress fracture after he was named Big 12 Defensive Player of the Year (DPOY) and would miss the Big 12 and NCAA Tournament. Resulting in Kansas losing… in the Second Round of the Tournament. Sound familiar?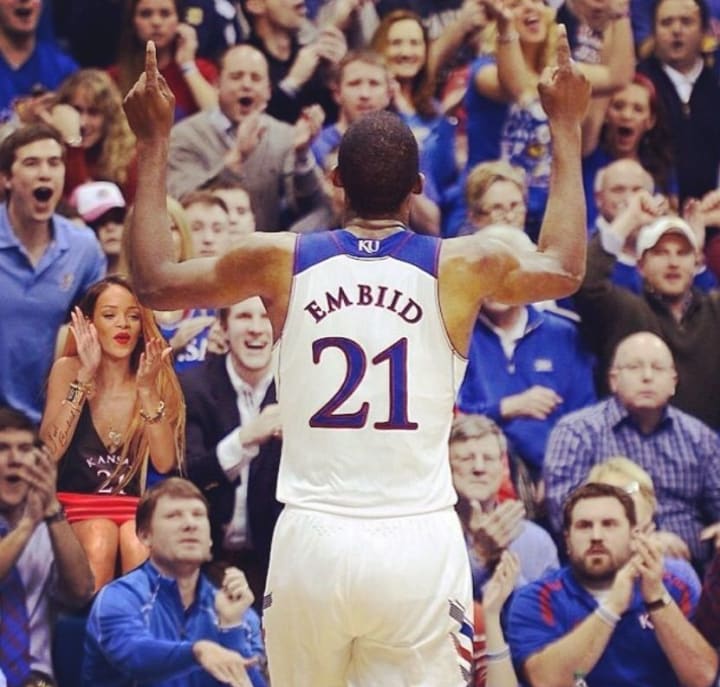 This injury would cause the apparent first overall pick to drop into the Sixers lap. The greatest stroke of luck in the "Process" during the "Winless for Wiggins" season. He would miss his first two seasons on the team. Still wowing onlookers during practices. The talent was apparent. When he hit the court, he was a rising star. Making Rookie of the Month in January 2017. He would be named to the 2017 Rising Star Challenge. 9 Days later, February 11, 2017, it was announced that Embiid had a meniscus tear that would not require surgery. However, they would keep him from participating in the All-Star weekend and eventually elect to have him go through surgery.
This feeds into the culture around the Sixers.
A culture that allows for accolades, and excuses for not finishing strong. Altering the Philadelphia fan base. Making them crave tanking and assets with the hopes of a better tomorrow. A perception of players as assets opposed to their actual value on the field. Passing on difference makers perpetually for "youth" and "potential."
Embiid would make All Rookie First Team for the 2017 season. The next season he would be an All-Star Starter. The Sixers became one of the hardest playing teams in the league and earned a playoff berth despite suffering an orbital fracture, which would require surgery. He missed the first two games of the 2017-2018 NBA Playoffs. Returning after two games to beat the Miami Heat and get to the second round. Where they would lose to the Celtics in 5. Ending with Embiid complaining about a missed call at the end of the game where he was fouled. This is the first major instance of Embiid complaining to the refs in crucial moments.
The culture of the team was always about next year.
Don't worry about it, its progress, we will be better next year. However, without veteran leadership, this team was all-in on their young stars. Bending to their every need and every demand. All they had to do was produce the right stats and win the right awards. Fans could get on board with that, and it buys them another chance next year.
The 2018-2019 season follows a similar pattern. Even with load management for Embiid, the Sixers were crushing most teams in the non-competitive Eastern Conference. Another March, another injury. and more games missed by Embiid. This time it was knee soreness. He would be in and out of the lineup. Ultimately losing a heartbreaking series to the eventual world champion, Toronto Raptors. A series in which Embiid struggled with "illness." I cannot debate the seriousness of the illness, but this was Embiid's only "healthy" exit from the postseason. A mysterious illness that only impacted him for the second half of the series. While Jimmy Butler nearly carried that team to the Eastern Conference Finals. If it weren't for that other pesky guy and certified winner named Kawhi Leonard.
This is where I argued that Jimmy Butler was very important to Embiid.
Most fans saw him as an exchangeable piece. Perhaps over the hill and the future was brighter with Harris. However, Jimmy Butler is a live or die competitor. The first that has crossed the doors of that franchise since Allen Iverson. It's more than talent. You need players who rain, sleet, snow, or illness will show up. Force you to stop them and take away what they do best. Embiid had never had that. Whether through injury or "Process" induced excuses. It is not something that is easily taught. Just Ask LeBron.
Joel Embiid and each iteration of the 76ers remind me a lot of the LeBron James era in Cleveland.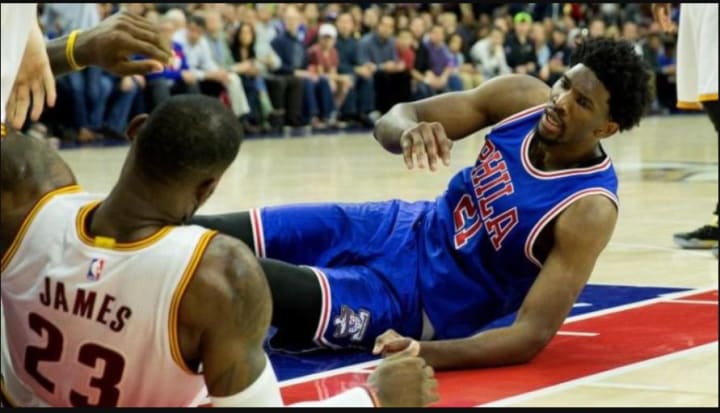 An era marred with extremely high expectations but most often disappointment. Teams that would run through the regular season, get a one seed and not even make the finals. Teams with well-known veterans but lacking rival superstars to help push, mold, and battle alongside of LeBron.
Teams could also negate a young LeBron in Cleveland.
Forcing him to leave for a winning organization in Miami with an All-Star in Dwyane Wade. Someone who could help mold him and Chris Bosh into winners with a winning culture filled with the right players as role players. Even the greatness of LeBron couldn't just figure out how to win on his own. It's a rare mentality and few can replicate it without people who have won before. The organization has to be completely behind those elements and dedicated to winning. Finding the best players, who can give you more when it's needed.
LeBron James and Joel Embiid in Purgatory:
LeBron made the finals in the 06-07 season and got swept by the Spurs. It was believed it could only get better from there.
In the 07-08 season (Setback)
They were the 4 seed and lost to the eventual champs the Boston Celtics in 7. Winning every game at home and losing every game on the road.
In the 08-09 season (Huge letdown)
They were the best team in the league at 66-16. Setting the franchise record for wins, and LeBron won the MVP. Like the Sixers, the roster was filled with "names." Players who you would know but were not a threat to LeBron. However, in the postseason they didn't show up. Losing to the heavy dog the Orlando Magic in the ECF in 6 games.
In the 09-10 (Huge Letdown)
Once again, they were the best team in the league at 61-21. LeBron won his second MVP Award. The team added Danny Green, Shaq, and Antawn Jamison. They went up 2-1 on the 4 seed Boston but lost in 6 games. He would leave that offseason for Miami.
Cleveland as an organization didn't know how to win. Sound familiar? Let's just take a quick review of Embiid's tenure in Philly.
2017-2018
Sixers finished the season on a 27-5 run and won 16 in a row to end the regular season. a 52-30 record, the 3rd seed, and lost to Boston in the second round.
2018-2019
Sixers finished 51-31 for the 3rd seed after picking up Jimmy Butler and Tobias Harris. Losing to the Raptors with a Kawhi buzzer beater in his loaner season.
Much like LeBron in his days in Cleveland, Embiid is surrounded by players that have no interest in challenging him. A reason that neither he nor LeBron was ever successful in courting All-Star talents to their team. At least, not in their prime.
Which brings us back to Philly.
After shipping Jimmy Butler out, Embiid would go through the COVID season. Where Embiid put up the stats you would want him to. However, lacking his co-star Ben Simmons and the obligatory "minor ankle injury" was apparently enough to result in the Sixers getting swept by the Celtics. Not saying that they should have won the series. Just fascinated by how they could get swept with the likes of Daniel Theis and Enes Kanter matching up against Embiid and even Al Horford. The Miami Heat that season with Jimmy Butler would make the NBA Finals.
Bringing us to the last two seasons.
Embiid would finish both seasons as MVP Runner Up. This year he even won the Scoring Title. However, in the 2020-2021 postseason, Embiid and company would lose to the Atlanta Hawks with an interim head coach. A 5th seed going against the 1 seed that closed the series in Philadelphia.
This season, the Sixers would lose yet again at home. Another lackluster performance from a team that was in position for the 1 seed before they made the move for James Harden. A team that would fall to the fourth seed as their issues with effort only got worse after the trade. In the postseason, they would struggle against a depleted Toronto in the first round. Perhaps due to yet another injury to Embiid. Dealing with a lingering injury to his hand... an injury filled with speculation on when it actually occurred. An injury that seemed to disappear after getting his second orbital fracture.
This isn't to question the toughness of Embiid. This is just a healthy reminder of what you signed up for.
The Process was acquired during the "Process" because of injury. He fell to the Sixers and was taken in a spot many would've considered too high for an injured 7-footer. A reason he loves the city and plays his tail off for Philly. You have a player that is often injured. Often injured in March every year. Missing vital postseason games dating back to college. Developed in a system that praises his talents, gave him full control and did not emphasize winning because "hey, you're young, there's always next year."
This is why there's a lack of leadership. Always an organizational excuse and lack or urgency. Resulting in a sulking Embiid longing for Jimmy Butler immediately after the playoff loss to... Jimmy Butler.
Jimmy Butler isn't the most talented player in the NBA but he's one of the best. Routinely abusing supremely talented players in the league because he wants it more. He will fight harder and see what you're made of. Embiid does not have that and even worse, he blames others when he is the unquestioned leader of this team. They go as he goes. The veterans you bring along can't change that.
Now, we can finally get to James Harden.
A player, like Chris Paul, who I have repeatedly called out for lacking the fight. The inability to escalate your play in big moments when the team expects you to. As a person who went to Temple University, I saw this before The Beard was The Beard.
In the 2009 NCAA Tournament, Arizona State played Temple University. Harden went 1/8 with 9pts, 7 rebounds, and 3 assists. Most of his points came from the free throw line. It was then that I first suggested that James Harden didn't have "it." Meaning for all the hype, he struggled against a not-so-great Temple team. Interesting to note, he too would end up losing in the Second Round of the tournament. to Syracuse. Harden went 2-10, didn't make any 3s, and was 6-8 from the FT line.
Don't get me wrong, James Harden is an incredible player.
This is just supporting evidence for my problem with his perception. This began before the NBA. Harden has struggled in the biggest moments in his career. When the pressure is at its peak. You can reference my previous article for a full breakdown on Harden's career as well in crucial games. Of course, I excluded the Golden State team that was a Juggernaut.
In the postseason, his shooting percentage went way down, and his team followed suit. The somewhat known guys all got cold when it counted. A feat still accomplished by an athlete on that team who eventually won a title and now plays for Miami. PJ Tucker gets cold in the postseason. He just makes up for it with his defense and supreme effort.
The trade for James Harden to a team with another Superstar who has problems dominating in the postseason when it matters made little to no sense for genuine change.
The Harden today is still stacking stats. On any regular season night, when it doesn't matter, he'll go off. Unfortunately, like Embiid, in the second halves and the fourth quarters he will disappear. Especially against equally talented teams or teams that are better.
Instead of getting solid vets who could push your Superstar, you get a declining star who share the worst traits of Embiid. Begging for calls, lack of effort on defense and no interest when they don't get calls. Often injured in the postseason and most of all, losing to teams they should not lose to. Making you question what you are seeing because the talent of these players is tremendous.
This is a problem of the "Process."
Which is why, despite the players, the coaches, the front office, and the GM changes, the root is the same. It's big names that make a splash. People who are attached to the former glory of yesteryear. Signing players that have obvious talent and marching them out in the regular season as if every game counts. Creating optimism and a false perception of who they really are and what they are capable of. Each one of them is afraid of performing when you have to perform.
Joel Embiid will not learn how to win here. He cannot win here without leaving to find out how.
Playing for an organization that doesn't know how to win. That can't pick winning players because instead of the culture. Afraid to truly challenge their stars. Opting for metrics and measurable based off the regular season. Safe guys with no edge.
A team that wouldn't sign a PJ Tucker of a Jrue Holiday. Instead, opting for a George Hill or a Danny Green. The team lacks a fluid offense because these vets are there to watch young talent and collect a paycheck. Guys that won't "rock the boat." Names that sound good so the organization can hide the fact they have no plan or structure.
Purposely losing so many impacts on a person. They can't even recognize championship caliber players because all they've ever known was subpar talent. Players with flaws hidden by Superstars like Embiid and Simmons. Plus, anything is better than what you had during the "last" season.
You expect anyone trapped in the smoke and mirrors to be an expert judge of the type of talent that leads to organizational success?
Resulting in a Ferris wheel of veterans waiting and watching the "star" dribble for 10 seconds. This isn't the set they were supposed to run. Now, we have to hope they're ready to catch and shoot IF the star bails out of the 1 v 3 situation.
It's impossible to recruit elite talent with players like this. Elite talent needs to believe in the plan. No one is signing up to be second or third fiddle and take the blame when you lose.
LeBron has to navigate, negotiate, and build a team that's suited for his play style. Harden and Embiid are just the latest players to burn hot in the regular season. Attracting veterans that don't mind the warmth of that flame. Drawn to that light without worrying about getting burned. They were hanging on by a thread anyway.
Unfortunately, those aren't the ones that win your championships. That's not developing or adding to a championship culture. As we watch a Boston team that's one winning guy away. One Jrue Holiday or Draymond Green away from changing the fate of that franchise. Going against a Bucks team that has the players, the coaches, and collective experience of a champion. Names you may not know but you will remember. Admiring their guts as they exceed expectations. Willing to put it all on the line because winning a championship is the most important thing to them.
And you can't coach that.
About the Creator
NCSA Strength and Conditioning Professional certified as a CSCS, TSAC-F, and CPT. I have my FMS Certification as well, and spent over a decade working with athletes in various sports. Including youth, high school, college, Olympic and Pro.
Reader insights
Be the first to share your insights about this piece.
Add your insights