Is Conor McGregor the Greatest MMA Fighter of All-Time?
How good is the Irishman?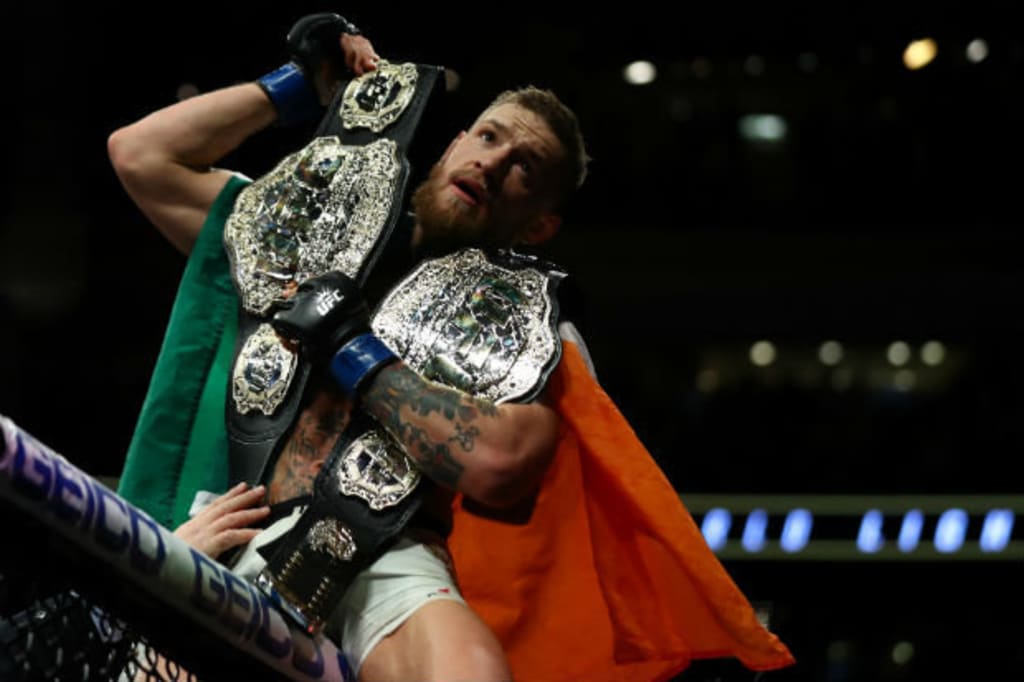 Four years ago, an Irishman with a dream debuted in the UFC. In that debut, he won by knockout in the first round and earned his first "Knockout of the Night" award. This man's name was Conor McGregor.
Four years later, this man has done it all; a two separate weight class belt holder, has had a boxing match with Floyd Mayweather, and talked himself into world superstardom.
The question is, though, is the Irishman the greatest of all-time?
Well, first we have to decide what makes a person a great. Is it Conor's ability to talk trash? Well, certainly that makes him entertaining to watch and is definitely why we all tuned in to watch him fight against Diaz and Mayweather, but plenty of people can talk and back it up just as well as him, most notably two of his biggest selling fights against Floyd Mayweather and Diaz. They are both some of the greatest talkers the fight world has ever seen, as well, as they back it up just as much as McGregor.
Is it his fame? If there's any criteria for being the greatest of all-time that is fame, McGregor certainly has this. Without McGregor, UFC wouldn't have grown even more to what it has to today. McGregor has helped the UFC a lot in this sense. By becoming as interesting of a fighter as he is and talker as he is, he has certainly grown himself and the sport. I haven't seen a man with this many people watching for him since Ronda Rousey really. It's certainly a spectacle to watch; if any other fighter had called out Mayweather, I'm not sure they would've got the call that McGregor did get. If McGregor isn't the greatest of all-time, he's definitely the most famous of all time, potentially arguing the point of him being the greatest MMA fighter of all time. Yet that doesn't mean there aren't other famous UFC fighters, Ronda Rousey being the most notable. Brock Lesnar, Jon Jones, and Chuck Liddell are also all big names we know.
Is it bravery? Certainly every fighter is brave. It takes a lot of vigor to get into a cage made for animals and be willing to potentially get your face smashed in. Yet McGregor certainly has a different level of this. He definitely has supreme confidence that's for sure, but he also has courage that goes unmatched. To be willing to go up against Diaz again after suffering his first UFC loss and still have it be up two weight classes and not at 155 because he wanted to beat Diaz at that weight shows a lot about McGregor. Also being willing to go against Mayweather in boxing, a fighter that he seemed to have no chance in a totally different sport even if it was for that type of money (especially considering he still makes amazing money), does show his amount of wanting to prove the world he's the best fighter the world has ever seen. Certainly, if nobody else believes he's the best fighter of all-time, McGregor believes he's the best fighter of all-time.
Is it dominance and title defenses? If so, this might not be good for Conor McGregor. Yes, he has been dominant in the UFC with only one UFC loss to my knowledge and three overall in MMA but there's been others as dominant as well. Jon Jones being a great example, a man completely dominant against some of the best fighters in his weight class in the UFC, most notably Daniel Cormier. Ronda Rousey, as well, was completely dominant until being taken out. So if it's dominance, McGregor is a dominant fighter but he isn't without company. Although unlike Rousey, he has kept up his dominance after one loss. Jones hasn't tasted defeat yet so this is both good and bad for McGregor. Could Jones come back like McGregor if he did happen to lose? Or would he lose his touch like Rousey? Bad for McGregor, though, is it shows he hasn't been completely dominant compared to others. Jones just being one of the list of many. If it's title defenses then sadly this is the biggest argument against McGregor being the greatest of all-time. He doesn't have many. Only one actually and despite it being impressive as a win as it was, it doesn't equal the amount of title defenses of Demetrius Johnson, Anderson Silva, and Georges St-Pierre.
Is it accomplishments? If so you'd be hard pressed to find a person that has accomplished as much as The Notorious One. Twenty one and three record. Six time performance of the Night Award winner. Two time Fight of the Night award winner. One time Knockout of the Night award winner with this award being earned in his UFC debut. Of his 21 wins, only two in the UFC are by decision. He is the first man to have two belts in multiple weight classes. He was able to shut down a man thought to be unstoppable in his Jose Aldo fight in 12 seconds. In going up a weight class for his second belt, he was able to destroy Eddie Alvarez by the second round. After losing to Diaz, his only loss in the UFC, he was still able to go up two weight classes and hold out with Diaz for a decision and I wouldn't be surprised if they fought again if McGregor could take him again. Most notably for his accomplishments, he was able to talk Floyd Mayweather into a boxing match and even gave the guy a shot in a sport totally foreign to him. The list goes on for the accomplishments for Conor McGregor.
With this knowledge, is Conor McGregor the greatest MMA fighter of all-time though? Well it's certainly getting harder to argue he isn't, that's for sure.