Is Chris Paul's last chance of Winning a Title come to a 'Devastating' End?
After getting blown out by the Dallas Mavericks led by Luka Doncic in Game 7, was this the last chance Chris Paul will ever compete for an NBA title? Plus, Mike Greene reported that Paul suffered a 'quad' injury during games 6 and 7.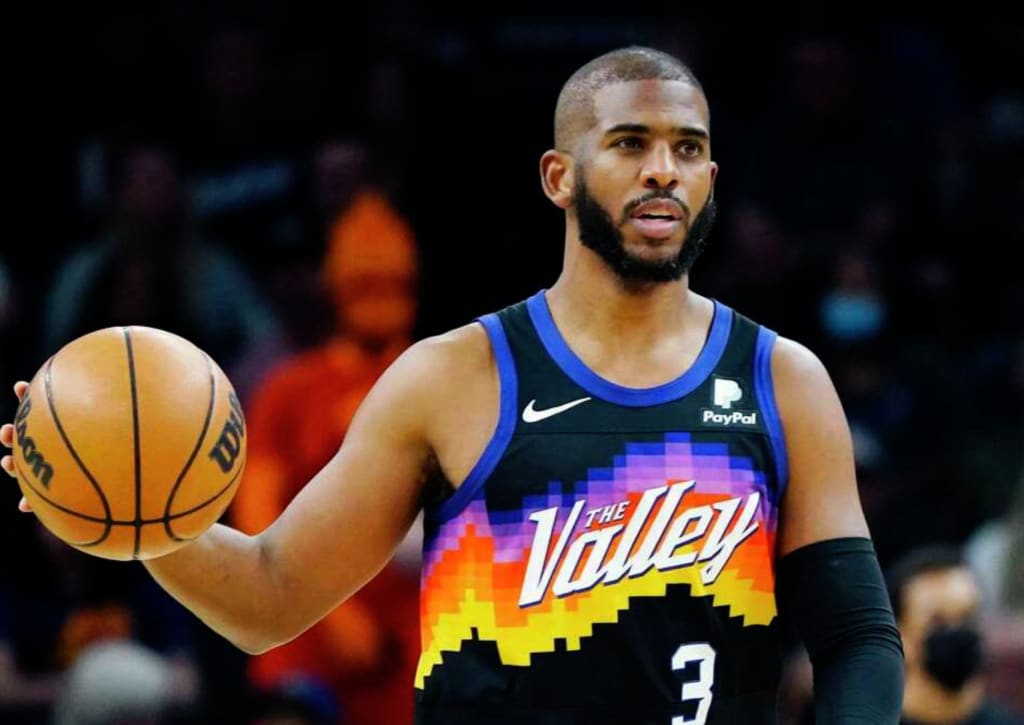 Image Credit: @CurrysGoated
After getting blown out by the Dallas Mavericks led by Luka Doncic in Game 7, was this the last chance Chris Paul will ever compete for an NBA title?
The answer to that question is…a yes.
Why you may ask?
Chris Paul's Playoff Career Lows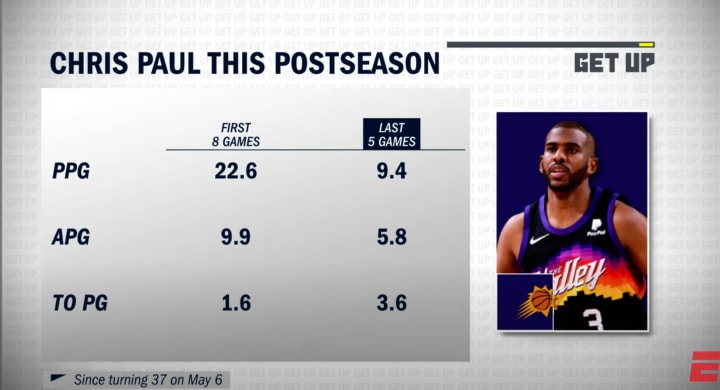 First off, in Chris Paul's first 22 games, he was healthy enough to compete and the Suns were beating teams with Paul playing solid basketball. Ever since Game 6 of the 'Western Semi-Finals' versus Dallas, Paul began to hit career playoff lows, averaging 9.4 points, 5.8 assists, and 3.6 turnovers per game, which was not his usual stats during the season and previous playoff games.
As a result, due to the poor performances of Paul and his team, they got blown out by a team who wasn't the favorite to come out of the West. A team no one knew could make it to the distance and survive. A team that has a history of overcoming super elite teams to win its first championship.
I am talking about the Dallas Mavericks.
According to multiple reports after the game, there was a mention of a 'quad' injury that Chris Paul suffered in Game 6 and he never told anyone about it. The 'Get Up' show, which featured host Mike Greene, ESPN analyst J.J. Reddick, and guest Patrick Beverly, discussed the injury and how it affected the Mavs-Suns series.
This begs to question, could this silent injury affect the Suns' play in Game 7?
A hidden 'Quad' Injury?
Here is my take on this suspected 'quad' injury.
I don't believe this injury was serious enough for Paul to not play the last game of the series. If the quad injury was that serious, why would Chris still play the rest of the way and doesn't seem bothered by it?
This injury is all an excuse for Paul's poor performance. Furthermore, whenever a serious injury affects Chris, he would immediately sub himself out of the court to tend to his injury. In games 6 and 7, we did not see that happen. Instead, Chris chose to play with a 'supposedly' injured quad and produce rookie-type numbers.
As it pertains to Devin Booker and Deandre Ayton, they should've been the ones to step up and counter Luka Doncic's offensive counters with physicality and guarding the 3-point line. Nevertheless, Chris Paul's performance doesn't show us that this was his last chance to win an NBA title.
Point blank and period.
Takeaways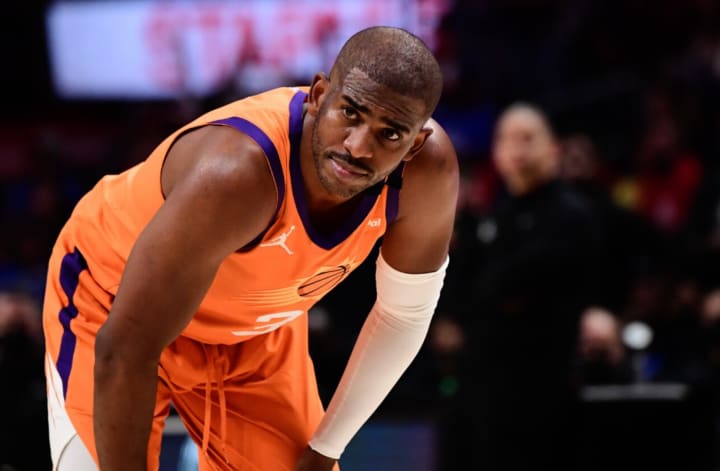 Chris Paul's title chances are 'officially' over and no quad injury can erase those results.
Why?
Next season and beyond, 6 legit teams in the West will have their chance to win the title and make a lot of noise. Teams like the Los Angeles Clippers (healthy Kawhi Leonard and Paul George), Memphis Grizzlies, Denver Nuggets (returning Jamal Murray and Michael Porter Jr.), Golden State Warriors (the return of James Wiesman), Dallas Mavericks (return of Tim Hardaway Jr. with full core), and Minnesota Timberwolves.
These are the teams in the West that can go toe-to-toe with the Phoenix Suns next season and beyond.
Overall, the Suns need to lose with dignity and respect. I give a lot of credit to Mavs head coach and NBA champion Jason Kidd for making the necessary adjustments by going small and outscored the lifeless Suns.
Chris Paul's Legacy in Jeopardy?
Let me know in the comments and share your thoughts about Chris Paul's 'hidden' quad injury and how it affected the Suns' chances of advancing to the 'Western Conference Finals'.
Thank you for reading!
If you enjoyed reading this post, don't forget to like and subscribe so you won't miss any new posts.
Stay tuned for the next post and have a great day!
basketball
About the author
Sports Writer | NBA watcher | LeBron fan | WWE fan | enjoy reading nonfiction books | Truth bombs
Reader insights
Be the first to share your insights about this piece.
Add your insights