Is Chicago's Big 3 Finally Becoming the Trio We Thought They Would Be?
The Chicago Bulls were an Eastern Conference favorite early on in the 2017 season. Wade started out hot but cooled, and Rondo got buried really deep on the bench at one point — but they're back, and it's damn impressive.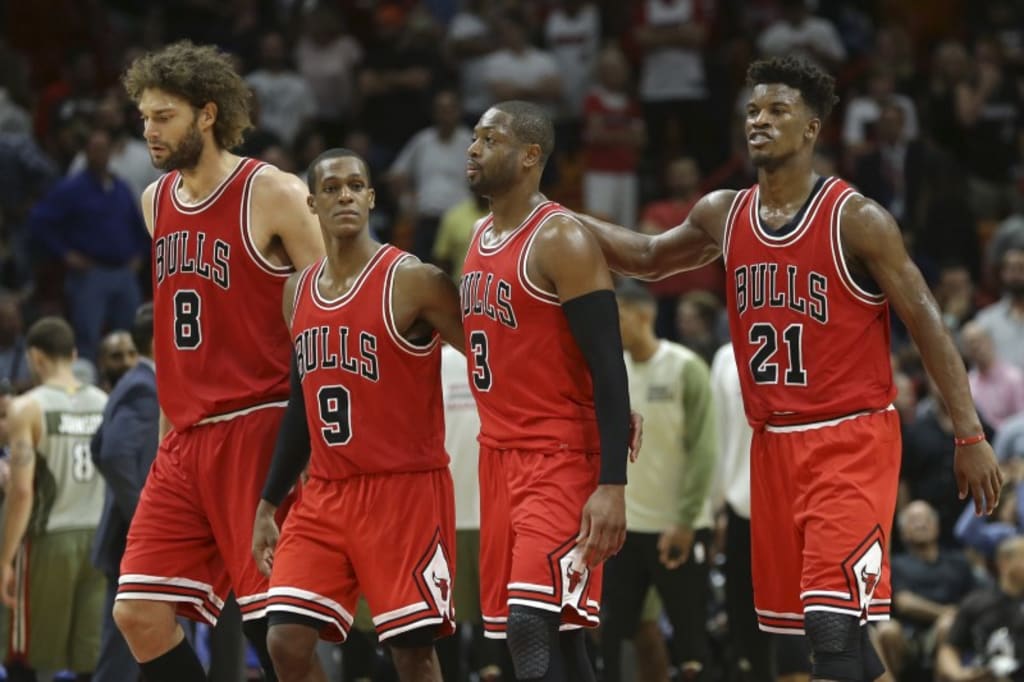 MassLive
The No. 8 seeded Chicago Bulls are off to a shockingly good start in the playoffs, ringing off two straight victories against the top seeded Boston Celtics. Even more impressive is that both wins came in Boston. Considering Celtic's Star Isiah Thomas's recent and tragic loss, he's performing up to par, averaging almost 27 a game. To be quite honest, it isn't anything at all that the Celtics are doing or not doing that could prevent whats happening. What is happening here is what happens when fresh cabbage meets a brand new food processor — cole slaw. Too deep? A simpler explanation is that when you run into a finely tuned machine operating at peak performance, it's hard to beat it.
Chicago has not only won the last two games in Boston, but have exerted their will along the way. This process all starts with the point guard, Rajon Rondo, Boston edition. Rondo is one rebound shy of averaging a triple double for the series, although only two games are in. He has scored around 12 points, grabbed almost 9 boards, and dished out 10 dimes to aid the Bulls in stealing home court. He has constantly found his teammates while also being aggressive enough to help his team in other areas when needed. The most important aspect to what Rondo is doing for Chicago right now is running the team and helping everyone to get in the best position to make plays.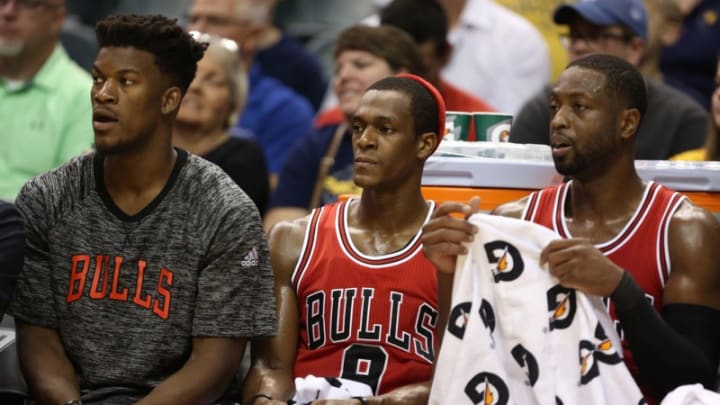 Jimmy Butler has done his fair share over the course of this series as well. He has been hitting his shots like always, but on Tuesday night he was uncharacteristically active on the defensive end as well. So much so that on several occasions he found himself smashing against Isiah Thomas, prompting the crowd into a furious chant of "Bullsh*t…Bullsh*t…Bullsh*t…" due to a perceived non-call. Butler almost landed a triple double himself in Tuesday's game (22–8–8), but what really has helped Butler flourish early in the playoffs is his ability to get to his spots. Let's be clear: Butler is hitting the shots, but it definitely helps that he is getting the ball and operating where he is most comfortable on the court.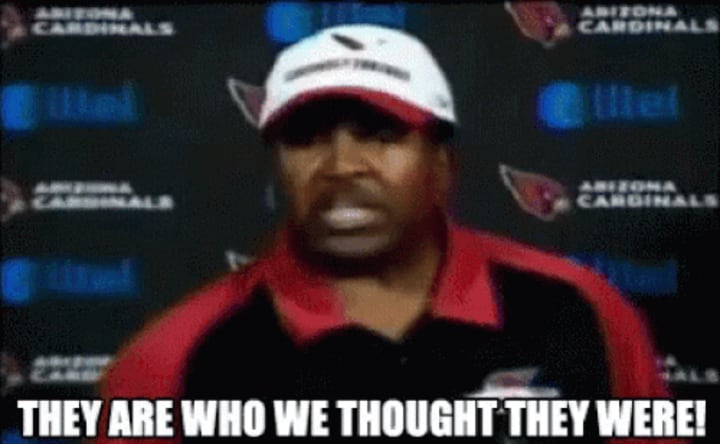 Although D-Wade's most memorable moment of the playoffs thus far wasn't a particularly visually pleasing play, Wade has had an alright series himself. He has displayed those big shot making and closing abilities that have been evident throughout his career. As the game on Tuesday dwindled to a close, the Celtics looked as though they would make a run, sparked by a Marcus Smart three. D-Wade immediately came down and responded with his own three and on the following possession got his floater to go to push the lead even further. This was one of the biggest shots of the game. The Celtics again looked as though they would make one last run of it, but Wade was having none of it. Wade finished with 22 points, 4 rebounds, and 2 assists of his own.
What does it all mean? It means a few things, specifically. The first is that the Bulls look this way for a reason. This is how they were supposed to look all along, or at least you have to believe that this is what the Bull's brass had imagined upon building this particular team. Right now, the Chicago Bulls are operating in a space where their three stars are doing what they do best, which makes everything else easier for every Bull on the floor.
Rajon Rondo is running the team, orchestrating opportunities, and putting the ball where it needs to be. Jimmy Butler is finding his spots and is asking for the ball, in which he delivers. Lastly, Dwyane Wade is closing games and hitting timely shots. As mentioned earlier, D-Wade hit a couple of shots in a row to help seal the deal in game two. The second thing it means is that there are probably expectations now for Chicago. The Bull's have underachieved all season, but if they continue to play this way they could realistically challenge the Cavaliers or whoever makes it to the Finals. The Eastern Conference playoffs just got a little more interesting.
About the Creator
SPORTS...food...culture...music! VA raised me. Can't handle the real..........you might want to make like a tree....10-4?!
Follow me on twitter @Ksaidwhat
Reader insights
Be the first to share your insights about this piece.
Add your insights