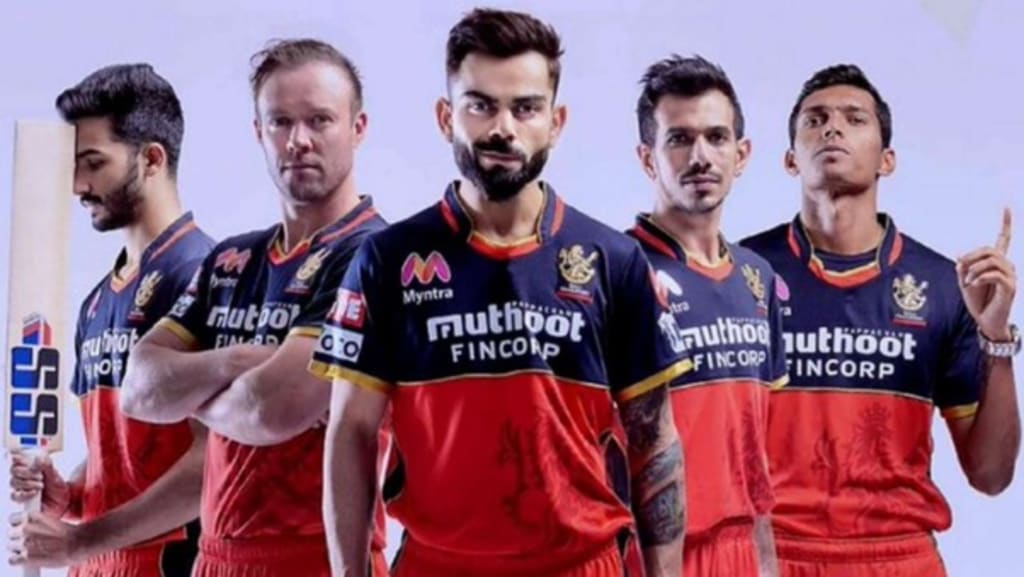 source image: google images
Which team will win IPL 2021?
IPL 2021 winning team prediction.
Well, predicting the winner in advance is an almost impossible task. However, we can use some parameters and points to predict the IPL 2021 winner and we will do the same! However, we will not discuss too many points and their details that will make this article boring and too long. We will try to keep it short but crisp at the same time!
There are a lot of parameters that can help a team to claim the trophy such as grounds, home and overseas players, captaincy, players positioning, batsman + bowlers + all-rounders combination / composition etc.
According to us, the most important factor that can help a team win a tournament is the versatility of its players. If the players of the team can adapt according to the situation then their chances of winning the match or tournament increases completely!
IPL 2021 Winner Team Prediction: - Royal Challengers Bangalore (RCB) will win IPL 2021.
For some, the prediction of this IPL season 14 may seem strange as RCB has a record to top the charts every season! However, last season, the team did really well and this time their chances of winning the tournament are even greater.
Also, if you analyse RCB squad, you will see that they have some of the best players - Virat Kohli, AB de Villiers, Kane Richardson, Josh Phillips, Glenn Maxwell, etc. To be honest, these players are the only ones capable of turning a game in their favour! Even fans of other teams have to accept it.
IPL 2021 match list
The 14th season of the IPL is starting on April 9. A total of 8 domestic teams will be seen in the field in this season of IPL and all these teams would like to win the title of IPL. Like last year, this time also the IPL will be bigger and better and the teams will leave no stone unturned to reach the playoffs. Use your cricket information and tell which team will win the IPL matches.
IPL 2021 Schedule photo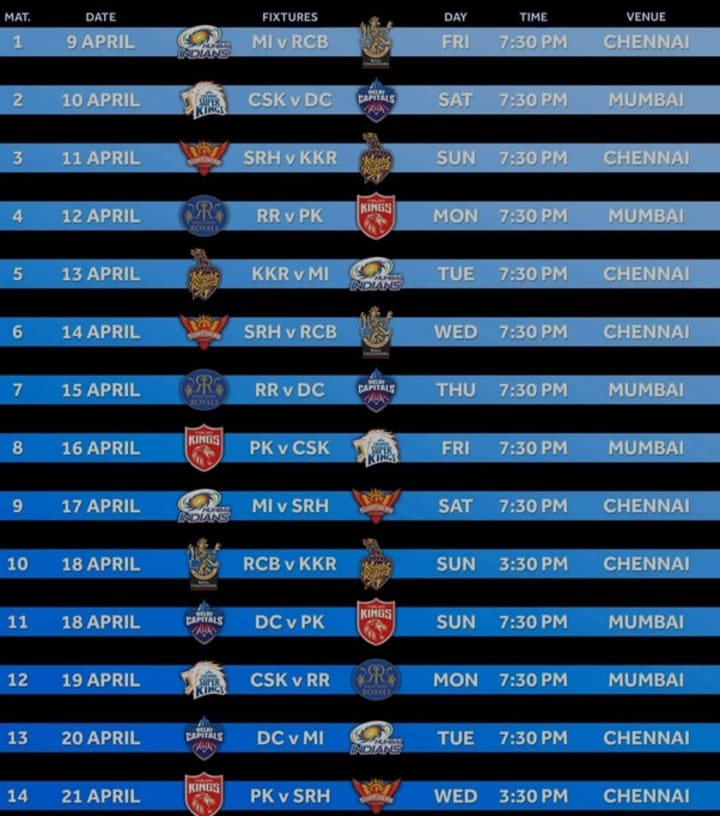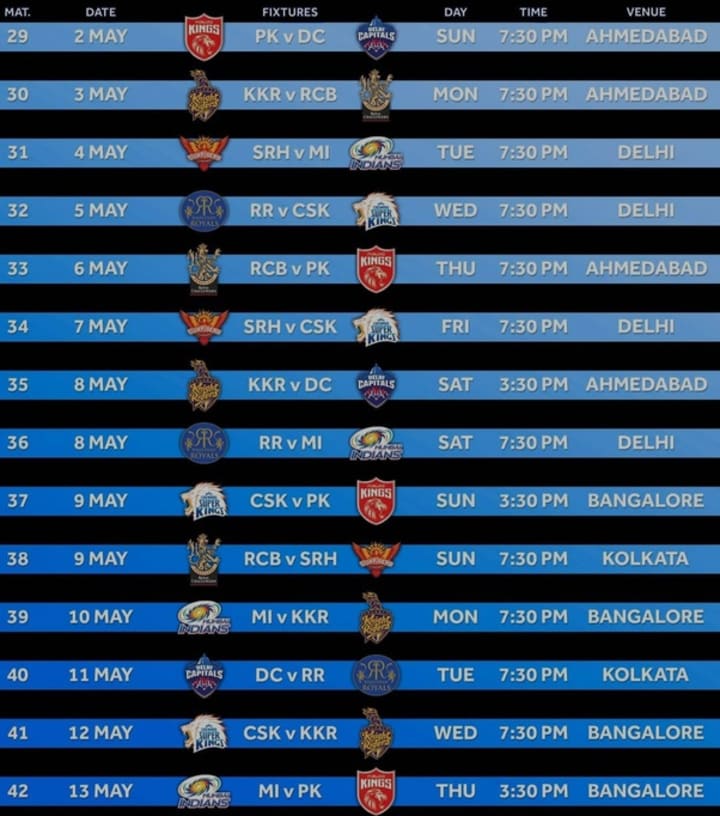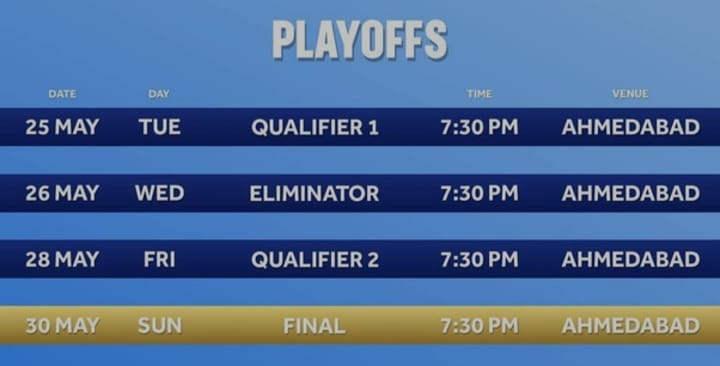 IPL 2021 teams
See total 8 teams are playing in IPL 2021! Now the team that will have the best game and performance in this IPL will be the winner of IPL 2021! These 8 teams are respectively
Mumbai Indians
Chennai Super Kings
Delhi Capitals
Kolkata Knight Riders
Punjab Kings
Rajasthan Royals
Royal Challengers Bangalore
Sunrisers Hyderabad
The auction of the 14th season of IPL was held in Chennai today with a total of 292 players in the list for sale in Lis. In this auction, the most expensive player Chris Morris was bought by Rajasthan Royals for 16 crore 25 lakh and the second team Bangalore team bought Maxwell for 14 crore 25 lakh.
Was the 2021 IPL player auction the most worthless auction in the history of IPL?
Absolutely, it would not be wrong to say that the players' auction held on February 18 in Chennai for IPL 2021 can be called the most useless. In this auction, the most famous players who were expected to spend the most money were not even given the price and those who had never seen and heard were very high. Just like K. Gautham Jinhe has been bought by CSK for ₹ 9.25 crores, whose base price was only twenty lakhs and he played only two matches for Punjab in the last season, similarly Tamil Nadu playing Shah Rukh Khan for ₹ 5.25 crores. Many other players are sold at a price much higher than their base price.
Chris Maurice of South Africa has been sold as the most expensive player at the highest price of ₹ 16.25 crores. The most surprising player is Arjun Tendulkar, Sahibzade of the great cricketer Sachin Tendulkar, whose base price was twenty lakhs, based on the base price fixed by Mumbai Indian. It has been bought because Sachin, who is also a Mumbai Indian mentor, now guess yourself that Sachin ji must have played some role to buy his son, while Arjun Tendulkar does not have a track record that even considers him a player of two million Even better cricketers would have got into India's first level of cricket. Even in 15 lakhs, he would have broken his life and shown his best game. This is a living example of nepotism.
There is some confusion in this auction. It is worth noting that recently a UK intelligence agency is conducting an investigation against the players of their own country, in which they saw that their players have been making good money for some time. When that agency extended the scope of the investigation, then the match-fixing wires were connected to some cities in Dubai and India and their role in fixing the match is coming to the fore, now by not giving money to the players to fix matches And property is being provided in Dubai and work is being done in a very organized manner. [1] [2]
IPL also cannot be untouched by the fact that buying such low value players and giving more value also creates some doubt whether it is possible that buying such players means that the match can be fixed in the dressing room. In the eyes of the other world, they look expensive, but they should do the payment related team, which is their right. That is, such players should be used only for match fixing.
Rohit and Hardik hugged with a bid of 9.25 crores, then the parents started crying
Krishnappa Gautam IPL has become a player which is not the most expensive of most auctions in history. He broke the Cuonal Pandya record.
In the IPL 2021 auction (IPL 2021 auction), the Indian face unknown Krishnappa Gautham (Krishnappa Gowtham) lifted the flag. Gautam has an exceptional offer of just Rs 20 lakh and eventually Chennai Super Kings (CSK), which was peeled off by Ms. Dhoni, fetched a whopping price of Rs 9.25 crore. Along with this, Gautama also provides history. Gautam became the most expensive cricket in the history of Gautam auction. After a big jump in his career, Gautam was very happy. He said that due to the happiness in the family, the tears of his parents and wife came out. Rohit Sharma and Hardik Pandya hug him.
Chris Morris Chris Morris South Africa may be the most expensive player, but in terms of price rise, Krishnappa Gautam is at the forefront. The offer starts at a base price of 20 lakhs, which increases by almost 50 times to Rs 9.25 crore. Gautam has not played an international match so far. This time Gautam gave up the record to become the most expensive Krishna Pandya player. Krunal bought Indians for Rs 8.8 crore in Mumbai.
Stressed, then Rohit-Harty takes the throat
For 32-year-old Gautam Krishnappa, both of them for several days. He has added a clean bowler to the Indian team to help in the Test series against England. He arrived in Ahmedabad yesterday with a team where he got this good news. Gautam said that the star of Indian team Rohit and Hardik embraced him.
Kings XI with Kings Xi Punjab in the previous season of Karnataka, but did not have many opportunities. Gautam only plays 2 matches in the season in the United Arab Emirates. Gautam's overall record in the IPL is also not special. He played 24 matches in three seasons after 2018 and scored 13 goals with 186 runs.