Indoor Track Update 14
Mid American Conference Championships Preview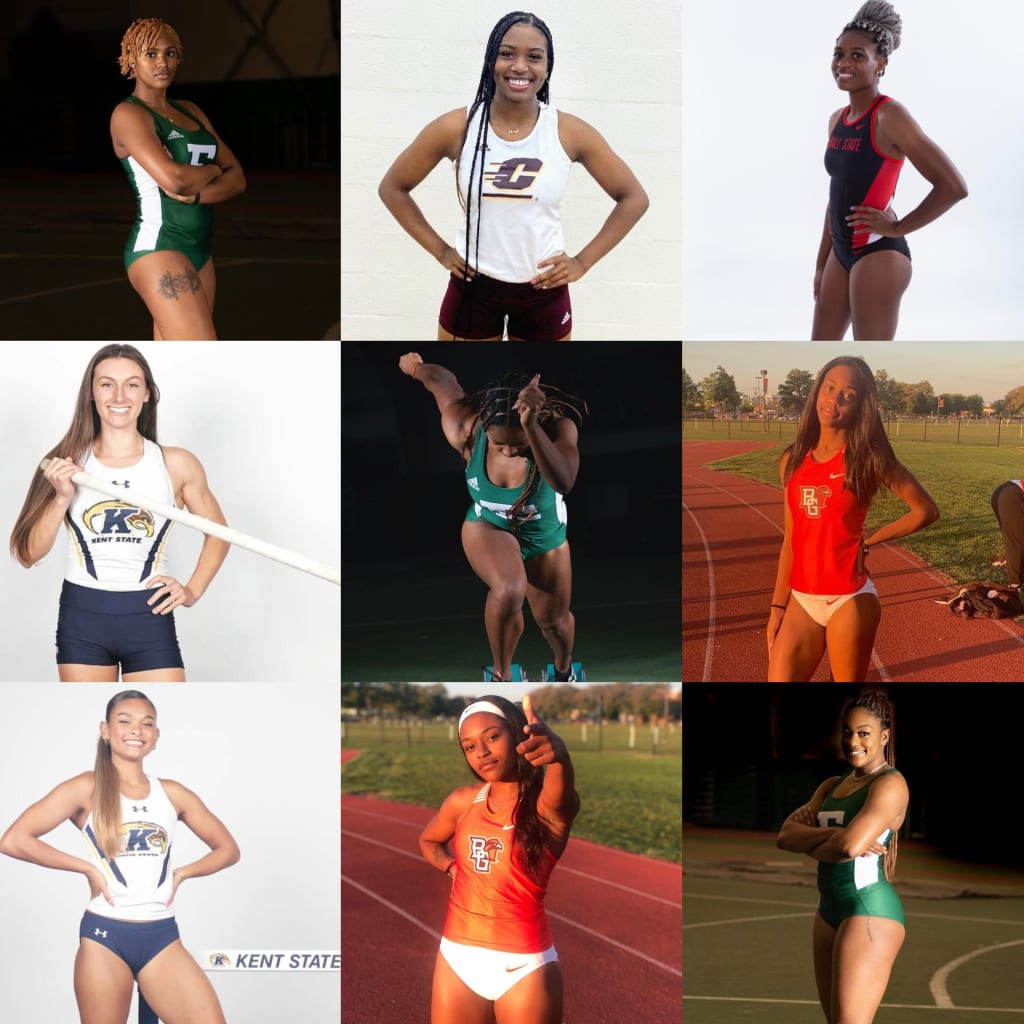 Photo: Angel Gazaway, Quiara Wheeler, MaQuila Norman, Mi'Angel Daniels, Jacqueline Pokuaah, Alyson Davis, Jayla Currie, Savannah Nevels, Alysse Wade
The Mid American Conference Indoor Track & Field Championships are Feb. 26-27 at Mount Pleasant, Mich, on the campus of Central Michigan University. Here is a preview of some of the most exciting events that we are looking forward to seeing.
The 60 meters field will include Eastern Michigan's Alyson Davis and Northern Illinois' Kimone Hines who have run conference best times of 7.53 and 7.54 respectively. Davis, a sophomore is the defending conference champion. She won the 60 meters as a freshman, when she edged out her teammate, then senior Brittni Mason. Davis won last year at 7.50. Also in that race was third place Savannah Nevels who clocked in at 7.57.
This season Nevels, a senior at Bowling Green, has the third best overall time in the conference at 7.60. Last season she scored a bunch of points for her team as she also placed fourth in the 200-meter dash, before winning the 1,600-meter relay with her Falcon teammates.
Other sprinters to look out for in this event are Akron junior Jacqueline Pokuaah, a duo from Central Michigan Reghan Draper and Kaitlynn Rush as well as Ball State's Ivy McKee.
Ball State senior MaQuila Norman is the returning 200 meters champion. In 2020 she held off two seniors, Miami's Olivia Bechtel and Ball State teammate Bryeana Byrdsong with a winning time of 23.87. Norman enters this year's meet with the third best time of the season (24.65). Northern Illinois' Hines has the best time of 24.42 and Bowling Green senior Ryen Draper is second at 24.59.
Hines is a Jamaican born transfer from Southern University at New Orleans. Draper placed seventh in last year's 200 meters final. She also was a member of Bowling Green's championship 1,600-meter relay squad last year. Her teammate Nevels should be in the mix to win the 200. A third Bowling Green sprinter sophomore Jemeila Hunter should also be in the hunt as well.
Eastern Michigan has another returning champ in Alysse Wade. She won the 60-meter hurdles at 8.43 last year. Wade returns as the top woman in the event with a conference best time of 8.59 for the season.
Akron's Pokuaah, who is a junior college transfer had the second fastest time in the conference this season. She ran 8.74, which puts her just ahead of two seniors. Kent State's Mi'Angel Daniels ran 8.75 and Anasja Troutman of Ball State ran 8.76. Daniels competed in the 60-meter hurdle finals in both 2019 and 2018, where she had placed fifth and eighth respectively. Troutman placed fourth last season in the conference finals.
Eastern Michigan junior Angel Gazaway has been battling injuries during the indoor season but she should be ready to make an impact at the conference meet. Last season she placed sixth in the conference finals. A few other hurdlers to look out for are Eastern Michigan junior Brenna Cavanaugh, Kent senior Benja Duff as well as two freshmen Western Michigan's Sarinity Bracey and Northern Illinois' Scout Regular.
Another freshman Leah Pasqualetti of Kent is entering the Mid American Conference championship meet as the number pole vaulter, this season. She has a sizeable lead over four seniors who make up the top five. Pasqualetti has the 14th best mark in the nation at 4.28 meters, which she recorded last weekend. Seniors Abby Helminiak (Akron), Kasey Staley (Central Michigan), Grayen Simmons (Eastern Michigan) and Wiijtra Burapan (Buffalo) will all look to stop Pasqualetti from winning the gold this weekend.
The MAC has another national standout in field events with Quiara Wheeler. She has the ninth best mark the NCAA in the weight throw at 21.51. Wheeler placed third last season but her hard work has her as the hands down favorite at this year's championship meet. Fellow seniors Kadian Clarke (19.82) and Marissa Dunn (19.09) had the second and third best throws in the conference during the season.