Indoor Track Update 11
Payton, Sagnia strike gold at Sweden Championships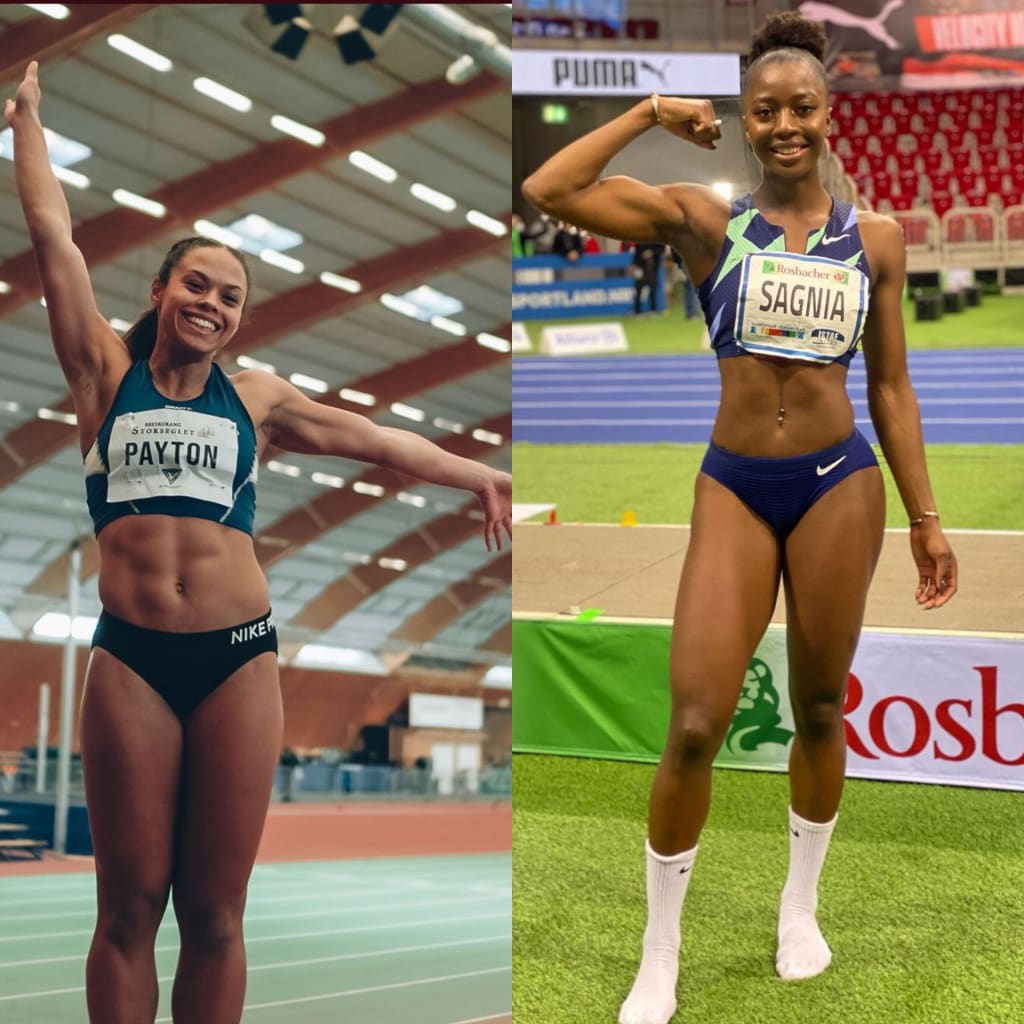 Claudia & Khaddi
Feb. 20, 2021
Claudia Payton sprints to Swedish 60 meter crown
Above: Claudia Payton
Claudia Payton won her first national championship when she finished the 60 meters with a time of 7.30 at the Swedish Indoor Championships.
Above: Julia Henriksson and Nikki Anderberg
The 22-year-old's time was a personal best mark as she finished ahead of runner-up Julia Henriksson, 20, and Nikki Anderberg, 18, who ran times of 7.46 and 7.48 respectively. Anderberg is Sweden's reigning 100-meter dash national champ.
Below: Irene Ekelund
In fourth place was Irene Ekelund. From 2013-to-2019, she was the most dominant sprinter in Sweden. Ekelund claimed national championships in the 60 meters in 2013, 2015, 2018 and 2019. The 24-year-old also has three national championships in the indoor 200 meters as well.
Sagnia gets third Swedish indoor long jump title in four years
Above: Khaddi Sagnia
On Feb. 7, Khaddi Sagnia jumped 6.82 during a meet in Germany. That leap is currently the second longest in the world for the season. On Feb. 20, Sagnia jumped a shorter mark of 6.64 but it was good enough for her to claim ownership to her fourth indoor national title in the long jump. The 26-year-old Swedish star won her first long jump championship at 16 years old back in 2011. She also has five outdoor long jump Swedish championships. She has won all but one outdoor long jump championship since 2015 in her country. The only year she failed to get the gold was in 2019.
Below: Malin Marmbrandt Otterling
Thirty five-year-old Malin Marmbrandt Otterling was the runner-up to Sagnia. Marmbrandt Otterling is a three-time national champ in the triple jump with wins in 2010, 2016 and 2017. Kaiza Karlen placed third. When Sagnia didn't win the outdoor long jump in 2019, Karlen stepped in and took that championship.
Below: Kaiza Karlen
Fanny Roos takes eighth straight shot put at Swedish nationals
Since 2014, Sweden's Fanny Roos has been the only woman to win the shot put national championship in either indoor or outdoor competition. She has won 15 national championships in the shot put. Roos actually has a 16th championship from 2019 when she won the discus throw at the 2019 national outdoor meet.
Below: Fanny Roos
This year the 26-year-old rose to the occasion once again with a first place finish, throwing 18.51 in the national indoor championship. In her eight indoor wins, it is her second longest winning throw and only the second time she has won with a throw over 18 meters. Roos is currently third in the the world with the furthest throw this season. She threw 18.66, Feb. 6, at a meet in her native country.
Sara Lennman placed second in the competition with a throw of 16.91. Frida Akerstrom was third at 16.77.
Feb. 19, 2021
USC's Yeargin wins at Texas Tech Qualifier
Senior Nicole Yeargin raced to a time of 52.77 to capture her first 400 meter dash this season at the Texas Tech Matador Qualifier. Yeargin and teammate, runner-up Jan'Taijah Ford (52.98) had a competitive race in heat one. No other competitor finished the race in under 55 seconds.
Below: Nicole Yeargin
Both Yeargin and Ford are among the best 400 meters runners in the NCAA. Yeargin is 10th in the NCAA as she ran her best time of 52.51 at the Razorback Invitational, Jan. 29. Ford, a sophomore, has the 18th best time at 52.89, which was also recorded at the Razorback Invitational.
Below: Jan'Taijah Ford
USC is rich with strong sprinters in this event. It is the only program in the nation with four competitors in the NCAA's top 20. Bailey Lear (52.05) and Kaelin Roberts (52.07) have the third and fourth best time in the NCAA.
California's Abba wins 60 meters at Air Force Collegiate Open
Above: Ezinne Abba
Sophomore Ezinne Abba crossed the finish line at 7.40 to win her first 60 meters final on the collegiate level. She and her teammates Kennedy Williams (7.41) and Jenea Spinks (7.45) grabbed the top three spots of the race. Abba currently sits in the 29th spot of the top 60-meter times in the NCAA. She ran 7.37 at the Air Force Invitational, Jan. 21.