In The Fight
UFC Beijing 11/24/2019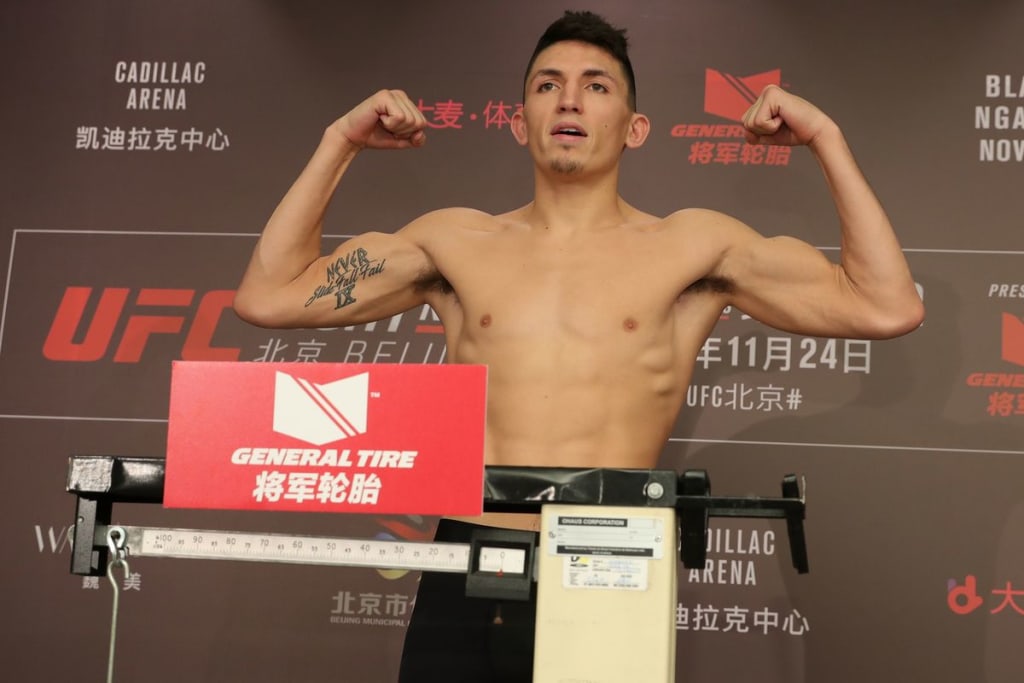 My name is Vince Morales, I'm a mixed martial artist fighting and competing in the UFCs bantamweight division. Being a professional athlete was always a dream of mine. Zero clue that meant I'd be locked in a cage with some of the most savage human beings from all over the world. In retrospect these moments are insane and I'll forever be grateful where my life has taken me. In the moment, personally, I'm more focused on the task at hand. That's what I'm writing about. We may never know what really goes through each fighters mind while being in there but this is a small collection of the thoughts that fly through my own mind every split second of the fight. This was my first big UFC fight and it was taken on two weeks notice. I get the offer and I fly directly to Beijing to take on one of their hottest prospects who happens to be coming off three knockout wins. Each one of those knockouts earning him a fifty thousand dollar bonus. This is what fighting is all about. Despite the circumstances, realizing the only thing that matters is what's in front of you and you have to overcome the obstacle. Everything I ever wanted.
Round 1
"First UFC fight let's go!"
"Don't rush in, don't rush in"
"Move, feint, move, feint"
"Wow he's fast"
"Damn, did that hurt? No, I think I'm good. Right?"
"Focus"
"He's reaching for the parry, make him pay"
"How dare him shake his finger like that didn't connect"
"He's hard to hit clean"
"Damn"
"His timing is great"
"He's looking to spin"
"Caught me right at the bell with a spin. Great, makes me look foolish"
"He probably won that round but I'm here"
"Stay calm, dont freak out, breathe"
Round 2
"Still here, not knocked out. Maybe I can fight."
"Lets hit him"
"Move, feint, strike"
"I'm just as fast"
"Watch the spin"
"Is he slower?"
"Nope, still fast. Nothing hurts though. Keep fighting."
"Switch step"
"That worked. Remember that."
"Move"
"Why am I bleeding?"
"Focus"
"This is a close round"
"I feel good about that one"
"He pressured alot but wasn't too great"
Round 3
"Keep smiling"
"I'm going to break you this round"
"Lets fight"
"Move, Strike"
"Don't get too comfy but you got this"
"Switch step"
"Shit how'd he know to time that takedown"
"Stay calm, attack"
"Get up"
"Try again"
"Now"
"Make him pay"
"One One Two"
"Oh his mouthpiece almost came out"
"Don't wait, go!"
"He's tired"
"He can't hurt you"
"Combos"
"Volume"
"More"
"Did I hurt him with the knee"
"That hurt"
"Go"
"Go"
"Shit rounds over"
"Look how tired he is. He can't hold himself up. Put your hands up"
"I should have started that earlier"
"They're going to give it to him"
"Damn, I lost"
All in all it was a great experience even though I came up short. Showed that a regular guy from a town of only ten thousand people can work hard enough to get put into a position where he has an opportunity to make something really amazing happen. This was just the beginning. The inner monologue during a fight is interesting and I wish I could remember everything. But the goal of this is to enlighten people on what really goes on in these crazy moments. I hope you enjoyed the read. It might be slightly different but this is just a process I'm working on. I might get more into the feelings instead of the thoughts. We'll see. Any feedback would be appreciated! Part two coming soon!