If Russel Westbrook Breaks the Season Triple-Double Record…
Things I will do if Russell Westbrook ends up breaking the season triple double record, and it will not be pretty.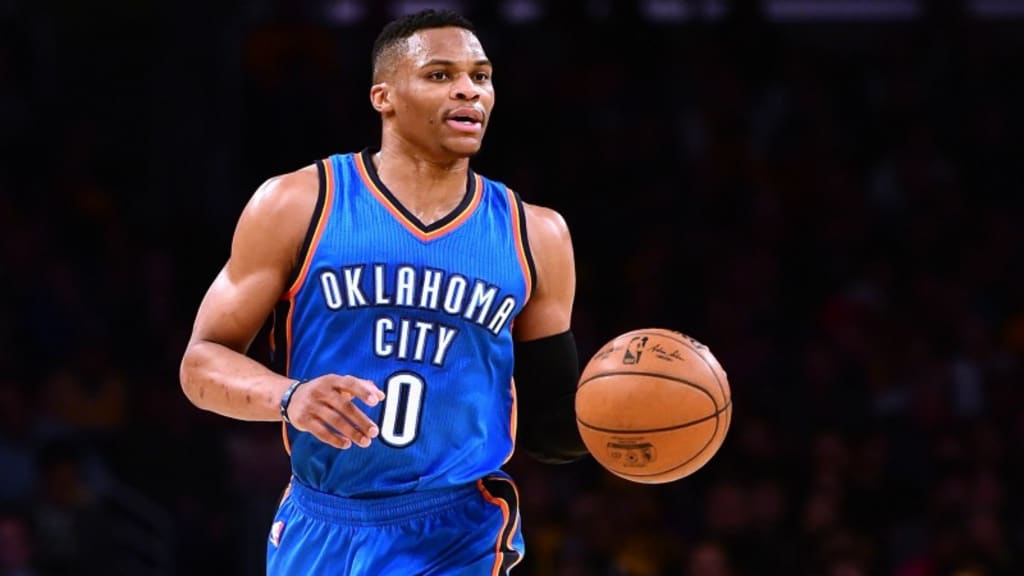 Slam Online
Sunday afternoon Russell Westbrook put up a stat line of 40 points, 13 rebounds and 10 assists in a loss to the Charlotte Hornets, but he also recorded his 40th triple double of the season. Oscar Robertson's record of 41 triple doubles in a season still stands, but with six more games to play for the Oklahoma City Thunder the triple double season record looks to be in a bit of trouble.
Oscar Robertson sucks. I don't like him, and he also doesn't think that Michael Jordan is the greatest player ever. Sure, there have been different times and you could say Wilt is the best ever, or Bill Russell, or Kobe Bryant, or LeBron James, the list goes on and on, but as of right now no one has displayed what Jordan has done. It's time for Robertson's record to fall, and it's time that my best friend, Russell Westbrook, breaks that record with a 73 point, 22 rebound and 33 assist game. I'm not sure if that will happen, but if it does happen, these are the things that I will do, or participate in:
1. Go streaking
I haven't decided where I will go streaking, but this is the first thing that I have a desire to do when Russ puts up 73/22/33 triple double for the 42nd triple double of the season. The streaking will possibly occur in multiple places: my living room, the family friendly neighborhood street that I live on, the Huntsville Space and Rocket Center, from Huntsville, AL to OKC (all 685 miles), or even space.
2. Write a song about how great Russell Westbrook is and how he impacted my life in a positive and petty manner.
I play a couple of instruments, but I'm not very good at the whole songwriting process, but if the 73/22/33 game happens I know that the songs will just flow through my brain right on down to my guitar, and I will be a YouTube hit in no time. If you have lyric suggestions, please send them my way.
3. Learn how to dunk.
I'm 5'8". My sport in high school and college was swimming. Land sports aren't my thing, but for some reason my jumping ability isn't too terribly awful. I can dunk a tennis ball, but I can't dunk an actual basketball. I can palm a basketball, yet I can't elevate high enough to dunk a basketball on a ten foot hoop. Russell Westbrook's dunks are something that amaze me, no matter how many times he tries to obliterate the rim and hurt its feelings, the dunks are still jaw dropping. Here, watch some:
4. Streak again.
This time across the country and back, just like Forrest Gump, but naked.
5. Create a Russell Westbrook religion.
Brodieism will be a religion/cult dedicated to Russell Westbrook. Every morning will start with a prayer to the almighty Brodie, and a video of an in game dunk. Mid-morning will have another prayer session, followed by watching a video of Russell Westbrook pre-game dancing. After lunch there will be another prayer, followed by a Random Act of Pettiness, also known as a R.A.P. Westbrook is known for being petty and there's always a need for more petty people in this world. Before bedtime there will be the last Brodie prayer of the day:
Our Brodie, which art in OKC, hallowed be thy name.
Thy dunks be done.
Thy pettiness be spread, on Earth as it is in OKC.
Give us this day our daily petty.
And forgive those who betray us, for they know not what they created.
And lead us not to betrayal, but deliver us from Golden State.
For Brodie is our kingdom.
The power and the petty, forever and ever.
Amen.
Trust me Brodieism could be huge on Twitter, this is totally going to work if Westbrook puts up this 73/22/33 game.
Westbrook has changed the game this season and if he breaks the record you guys can come to my house and hold me to these five things that I have promised to do if he breaks the single season triple double record. It's been a wild season thus far, and oh boy, the playoffs are coming.
Reader insights
Be the first to share your insights about this piece.
Add your insights