I Got Tickets to Last Year's Super Bowl. Here's How I Did It.
The Super Bowl was one of the best experiences of my life, and Golden Tickets made seeing it all happen possible.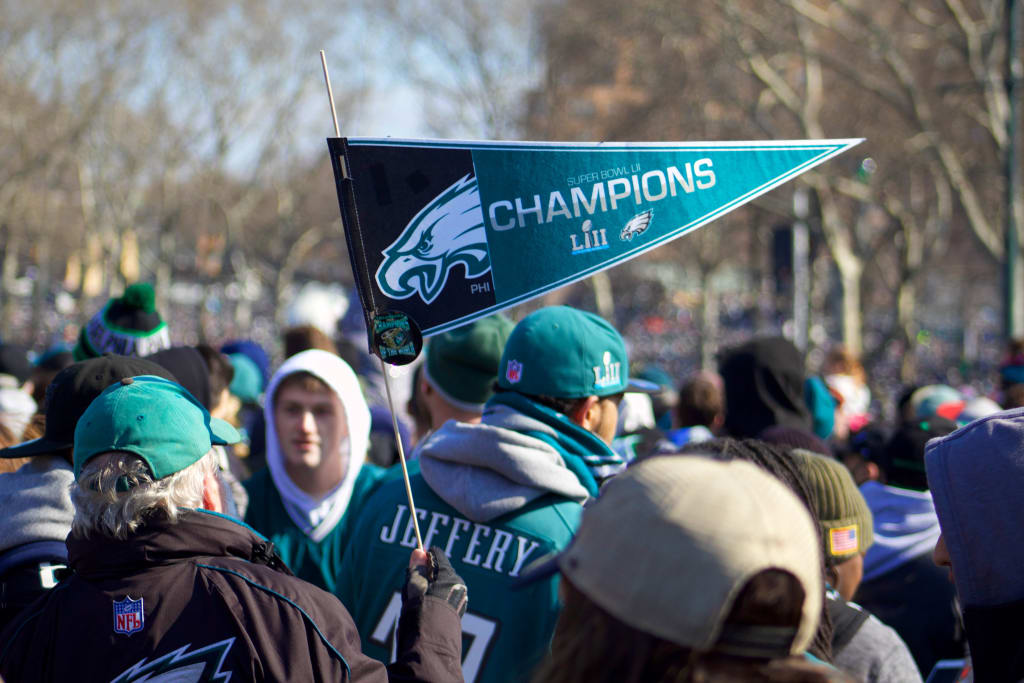 Photo by Larry Bridges on Unsplash
Imagine my horror, watching my beloved Philadelphia Eagles crush the heavily-favored Minnesota Vikings to advance to their first Super Bowl in 14 years. No, I was not upset because they had pulled off the unlikely upset, I was overjoyed about that.
The feelings of dread and misery were because I was destined to miss the biggest game the Eagles have ever played in my lifetime, a rematch of the 2004 Super Bowl against the New England Patriots.
Legend has it, the saying "early bird gets the worm" was coined because of online ticketing. If you're not locked in and ready to buy one second after they go on sale, the odds are not in your favor. When it comes to the Super Bowl, not getting to the computer fast enough often means you'll pay sky-high prices due to the increased demand after the AFC/NFC championship game.
Sadly, this is exactly what happened to me.
I soaked in the Eagles victory and did not check to buy my tickets in time to get the lower-priced seats. Huge mistake. Super Bowl LII was the next stop for my team, and I ran to my computer to see if there was any chance I could be there without paying an arm and a leg.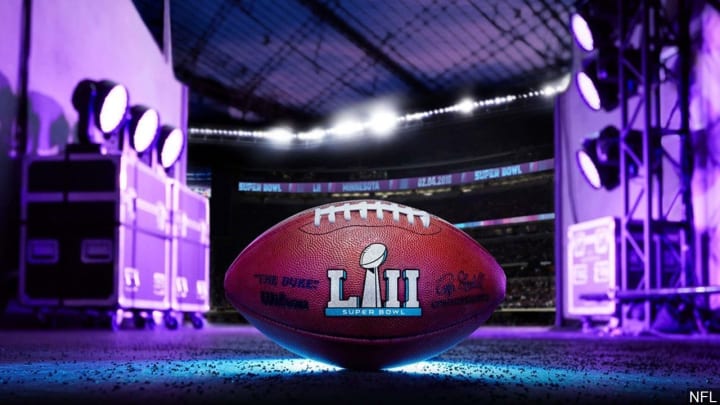 What were my options?
At that point, my options were few and far between. Eagles fans are a passionate bunch, no one can deny that. I was convinced I had celebrated far too long after their win without realizing and my fellow supporters had beaten me to the punch. My nightmare seemed to come true after a few minutes of online searching.
I checked Ticketmaster and StubHub, only to find that the tickets were way out of budget. I was starting to get worried that I might be priced out by the sellers, even though each seller gets to determine their own ticketing price.
It was the biggest sporting event of the year, after all. I felt like there was no way I had a chance at reasonably-priced seats after waiting for longer than 10 seconds after they were available. At this point, I started freaking out a little.
Throughout my frantic search for tickets, I learned that the NFL actually retains approximately 25 percent of Super Bowl tickets to give to media members, sponsors, and other personnel. Meanwhile, the rest of the tickets are divvied up between the 32 NFL teams, who give out these tickets to valued season ticket holders; teams can even hold lotteries to send lucky fans to the biggest game of the year.
Sadly, these lotteries are usually won by season ticket holders as well, something I was not. It had become painstakingly clear that the deck was stacked against me to be there. Super Bowl tickets are extremely hard to get.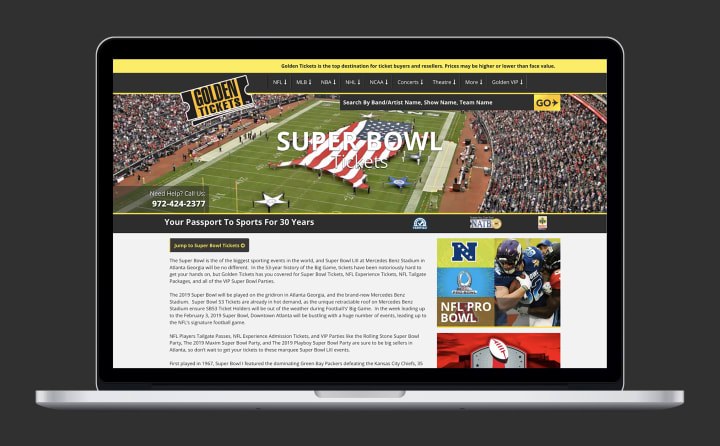 Enter my savior, Golden Tickets.
A few days had passed and I was a shell of my former football-loving self. Colors had become dull, movies had become stale, and food, well, you get the picture. I was still scrolling the internet every now and then, in half-hearted attempts to see if there was any way I could attend the game.
I must've clicked on over 20 sites before I came across Golden Tickets. I had never heard of Golden Tickets before; all I could honestly think about were the tickets from Willy Wonka and the Chocolate Factory. In the least cliche-sounding way possible, that's exactly what they turned out to be for me.
I scrolled for a bit checking out the site, not even truly considering they had tickets available at a price and quality I'd be willing to work with. I also knew I had no chance of winning the ticketing lottery offered by NFL teams, so hope had vanished from my life.
Then I saw those magical words, "Book A Package," and clicked. Could it be that I could find a cheaper way to get to the Super Bowl? Could it be that I actually found what I was looking for? I took a deep breath as the page loaded, and voila!
The packages they offered came with a huge value, and included awesome perks alongside very reasonably-priced Super Bowl tickets. I was grinning ear to ear. I was equally as thrilled to learn that the "Book A Package" option connects you with flights, nearby hotels, and tailgates surrounding the game. Their tour department is awesome.
Everything about Golden Tickets filled me with confidence, especially when I found out they have a customer service line where you can actually talk to people should anything go wrong with your booking. Words can't describe how reassuring this was, considering how much these tickets would potentially cost.
After careful planning with my best friend and fellow Eagles fan, we were able to book our entire trip through Golden Tickets in a matter of minutes. Tickets, flight, hotel, even the tailgate—all set up and ready to go.
I saw the genius of secondary selling for myself.
I had no idea how Golden Tickets still had tickets when all of my usual outlets had been sold out for weeks before. Had no one discovered this site and I was just the luckiest person ever? No, if I had any luck, I donated it to the underdog Eagles to beat the Atlanta Falcons and Minnesota Vikings to reach the Super Bowl without Carson Wentz. Safe to say, my luck was tied up elsewhere.
So how was it that Golden Tickets still had seats to the most exclusive sporting event of the year? I looked into it and discovered they are a secondary seller of tickets. At first, I had no idea what that meant.
Selling tickets to brokers is what is known as the secondary market of tickets; with Ticketmaster constituting the primary market (you know, the one that sells out at light speed). This practice is done with sporting tickets, music event tickets, and even theater tickets.
This means that Golden Tickets, being a secondary seller, buy and sell tickets that can still be available often minutes before an event happens, even when tickets are "sold out" everywhere else. For me, this meant that Golden Tickets just became my go-to ticket seller.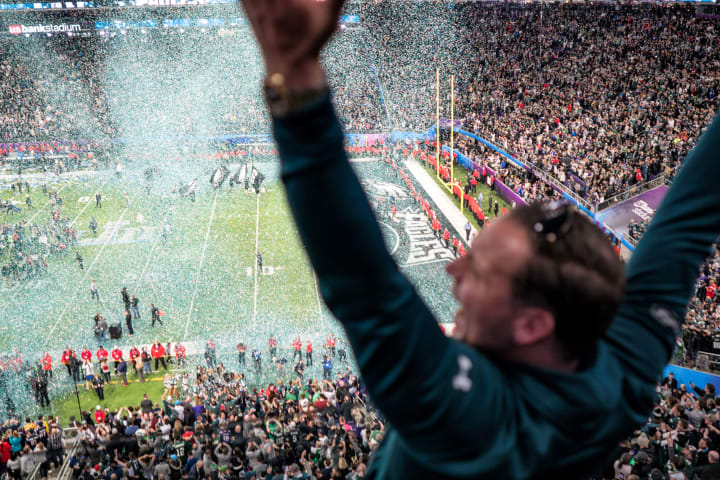 I watched one of the best Super Bowls ever!
I finally got the tickets I wanted desperately and arrived in Minnesota. I wanted the Eagles to win, but would've been satisfied with a fast, competitive game. Boy, did Patriots and Eagles deliver.
Officially the second highest-scoring Super Bowl ever (by a single point, no less), this game was full of breathtaking moments. It was a back and forth slugfest in which both defenses were set to easy mode. The rollercoaster of emotion and excitement I felt cannot be understated.
Nick Foles and Tom Brady engaged in an duel of insane proportions and created, in my opinion, the most exciting Super Bowl game ever. Being in the stands, experiencing the sights and sounds firsthand may constitute a tiny bias for that opinion, but I think many would agree with me. After all, the "Philly Special" may go down as the most memorable play in Super Bowl history, and I am now able to brag to all my friends and family how I saw it all go down live.
Easily the best sporting event I have ever been to, and most likely ever will go to, I can't help but think what it would've been like if I missed that game. Who knows? I may have even been the good luck charm for the Birds becoming Super Bowl champions; without me getting that last-second lifeline from Golden Tickets, a Patriots fan might have been where I was sitting and flipped the entire balance of the game.
Maybe the tailgate party I attended helped morale, too. In a lot of ways, you could say I'm partially responsible for Philly's win. Since it can't be proven otherwise, we'll just have to accept that to be true.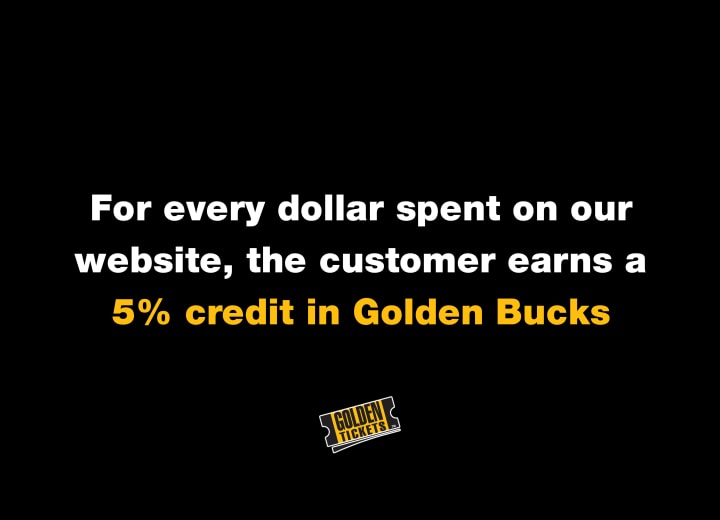 Golden Bucks makes going to games easier.
After the experience of a lifetime, I went back on to Golden Tickets to see if they covered other sports. Sure enough, they cover every major sport imaginable. Not only that, but in my overly excited buying process for Super Bowl tickets I missed a huge deal that has been benefiting me ever since, Golden Bucks. Golden Bucks are exactly what they sound like, money that you can get and use on Golden Tickets for any event you want.
You receive 5% of whatever orders you make in Golden Bucks. I have a few NHL and NFL games scheduled through Golden Tickets this year and I've already accrued enough to buy a few tickets to the next game of my choosing entirely in Golden Bucks. Not a bad deal at all.
Sold out is no longer an option.
I could not believe I had never heard of secondary tickets before. I am avid sports-lover (if that wasn't obvious already) and a passionate music fan. It is because of these interests that I have been scrambling and stressing to buy tickets to my favorite events for, essentially, my entire life. The mad dash to find out when tickets first go on sale to remembering to be planted in front of your computer on Ticketmaster when they do is a grind, and usually ends with disappointment.
With my discovery of Golden Tickets, however, all that stress and worrying is a thing of the past. Knowing that I can buy Eagles tickets at 8:19 PM for a game that starts at 8:20 PM is one of the more calming influences in my sporting life. If it worked for a game as big and jam-packed as the Super Bowl, I know it can offer seating for any major games I have an interest in seeing.
Add to that earning Golden Bucks to use on future events for every purchase I make and being able to go to one site to book a huge trip, like the Super Bowl, and it's a match made in sports heaven. So if you're interested in seeing a popular sporting event and are tired of the grey hairs ticket purchasing can cause, give Golden Tickets a try, save yourself some money and a lot of stress.