How to Choose a Golf Bag
When it comes to how to choose a golf bag, certain factors need to be considered. This article discussed the factors, including different types of golf bags.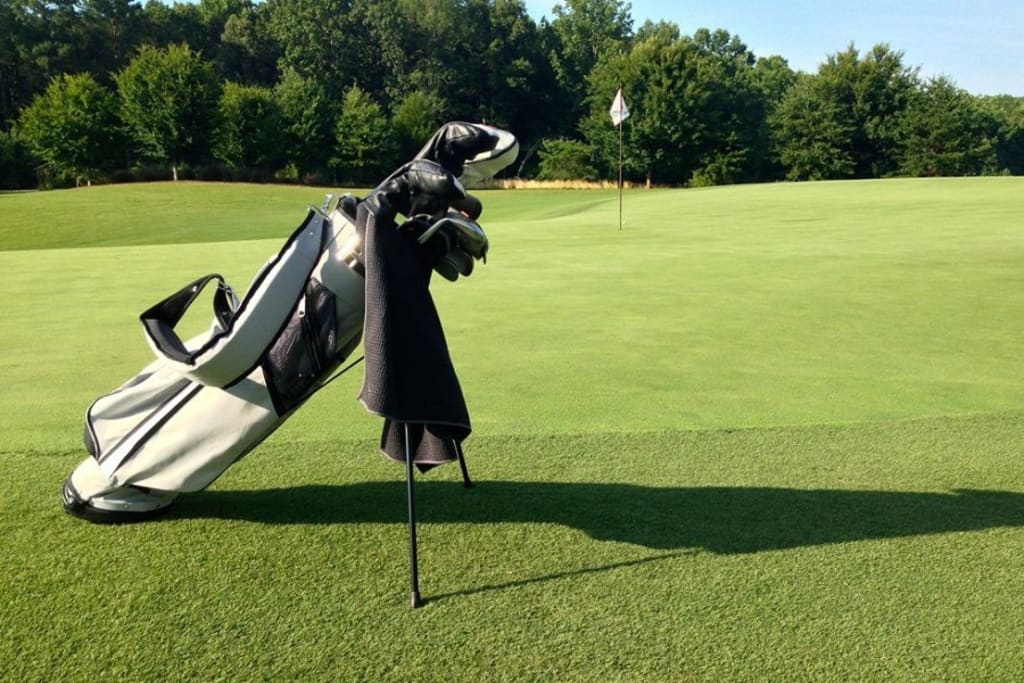 Recently, I spent more time walking around the course and focusing on one thing - different golf bags. One thing I noticed is that people carry different varieties of bags according to their needs.
There's no perfect answer to, which golf bag is the best! The question is, what factors do people consider before choosing a golf bag?
As a golfer, either an amateur or a seasoned professional, golf bags remain your best canine companion. They are never far away or out of sight. Plus, they keep your golf equipment safe and organized on the course and beyond.
Because of the outrageous benefits of having the right bag, it is important to know what golf bag type works best for you. There are certain factors you must consider before choosing a golf bag.
One of them is functionality. Which one are you; a walker, rider, or maybe both. Do you always need to store extra clothes and accessories like rain gear, umbrella, or GPS?
Knowing these will help guide you in choosing your golf bag.
Let's check out the several different types of golf bags. One of them will suit your requirement, regardless of your age or level of expertise.
What Are the Types of Golf Bags?
Staff Bags
Staff bags are the most expensive golf bags. Besides, they are luxurious, conspicuous, and spacious. Most professional golfers use staff bags during tours.
Many of them use the bag for brand visibility, as logos are visibly displayed on each side during golf events.
Staff bags can comfortably accommodate many golf clubs while displaying your logo or message for everyone to see - A perfect way to show off your business on the course.
Overall, Staff bags ultimately boost confidence on the course.
A good choice of staff bags are the cobra staff bags.
The spacious, luxurious staff bags come with 10 pocket storages that include the magnetic pocket, fleece-lined pocket, apparel pockets, and more.
The cobra bags also allow you to personalize your logo on them.
Apart from the staff bags, we still have other three golf bag types that promise to meet the carrying needs of the average golfer. They are the stand bags, carry bags, and cart bags.
Both the cart bags and stand bags are full-functioned bags for the average golfer. Unboxing the cart bag, you'll find that they are spacious, have hooks for accessories (and even for a towel), and with more than a couple of pockets for extra storage.
On the side, carry bags are portable and designed to accommodate only a few accessories. They are usually structureless and only add a few pockets to them.
The minimalist golfer would prefer to walk the course with these compact, lightweight carry bags.
Let's delve further into these bags.
Cart bags
Unlike staff bags, carts bags are generally smaller and lighter. If you're used to walking the course with a golf pull or push cart, then you should go for the cart bags.
And if you ride in carts, cart bags are also an ideal option to choose from.
Due to their size and purpose of use, we suggest only carrying them from the car to the cart.
Cart bags bridged the gap between professional golf bags and personal golf bags.
They are more of a hybrid version of the stand bag and the staff bag, as they combine the functionality of a typical stand bag (we'll talk about that going forward) with the complexity of a staff bag.
Sun Mountain cart bags encompasses a stylish design that has made them one of the most popular cart bags around.
Their cart bags are available in both the classic and cutting edge models, depending on your choice.
The leather cart bags are available in a variety of colors. They are typically lighter when compared to most modern golf bags. While these cart bags feature 100% leather, some are available in canvas hybrid to create a lighter feel.
On the other hand, if you're looking for top-notch cart bags with no stress, the Titleist cart bags will be another perfect go-to.
Even with up to 11 pockets, the bag still comes out at a lighter 6.5 pound. The 15-way top of the bag shields your clubs and keeps them organized. You'll love it.
These top recommendations for stand bags include not just Titleist but also other renowned brands like Callaway, TaylorMade, Cobra, Sun Mountain, and a few more.
Stand Bags
Versatile design for an easy walk to the course
Stand bags stand out with their double retractable legs.
The two retractable legs ensure that the bag can stand uprightly well, or they can extend out to keep the golf bag stabilized.
It does not matter how you play, these bags can accompany you to just about anywhere you go.
Stand bag manufacturers understand that you're not going to carry your bags all day, so they designed a strap or clips on the leg that locks - a feature that's often underestimated.
Some stand bags now feature a modern accessibility feature that makes them stand out better than the cart bags that are only accessible through the regular pockets.
Although stand bags are lightweight and they reduce the overall weight of a golf bag, they have smaller storage space. Plus, most of them are created from less durable materials.
PING makes the best stand bags around. The brand is synonymous with improving its stand golf bags, and today, their bags are top-notched.
Some of its bags come with a 4 way top where you can organize your clubs. They also feature shoulder pads, buckle strap connectors, cushioned hip pads, and more. Plus, all the pockets you've always craved for in a golf bag.
You can also take a quick peep at another brand, Titleist. Their stand bags are light and cater to the walker's needs. If you love to walk the course with a stand bag, the 2.8 pounds bag will be your best option. Even with the lightweight feature, Titleist never sacrificed its quality.
Carry Bags or Sunday Bags
Also called Sunday bags, Carry bags are designed for golfers who love to walk the course with a stand bag, but without legs.
I'm addition, this bag is also popular among golfers who only carry clubs fewer (many fewer) than the maximum 14 clubs in a bag.
Whether you're walking the course for short games or just planning to take along a few clubs in a bag, then carry bags should be your favorite go-to.
One of the best carry bags around is the Sun Mountain cart bags. It features an elegant design that has earned them much popularity.
Their cart bags are available in both the classic and cutting edge models, depending on your choice.
PING and Titleist are other great brands to check out.
Choosing the Right golf Bag
I get it, the old golf bag is worn out, the last leg almost was gone, pockets already frayed, and worse still, the stand seems not to support the body anymore. So you're back to the golf market for a new bag.
The question is what should you look out for before purchasing a new golf bag?
We'll help you figure that out in a couple of steps. Below are the factors to consider when looking for an excellent golf bag.
Are You a Rider or a Walker?
Golf bags are available in different types. From staff bags to cart bags, hybrid bags, stand bags, and Sunday bags, they serve different purposes.
If you always walk your bag to the course, then a stand bag would be fine.
Sunday bags are super lightweight and easy to carry. Hybrid bags are spacious, have an extra store and stand, and an excellent strap for easy carrying.
If you're not used to walking the course or you only play from one location, cart bags are your best bet.
Pockets and Club dividers
Golf bag markers keep your clubs organized, preventing clubs from cluttering and smashing against each other. Some brands feature a full-length divider that separates the pockets of the golf bag. And every golfer, beginner or pro, should know the proper organization of clubs to get hold of and return them during the game in a quick, easy, and hassle-free manner.
While some bags (especially cart bags) use full-length individual dividers, others use five divider pockets, or even three.
The goal is to make sure all the clubs in your bag keep you comfortable. Ideally, one pocket should have the wood and another should have short irons, and the middle iron and long irons should have two middle pockets.
Are the Straps Comfortable?
Comfort is the most important factor to consider when choosing a golf bag. If you want to feel comfortable carrying a particular golf bag, the answer is a well-padded adjustable strap. The strap should be adjustable enough in a way that fits comfortably with your body type. If it doesn't feel comfortable when a full load is on your shoulder, check another bag.
Weight
Some golfers prefer to walk with their bags in hand, but they can't if it's too heavy. Today, most golf bags are available in lesser weight and more sturdiness.
But the lightweight varies, too. Some bags have. A weight of as low as 3 lbs. If you're looking for a lightweight golf bag, be prepared to have a bag with lesser pockets and storage. After all, the goal is to keep it light. Avoid stocking it up with valueless stuff that only adds the weights.
However, golf bags with lesser weight may not be as durable as their heavier counterparts. So get that right.
Hooks
You won't probably need clips for an umbrella, will you? However, if you have some bag tags to display, you'd need hooks for them. The same also applies to towels. You're going to need a hook to place them. Some bags come with hooks for towels, while some don't. You should consider that, too.
Storage
A perfect golf bag should have storage space for virtually every club you need to use on the course. In other words, there should be a storage space for your golf ball, gloves, tees, drivers, wedges, and more, including other accessories like GPS, brush, or even a few snacks.
However, don't expect the bag to fit into all your stuff. You should be satisfied with the extra pockets for your water bottles and more.
Price
A nice golf bag would go for between $120-$150. Value-priced bags may be around $90. And if you have the money, you can spend up to $400. The higher the price, the better the features.
Start with those around $150. You should be able to find a bag that is comfortable and has enough storage. And if you find any cheaper option with the quality you're looking for, go for it.
Conclusion
As a golfer, either an amateur or a seasoned professional, there are certain factors to consider before choosing a golf bag. Golf bags keep your golf equipment safe and organized on the course and beyond.
Because of the outrageous benefits of having the right bag, it is important to know what golf bag type works best for you, its storage capacity, price, weight, hooks, straps, and more. I hope this article will help you find the right golf bag.
culture
About the author
I am Miguel Garriga writer of Coffee Style Today. I am passionate about coffee. This passion fueled my desire to create this online platform! Let my expertise and passion guide you towards making the right decision!
Reader insights
Be the first to share your insights about this piece.
Add your insights