Hot or Not?
Nike has unveiled all 30 NBA City Edition jerseys; here are my thoughts.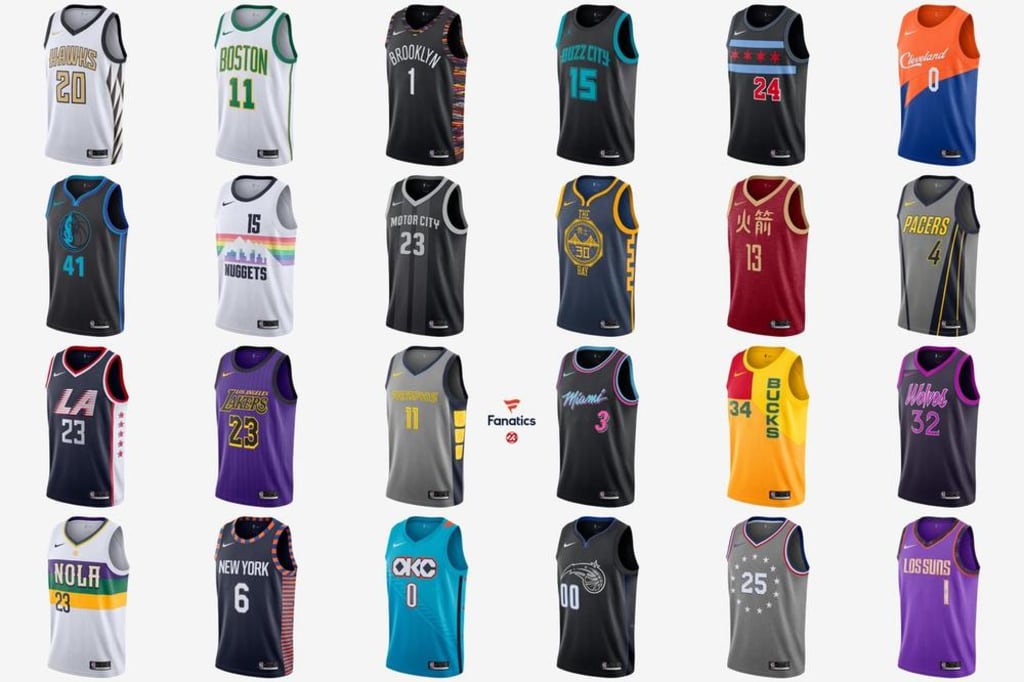 Some of these jerseys are fire; some of these need to be thrown in the fire
If you've been reading my articles for any amount of time, you know I'm very analytical, using statistics and other information to support my claims. While I love doing that, I understand that most people I know aren't in the mood to read a long article about a sport they may or may not like. I'm not going to stop doing my analytical pieces, but I write more relatable articles so even non-basketball fans can understand and appreciate them.
On that note, let's talk about NBA jerseys, something that any person can have an opinion on. This is Nike's second year as the official apparel supplier of the NBA, and aside from that brief jersey-ripping fiasco, it's been "So far, so good." Nike has made multiple themed jerseys for each team, and now the City Edition collection has been released. Some of these jerseys are slightly modified versions from last year while others have no resemblance whatsoever. I'm not going to rank the collection from 1-30, but I will highlight some of my favourites as well as some that should go back to the drawing board (in no particular order).
The Good:
1. Denver Nuggets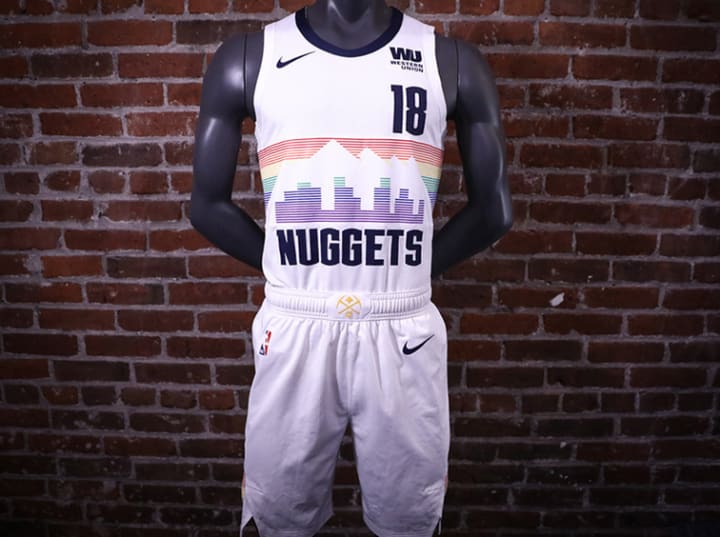 The Denver Nuggets underwent pretty significant rebranding this offseason, completely changing their logo and their jerseys as well, making them "blockier" if that's even a word. While I'm not a huge fan of their navy jersey or royal blue/red/gold jersey that has yet to be worn – it's sad because royal blue is my favourite colour—this city jersey is CLEAN. It brings back the iconic "Rainbow/Skyline" logo from the Dikembe Mutombo-era and puts a modern twist on it. The Nuggets aren't my favourite team, but I might have to cop a Jamal Murray jersey (Kitchener-Waterloo represent!)
2. Chicago Bulls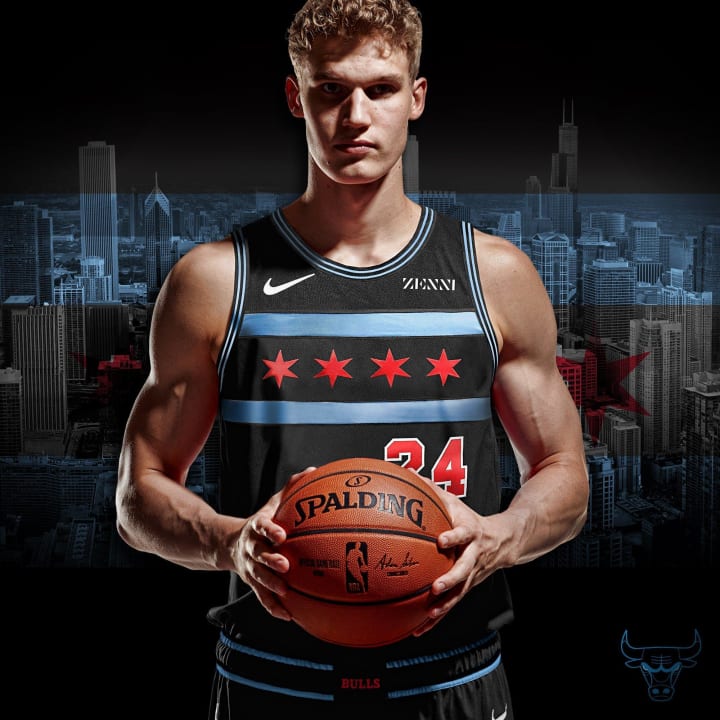 If you ask me what NBA team has colours of red, white, and black, I'd answer the Chicago Bulls immediately. Michael Jordan's league dominance took place in that colour scheme, so to me, the city of Chicago is synonymous with that trio. So when I initially saw these jerseys, I was shocked at the use of baby blue. But then I remembered that Nike used a similar blue in small portions on the Bulls' jerseys last year, and those were still dope. And then I realized that the black makes the blue and red really pop. There's also something powerful and mesmerizing about this jersey; it really makes a statement. Whatever it is, I'm a fan.
3. Miami Heat
When the Miami Heat debuted their Miami Vice-themed jerseys last year, everyone went crazy. They were so damn NICE. White with accents of hot pink and baby blue, just marvelous. Paired with Dwyane Wade's return to Miami, the Vice jerseys were a fan favourite and were the best ones in the league last year hands down. Nike essentially came out with the away version of Vice, but it's every bit as fire as the original, if not more. Similar to the Bulls City Edition uniforms, the black makes the other colours stand out. The Heat have always had a knack for producing cool jerseys: Blackout + Whiteout, Miami Floridians, Alonzo Mourning-era Throwbacks, etc; these Vice jerseys are easily my favourite.
Honourable Mention: Los Angeles Clippers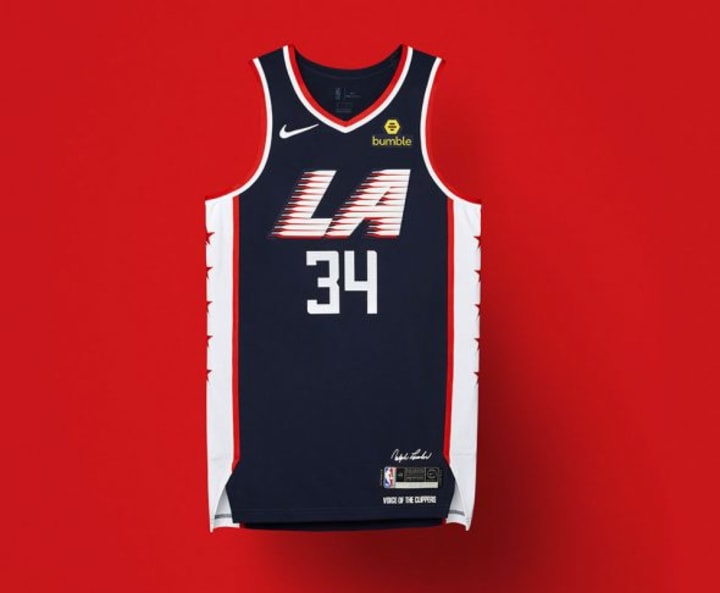 The Los Angeles Clippers are having themselves a solid season thus far; they are seventh in the Western Conference at 6-5 including two wins over the Houston Rockets and while they most likely will miss the playoffs, they are certainly a competitive team. They also have themselves some solid city edition jerseys. Nike was smart to ditch the Santa Monica Pier colour scheme of blue and orange, and went with this LA-Olympic themed colourway. Navy blue with accents of red and white, pretty nice if you ask me.
The Bad
1. Milwaukee Bucks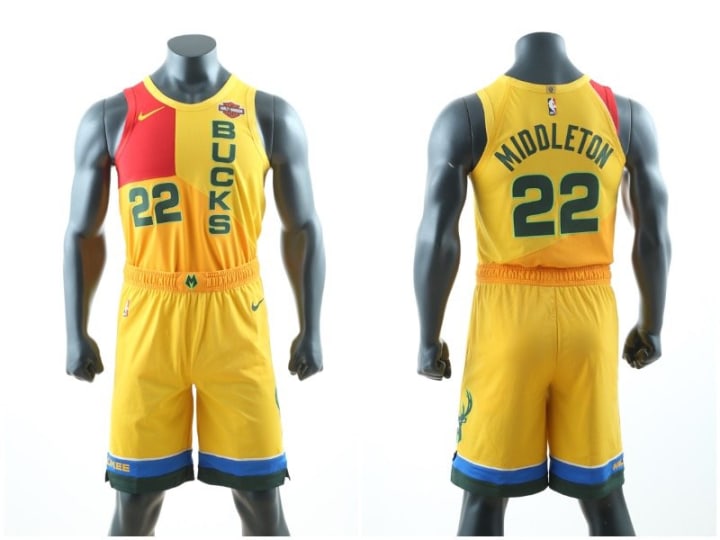 The Milwaukee Bucks are a force to be reckoned with. Coach Bud has Giannis unleashed, and the team is finally playing to their potential on both ends, something that was on display in their dismantling of the Golden State Warriors last night. Since the Bucks rebranded in 2016, they've had some really nice jerseys. But these? These are some hot GARBAGE! Who ever thought that puke-yellow would make a good looking jersey? Then there's that awkward red portion in the upper right (player's view) and that weird blue stripe... I just can't get over how bad these are.
2. Cleveland Cavaliers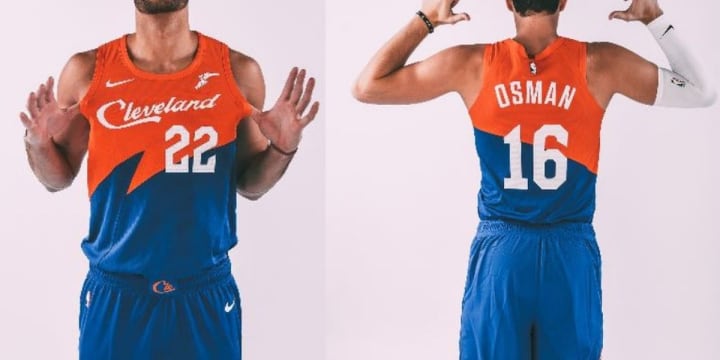 When LeBron James left the Cleveland Cavaliers this summer, everyone and their grandma knew they had fallen out of title contention. But boy, LeBron's absence has just highlighted their true dysfunction. They fired Tyronn Lue after six games (and their interim head coach situation hasn't been any better), the organization has already lost faith in rookie point guard Collin Sexton, and their star player Kevin Love is injured for the millionth time. Seems fitting that Nike gave Cleveland these throwback-gone-wrong uniforms. Cleveland has had some orange and blue uniforms in the past, but never to this extent (of ugliness). It's as if Nike took all the old throwbacks, took the worst aspects of them, and slapped them onto this monstrosity. Imagine LeBron wearing these...
3. Oklahoma City Thunder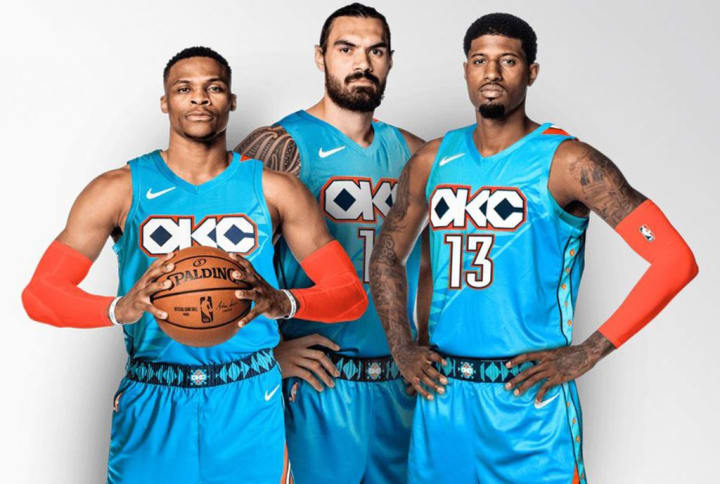 The Oklahoma City Thunder have gotten off to a strange start to this season. They lost their first four games before ripping off a seven game win streak. In the span of two weeks, they went from 14th in the Western Conference to 4th; quite bizarre if you ask me. However, their massive jump in the rankings has nothing on these jerseys. I have never seen a blue more vibrant in my life. I'm pretty sure these are the only NBA jerseys that shine in the light, as if they're made from silk. These jerseys have already caused controversy as some thought they were disrespectful to the Native American community. Controversial or not, these just are not good, which pains me to say because I love blue and OKC typically produces cool jerseys.
(Dis)Honourable Mention: Houston Rockets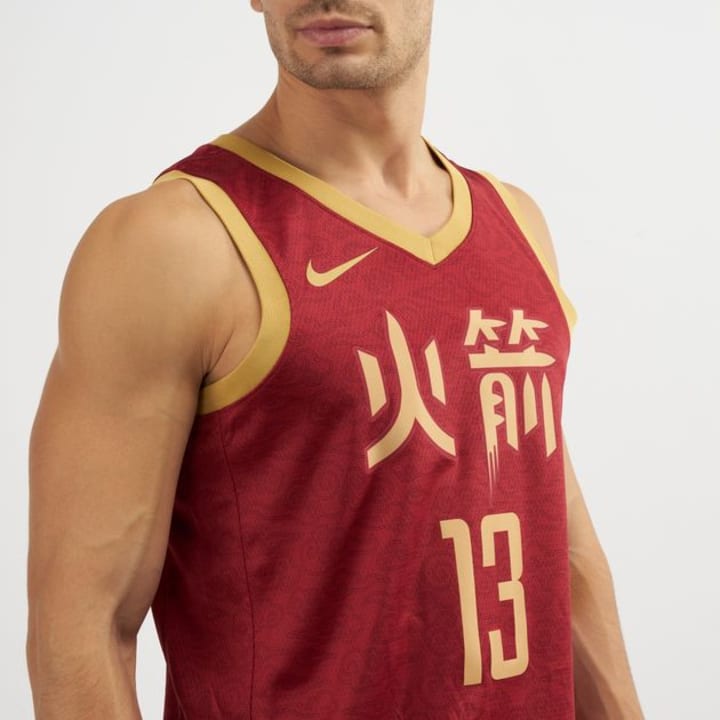 I have always loved the Houston Rockets jerseys. From the days of Hakeem Olajuwon (my favourite Nigerian icon) to the Yao Ming-era to the present, they've had quality uniforms. I'm particularly a fan of their regular away (or Icon as Nike dubs it) jerseys; the red is just so pure. With these City Edition jerseys, it's as if someone applied a Sepia filter to the Icon uniforms and added some clouds in the background. Also, Houston has had an affinity for Chinese New Year jerseys that I never truly understood; sure they make sense during February, but anytime outside of that is just weird.
The Others
There are certain jerseys that I'm somewhat undecided about; I'll go over them briefly.
Minnesota Timberwolves—The T-Wolves already have pretty out there jerseys, with their strange colour scheme of of navy, white, and neon green. Their Purple Rain-inspired uniforms are as far out as Prince himself. While I respect the tribute, I'm not sure they make for good basketball jerseys.
Los Angeles Lakers —The Lakers are really messing up on their purple jerseys. First, they threw that fat black stripe down the side of their Icon Edition jerseys. Now, the purple uniforms with black and yellow lettering and thin black vertical stripes. These are supposed to be Magic Johnson-inspired; I don't see anything magical about these. They honestly should've stuck with last year's black and yellow jerseys.
Indiana Pacers—While the Miami Vice jerseys were the league's best last year, Indiana City Edition uniforms were amazing. The Indianapolis 500-inspired kits featuring a racing stripe and circle jersey numbers blew NBA fans away. They definitely took a step back with this year's uniforms; it took me five minutes to realize the thick stripe was a race track.
Alright, that does it. I hope you readers enjoyed this style of article; I had a lot of fun writing it. I know I always ask you guys for you comments and opinions, but I really do want to hear what you have to say about these City Edition jerseys. Which would you buy, which would you burn; I want to know! You know how to reach me:
Snapchat: midster007
Facebook: Olamide Olatunbosun
Instagram: @mdaywiththetrey
Twitter: @mdaywiththetre1
Thanks for reading, and until next time, Deuces!
About the Creator
Huge NBA (more importantly LeBron) fan, love writing about things happening around the league.
Instagram: @mdaywiththetrey
Facebook: Olamide Olatunbosun
Reader insights
Be the first to share your insights about this piece.
Add your insights