Hockey Team #7
The Carolina Hurricanes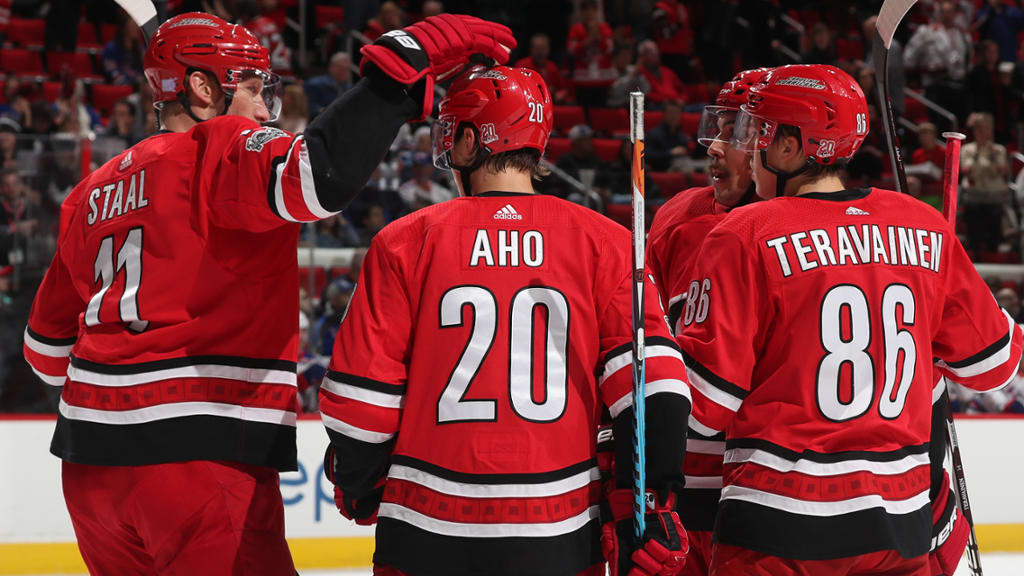 The Carolina Hurricanes, that fresh wind that hit the NHL a few years ago. A team that puts a bit of craziness into a league with some owners who are a bit conservative of the good old hockey traditions. Whether you like it or not, it was a big deal in the hockey world at the time. The critics have calmed down and their attitude is now well known throughout the league. The Golden Knights followed this trend from the moment they arrived in the league. I personally find this change to be positive and it was appreciate by many hockey fans. Let's talk about the team now and make sure to check the ins-and-outs.
The team that finished fourth in the Metropolitan section last year did not have a very eventful inter-season. Jesper Fast and Drew Shore will be looking to help on offence while Joakim Ryan is the only addition to the blue line. With the exception of Fast, who could be useful as he's adding depth to this team, there are no major addition. The loss of retired Justin Williams will take a lot of experience away, but no doubt the veteran will have made his mark on the younger Hurricanes with his time with the team. Three departures for the defensive brigade. Sami Vatanen is still not under contract with a National Hockey League team, Joel Edmundson has been traded to the Montreal Canadiens and Trevor Van Riemsdyk has signed with the Washington Capitals. Three losses that may seem heavy at first, but when you look at the current roster you wonder how all these players were able to wear the same uniform last season. As mentioned at the beginning of the paragraph, little has changed. Management trusts the team that is in place and I can only agree with them. The Hurricanes are a complete team that has gained experience over the last few years. Let's not get carried away and take a look at what the North Carolina team will have to offer next season before giving a diagnosis.
I still haven't talked about the situation in front of the net. The reason is simple, there is no change there. James Reimer and Petr Mrazek will share the Hurricanes' cage. Nothing special to report. They are two good goaltenders who get the job done and are supported by a strong defence. Speaking of which, Dougie Hamilton, Jaccob Slavin, Brady Skjei, Jake Gardiner, Haydn Fleury and Brett Pesce will compose the defence. No names that make anyone heads spin, but four strong defenders who can add some flair to the offense. We're still waiting for Fleury to emerge on the Carolina side. Not a bad defender, but we certainly expect more from a former 7th overall pick in 2014. To all these names, we can add Jake Bean who probably won't start the next campaign with the Hurricanes, but who is a very good defensive hope. Let's take a look at the well-diversified attack. The offence is very young, with the oldest player being Jordan Staal who is 32 years old. Three very young players are part of this young core: Sebastian Aho, Andrei Svechnikov and Martin Necas. According to his progression, Necas would be dangerous next year. To these we add Teuvo Teravainen, Nino Niederreiter, Vincent Trochek, Ryan Dzingel, Warren Foegle, Brock McGinn and Jordan Martinook and you get an excellent synergy between defensively responsible forwards and power forwards. In addition to this great depth, the Carolina Hurricanes can count on a good pool of attacking prospects. I'm thinking of Ryan Suzuki, Vasili Ponomarev and Jeremy Bracco. Bracco is waiting for his chance in the big league, but he has shown in the AHL that he has undeniable talent. All he has to do is replicate his success in junior and American league and he could become a valuable asset.
It is now time for the long-awaited diagnosis. Where are the Canes in the hierarchy? For my part, I see them very high up in the ranking. With the new divisional league announcement for next season, the Hurricanes will no longer have Washington and Pittsburgh in their sights. They will be relatively well positioned because, with the exception of Tampa Bay, their division is looking relatively weak. Taking all this into account, Carolina should be in a good position to go far in the series. They have the tools to make it to the semifinals this season, I think.
ML
hockey
About the author
Sports enthusiast. I'm from Quebec. I'm doing my best since english's not my first language. Have fun, and I really hope you have a good time :)
Twitter: https://twitter.com/maxime_l26
Instagram: https://www.instagram.com/maxime26_02/
Reader insights
Be the first to share your insights about this piece.
Add your insights