Hockey Team #5
The Buffalo Sabres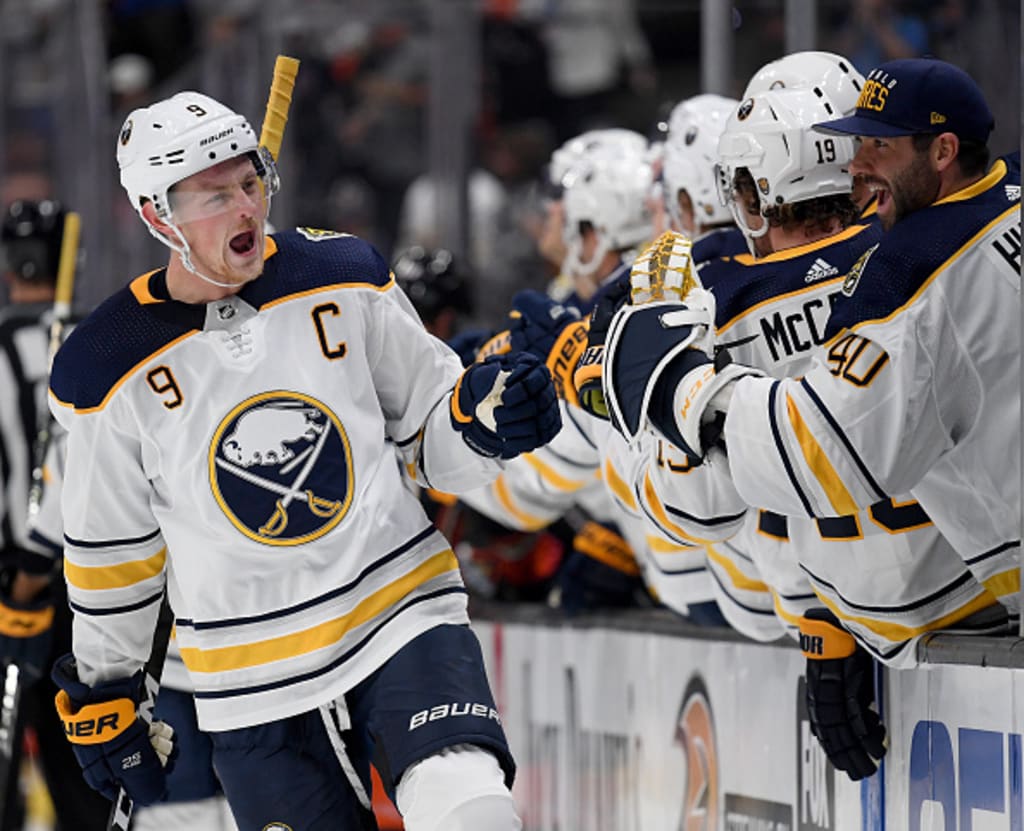 It's been a while since the Buffalo Sabres were a team to be taken seriously. We must go back to 2007 to see Buffalo win a playoff round. Since that year, they only qualified twice, but each time they lost in the first round. So in the last 13 years, two playoff appearances and two first round losses. Can the 2021 team can turn it around? What change since last season? That's what we'll try to answer in the following text.
A lot changed since the 2019-2020 campaign for the Sabres. Eleven players came or left Buffalo in total. Taylor Hall, Eric Staal, Cody Eakin and Tobias Rieder are all coming to help Jack Eichel and Buffalo's offence. The addition of Hall brings punch to the attack. The Canadian-born player will allow Jack Eichel to take a breather, he was definitely feeling the pressure of the whole team on his shoulders. The Sabres' offence hasn't been the most diverse in recent years and the new names can make up for that lack. Stall and Eakin bring depth to the centre position which is a significant improvement. Tobias Rieder is a good bottom six that brings speed and intensity to the team that gives him his chance. All in all, good additions for the New York State team. Six players have either left the Sabres or still haven't made an offer. Wayne Simmonds and Jimmy Vesey both signed with the Toronto Maple Leafs. Dominik Kahun and Johan Larsson have signed contracts with the Edmonton Oilers and Arizona Coyotes respectively. Four relatively minor losses especially considering the good additions to the attack. Michael Frolik is still without a contract and with the salary cap remaining unchanged for the next three seasons I can't see a team giving him a contract that he will appreciate. The last player who won't be back with Buffalo next season is Marcus Johansson. The left winger was involved in the transaction bringing Eric Staal to the Sabres. With the new players that have arrived, the offensive team's losses are not major and are good salary savings.
Now, an overview of the team that will be in place for next season. As mentioned in the last paragraph, with Taylor Hall in their line-up, the Sabres will have a big offensive strike force. A potential front row line-up of Hall-Eichel-Skinner is already shaking up many of the circuit's defences. With Kyle Okposo, Sam Reinhart and Victor Olofsson, Buffalo can count on good depth. These names don't sound like the first trio, but the two 25-year-old players are in the prime of their game and are doing a great job to this Atlantic team. Curtis Lazar and Zemgus Girgensons could be given a role of depth. They will have to be effective on either offensive line if the Sabres want to do better than they have in the last 13 years. The defensive brigade remains intact. Rasmus Dahlin had a very good shortened season in 2019-2020, maintaining an average of about 0.68 points per game. He is in his third year in the national league and will be the leader of this blue line that will not live up to expectations if Dahlin does not perform to his full potential. Surrounding the young defenceman is Rasmus Ristolainen, Brandon Montour, Collin Miller and Jake McCabe. Good defensive players, but this blue line lacks at least one top defenceman. Henri Jokiharju could become that player to complement the 20-year-old Swede. The former first-round pick of the Chicago Blackhawks could become a great defensive asset. For the Sabres it would be quite a bonus if he could become a good top 4 defensive player. The one that was acquired in return from Alex Nylander has already shown great quality for his age and Buffalo hopes he will continue on that streak. In general, it is a good defence that is more about efficiency than pure talent. That said, with more experience for both young men in their twenties the Buffalo Sabres will be able to be more confident on defence. The situation is getting a little worse in front of the net. The two goaltenders are Linus Ullmark and Carter Hutton. The latter is a second goalkeeper in the National Hockey League. It's poor statistics and lack of consistency that are problematic. As for Ullmark, I can't say I've seen him in action often. However, the big downside that comes to mind when I look at his statistics is his number of games played. He has never kept the net for more than 37 games in a season in the NHL. Will he be able to be consistent and help his team win next season? Only time will tell.
Now let's see where the Buffalo team stands. There are many new faces as well as many players who have left. Does all this movement of personnel help the Sabres? I believe it does. Personally, I've never been the biggest Taylor Hall fan. However, you can't take away his talent. He will have to work hard to maintain the consistency that he lacked his whole career. Overall, it's a good team that has improved offensively, but where there are still a lot of issues in other positions. We will have to be patient to give a verdict on this off-season.
ML
Maxime Lessard
Sports enthusiast. I'm from Quebec. I'm doing my best since english's not my first language. Have fun, and I really hope you have a good time :)
Twitter: https://twitter.com/maxime_l26
Instagram: https://www.instagram.com/maxime26_02/
See all posts by Maxime Lessard →