Hockey in Chile
Hockey on the edge of the World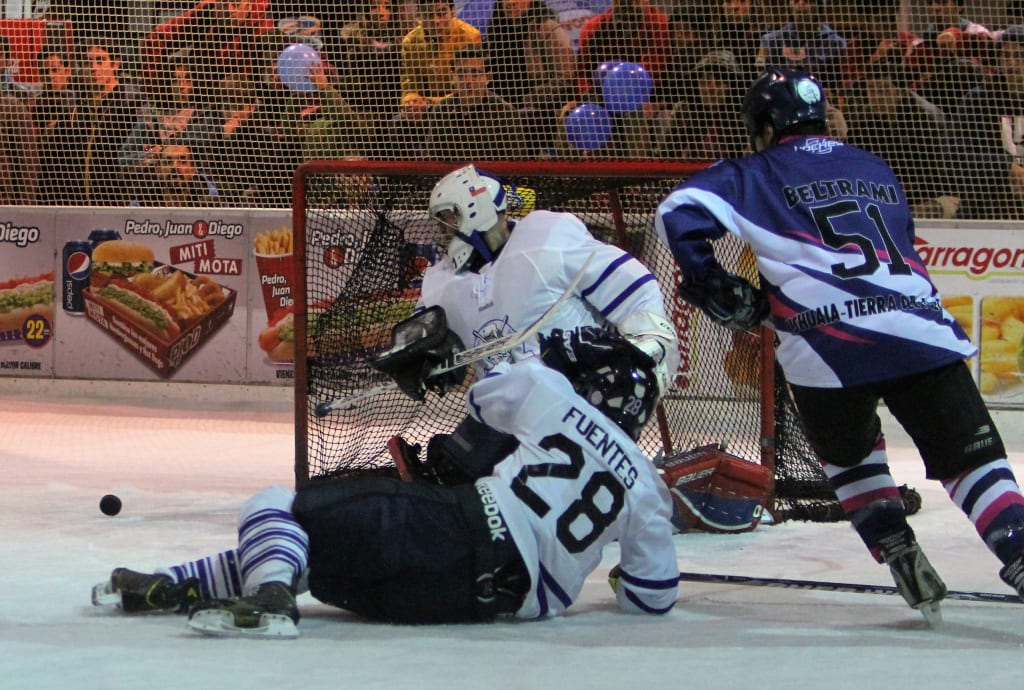 Action as Santiago Yetis (white) take on Nires Ushuaia of Argentina in the final of the 2016 Copa Invernada in Punta Arenas, Chile
Four years ago I was privileged to visit Chile to report on the local ice hockey scene over there. Deep into Patagonia, this was what I found:
During the current coronavirus restrictions, with top-level action isolated behind closed doors, more people than ever are adamant that sport can only exist because of its fans. At the highest level, of course, it's a half-truth; TV revenues mean the elite can conjure cash out of empty arenas. But, at the grassroots, you'll struggle to find an example more vivid than the small but vibrant ice hockey community in Chile.
Yep, you read it right. Ice hockey in Chile. Latin America. Football crazy. Only two ice rinks in the whole country, neither of them full-size and both of them hidden away in shopping centres. Oh, and they're about 1,800 miles apart by road on a route that veers into neighbouring Argentina for a chunk of the journey. Unsurprisingly, the country boasts a bare handful of registered players and struggles to keep them busy. But the Copa Invernada tournament in Punta Arenas, better known as an embarkation point for Antarctica, tries to keep the game alive.
Hockey used to be bigger down here. In Punta Arenas, down on the Magellan Strait, it used to be an outdoor ritual each winter. Global warming put paid to that, and until the recent opening of a rink in the city's shopping mall, the game was almost dead. That mall, the Zona Franca, offered some hope of redemption despite leaky roofs, wonky boards and no Zamboni. Between games, it's a bucket-and-hose job to smooth over the ice as best as possible while locals head to the soft play or food court nearby.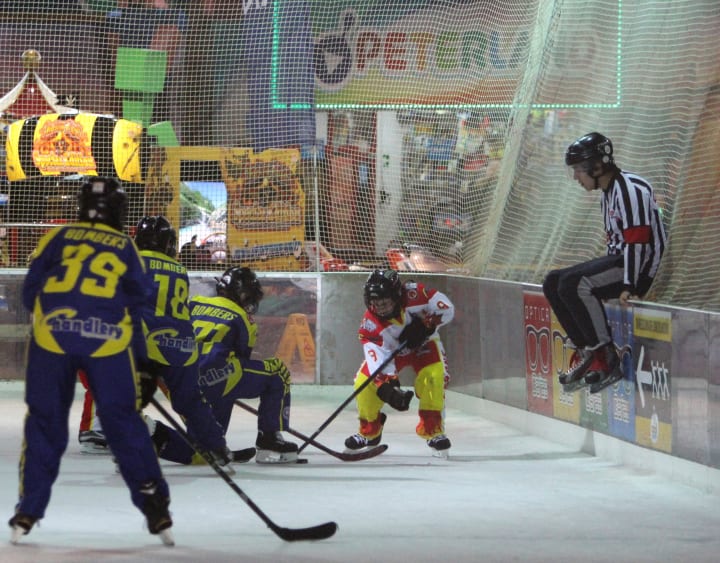 It came just in time to save a skating tradition. "When I was a kid, we'd go out and play pond hockey in the winter," said Mauricio Vieytes, a sportswear importer who describes himself as a promoter for the game. "But then it started to change, the winters were warmer and there was no ice in the city. When they finally opened this place, a whole generation of kids had never seen natural ice."
Vieytes and his colleagues are proud of life at the Southernmost permanent ice rink in the world. At last, Punta Arenas has a chance to capture a young audience and teach them to love the game.
Ricardo Matus has two children playing for Kotaix, a Punta Arenas team named after an aboriginal demon. As club president, he's been working to develop youth hockey over the past couple of years and 2016 brought the first ever junior Copa Invernada, part of the winter festival in this town of 130,000 people.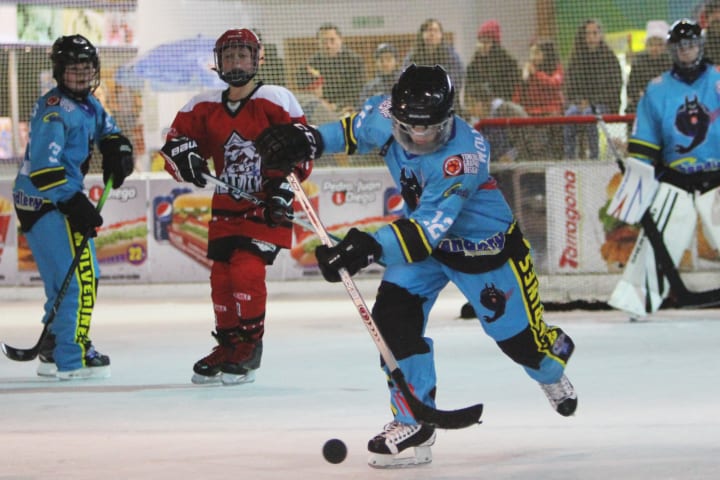 "Recruiting kids isn't that difficult," he said. "But it starts with very basic skating skills and builds from that. Some of our kids have been involved for more than a year, and you can see their progress. Every time we have a tournament like this we get more interest and more new players."
Online coverage of the big leagues makes top-level hockey accessible in a way it never was when Matus and Vieytes were kids, but one thing that doesn't change is a lack of opportunity.
"There's a lot happening now that wasn't available when I got into the game," Matus added. "Back then the main issue was finding a place to play, and that's becoming an issue again because we have to negotiate with the mall to keep this space open. But we need to keep going; there's real potential if we can keep it moving."
Hockey in the desert
The game isn't limited to the south of a country that follows the Andes from the edge of the Antarctic up to the tropics. On the fringes of the Atacama desert in Iquique, the local Drakons mostly play roller hockey but are eager to take to the ice whenever possible. That means long trips to Santiago or Punta Arenas.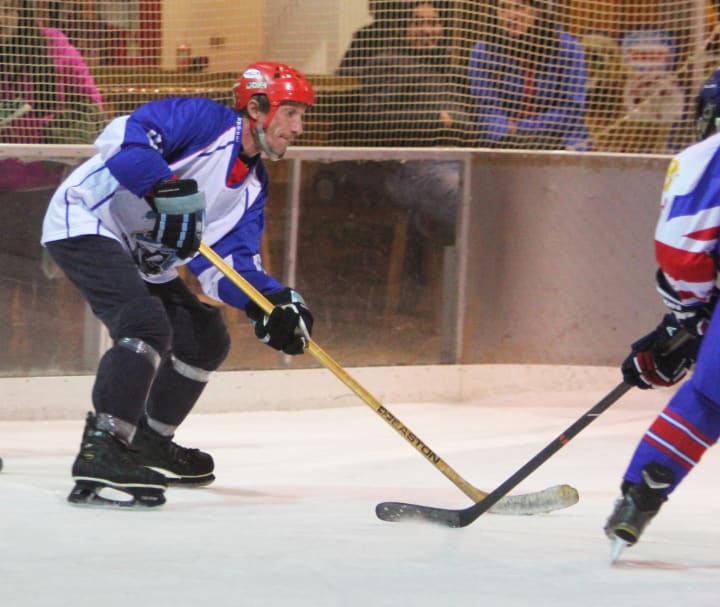 Anvar Gafurov was one of the key players on the Drakons in Punta Arenas. Born in Soviet Kazakhstan, he moved to Latin America in 1989, first to Peru and later settling across the border in Iquique. The Soviet school of hockey was still visible in his patient, puck-handling game at the Copa Invernada, but he admits that it can be hard to maintain interest in hockey - whether on roller blades or ice skates - in the deserts of the north.
"In the 2000s we had a strong team and won three championships back-to-back," said Gafurov in an interview with KHL.ru. "But then a lot of the foreigners who had been working in the mining industry went back home and it became more of a hobby for our players rather than a serious competitive sport.
"We're still trying to encourage more kids to play. I've spent a lot of time working with local children, 10 and 12 year olds. If we could get a bit of interest and backing, especially from local business, we could do even more."
From Buenos Aires to Barcelona
In the capital, Santiago, there's another team, the Yetis, and a rare example of a Latin American player who made an international career. It turns out that Leo Messi isn't the only man whose sporting career has taken him from Buenos Aires to Barcelona –ice hockey player Ralph Henke made a similar journey.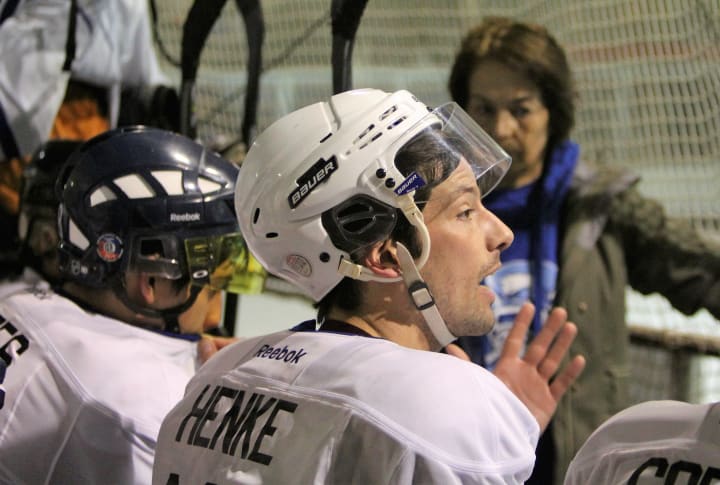 It all started with a cartoon, and led him to try his luck in Europe before landing in Santiago, Chile, to play for the Yetis.
"You won't believe it, but the first time I saw hockey was this random cartoon on TV, some kind of Disney thing with Goofy and all those guys playing ice hockey," said Ralph Henke of the Santiago Yetis. "I just went crazy for it."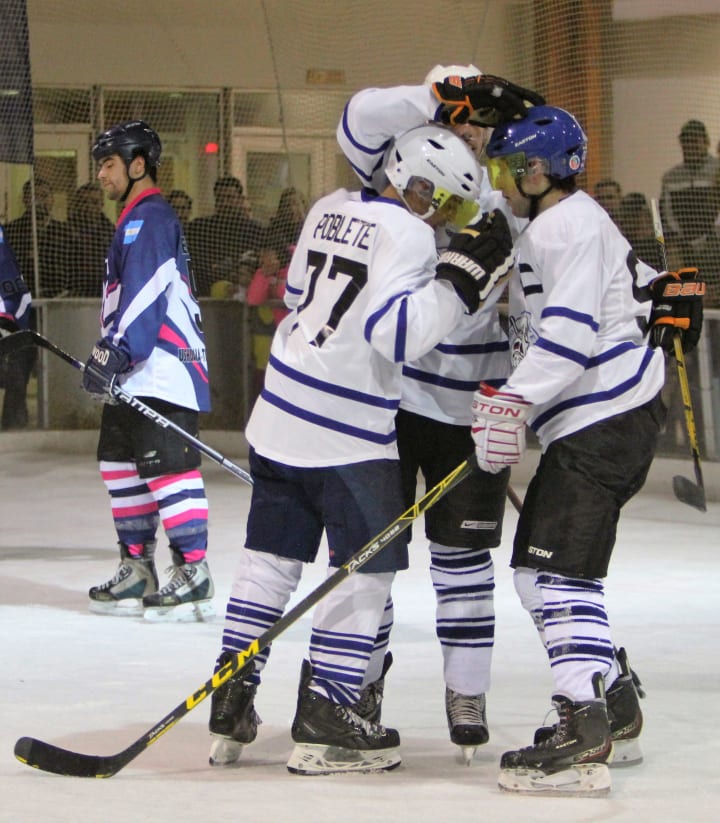 Henke was fortunate. His family lived in Buenos Aires, Argentina, but has roots in Germany. By pestering an uncle back in Europe, young Ralph was able to follow the game. "He used to play, and I started asking him all about it. He got me my first plastic stick, I found a pair of roller skates and played on the streets." Later that passion took him to Europe and stints playing league hockey for Eintracht Frankfurt and Barcelona's B team – "people couldn't believe there was a hockey player from Latin America" – before he came to Santiago and joined the Yetis.
Santiago might be Chile's largest city, but it has just one rink, tucked away in the corner of a car park under a shopping mall. The café offers a free skate with your burger and the décor is more jelly-and-ice-cream than Stanley Cup. As a result, developing the game is slow – something Henke would love to change. "When people come to the rink it's a once-a-year thing, like a birthday party or something," he said. "We need to change that so kids can try hockey and see what a fantastic sport it is."
Back to the roots
The 2016 Copa Invernada was the last of its type. Despite fears over the Punta Arenas rink's future, the venue is still in operation - coronavirus restrictions permitting. But tournament play has moved a bit further south to Puerto Williams on Tierra del Fuego. The last two Chilean winters have seen a pond hockey tournament played in what is believed to be the southernmost location in the hockey world, with teams continuing to travel from Argentina and Chile and even Ecuador - via three flights over three days - to take part. This year, the 500th anniversary of Magellan's pioneering navigation of the south seas strait that bears his name, was due to be a celebration - among other things, the organisers hoped for official confirmation of that southernmost status. Sadly, that had to be postponed, but Chile's dedicated hockey fraternity continues to keep the game alive as best it can.