Hawks making a statement with Game 1 win
….while also giving me a heart attack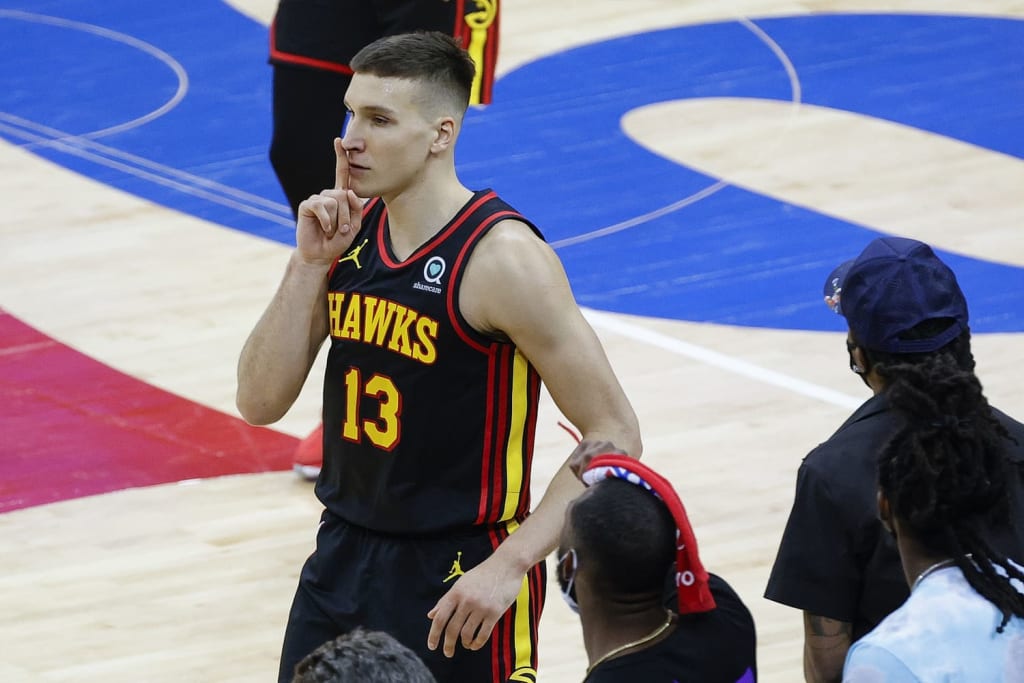 Game 1
Hawks: 128
76'ers: 124
Alright, the Hawks are dangerous and anybody that thinks otherwise is a clown.
Absolutely nobody thought that we would even make it past the first round, and now we are up 1-0 against the first seed in the conference. Just like the Knicks series, this Hawk team just put on a clinic on the road to open up the series. It really feels good to see them clicking like this and finally getting some notice and credit from the media. There's a lot to talk about here.
First of all: out of the 6 playoff games we've played so far, that was the best all around team game we've seen. Like I've said a million times, Trae Young is incredible but what's even better is that he isn't near alone. Every Hawks player who touched the ball last night was a threat. Our offense was relatively perfect. Our guys are relentless. There's nothing better than to see guys like John Collins making 5 threes in a game. We have Clint Capella in the post, holding his own against one of the best centers to play. Bogdan Bogdanovic is one of the most consistent players I have seen. Every time he shoots, it looks good. Even when he misses it still doesn't feel like a bad thing necessarily. I know Im just saying random things about the Hawks but it just feels so good to finally see these guys playing the way I know they are able to. It's so frustrating watching a team with so much talent not winning. But now they look so clean and consistent. It's amazing. Nice!
So yeah, all of that is great but we cant get too comfortable. We cant let the 76'ers get into a groove. The biggest challenge we're facing is the fact that this team is MUCH better than the Knicks. If you are up by more than 15 against the Knicks you really have the game won as long as you keep playing. But it's a different story with the 76'ers. We cant forge that they are the number 1 seed in the east above a team with Kevin Durant, James Harden, and Kyrie Irving. This team is not to be taken lightly. So yes we were able to jump out to a 26 point lead, but then we let of the gas with 3 minutes left and we saw how quickly the Sixers can get back into a game. By the end, we couldn't even make it past half court. It got pretty dang scary to say the least. Luckily, Bogdan Bogdanovic is an absolute killer and was able to put the game away with a few seconds left to play.
Okay that's pretty much all I have to say bout the game itself but before I hit submit I need to address a tweet from Paul Peirce last night: "Brooklyn vs Atlanta Eastern Conference finals done deal".....
Okay, thanks Paul. Thanks for having confidence in us. But why IN THE WORLD would you say that after game one. Maybe if we were up 3-0 you could hint at it. But now you have made a perfect opportunity to jinx us. It's just like a pitcher pitching a perfect game through the 9th inning and then he says something about it in the dugout and then proceeds to give up a 1 run home run to lose the game with 2 outs in the bottom of the 9th. You don't say things like that bruh. I appreciate the support, but keep that shi* to yourself. Pls delete that tweet before it's too late.
Alright that's all I have to say about that. Game 2 is at 7:30 on Tuesday night. We've got another fun series on our hands. LETS GO
Go Hawks.
peacenlove.
About the Creator
Pretty much just whatever is on my mind:
lil bit of everything!
peacenlove
Reader insights
Be the first to share your insights about this piece.
Add your insights