Hannah Nicole
Gymnastics Coach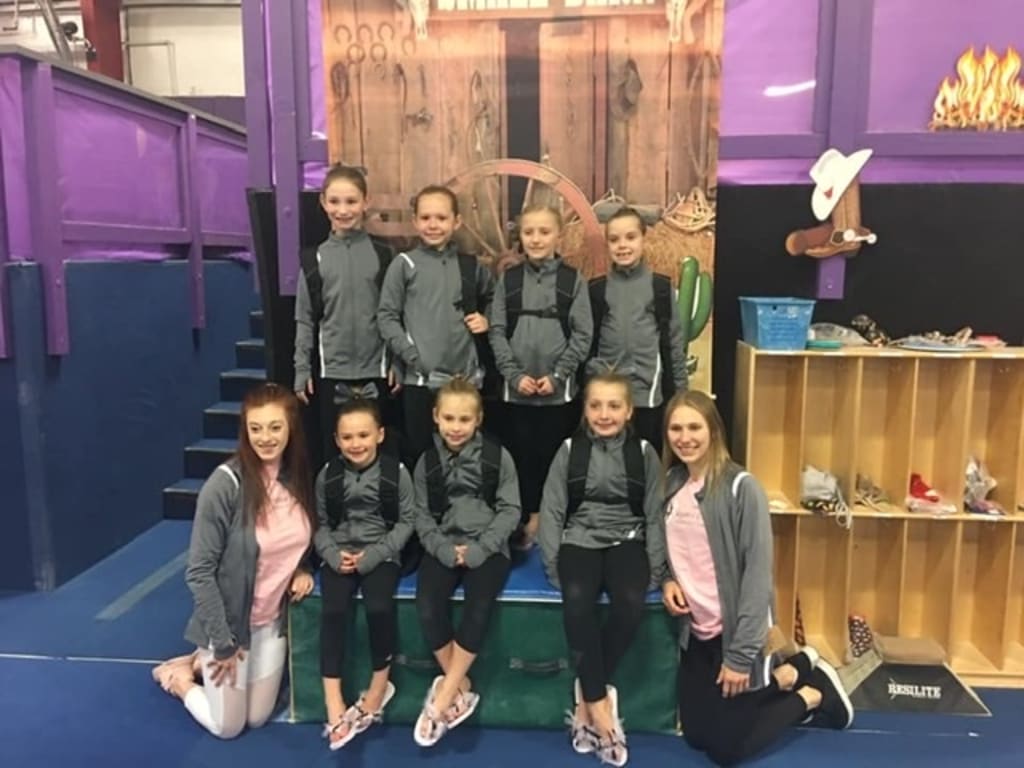 My best role model is my boss, Hannah Nicole. I first met Hannah at Ultimate gymnastics where she was a coach and I was both a competitive gymnast and recreational coach. I knew she was a good coach because she was strict and the little gymnasts looked up to her. She taught the gymnasts not only gymnastics but about respect and courtesy. I watched as she produced some very talented gymnasts. During my years in gymnastics, she had only coached me one or twice.
After I sustained a concussion and finished my last year of gymnastics my role in the sport changed. My sole focus was now being a coach. I was assigned to assist Hannah. I was working with her to teach the level 3's. At first she was very intimidating, I was even a little scared of her. I was explaining this to my Mom who gave me some good advice. Mom suggested that I ask Hannah questions, find out why she does things the way she does. I had nothing to lose, so I gave it a shot. Good thing I did! Under her mentorship, I have learned a lot about the proper form needed to perform skills correctly, how to handle a big group of gymnasts, run efficient practice, drills and techniques to help gymnasts understand the exercise. I would say that we worked well together.
Hannah went on to build her own gym, Elegance Elite Gymnastics (EEG), with the help of her husband, Seth. She invited me to work for her. I continue to have the opportunity to learn from Hannah. She dedicates her life to the sport and puts all of her energy into making the gym great. Her passion for gymnastics and to help gymnasts succeed is admirable. Not only is she a gymnastics coach, she was a gymnast, she is a qualified gymnastics judge, a qualified gymnastics meet coordinator and great mentor and motivator. I trust her and respect her as an employer and friend. She taught me to see gymnastics through a different perspective where it's not only a sport, but the skills that are taught in the gym transfer to our everyday lives. Hannah emphasizes hard work and dedication in the gym. It is EEG's first competitive year and with several meets left, 95% of the team has already qualified for the State Competitions! A huge achievement well deserved. The gymnasts at Elegance Elite have a bright future ahead of them and I hope to be a part of it. Hannah pushes each gymnast to believe in themself and go for it 100%. She is always looking for new ways to improve training so that the gymnast can enhance their skill level to new heights. Hannah has brought in expert athletes and coaches to learn from and gain knowledge on how to improve current training methods. She keeps the curriculum fresh by changing it up from time to time, challenging the athletes to take a step outside their comfort zone and grow. Hannah is a very professional business owner and coach who expects excellence.
It is incredible to think of all the accomplishments she has made. Hannah has given me so many great opportunities for which I will forever be grateful. She has played a key role in developing my coaching skills. I would not be as successful at coaching gymnastics as I am today without Hannah as my mentor. I look up to her and one day aspire to go on to do great things as she has. In fact, she is on to her next great accomplishment. She is expecting her first child in June!